Our yearly series of conferences on all things email—Litmus Live—has come to an end. It's been a whirlwind across three cities, with dozens of speakers and over a thousand attendees. While it's always bittersweet to close out Litmus Live for the year, it's exciting to get back to work and start implementing some of the amazing ideas seen on stage.
The talks at Litmus Live 2018 ran the gamut. We had speakers talking about everything from A/B testing and experimentation to localization, accessibility, artificial intelligence, and even how to switch ESPs without the usual headaches. It was a broad range of topics that addressed email's evolving role in marketing.
Despite the wide-ranging topics, a few themes emerged across our time in London, Boston, and San Francisco. We wanted to share those themes with you, as we believe they'll be instrumental in shaping the future of all of our work in the email industry.
Design Systems and Modularity
Over the past few years, we've seen a number of talks on creating modular emails for faster production of campaigns. But this year, things seemed to crystalize into the idea of design systems.
If you're not familiar, modular design is the method of creating components (or modules) for each element in your email campaign and using those components to quickly build a new email. Think of it as working with email like LEGO. Those components are usually saved as snippets or partials in a tool like Litmus Builder, and designers, developers, and marketers can reuse those elements without having to code them from scratch each time.
A design system builds on this idea and creates a complete system of code, documentation, guidelines, and resources for creating nearly any type of email a sender requires.
In London, Fabio Carneiro talked about his work with implementing a design system at scale for Booking.com. He went into some of the theory behind design systems before discussing some of the struggles he had during implementing Booking.com's.
Love this slide #LitmusLive @flcarneiro pic.twitter.com/fpsRgfggb8

— Taxi for Email (@TaxiforEmail) August 21, 2018
In Boston, Jesse Blanner from Meredith Corporation went into some of the practical applications of modular emails and how they can massively increase efficiency. And in San Francisco, Crystal Ledesma described her work at Zillow to create their own email design system.
"We can build emails in 30 minutes." @sentbycrystal #litmuslive yep, agree. Makes it so effortless. pic.twitter.com/aljsUpxkOp

— tvjames (@tvjames) November 9, 2018
Design systems promise to bring order to the chaos of email design and development and could help solve many of the problems marketing teams struggle with on a daily basis. As we've seen in our own research, email teams spend a lot of time in the production phase of the email marketing process. Anything teams can do to shorten that phase—while maintaining quality and avoiding errors—has the potential to improve the lives of team members, not to mention the ROI of email marketing efforts.
Collaboration
One of the brilliant things about email design systems is how they open the door for collaboration across teams. We've seen email marketers working not only with larger teams, but with more departments, too.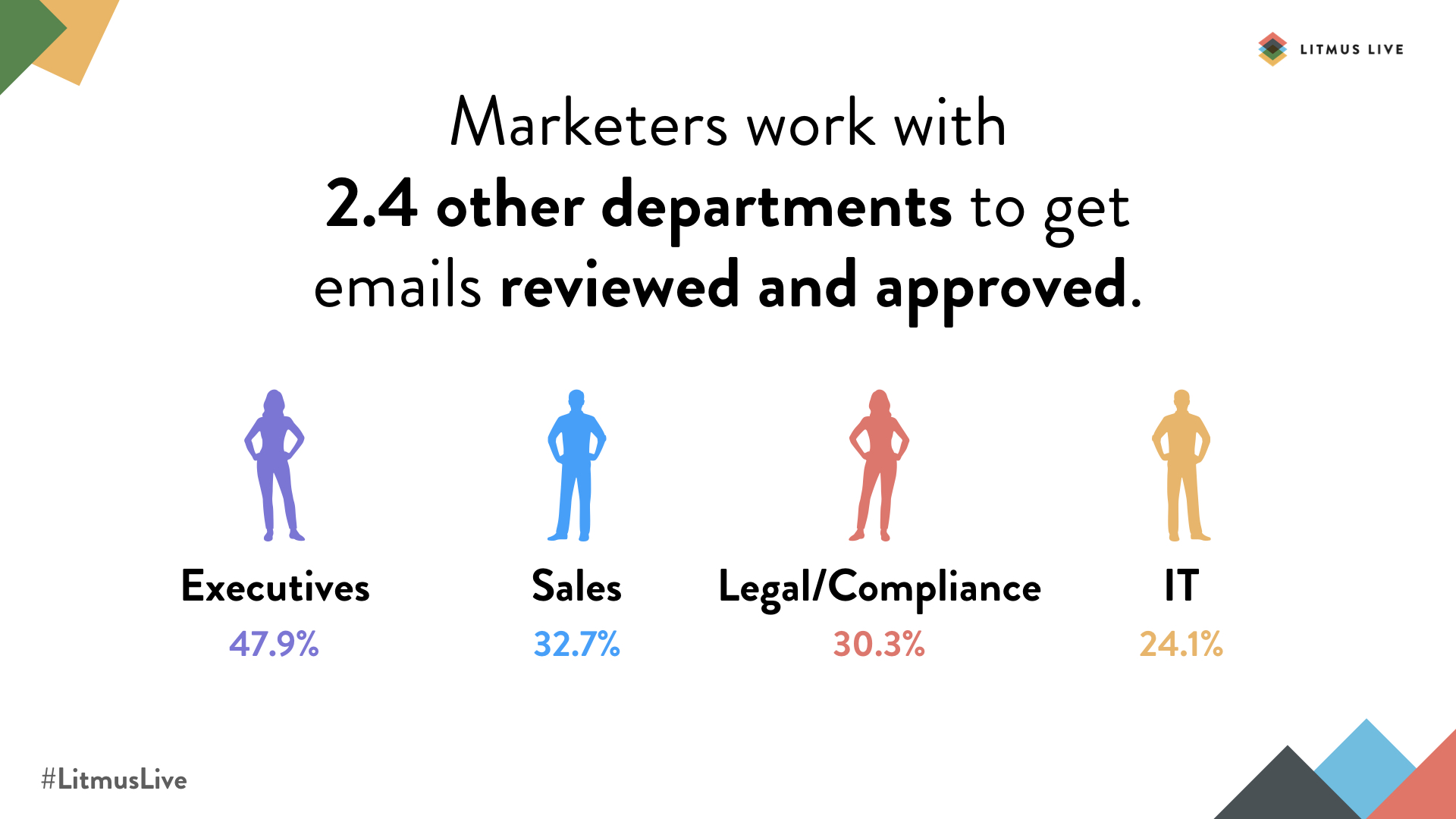 This trend creates a need for better communication and collaboration between colleagues, departments, tools, and organizations. It can be a lot to manage, but it's a topic our speakers have a lot of experience dealing with.
Louise Lundberg of GANT AB gave the London attendees some amazing advice on improving team communication through better feedback. Feedback can be a tricky thing to provide, but her tips on separating the person from the action, assuming positive intent, and basically showing more empathy with teammates have been on our mind ever since.
Giving and receiving feedback is still such a difficult subject in many companies. Thanks for the really helpful presentation @lundberglouise_ #LitmusLive

— Leonie Jonker (@LeonieOnline) August 21, 2018
Wistia's Robin Panish talked to the Boston audience about of the hardest things to do in email marketing: get alignment and buy-in. Her practical tips on kicking off projects with a clear agenda, setting expectations, and creating more human connections with teammates are sure to influence attendees in the coming year.
You know you've found the conference for you when a presenter has a graph illustrating the lifecycle of a work project in terms of #stressbaking (presentation from @robinpanish was awesome) #litmuslive @litmusapp pic.twitter.com/i1NlG4vP3X

— Kelly Whelan (@kellsbells374) September 19, 2018
One of our favorite talks around collaboration was Shannon Crabill's on creating an "email playbook." An email playbook is a guide to what's possible in your email marketing program. Unlike a design system—which has actual code involved—an email playbook gathers all of the different emails you send, clear guidelines on how to use those emails, resources on industry best practices and internal notes on email marketing and makes all of that information available to everyone on a team. It's an amazing way to get marketers, designers, developers, and stakeholders on the same page, lessening confusion and increasing the likelihood of success in the process.
If it's not documented, it doesn't exist. Great takeaways from @shannon_crabill's talk on building an email playbook #Litmuslive pic.twitter.com/U6YTNSP2p7

— Lindsay Brothers (@LindsayBro) November 10, 2018
Email's Place in Omnichannel Marketing
All of the talks on collaboration are a side effect of one of the most important trends we saw this year: email marketing's role in broader marketing strategies. Email is no longer in a silo, and many of the teams with which we're all collaborating live outside of the email world. It's not uncommon for email marketers to strategize with sales, social media, direct mail, and call center teams.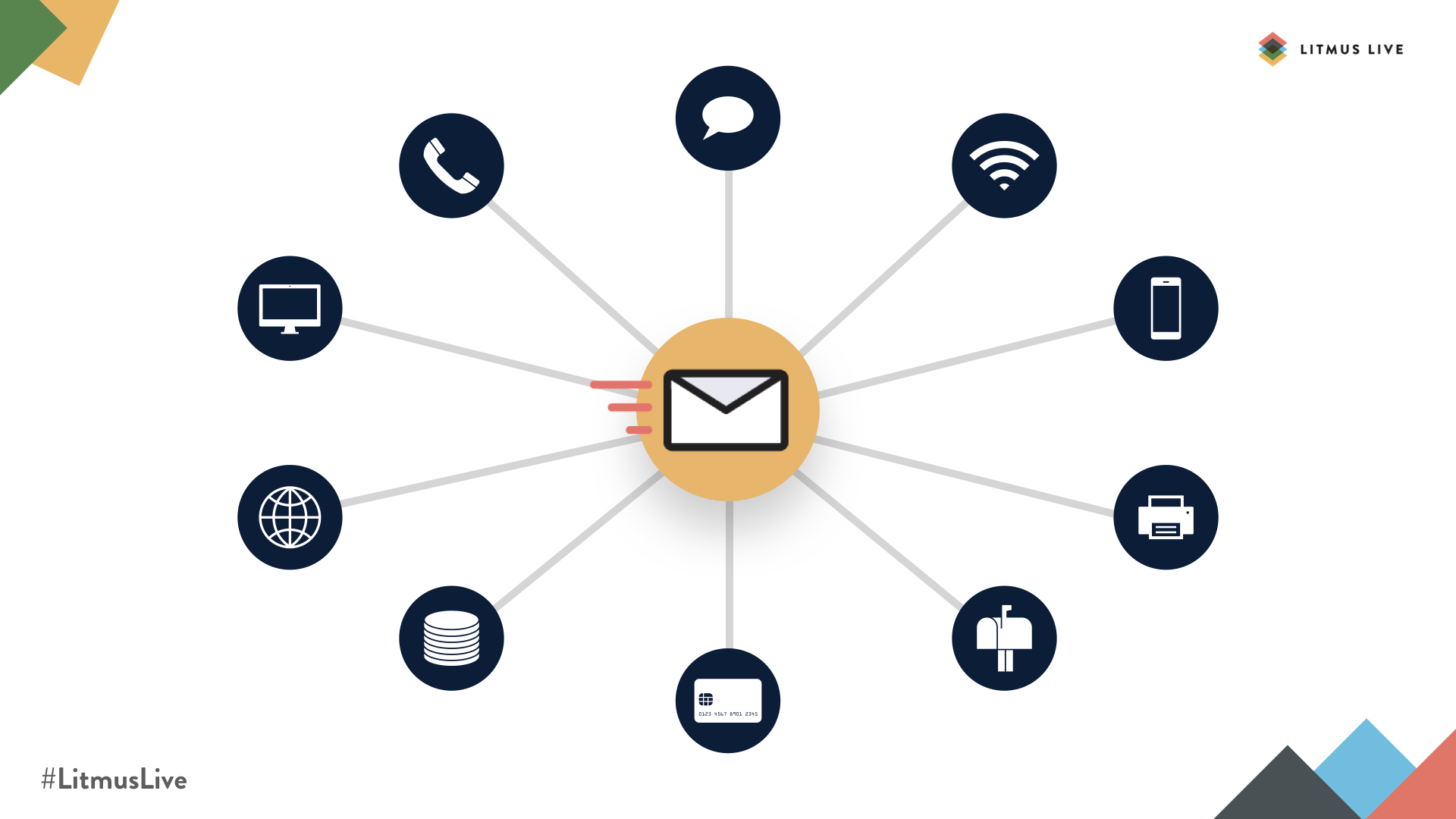 It's such an important trend that we invited Lauren Kremer from ProQuest to kick off all three events with her talk, "The Role of Email in Successful Omnichannel Marketing Programs." Not only did she talk about her own work across channels, but gave a ton of tips on repurposing content from other channels in email, aligning teams across those channels, and doing it all in a user-focused way.
"51% of companies today use at least 8 channels to interact with their customers" Use #email as the hub of your #omnichannel #marketing strategy – @laurenkremer #litmuslive

— Chelsea King (@SMG_Chelsea) November 8, 2018
Intuit's Rian Lemmer and Kate Tinklenberg taught San Francisco attendees about their framework for rapid experimentation. While it was email-centric, they used some of those principles to test ideas through SMS, eventually growing a program across email, apps, SMS, and call centers that massively improved retention of customers.
Love the idea of testing out different features in email before integrating it into the app. @RianLemmer + @kTinklenberg #LitmusLive

— Heidi Olsen (@SwissWebMiss) November 8, 2018
It was a powerful example of the value of email, especially when it's brought together with marketing channels a lot of us have been ignoring for the past few years. As we made clear in our own talk on the five trends shaping the industry, the complexity of email marketing—and its role in omnichannel marketing—is only going to increase.
It's up to us marketers to implement systems that scale like design systems, share those out with both our teammates and different departments, and work across the organization to successfully use email alongside every other channel to drive business goals.
Start Planning for 2019
Sad that you missed Litmus Live 2018? Don't worry, we'll be back next year with the industry's leading conference on email marketing workflows, strategy, design, and development. Sign up for Litmus updates and get announcements on future events.