Read Time: 5 min
5 Ways to Make Your Triggered Emails More Effective This Holiday Season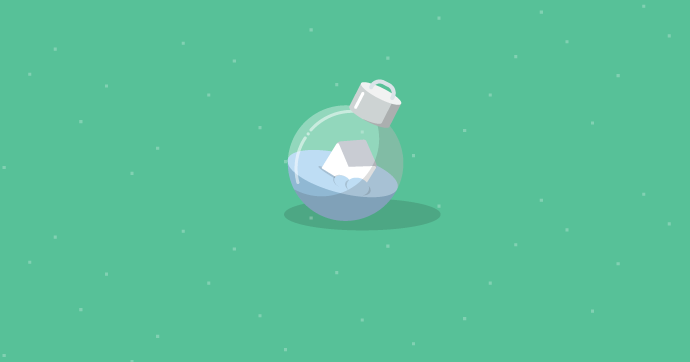 Triggered emails are not "set it and forget it"; they are "review and renew." That's especially true going into key selling seasons, like retailers are about to do. During November and December, retailers' transactional emails and triggered emails will be high-performance assets.
Here are 5 ways retailers can make their triggered emails perform even better this holiday season:
1. Make cart abandonment triggers quicker, especially on Thanksgiving, Black Friday, and Cyber Monday.
Because of the pressure of limited-time and limited-assortment sales, the amount of time buyers spend considering a purchase is much shorter during the holiday season. For that reason, your cart abandonment emails should be sent much sooner after abandonment.
There are many reports that discuss what is generally the best timing, and in general faster is better. However, you should examine the behavior of your own customers and identify the natural rate of return—that is, how long does it take for the majority of cart abandoners to return to their cart on their own without prompting. Send your cart abandonment email a little after that time, so that you're nudging buyers along but not interrupting their normal buying behavior.
Go back and determine the natural rate of return for your customers during Black Friday and other key holiday shopping days last year. Or, if you're unable to, look at your shoppers' behavior during your Labor Day, Columbus Day, and Veterans Day sales. Use those behaviors to determine your ideal delay for your cart abandonment emails.
2. Address browse abandonments caused by out-of-stocks.
During the holiday season—and especially over the Thanksgiving-to-Cyber-Monday weekend—out-of-stocks are not uncommon. If that's the case for your business, use back-in-stocks to trigger notifications to subscribers who abandoned a page with an out-of-stock product, as Williams-Sonoma has done in the past.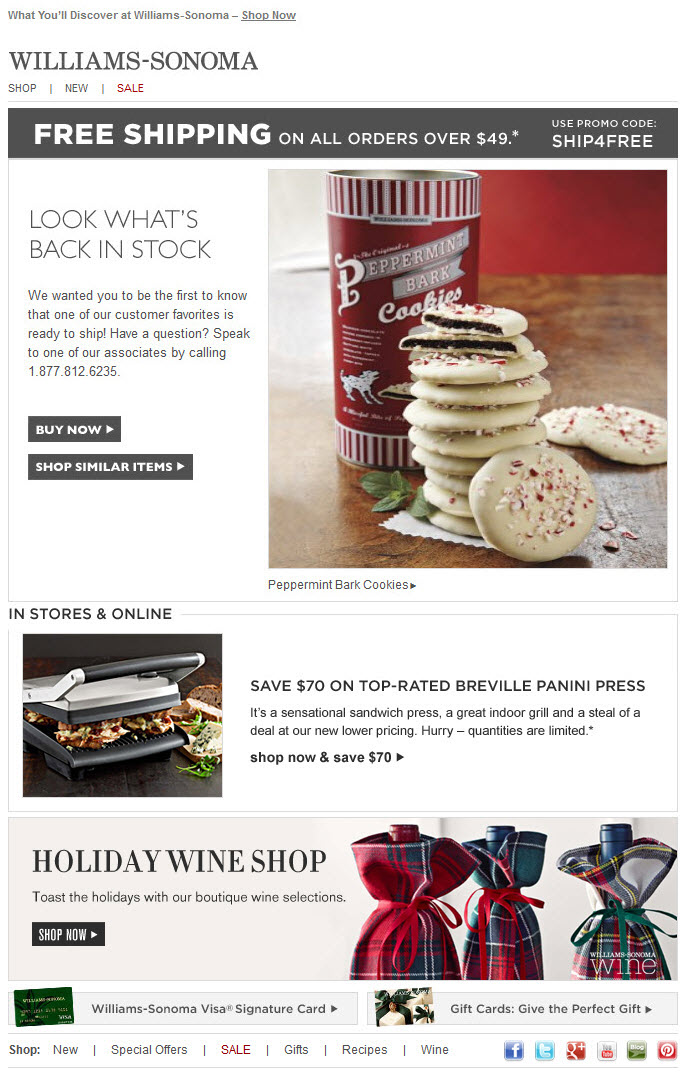 3. Add holiday headers to all triggered and transactional emails.
Retailers deck out their stores with holiday decorations to get people in the holiday shopping mood and to provide a visual signal to remind shoppers to buy gifts. If you go through the trouble to dress up your stores, then it's probably worth the trouble to dress up your emails.
The header has traditionally been the most common place to add some seasonal imagery. However, the rise of mobile and of responsive design has put the squeeze on headers, making it challenging to add seasonal imagery to the mobile version of emails. Retailers have compensated by converting their desktop "Gifts" or "Holiday" navigation bar links into tappable mobile call-to-action icons and boxes.
In the mobile version of their emails last holiday season, Target kept a little seasonal imagery around their logo and placed a "Shop Top Toys" CTA next to it along with a picture of Frozen's Olaf:

4. Add a gift services footer to abandonment emails and transactional emails.
Shoppers have special information needs during the holiday season. They have a heightened interest in order-by deadlines, store hours, and return policies, among others. You can bundle links to this information—along with links to gift guides—into a gift services footer, which is a banner of quick links at you include near the bottom of your browse and cart abandonment emails and transactional emails.
Yours can be rather simple, like this tablet-friendly one from JCPenney:

Or extensive, like this desktop version from Lands' End: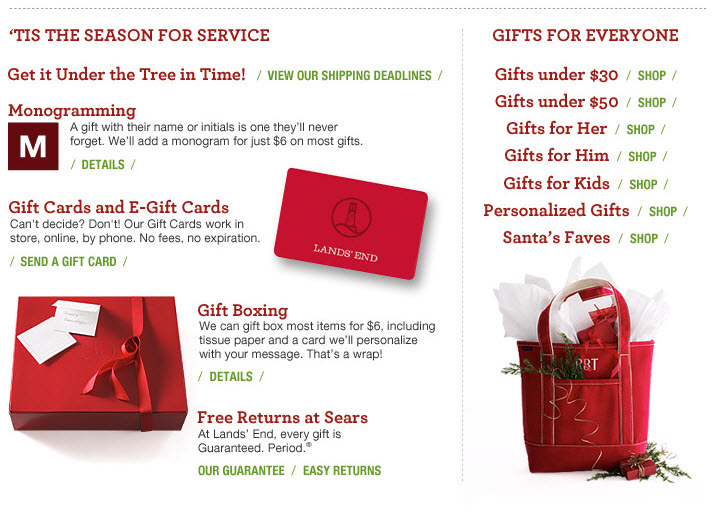 Do a little A/B testing and see what your subscribers respond to. Also, keep in mind that your gift services footer can—and probably should—change over the course of the holiday season, since shoppers' needs are different in late November than they are in late December. OfficeMax' strategy is a good one to emulate: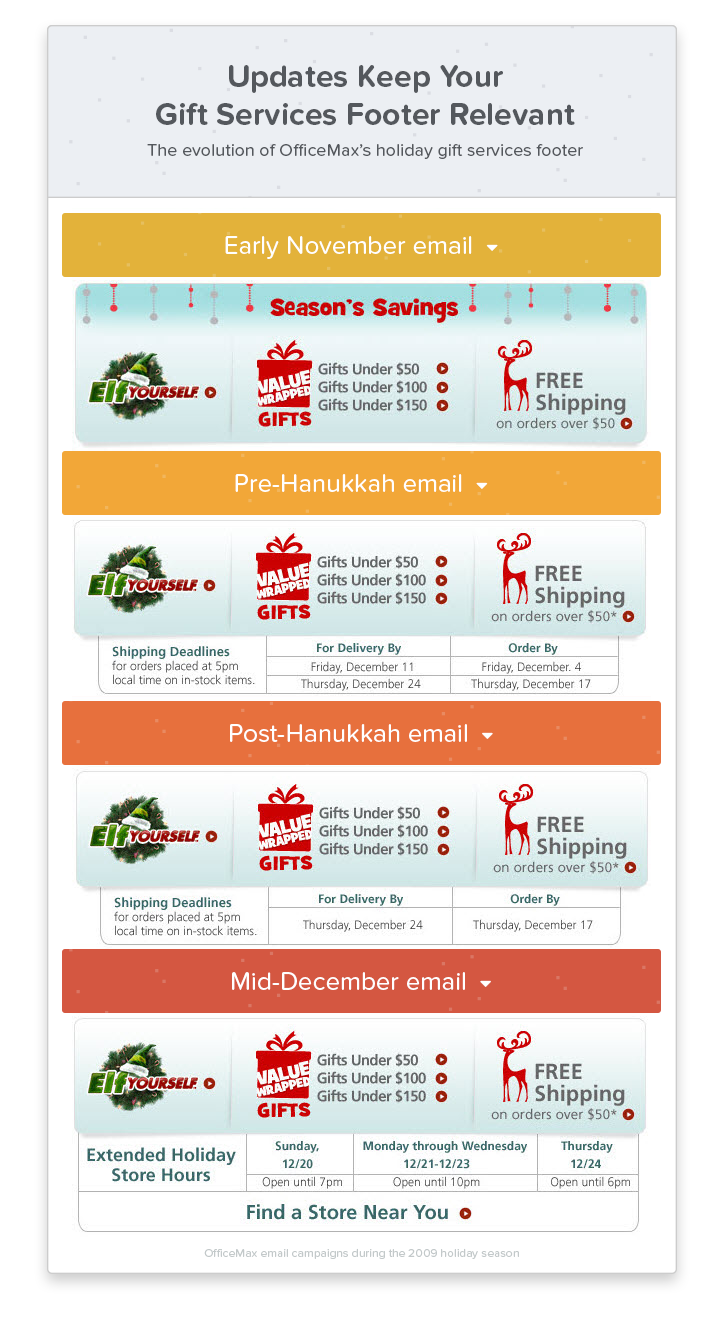 5. Re-skin and add seasonal messaging to your welcome email or welcome series.
Many retailers see an influx of email subscribers going into the holiday season—usually followed by a similar outflux of subscribers in January and February. Use your welcome email to address these seasonal subscribers. Welcome them with seasonal imagery, direct them to gift guides and holiday discounts, and let them know about upcoming order-by deadlines.
Walmart's welcome email is very direct with their new subscribers that's it's time for holiday shopping: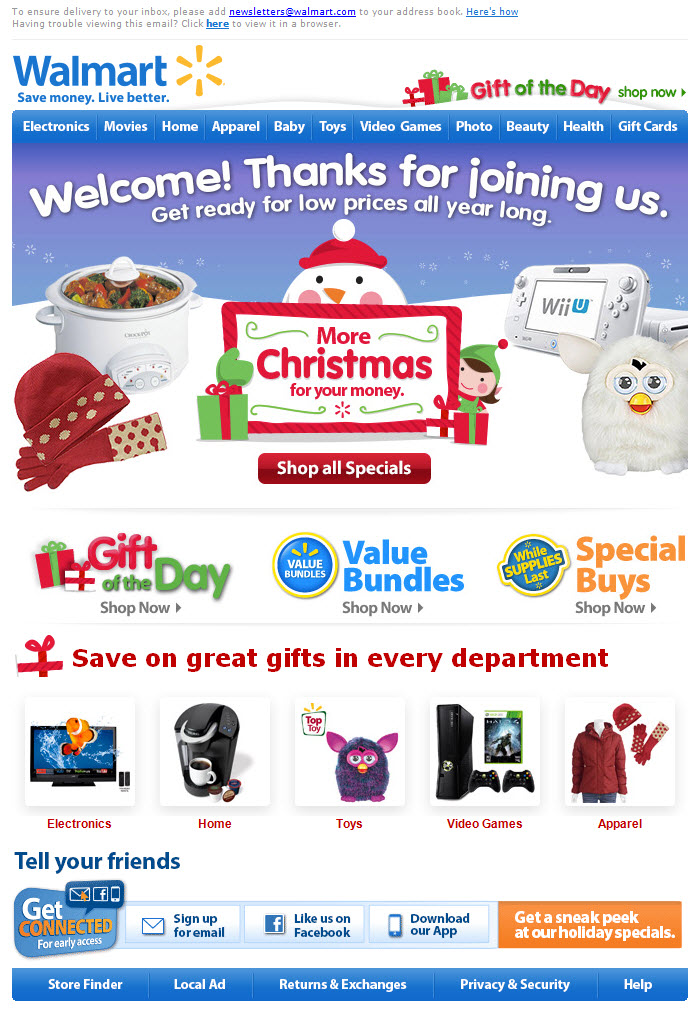 With a large minority of retailers now sending a welcome email series, they might consider adding a seasonally focused email into that series that highlights, for instance, special holiday merchandise, a holiday free shipping offer, or video or social content used to kick off the holiday season.
Triggered emails can really shine during the holiday season. Use these 5 tactics to help them shine more brightly.
Interested in learning more? Get the recap for our webinar on optimizing triggered emails with Rejoiner's Mike Arsenault.
Make your holiday campaign planning easier with Litmus Community Templates
If you're looking for templates to use as the basis for your campaigns, the Litmus Community now features modern, easy-to-use templates built by industry veterans to cover a wide range of campaigns. Find the perfect template for your upcoming holiday campaign, from product launches to email receipts.