You've honed your email signup appeal language to entice people to subscribe. You've created a signup form that minimizes friction. You've placed that form on your website, in your mobile app, on your Facebook page, and in other places where your customers and potential customers will see them. And—success—people are subscribing. Now what?
Sending a welcome email is that next crucial step. Here are six tips to ensure that your welcome email creates a great subscriber experience:
1. Send a welcome email immediately!
Don't settle for overnight batched welcome email sending. It has to be sent immediately after someone signs up.
The reason is that the new subscriber is engaged with your brand at that very moment. They're on your website, in your app, or wherever they signed up from. They were not only engaged, but interested in hearing more. They've started a conversation. Don't let the moment slip away. Send your welcome immediately and continue the conversation.
Another reason is that it lets the person know that their signup was successful. They asked for you to send them emails and you've already started fulfilling that promise. That creates a good brand impression by itself.
2. Generate value right away.
What did you promise people in your email signup appeal? Was it to send them helpful information? Great deals? Perhaps you promised a signup incentive? Whatever it was, your welcome email should at least start to fulfill that promise.
This is one of the big reasons why signup confirmation emails like this one from MASS MoCA are pointless—and have fallen almost completely out of favor. Why send an email that simply confirms a subscription and then makes subscribers wait to receive an email with something good in it when you can send a welcome email with valuable content instead? A welcome email can easily—and warmly—confirm a subscription and then quickly pivot to delivering value.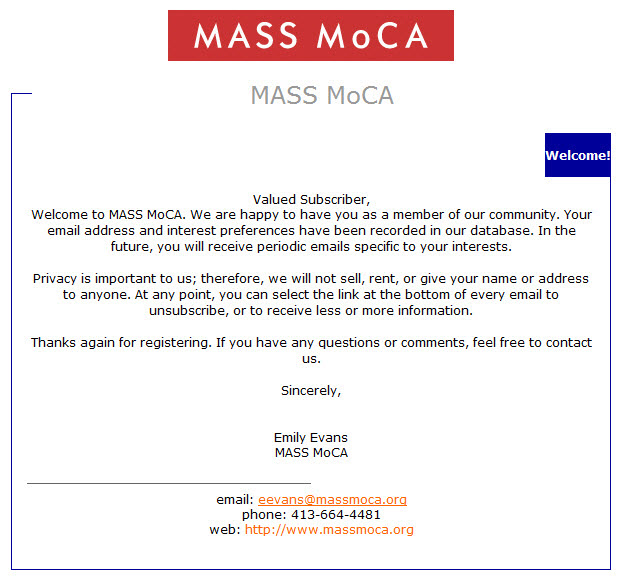 To get to the value generation quickly, some brands will skip the welcome email all together and just start sending promotional emails. We don't recommend this approach as it can be jarring—as if you've skipped all the niceties of conversation etiquette—and may make new subscribers think that they missed out on a welcome email.
3. Put subscriber-provided data to use.
Hopefully you asked new subscribers for as little information as possible during signup—perhaps only their email address—knowing that you'd be able to collect more information from a happy subscriber or customer later. However, if you did ask for additional key pieces of information, try to put those to use immediately in the welcome email.
For instance, if you asked for their name, include a personalized greeting. If you asked for their zip code, include some local store information, for example.
The Ultimate Guide to Email Signup Forms

Grow your subscriber list by optimizing your signup forms and overall conversion path. Download the report to find out how.
4. Use context to tailor your welcome message.
A non-customer who signs up for emails on your homepage is a different subscriber than an existing customer who signs up during your checkout process, as is a non-customer who signed up via a sweepstakes.
The email acquisition source can tell you a lot about a new subscriber—how familiar they're likely to be with your brand, what their expectations are, etc. If you track new subscriber by acquisition source, you can analyze their subscriber behavior—their tendency to purchase, engage, and complain, for instance—and formulate messaging strategies based on that.
Use that context to tailor your messaging so that it really resonates with those subscribers. For instance, that customer who opted in during checkout on your website, pitch them on downloading your mobile app, if that's a high-value action that's going to increase interactions and revenue for your brand. Whereas the best strategy for that non-customer who signed up on your homepage is probably to incentivize them to make their first purchase, so deliver a generous offer that will turn that prospect into a customer.
5. Don't try to do too much in one email.
Especially in the age of mobile when screens are small and attention spans are short, there's only so much that one welcome email can do. So don't limit yourself to one welcome email. Send a series.
Keep that first email in the series focused on the most high-value action—the one that's the most predictive of continued engagement and of generating the most subscriber lifetime value. Then use subsequent welcome emails to further educate subscribers on the value of engaging with your brand and with your emails.
A few of our personal favorites include:
Sending a chain of welcome emails allows them to emphasize different aspects of their businesses, and even to reiterate key calls-to-actions.
6. Ensure that you're making a great first impression.
Your welcome email will be the first email that your new subscribers get from you. Will it get them excited about receiving more email or will it make them regret signing up. Part of that equation is messaging, but part of it is design and ensuring that your welcome email looks great and functions properly.
Chances are this Tide welcome email didn't create much excitement. Besides the vague promises of emails to come, the broken logo image sends the message that they're not taking the most care with their messages. No brand wants to give subscribers that impression.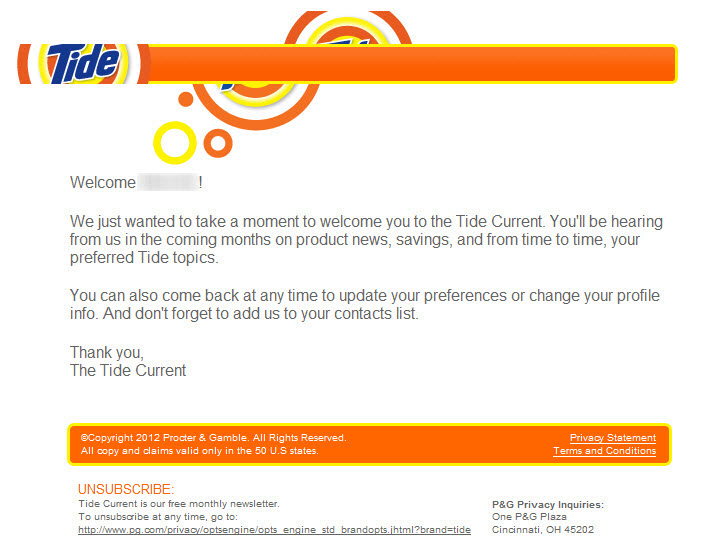 Keep in mind that just because your welcome email looks perfect on day one doesn't mean that it will stay that way. ISPs are constantly changing HTML and CSS support and new and updated email clients and web browsers can affect how your emails render. No email is "set it and forget it," so create a schedule for periodically reviewing all your triggered emails, including your welcomes.
Follow those 6 steps and you'll be well on your way to having a high-performance welcome email program.
GET MORE TIPS RIGHT IN YOUR INBOX
Subscribe to our newsletter! Each month, we'll send you our best case studies, tips and resources so you can make email better.