Read Time: 4 min
Tips for Agencies: How to Streamline Email Review & Approval Processes with Your Clients
When clients trust you with the creation of their email campaigns, a rigorous review of campaign design and content is essential in the creative process. Your emails must go out typo-free, with the right copy, images and call-to-action, designed and formatted to encourage opens, clicks, and conversions wherever your clients' subscribers see them.
Campaign-building in an agency setting is a collaborative effort, bringing together the skills and know-how of your internal teams to help your clients reach their goals. With both internal and external stakeholders involved, the review and approval process needed to finalize the work is too often an inefficient collection of individual actions.
You can see how this plays out in Litmus' 2018 State of Email Workflows, which polled email marketers about their review and approval processes and turned up some surprising findings:
Marketers spend an average of 3.9 hours on getting an email reviewed and collecting approvals.



That's more time than teams spend on email copywriting, design, development, or any other component of email production. In agencies where teams create a high volume of campaigns for their clients, this adds up quickly.





Your team creates 10 campaigns for their clients in any given week? Expect almost 40 hours spent on getting those emails reviewed and approved, making this task a one-person full-time job.



More marketers are unhappy with their review and approval process.



In 2018, 23% of marketer said their email review and approval process was too burdensome, up from 21.6% in 2017.

Why? Most teams simply have

a lot

of people involved in the process. 61% of marketers need approval from three or more people before hitting send, 15% need sign-off from more than five reviewers. In an agency setting, juggling feedback from internal teams

and

your clients adds an additional layer of complexity.
Fact is: A thorough review and approval process is crucial to ensure you meet your clients' expectations and every email you send on behalf of a client is error-free. But the process usually involves tracking changes, progress, and sign-offs through a blizzard of emails, group messaging, paper mockups, and voicemails—generally without insight into what others have suggested, changed, or commented on.
No wonder teams need almost 4 hours to get a campaign approved! That's half a typical workday lost to a scattershot process of back-and-forth, stop-and-start messaging, annotations, and communications.
When email review and approval processes become a headache
Jon Gerber, marketing automation director for the Utah-based digital advertising and marketing agency ThomasARTS, understands first-hand the costs of an inefficient review and approval process.
"Our review and approval process was tedious—and cost a lot of precious time."

Jon Gerber, Marketing Automation Director, ThomasARTS
The agency supports a broad range of clients with email marketing services, creating and sending millions of emails every week. Naturally, each one of those emails must be perfect. So, a thorough review and approval process is key for the team and its client operations.
But, as happens on both company marketing teams and creative agencies, the feedback and review process operated on an inefficient system of emailing, downloading, screenshotting, and uploading to view, comment on, or suggest changes on message drafts or mock-ups.
Next, the email's team leader consolidated and resolved all of the suggestions. If the changes altered the original campaign significantly, the review process would have to start all over again.
Saving time and money with centralized collaboration
That's why ThomasARTS put Litmus Proof, a single, centralized tool for providing feedback, at the center of their review process. Now, all reviewers mark up and comment on the same email draft within Litmus. Reviewers can respond faster and all team members can see each other's comments.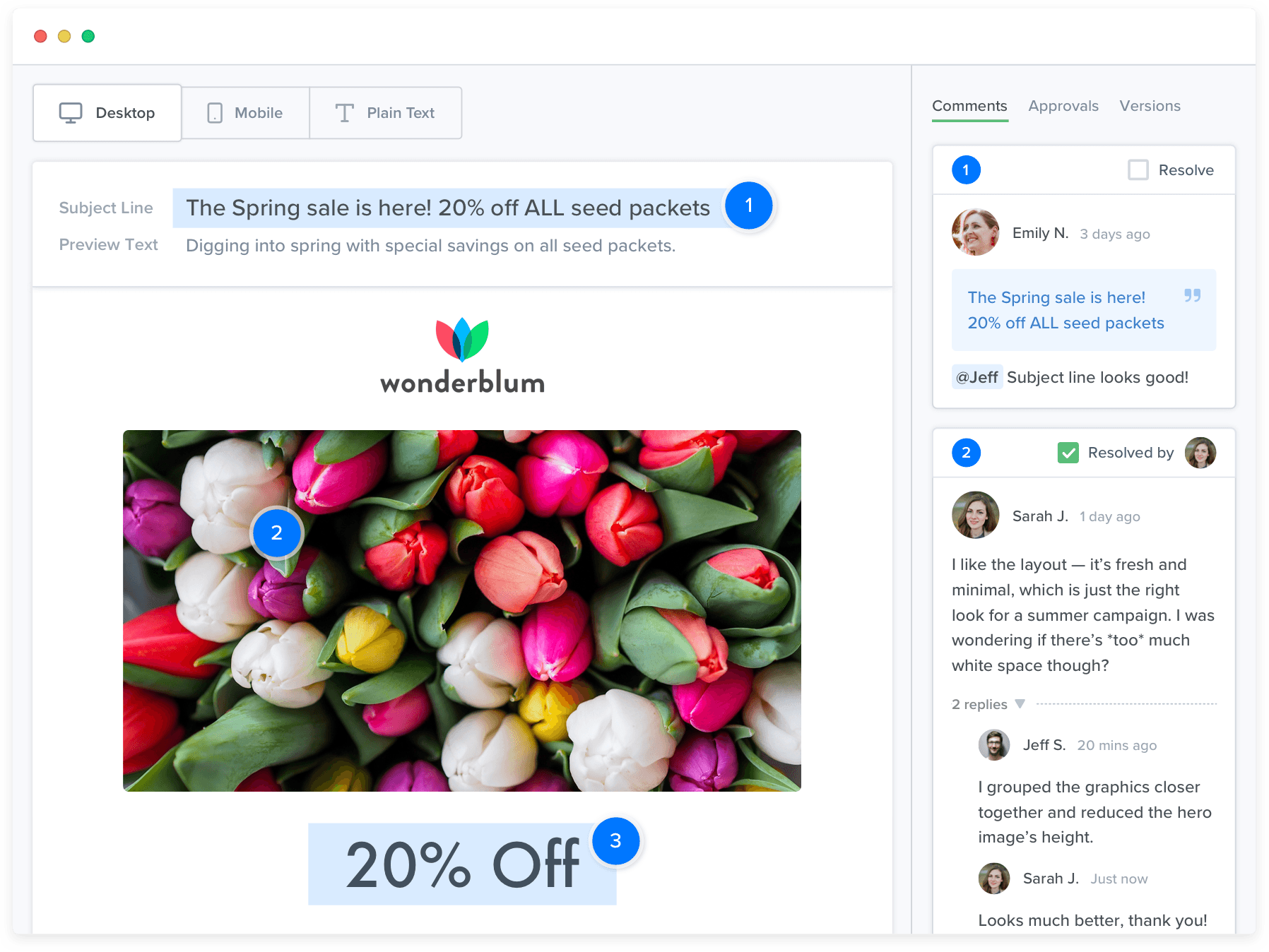 The result? ThomasARTS was able to cut its proofing process in half without sacrificing accuracy or robust feedback.
"Litmus Proof has helped us improve our workflow substantially. The ability to invite everyone into one environment and to see all feedback and comments in one place really made us realize how much of a pain point this was for us before."


Jon Gerber, Marketing Automation Director, ThomasARTS
Read how ThomasARTS uses Litmus Proof to streamline their email production process in this case study. Learn more about Litmus Proof to see how centralized collaboration within Litmus can help you get email campaigns out the door faster while also making sure your messages are on target and error-free.
Litmus Proof and agencies: A natural fit
Litmus Proof is a natural fit for agencies that coordinate campaign creation and management for multiple clients at scale. The centralized collaboration platform simplifies the one step in the email production workflow that eats up the most time.
Litmus Proof is available on Litmus Enterprise plans. Talk to a Litmus Expert to get started.