Marketers and email designers typically focus the majority of their efforts on optimizing their newsletters and promotional emails. The primary goals of these communications are usually new sales, leads, and conversions. However, there is a missed opportunity in engaging and retaining users with order confirmation emails.
It typically costs between six and seven times more to acquire a new customer than to retain existing customers. In addition, repeat customers tend to purchase as much as 67% more than new customers. The folks over at Silverpop stated
Many businesses are leaving money on the table by neglecting current customers in favor of creating new businesses…consider shifting some of your focus to moving customers from the…first purchase…to repeat purchases and brand loyalty.
While it's crucial to send and optimize promotional emails aimed at gaining new customers, take a look at what happens after a purchase is made. What do your order confirmation emails look like? What type of information do they include?
THE VALUE OF CONFIRMATION EMAILS
Transactional emails, like email receipts, are frequently neglected. However, 64% of consumers consider transaction confirmations the most valuable messages in their inbox. In addition, they have significantly higher open, click, and conversion rates than bulk mailings.
| | | |
| --- | --- | --- |
| | Order Confirmation Emails | Bulk Emails |
| Open Rate | 114.30% | 14.40% |
| Click Rate | 12.50% | 3.10% |
| Transaction Rate | 0.76% | 0.09% |
In addition, Experian found that order confirmation emails generate about $0.75 per email, while bulk mailings typically generate around $0.13 per email—that's nearly a 6-fold increase in ROI!
Order confirmation emails also have high engagement rates. The folks over at Receiptful, a tool that helps store owners and marketers send supercharged email receipts, analyzed over 100,000 email receipts that were sent. Through Litmus Email Analytics data, they discovered that subscribers are spending 14.8 seconds on their order confirmation emails—185% higher than the typical 8 second average attention span of humans! Not only are subscribers more likely to open and click confirmation emails, but they also spend more time reading them.
Why do these emails perform so much better than regular bulk mailings? Receiptful founder Adii Pienaar explains,
Purchasing something and receiving a receipt is an age-old interaction…it's become a habitual thing that we don't even think about. When someone buys something online, they still expect to receive a receipt.
In addition, people want to double-check their purchases. Did I order the correct item? Was I overcharged? Did I misspell my street name? Adii explains that "receipts also act as a verification mechanism."
Furthermore, receipts are frequently required for warranties, potential returns, reimbursement, and other scenarios. Subscribers will open and archive order confirmation emails to make them easy to find in the future.
OPTIMIZE YOUR CONFIRMATION EMAILS
With significantly higher transaction rates, revenue per email, open rates, and click rates than bulk mailings, order confirmation emails should be given more attention. Here are some tips for getting the most out of these valuable emails.
Keep them on brand
In many instances, engineers or developers—rather than marketers—have control over transactional emails. In addition, Adii explained that "most online vendor's transactional emails are either hard-coded or limited to the functionality of their eCommerce platform and/or a third party SaaS provider. As a result, these emails are often plain text, poorly designed, and not on-brand."
Take this example from a local florist: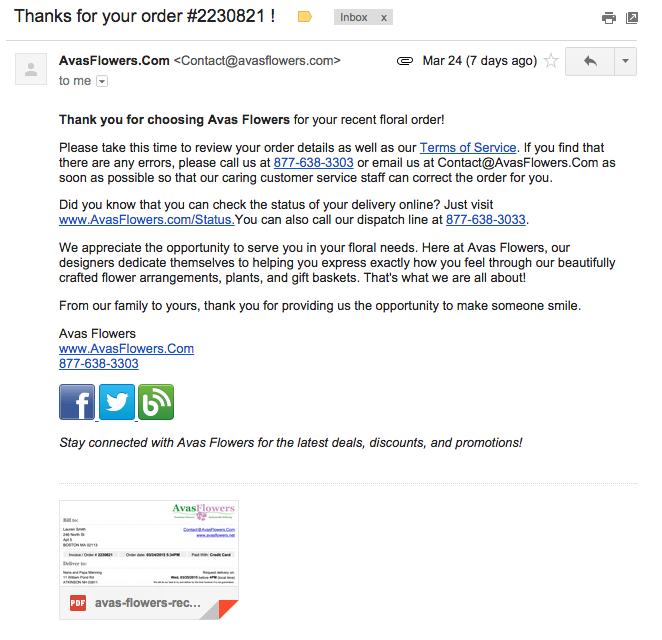 The email is almost entirely plain text, and doesn't include any order details within the content of the email itself. Instead, subscribers need to open the attached PDF to view their order details—not an ideal experience.
Adii explained,
You want your transactional emails to be an extensive of your company and your brand…We know that customers are engaging with your receipts and transactional emails, so make it a good experience for them and use them to nurture your relationship.
Use HTML and design elements to create a visually appealing email, adding warmth and emphasizing brand personality. We recommend keeping your design sleek and simple to allow for easy skimming of transactional details.
While not necessary, imagery of the products ordered can help make your email more engaging. You can also include images of related products as part of an upsell or cross-sell strategy (more on this later!). As a minimum, we recommend including your logo so subscribers will be able to easily identify you as the sender. However, be sure that transactional information isn't part of an image—you'll want that information readily accessible even if images are disabled. Your subscribers shouldn't have to download images in order to view their purchase details.
Adii uses Etsy as a great example of this approach: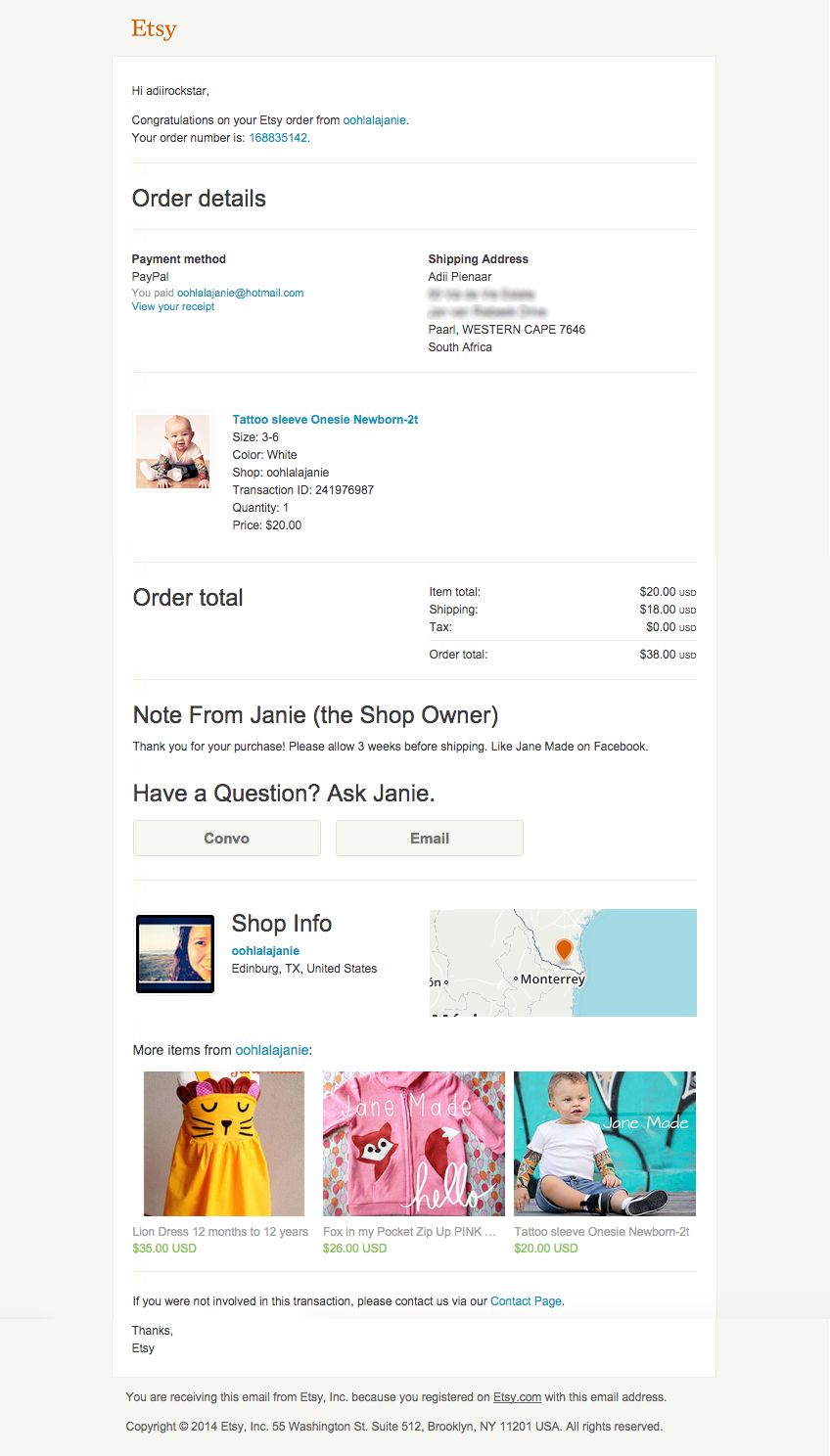 He explains, "Etsy has a main design challenge—to represent both Etsy and the individual seller—but they do so effortlessly. I love how it humanizes the vendor by including their profile picture in the email. It helps create a more natural connection between the buyer and seller."
Make sure it's mobile friendly
In terms of design, making your emails mobile friendly is non-negotiable. Receiptful found 39.2% of receipt emails were opened on a mobile device. The majority of these mobile opens occurred on an iPhone, which represented 30% of total opens.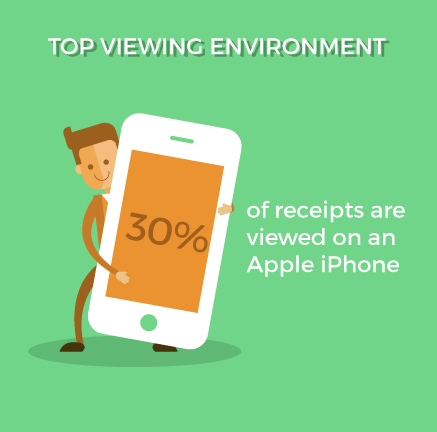 We recommend using mobile-friendly elements, like large text, touch-friendly buttons, and a single column design to optimize readability on small screens. Responsive design is another great option for ensuring your emails are mobile-friendly.
It's also crucial to preview transactional and receipt emails to ensure they look great in desktop and webmail applications, too. You can test your emails in over 40 desktop, webmail, and mobile inboxes with Litmus.
Adii and the team at Receiptful understand the importance of email preview testing:
We use Litmus' Email Previews extensively to ensure that our receipts work well on all devices and email clients. This is also one of our main value propositions: Receiptful users can send beautiful email receipts without having to worry about cross-client compatibility. It goes without saying that we would simply not be able to do this without Litmus helping us out.
Optimize your inbox view
Optimizing the inbox view for order confirmation emails is also important. Use a recognizable from name so your subscribers will be able to easily identify who the email is coming from.
In addition, make sure your subject line makes it clear that the nature of the email is transactional. Under the CAN-SPAM Act, subject lines in transactional emails, like order confirmation emails, must directly state that the nature of the email is transactional. For example, something like "Your Litmus Order Details," would be appropriate.

In this email from Venmo, the from name and subject line clearly state the sender and content of the message—details about a recent payment.
Lastly, don't use a "no-reply" address in the reply-to field. Order confirmations are a perfect place encourage communication between you and your customers. By using a "no-reply" address, you're not only discouraging communication, but missing out on an opportunity to send positive deliverability signals to web-based email providers.
Subscribers may have questions about their order, or perhaps they want to reach out about making another purchase. Use a reply-to address that will encourage customer engagement—and ensure that someone is monitoring that inbox.
Be timely
Subscribers expect to receive confirmation emails almost immediately after purchasing. Make sure that you have the proper technology in place to send your receipt emails while your company and the purchase is still top of mind.
Include value-added content
Since receipt emails perform so well—and you're more likely to generate additional revenue from existing customers—it makes order confirmation emails the perfect venue to encourage upsells and cross-sells. The folks over at Receiptful found that the average value of a receipt is $0.25.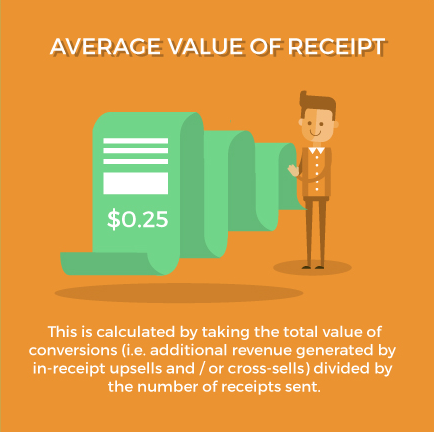 However, under the CAN-SPAM act, the content of transactional emails must be "primarily transactional." Though, there is no set rules on the percentage of your email's content that must be transactional, compared to marketing.
As Adii explained, you should follow the "various spam-related best practice and legislation. However, it's a bit of a grey area. The key is that the primary purpose of a transactional email should always be functional and never marketing." We recommend following the 80/20 rule—80% of the email's content should be transactional, while 20% can be promotional.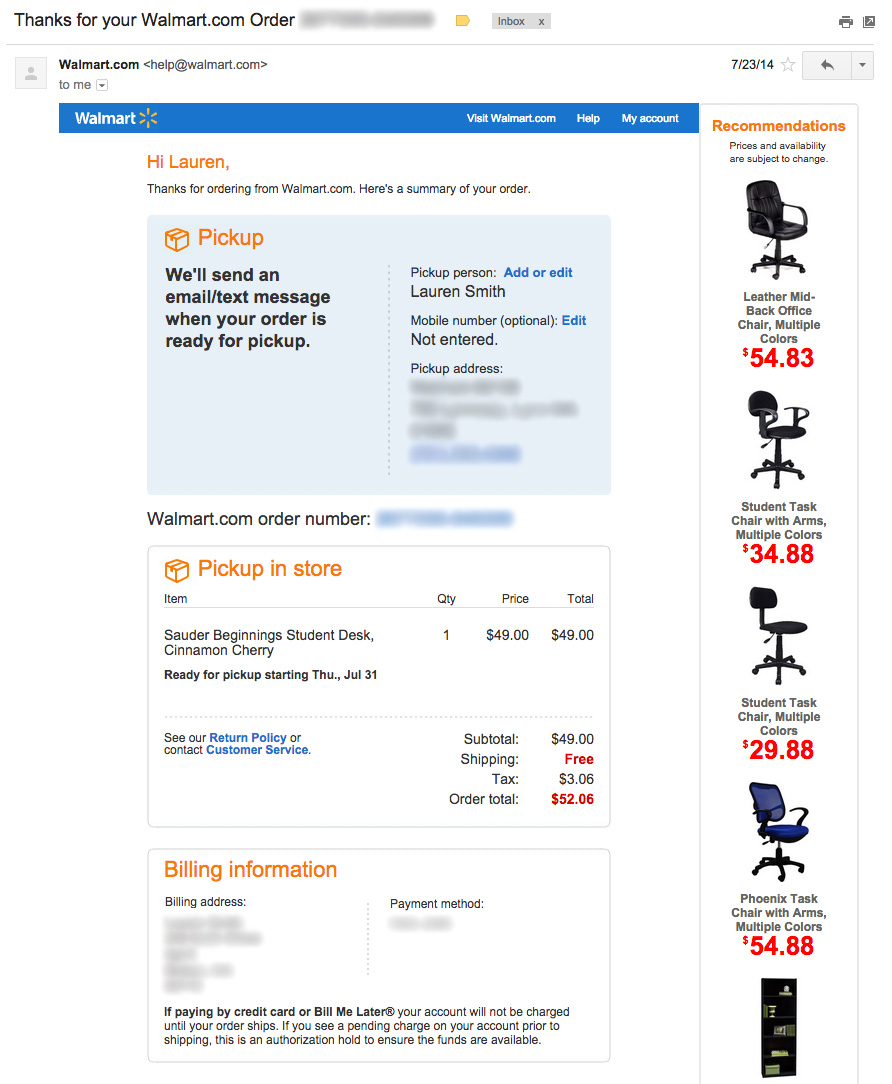 While the majority of the content in this email from Walmart focuses on the computer desk purchase, there is an upsell in the right column for a related product—computer chairs. The upsell is relevant and doesn't overwhelm the transactional nature of the email.
Receiptful found that providing a discount or coupon redeemable on a future purchase is the best performing transactional email marketing technique. Subscribers receiving receipt emails have already purchased from you, so why not encourage them making a future purchase with a coupon?
Since subscribers are so engaged with transactional emails, they are also a great place to invite subscribers to sign up for promotional emails and newsletters.
PREVIEW YOUR RECEIPTS BEFORE SENDING
Transactional emails, like receipts, are frequently considered among the emails we "set and forget". However, if there is anything that the 2016 State of Email Report taught us, it's that the email world is constantly changing—new email apps and launched and clients drop support for HTML and CSS attributes without notice.
Don't forget to test your transactional emails! Run a Checklist today and ensure your images, links, tracking work properly, plus get previews of your email in 50+ email clients.