The Community Spotlight is a blog series highlighting some of the amazing members of the Litmus Community.
This time we're chatting with Miah Roberts. He's an email developer from Colorado, who you might recognize as one-half of table tr td. Be sure to follow him on Twitter.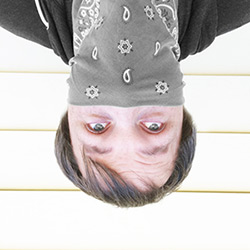 Who are you, where are you from, and what do you do?
My name is Jeremiah Roberts, and I go by Miah. I'm from a little bit of everywhere—Montana, Arizona, Wyoming, Nebraska, and now Colorado. I've been in Colorado for about eight years, and have a wife and a little baby girl at home. I'm the co-founder of camiah, a senior email developer at Digital Fusion, and the 'email righter' for table tr td.
When did you first get involved with email marketing?
I had my first intro to email marketing when I took a job as an email developer at Merkle Inc., and as Justine likes to say—email fell in my lap. Email and I fell in love very quickly, so my wife is pretty jealous.
What are some of your favorite tools and what does your typical workflow look like?
I'm currently using Adobe Dreamweaver for coding and slowly transitioning over to atom. Camiah is very process oriented in our workflows, making sure to agree on 'the best way' things should be done, and that way no time is wasted with confusing or unclear roles. I really like Litmus, Campaign Monitor, and Salesforce Marketing Cloud (AMPscript For The Win).
What it boils down to is 'code it, load it, test it, send it.'
What do you see as the biggest challenge in email today?
If you would have asked me this a year ago, I would have said that staying connected to the Community is the biggest challenge. But with the Slack channel, The Email Design Conference, and the openness of our community, that is no longer an issue.
The biggest challenge today, since things are starting to snowball and change quickly, is to ensure our updates and changes to our emails are not reactions to the industry. We need to take the time to make sure updates are truly fixes and that they do not break older email clients.
What do you think email will look like in five years?
I hope it will all be smart, funny, thoughtful email, sent by top-notch professionals who are highly respected (and paid well) in their companies. Unfortunately, there will probably still be a lot of bad email. But my hope is that sending with a purpose will start taking over. The community will be HUGE by then.
What's your favorite email hack?
I've been thinking about this a bit lately, and honestly, all of them. Working from a template with all the hacks in place is the key to making email the best it can be.
table tr td is one of our favorite email newsletters we receive at Litmus. How do you choose what to feature in each email?
Thank you! We love when people like them as much as we do. We have a long list of ideas waiting to be built out, but mostly we are trying to make sure we are listening to our followers and the community. Responding to 1) what is current 2) what is being talked about and 3) what we're excited about (this is what happens most).
Has there been an email campaign or email design that's caught your eye recently?
I'm really picky, so a lot of bad emails catch my eye. I really like the look and feel of Collaborative Fund emails. I love the stuff Eric Lepetit and team puts out at Nest—huge fan.
Outside of the email world, what else floats your boat?
I like to stay current on new technology (thank you Product Hunt) and keep up with my favorite graffiti artists.
Favorite film/band/TV show/food?
I don't really have favorites, but I'm infected with a case of 'that's my jam.' Movies are my absolute favorite. Going to the theater with my mom to see the latest, is the best. I like to listen to podcasts and chill radio on Apple Music. I'm a Walking Dead fanboy and sugar-free Red Bull is my favorite food.
Previous Community Spotlights
Join the Community
Not a Litmus Community member yet? Join the best minds in the email industry as they discuss the latest email news, cutting-edge techniques, and solutions to even the trickiest email design problems.
Most Popular
Don't Miss Litmus Live 2022 this Fall!

The Premier Email Event by Email Pros, for Email Pros.
From Anywhere–and Any Budget.

Learn More