All marketers want to create relevant and experiences for their email subscribers, but unfortunately the vast majority are not succeeding on a regular basis, according to joint research by Litmus and customer acquisition and market insights firm Fluent. We asked US consumers if they'd received a shareworthy email in the past 2 months from any of the brands they subscribed to and only 21% said that they had–meaning it was memorable, relevant, and promotional.
This stands in fairly sharp contrast to how memorable marketers think their emails are. Earlier this month, we asked visitors to the Litmus blog: "What percentage of your subscribers would say they received a memorable promotional email from your brand in the past two months?"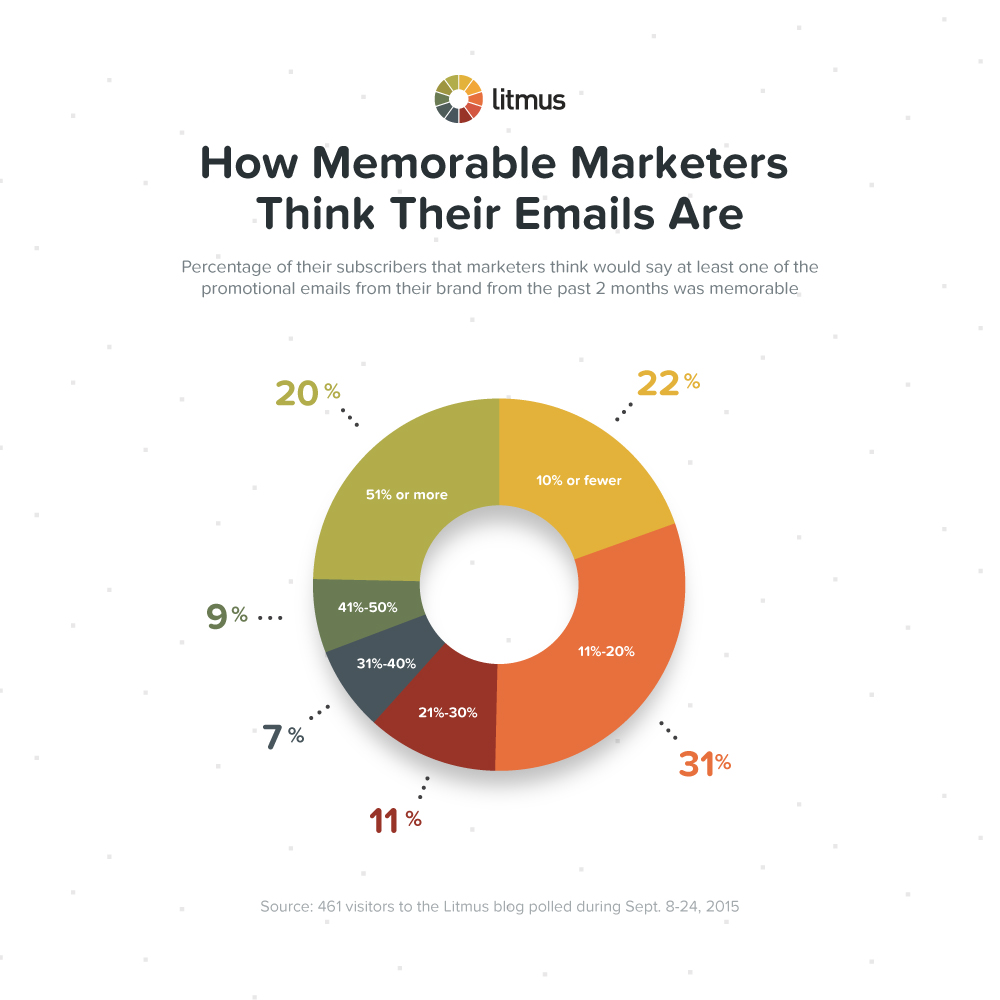 How are your emails performing?

When it comes to email marketing, it's all about your audience. Are your emails memorable? Use Litmus Email Analytics to discover your audience and build more relevant experiences for them. Sign up free!
A slim majority of marketers had a pretty honest assessment of their emails, saying that 20% or fewer of their subscribers would say they'd received a memorable email from them. However, more than a fifth of marketers think the majority of their subscribers are receiving memorable emails from them, which seems highly unlikely.
While how memorable a brand's emails are seems like a rather academic question, the answer correlated strongly with whether consumers had forwarded the emails to others and had shared the email content via social media. These are high-value actions that all marketers want to foster and encourage.
In the infographic below, we share the full results of our consumer survey and identify specific tactics that marketers can use to create more memorable, shareworthy emails, drawing upon our recent research into mobile-friendly email and landing page trends and into viral email behavior.

The Viral Email Report

This exclusive research provides benchmarks for forward-to-open rates, discusses tactics for spurring forwards, and shares real-world examples of viral emails.