Every month, we track opens from more than 1 billion emails sent using Litmus' Email Analytics and share the trends we observe in various email clients and environments for email client market share. In August, mobile opens dropped back down to 55%, desktop opens decreased to 18%, and webmail opens increased to 28%.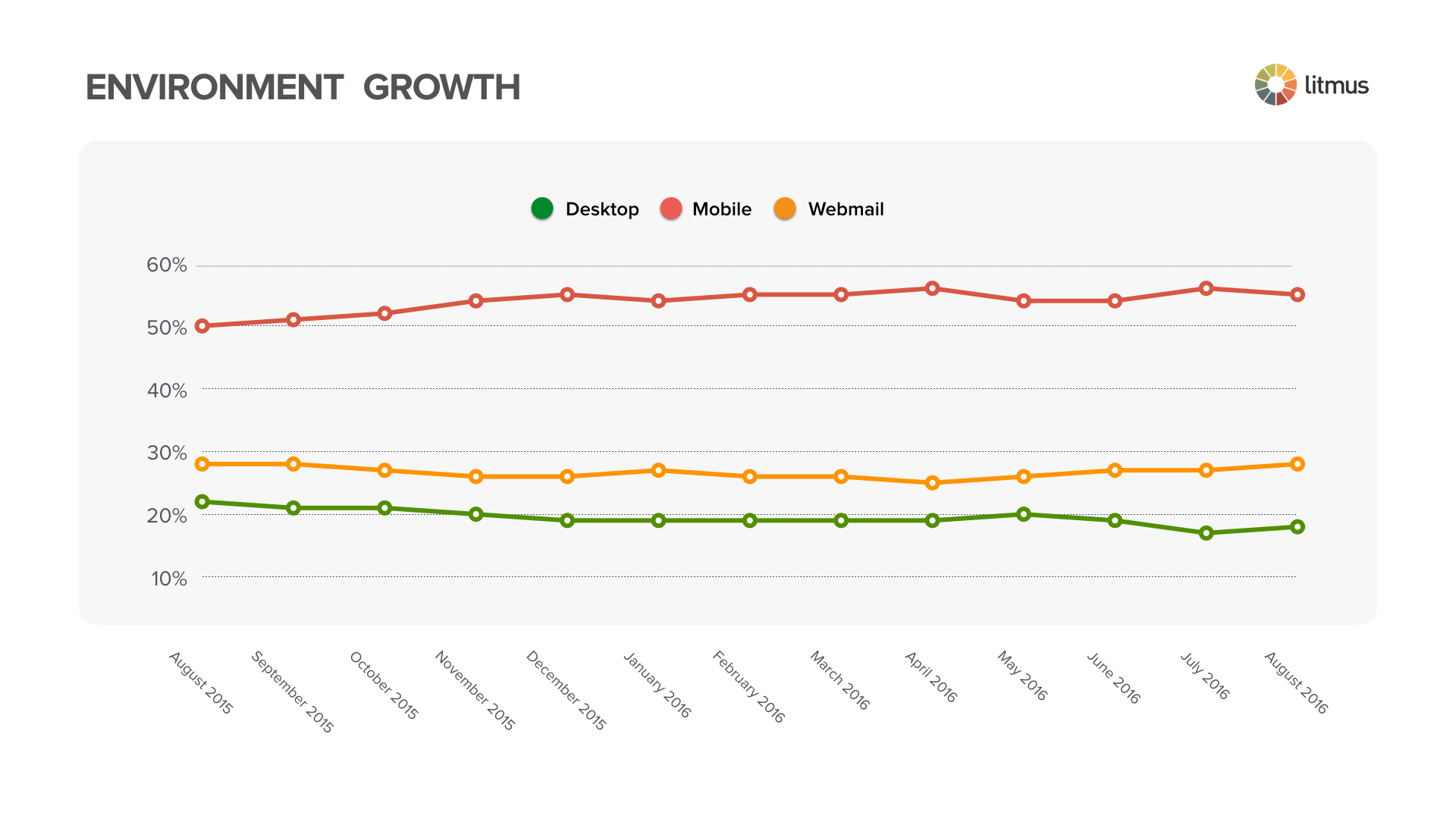 A REFRESHER ON MARKET SHARE TERMS + EMAIL OPENS
"Mobile" refers to mobile-specific email clients, like iPhone or Android, but also where users are opening their email. If they're using the Yahoo Mail app on their iPhone, for example, that counts as a mobile open for iPhone. This also includes tablets like the iPad.
"Desktop" shows any email client opened on a desktop application. That means any email client that required you to install software. If you're using a Mac, for instance, that could mean Apple Mail. On a PC, that might be Outlook.
"Webmail," by contrast, means you're using an email client within a browser. Logging onto your Gmail account or using Outlook.com fall under the "webmail" category.
How do we track opens? Open tracking in Litmus Email Analytics is based on 1×1 invisible pixel image tracking, which is the same technique that your email service provider uses to report your open rate. When a customer opens your email, the image is loaded. This counts as an open. (Don't worry—the tracking pixel doesn't alter your carefully planned designs!).
Let's dig into the data:
Top 10 Email Clients
This order holds steady from what we saw at the end of the first half of the year, with mobile overwhelmingly dominating the top ten list.
iPhone, 33.01%
Gmail, 16.30%
iPad, 11.17%
Android, 10.32%
Apple Mail, 7.06%
Outlook, 7.06%
Outlook.com, 4.56%
Yahoo! Mail, 2.75%
Windows Live Mail, 1.14%
Windows Mail, 1%
Discover your top 10

When it comes to email marketing, it's all about your audience. Use Litmus Email Analytics to discover which email clients are most popular with your subscribers. Sign up free!
Mobile Opens Dip To 55%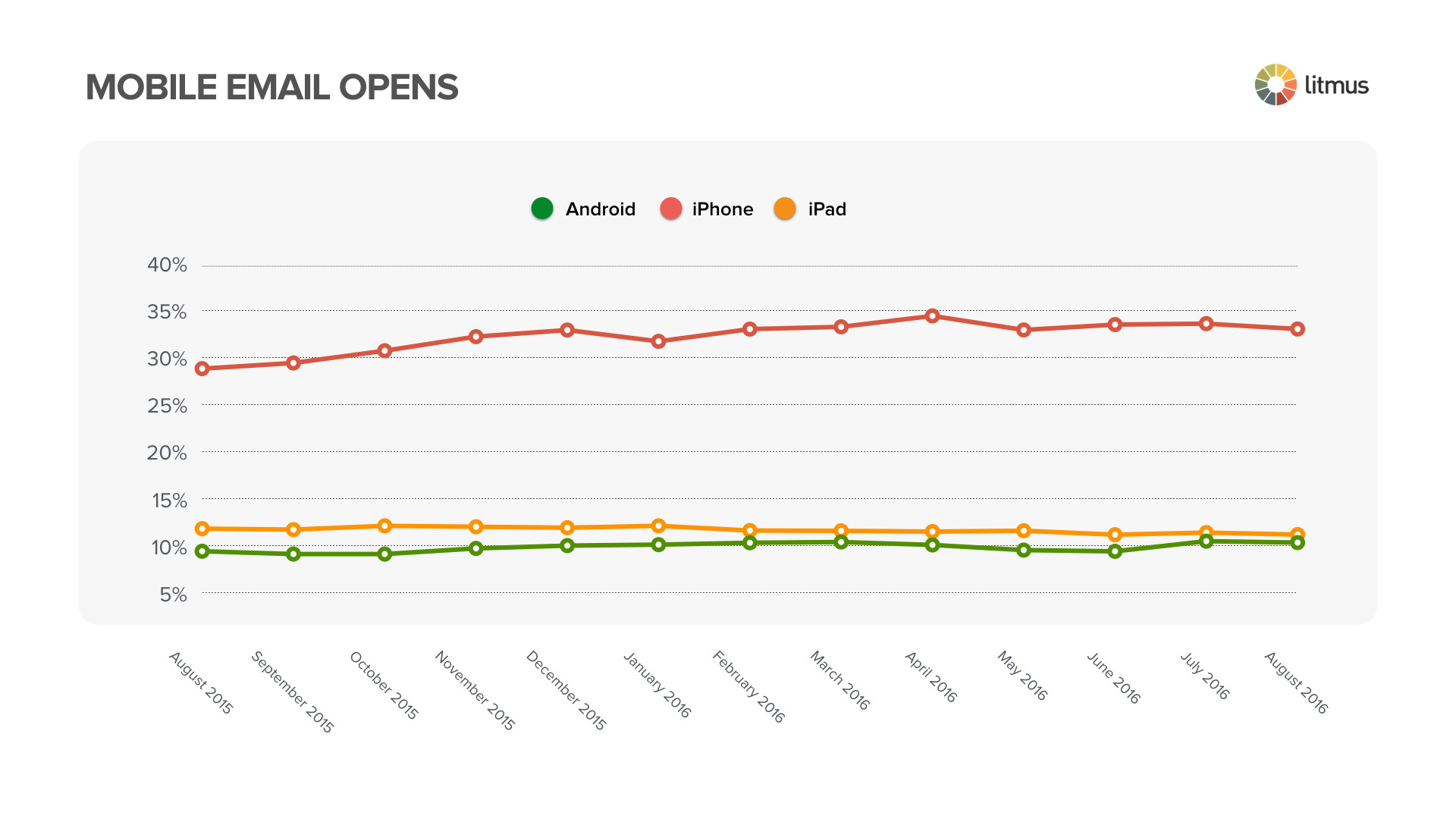 Though mobile dropped 1% this month, it still dominates the market share landscape. Similar to recent dips in market share, it's unlikely that mobile will continue to decrease. Mobile market share has held between 54% and 56% since November 2015 and shows no signs of diminishing.
We live in the age of mobile.
In our 2016 State of Email Design report, we found that not only are email marketers optimizing design for mobile, they're optimizing their content, too: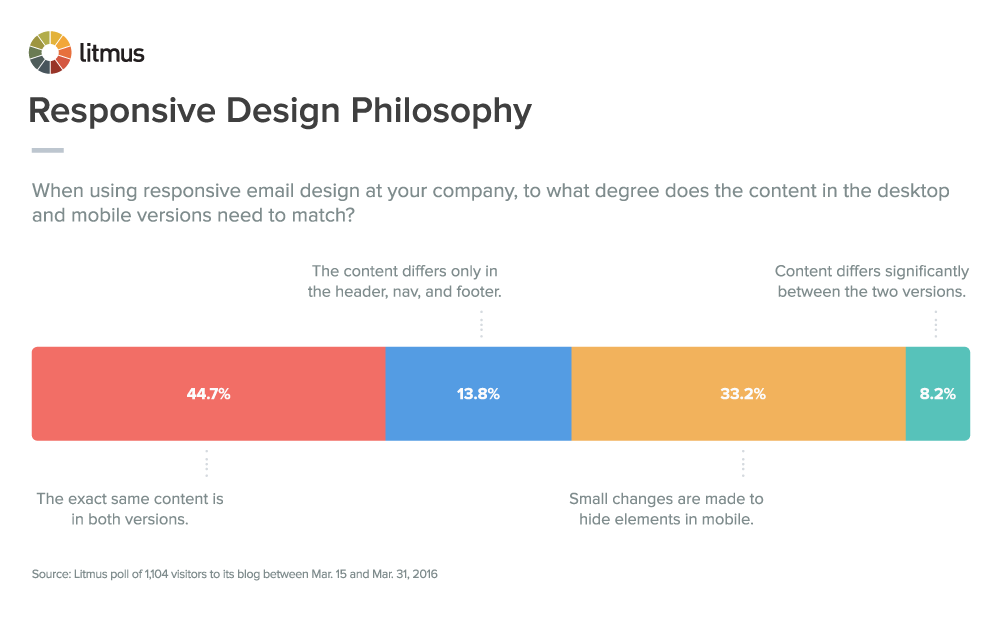 However you choose to adjust your designs, it's clear: mobile should be a part of your email strategy, whether you're employing responsive, hybrid, or scalable coding techniques.
As for the most popular clients, Apple still maintains majority market share, with iPhone and iPad making up 44.18% of all opens. Based on the latest Apple announcement, it will be interesting to see if things shift. Reactions (like this one and this one) have been mixed to the idea of the iPhone 7, so we'll keep an eye on how this new release will affect mobile opens through the rest of the year.
Desktop Opens Increase to 18%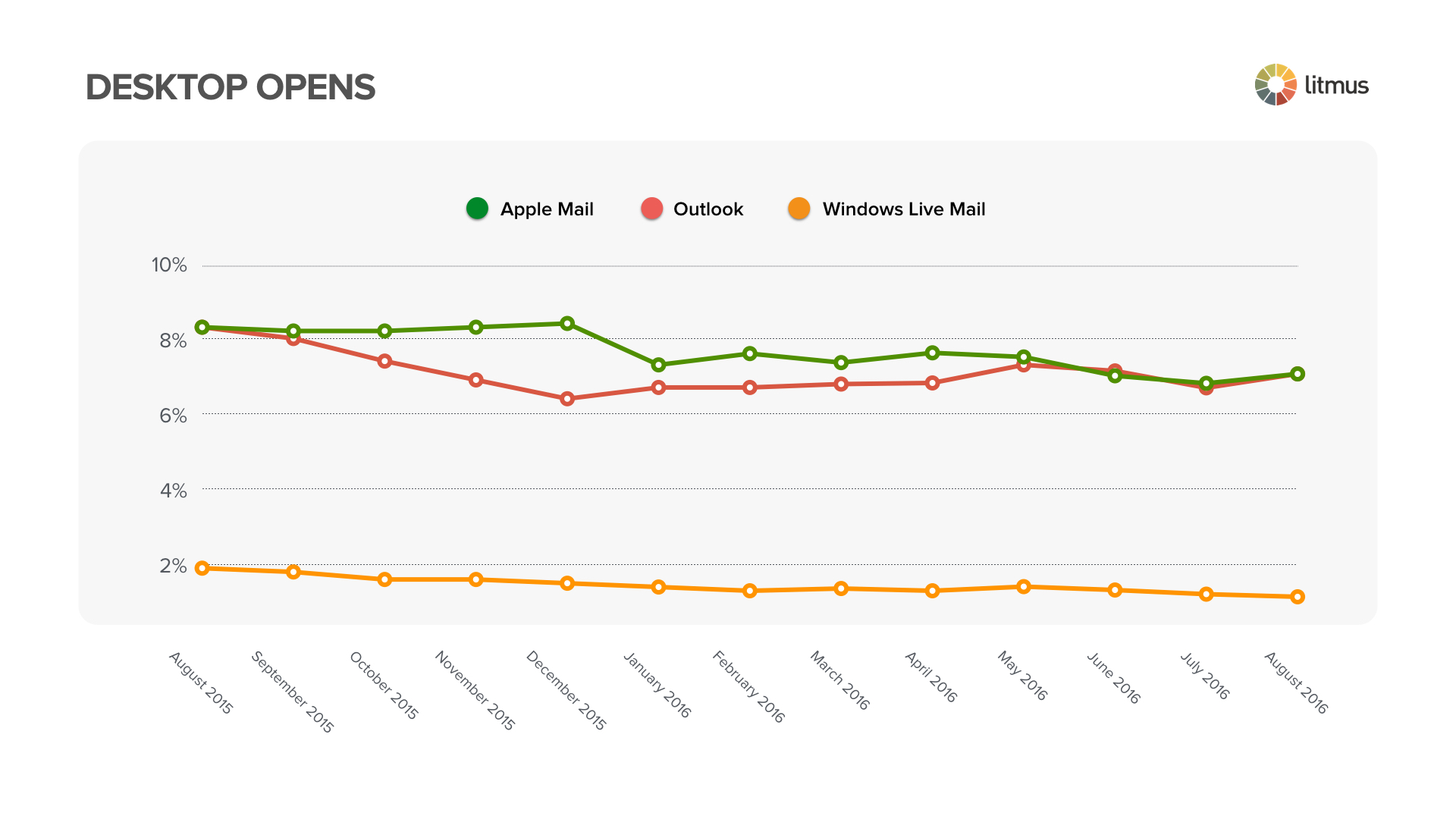 Desktop increased back up to 18% after dropping in July. This is still lower than previous months, however. At this time last year, desktop represented 22% of all opens. (A 4% drop year over year).
Apple Mail increased from 6.81% to 7.06%, as did Outlook, popping up from 6.69% to 7.06% of all opens. While Apple Mail doesn't give designers many headaches, Outlook does. Common rendering quirks include:
No support for containers, like divs, requiring developers to use tables to build emails
No support for background images with HTML, requiring the use of VML to make them work
No support for animated GIFs or video in email
No support for padding on P, Div, and A tags
(Have you heard? Things are looking up for email designers. We're partnering with Microsoft to make email better.)
Keep in mind that these metrics are general, and may not match your subscriber base. While Outlook may make up 7.06% of all opens that we're tracking, you may have a different subscriber makeup. It's important to track your own subscribers (it's easy with Litmus Email Analytics) so you can focus your design efforts.
Gmail Dominates Webmail Opens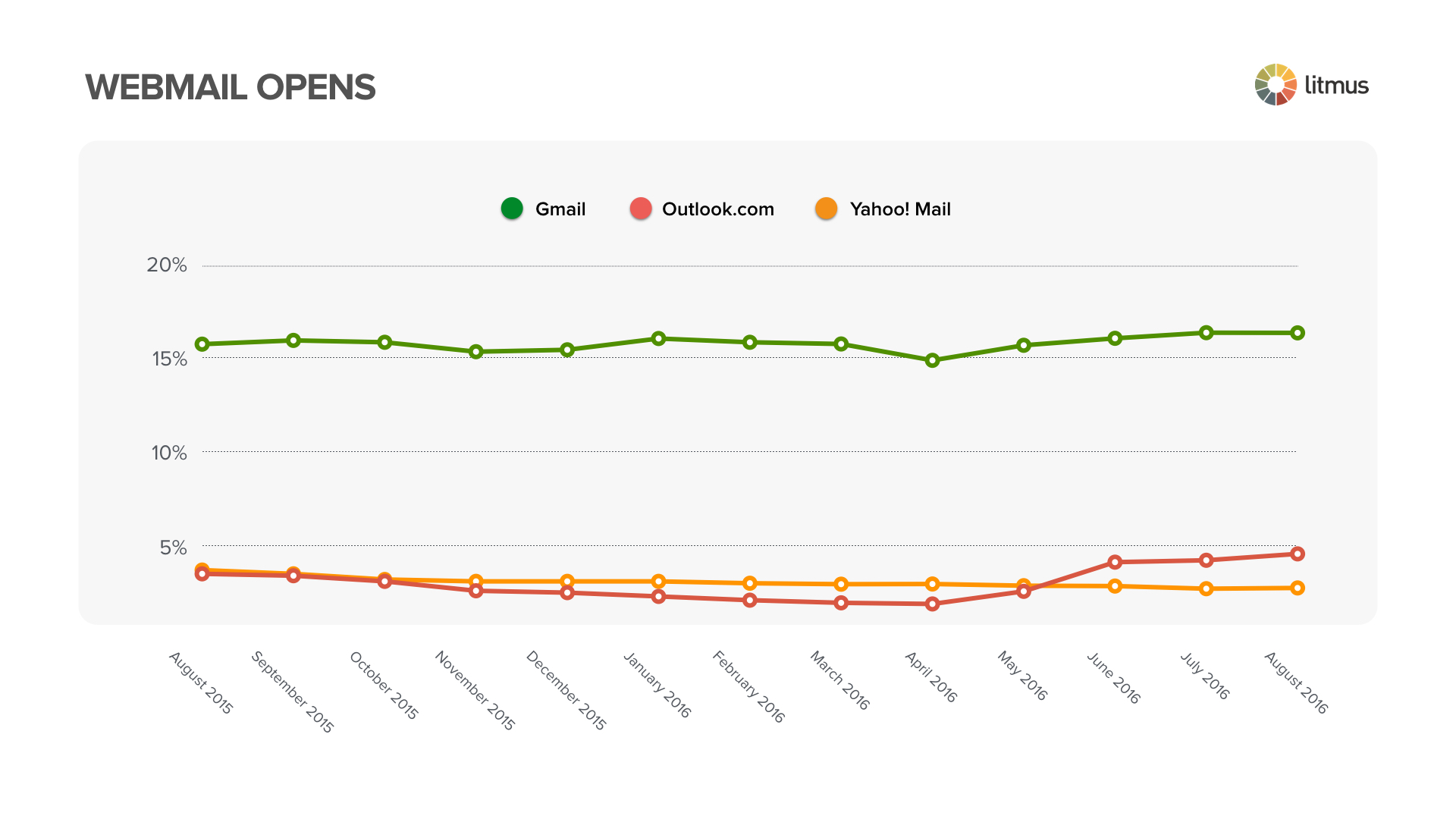 Gmail continues to dominate webmail opens at 16%. It's a major player for webmail and consistently one of the top overall email clients. However, it can give email designers some headaches, especially with it's lack of support in the <style> tag in the <head> of an email.
Good news for email marketers, though: Gmail now supports display: none, a CSS property that can hide specific elements of your email.
This is a big deal.
This means that email designers can now use display:none to hide preheader text (no more "Having trouble displaying your email?") or better control (or even hide) desktop-specific content on mobile. This change occurred in all of Gmail's major clients, including Inbox by Gmail.
WHERE DID WE GET ALL THIS DATA?
This data is derived from over 1 billion opens collected worldwide with Litmus Email Analytics between August 1, 2016 and August 30, 2016. It highlights worldwide trends across all industries and verticals. Some email clients may be over- or under-represented due to image blocking. Tracking trends over time is the best way to monitor open data for email!
WHICH EMAIL CLIENTS ARE MOST POPULAR WITH YOUR AUDIENCE?
While general email client open data is great for looking at trends, it's your audience that matters. With the addition of a small tracking code to your campaigns, Litmus Email Analytics generates a report of where your subscribers open your emails. Use that data to focus your testing efforts—and ensure your campaigns look great in inboxes where your subscribers are opening.