There's no better source of email inspiration than your inbox. Subscribing to leading brands from within and outside your industry can help you stay on top of email design trends, expose you to smart copywriting and campaign strategies, and provide you with ideas you can adapt for your own email program.
Are you looking to make your own inbox a source of email inspiration? There are a few brands you shouldn't miss.
The most inspiring email brands in 2019
Every year, we survey thousands of email marketers about the brands that inspire them the most and use these insights to put together the ultimate list of the most inspiring email brands.
Here are 2019's must-subscribe brands.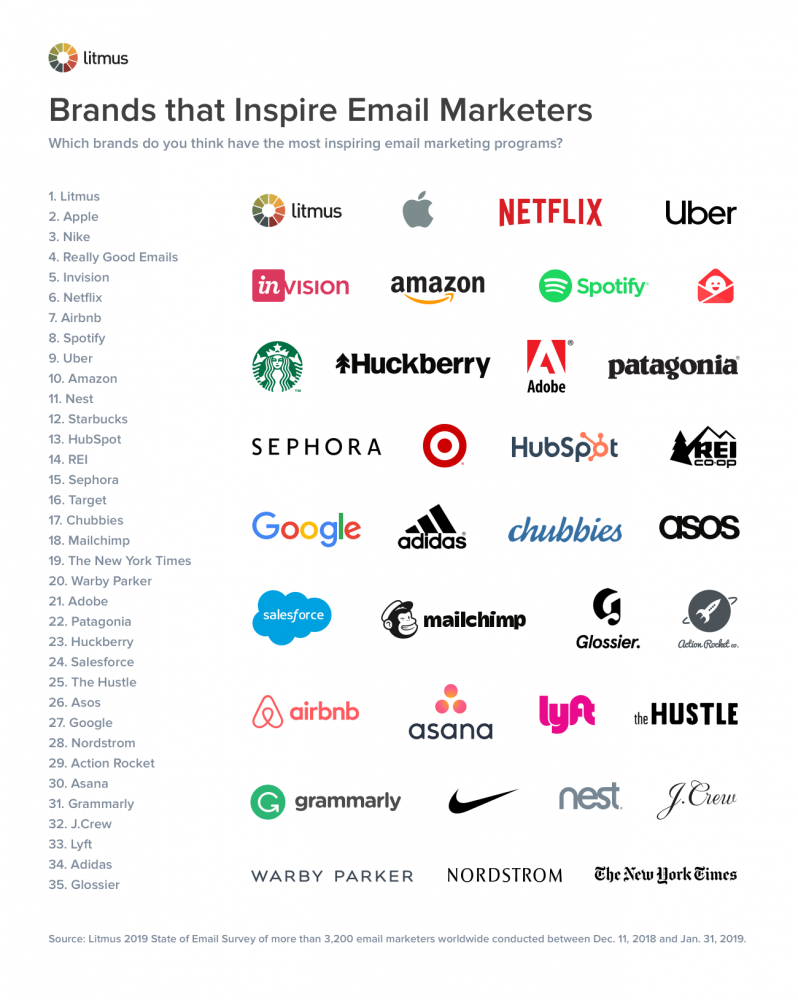 Are you looking for even more great brands to subscribe to? Check out our 2018 and 2017 leaderboard for more email inspiration.
The best email brands use Litmus
Litmus was voted the most inspiring email brand in 2019 (Thank you, #emailgeeks, you're making us blush!). If you aren't getting Litmus emails yet, you can subscribe here.
But what's even more exciting is that we helped many of the other leading brands on the list send emails that delight subscribers and are a source of email inspiration. 28 out of the 35 most inspiring email brands use the Litmus Email Creative platform to make their emails better, and we couldn't be more proud to see them all on this list.
Create best-in-class emails with Litmus

Discover how Litmus can help you build, test, and optimize your emails so you can create an incredible email experience for your subscribers.
Most Popular
Don't Miss Litmus Live 2022 this Fall!

The Premier Email Event by Email Pros, for Email Pros.
From Anywhere–and Any Budget.

Learn More