Design, copy, and strategy all work in harmony to create an email subscriber's experience when receiving newsletters and update emails from the brands they love. 
As we receive so many wonderfully curated email campaigns in our inboxes, we love to share our favorite emails from the past month. So here are the emails that really stood out of the inbox in April.
Kimberly Huang, Content Marketing Specialist
Subject Line: Your cart is disappearing
Preview Text: 👀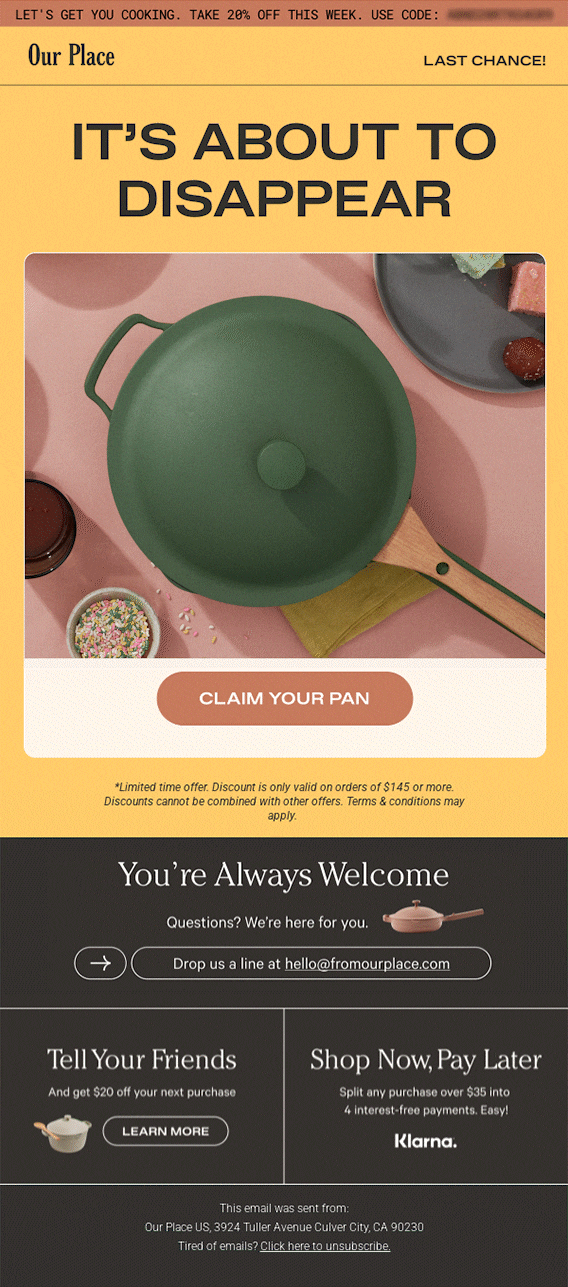 Kimberly says: The timing and design stood out to me here! This was a perfectly executed cart abandonment email—about 12 hours after I abandoned, I received this email. Plus, the discount code (combined with the sense of urgency that came with the email copy) helped moved me down the funnel.
In terms of design, it was on trend with what we've been seeing across email design, utilizing a compartmentalized layout to help divide the email into outlined sections. One of the benefits of this type of design is it helps create visual distinction from one call-to-action (CTA) to the next. Also, subtle animations can go a long way. The animated GIF enhanced the message in a clever way—it thematically matched the subject line "Your cart is disappearing" and tied it all together.
Carin Slater,  Senior Customer Support Manager
Subject Line: Hi Carin, you spent less on electricity this bill period Mar 1, 2022-Mar 29, 2022
Preview Text: Here's how your most recent bill breaks down.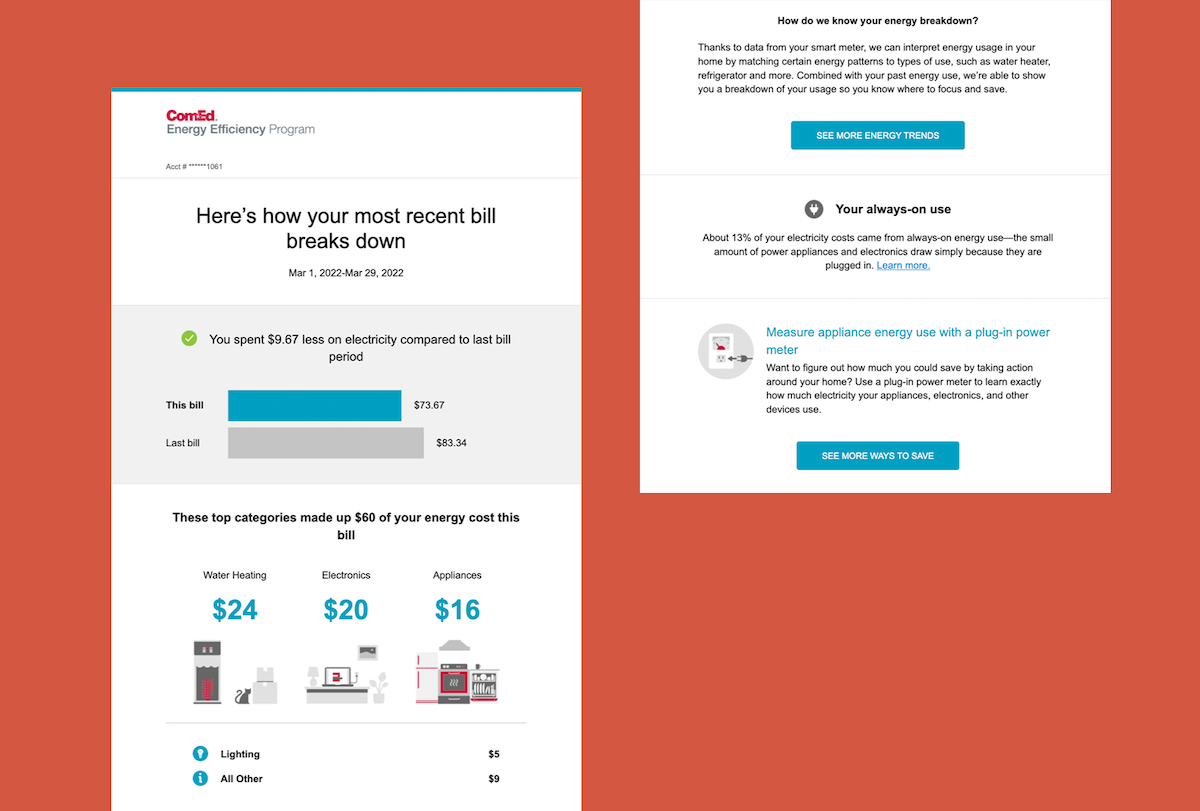 Carin says: I was not expecting this level of personalization from my electricity provider, but it was awesome. I appreciated them including where my electricity usage was going as it made it more actionable for me to help reduce my electricity usage. 
And as always, they've made their bar graphs with tables, so it looks great with images off.
Jaina Mistry, Senior Email Marketing Manager
Subject Line: Your design is ready for the next step
Preview Text: Congrats! You're one step closer to bringing your design to life!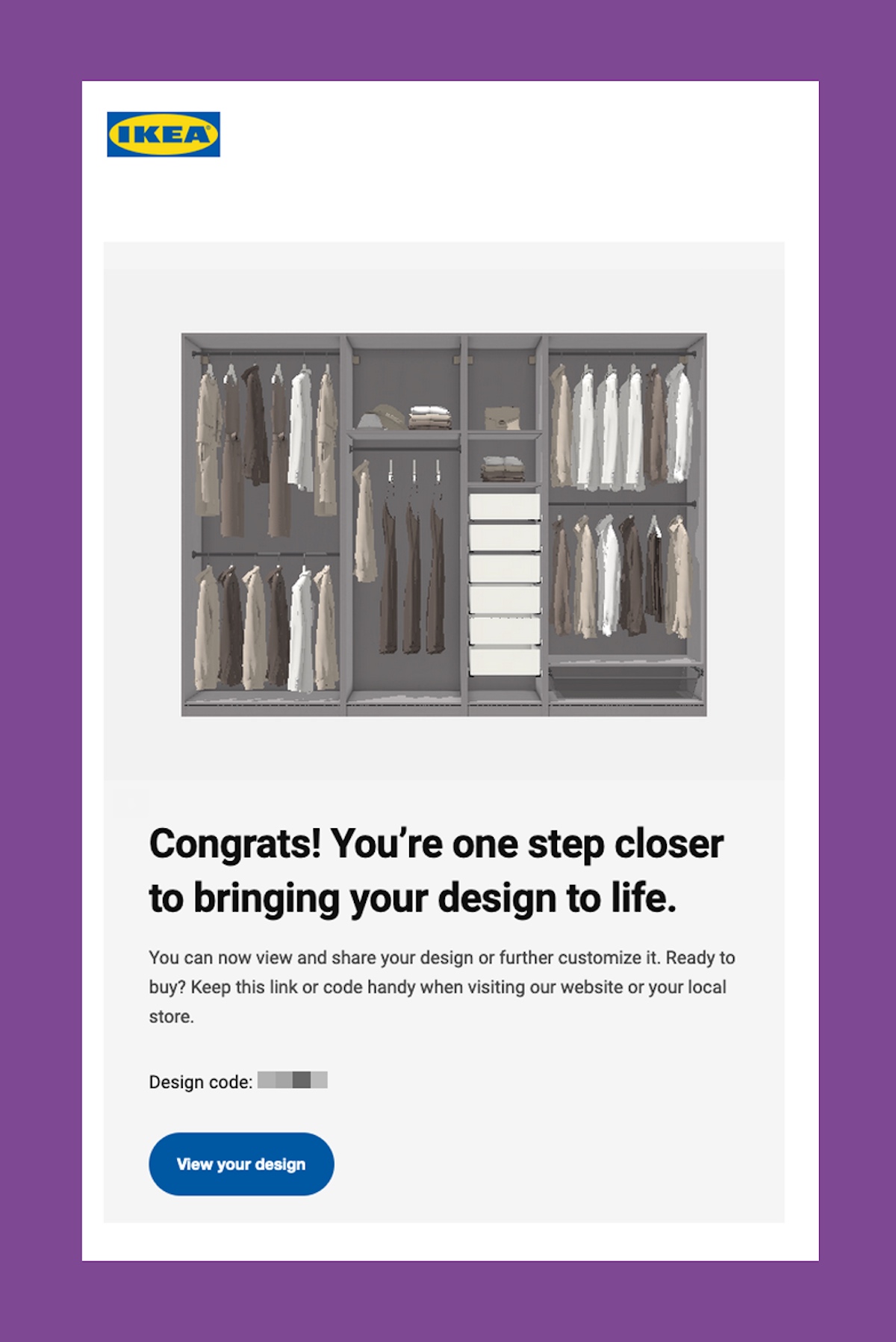 Jaina says: The personalized image in this email is truly… "chef's kiss". It's a great visual reminder of the design I was building on IKEA's website. AND, I need that visual reminder as I went through a few different iterations before landing on this. So having the design code and the image of the design brought into this email was really helpful.
Subject Line: Honey helps you save at checkout!
Preview Text: Download for free.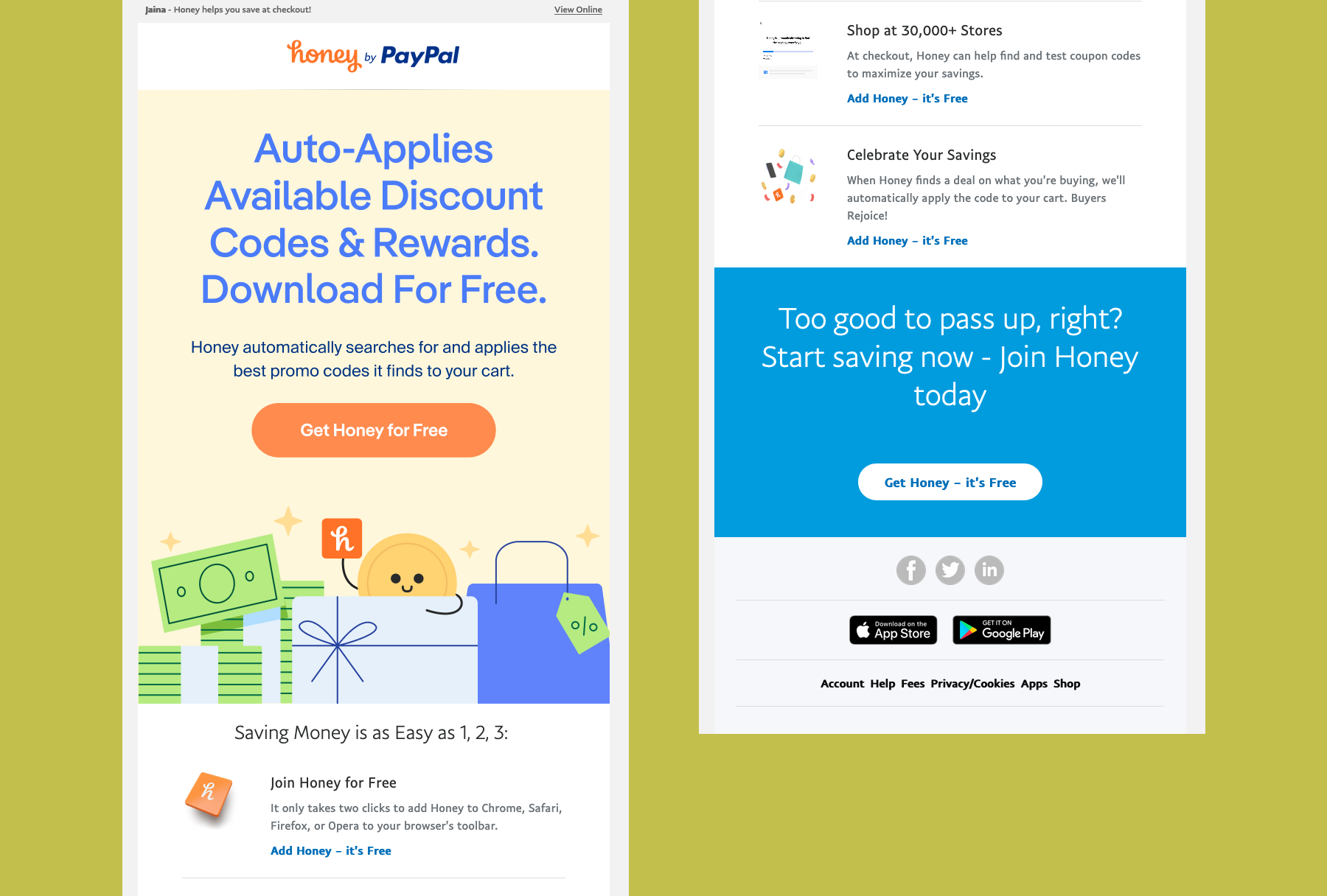 Jaina says: This is a really beautifully designed email from Paypal. It has a striking hero image with an inverted pyramid that leads the reader straight to the ever so important CTA button. The hero image is very cute and fun, and the encapsulated CTA at the bottom of the email acts as a nice reinforcer to the CTA at the top.
Martyn Lee, Marketing Manager at Kickdynamic
Subject Line: Let's find the perfect party outfit!
Preview Text: We've picked our favourite looks from this season of Bridgerton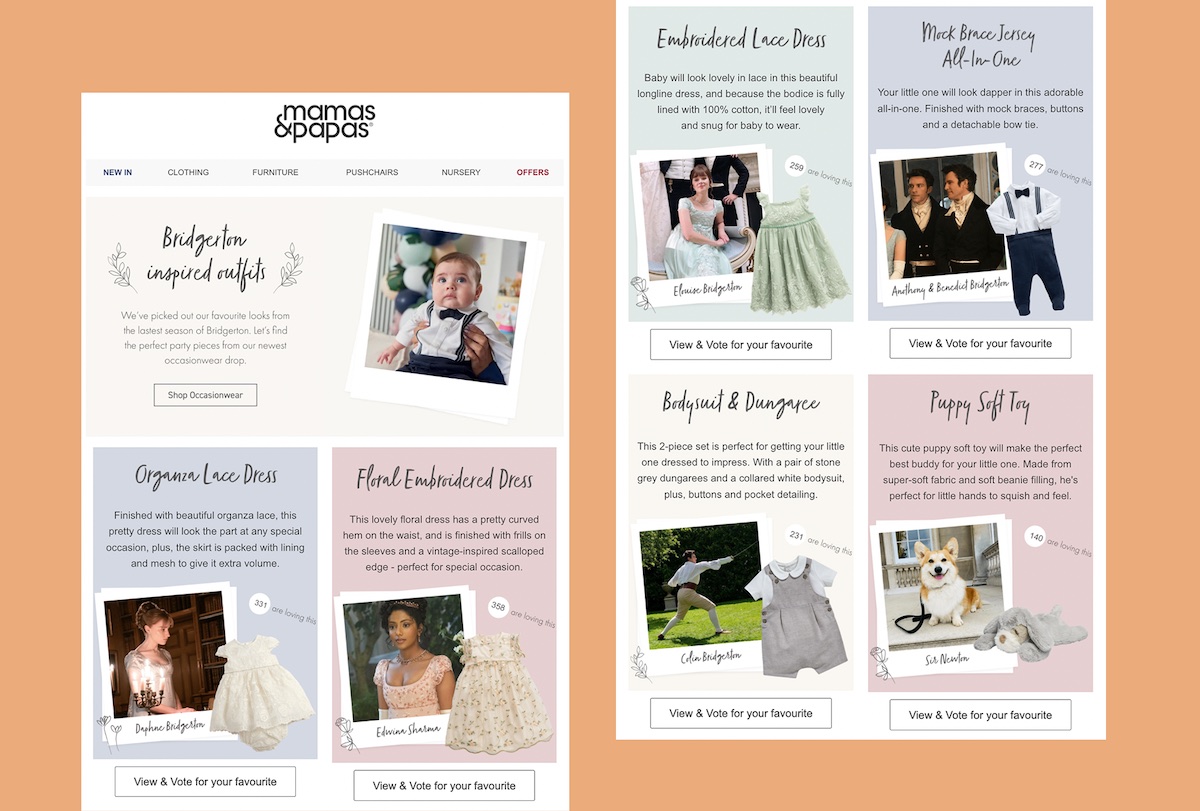 Martyn says: I love this email from Mamas & Papas. They have been inspired by the TV show of the moment; Bridgerton. Pairing outfits from the show with their line of children's clothing is truly inspired marketing. They've also included social counters to show how many people have clicked on each product, encouraging recipients to click even more!
Subject Line: game, set, new novelty
Preview Text: you have been served.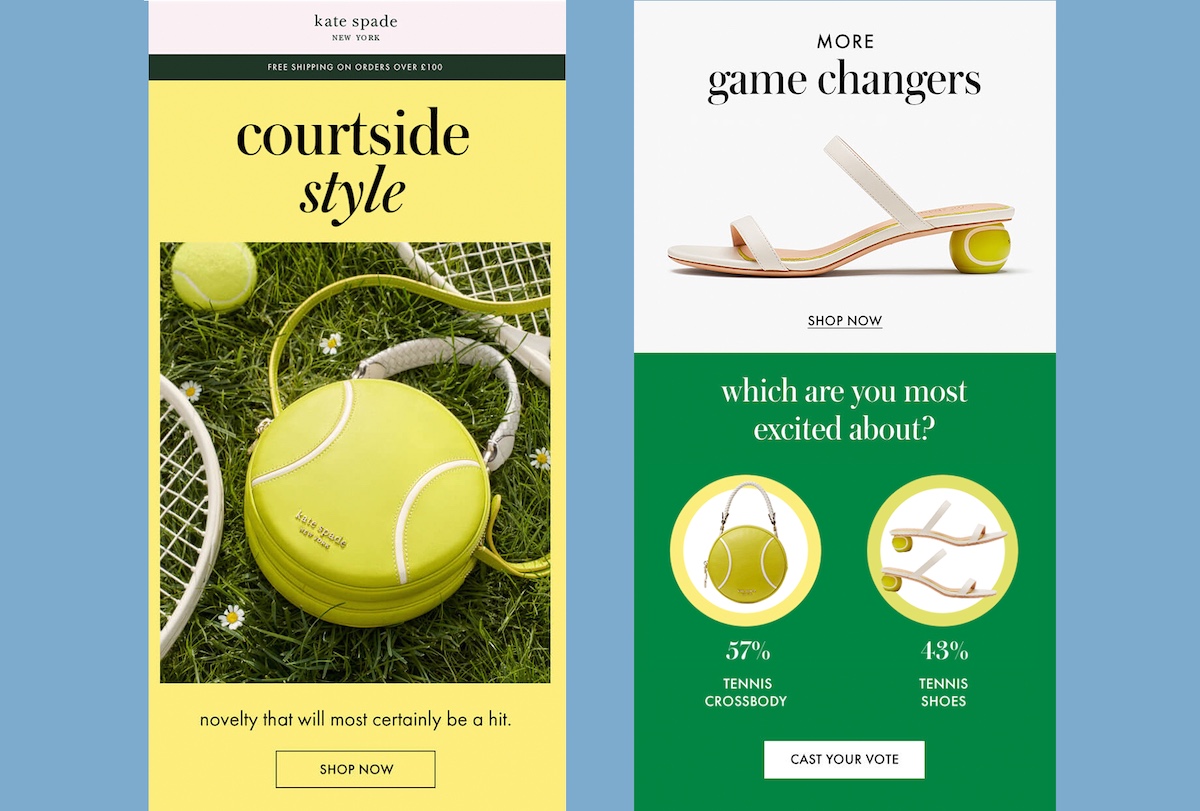 Martyn says: Now, this is one fun email! To celebrate the launch of their new tennis-inspired line Kate Spade sent this email to subscribers. I LOVE the cute email styling, as well as the interactive poll towards the bottom of the email. I really can't wait for Wimbledon now!
Maria Coleman, Senior Content Marketing Manager 
Subject Line: Ballparks! 🏟️ Get yer ballparks here!
Preview Text: Even more classic stadiums to add to our MLB ballparks collection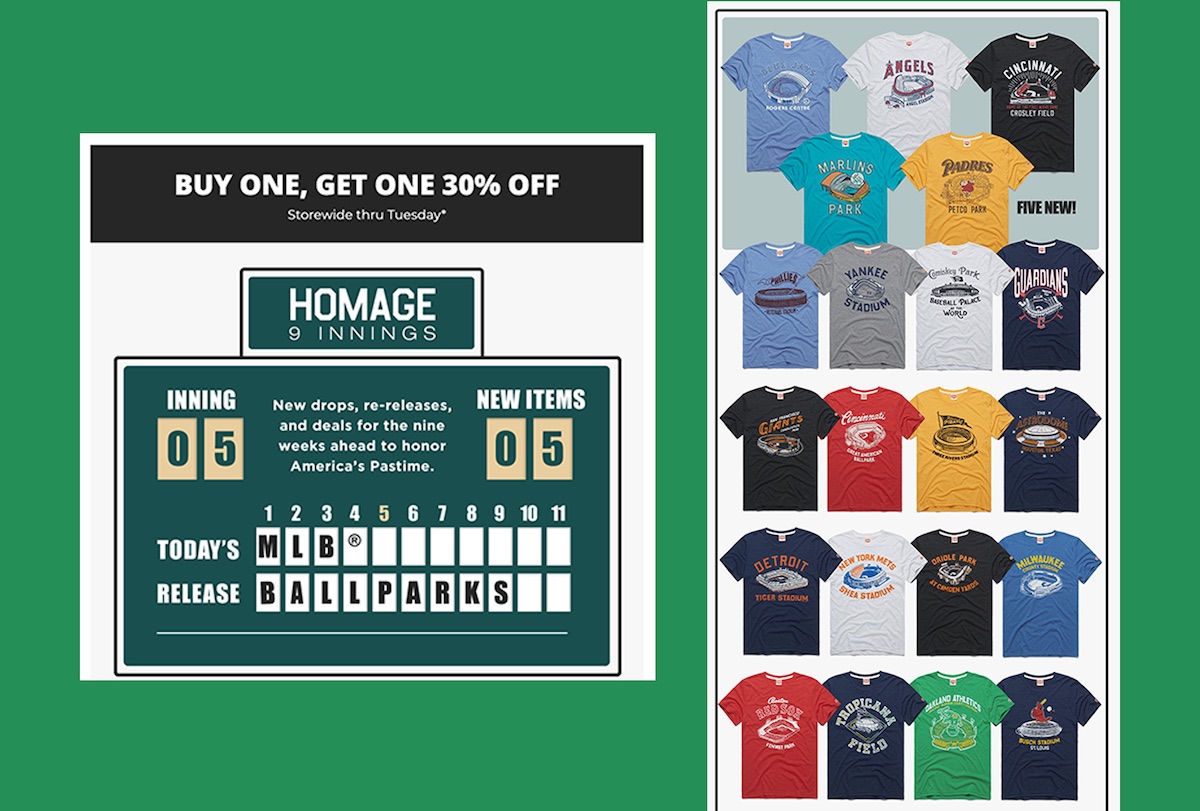 Maria says: I'm like most and get quite a bit of email. But Homage emails always catch my eye. They consistently have clever subject lines and great imagery. I love that they incorporated the scoreboard for copy. It's got me thinking about heading to a game—in an Homage t-shirt of course. 
Master the basics of email design


Learn the fundamental principles and best practices of email design in 5 easy-to-digest lessons.