The holiday season makes December one of the busiest times of the year for email. There was no shortage of messaging about holiday deals, winter weather, and seasonal steals. But out of all the emails that made their way to our inboxes, what stood out the most?
Read on to see what email campaigns caught our attention in December 2021.
Alaina Calabro, Events Manager
Subject line: 🥶 Temps are dropping
Preview text: Stay warm with Morning Brew's winter essentials

Alaina says: I liked the emoji in the subject line and the overlapping images on the header. This is new for the company and I love sweatshirts so I liked seeing all their cold weather options.
Daniel Hawkins, Marketing Designer
Subject line: Timex x Huckberry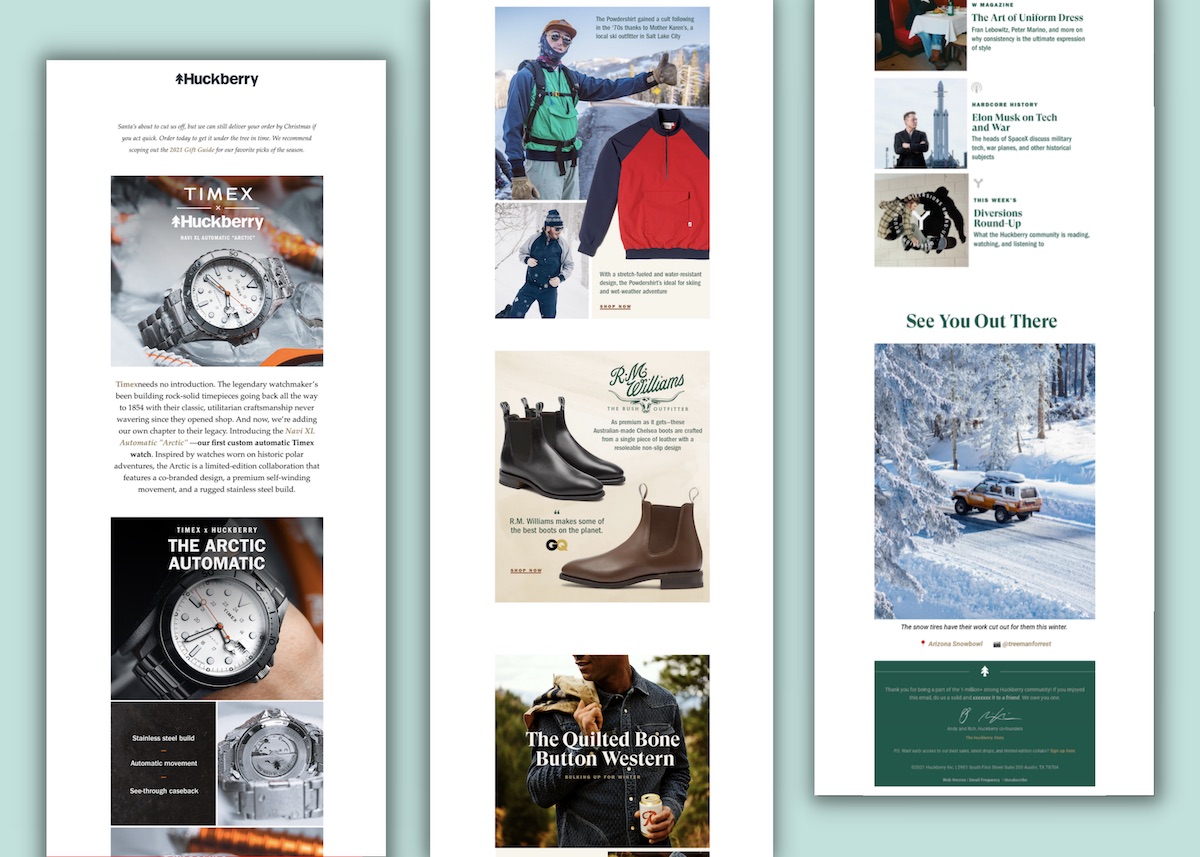 Daniel says: While this email does rely on many images, they are great looking images. They really highlight the products and make me want to buy things I didn't know I needed. There is an animated GIF halfway through that helps to keep me scrolling through this fairly long email. Colors, background textures, cut-out products, and bold fonts make this a very appealing design.
Maria Coleman, Senior Content Marketing Manager
Subject line: Running late? Enjoy free express shipping, on us
Preview text: Make sure your gifts arrive in time

Maria says: I love that they were able to tie the running theme and holiday rush together throughout the email. As people are in the process of trying to finish up their last minute holiday shopping, they highlighted the ease of free 2-day shipping. I also noticed that the shoe suggestions were all models I had been viewing on the site, in case I wanted to do a little last minute shopping for myself. It was perfectly curated for any shopper.
Cynthia Price, VP of Marketing
Subject line: TA #101: 🎁 21+ Ridiculously Useful Holiday Gifts for 2021; When Spotify Goes Wrong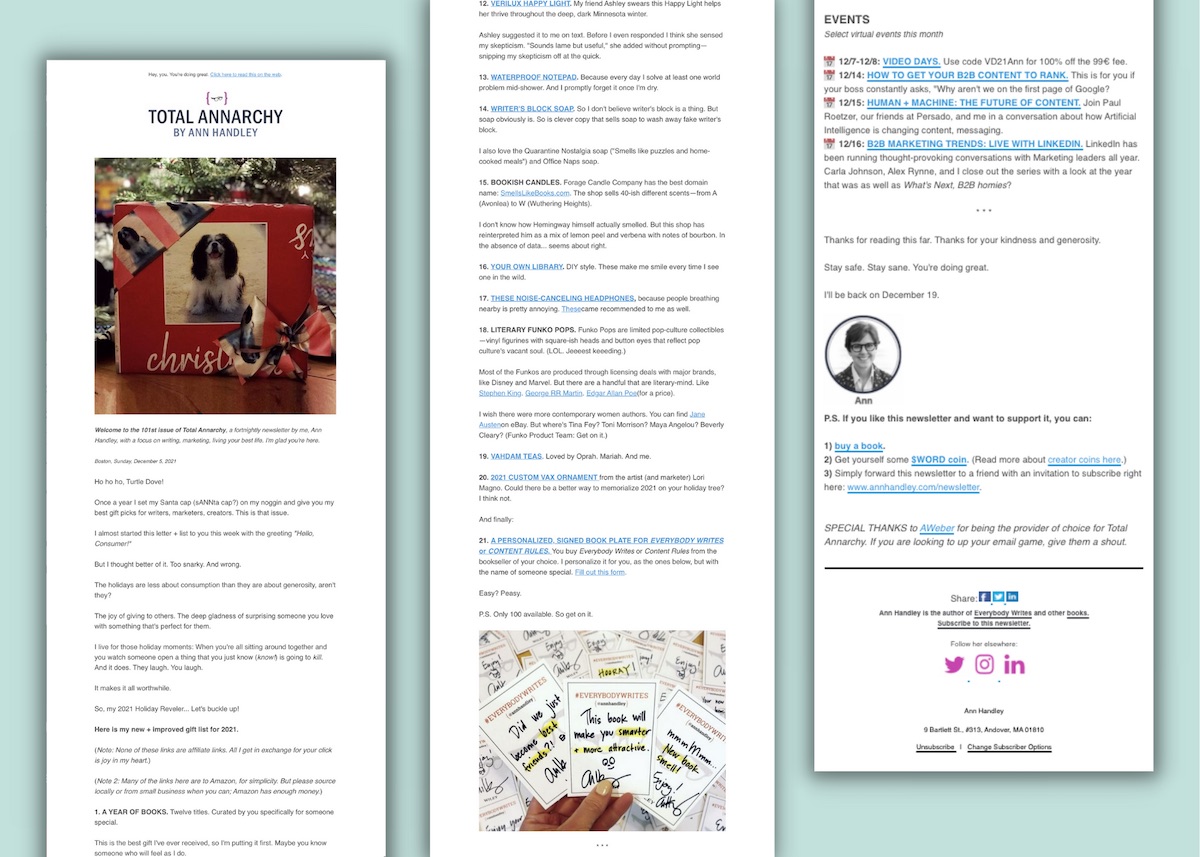 Cynthia says: I have said this before and I will say it again—I am an Ann Handley fan, through and through. And that's really all you need to know about my love for this email and why I think it works.
She has done the work overtime—word by word, speech by speech, tweet by tweet—to make me think or laugh or learn or just enjoy reading for a few minutes in a busy day. So now I expect it, and I trust her, and she stands out in my inbox. That's all there is to it. She won this one the easy way, but she had to play the long game to get there. A helpful holiday reminder for us all. Thanks, Ann. (Also yes, there's now a typewriter in my shopping cart.)
Carin Slater, Email Marketing Specialist
Subject line: 🌨 When the weather outside is frightful, the crafts inside are delightful!
Preview text: ⛄ Save 25% on all winter and holiday designs through December 25! ⛄

Carin says: The email itself I wasn't as enamored with, but the subject line was adorable and came on a day that actually was really cold. Which got me thinking about if testing subject lines based on the weather would be a good thing to try or not… which also got me opening the email.
Kimberly Huang, Content Marketing Specialist
Subject line: Don't miss the best deal of the year
Preview text: Offer ends Monday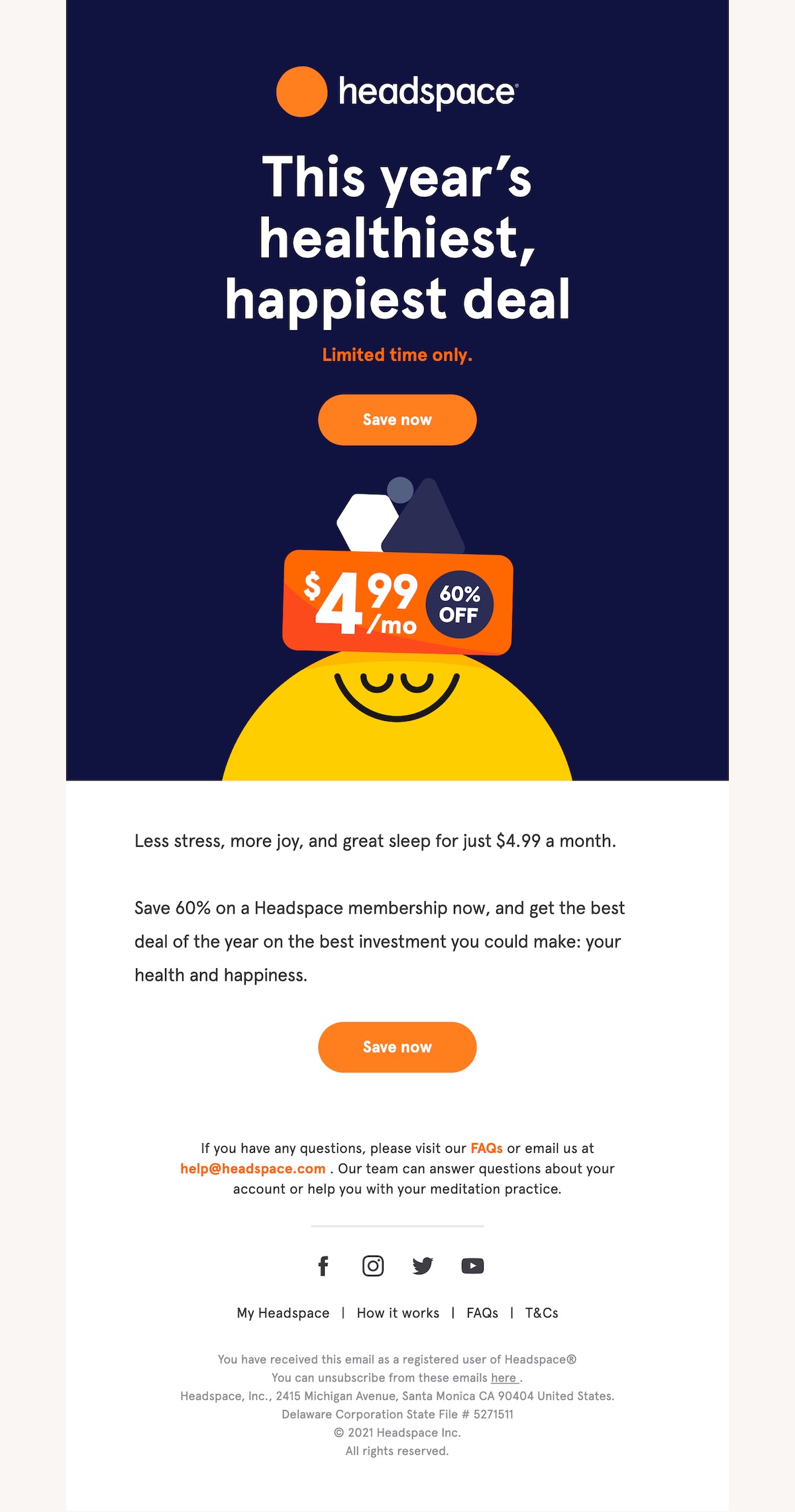 Kimberly says: What do I like about this email? Aside from it being clear and concise, what really won me over were the details.
First off, the email looks great in both Light Mode and Dark Mode. Secondly, when comparing the email on different devices, I was pleased to discover the web version called in a different font than the mobile version. On mobile, I was viewing the fallback (aka, a web safe font), while on the web version, I was viewing their web font, which was their brand font. ​Although web fonts run the risk of not rendering the same on all clients and devices, their email team still went for it and used it where they could. I respect the commitment to the brand font!