Our subscribers get lots of emails and so do we! We love seeing all the amazing, creative, and engaging content that brands send their customers. Emails can make a lasting impression on a subscriber, if done in the right way.
With clever subject lines, dynamic content, and personalization, brands are able to engage customers right off the bat. Read on (or jump ahead) to see the emails that have caught the Litmus team's attention in March 2022:
Kimberly Huang, Content Marketing Specialist
Subject Line: Introducing Salty & Sweet!
Preview Text: A little salt to go with your sweet 😋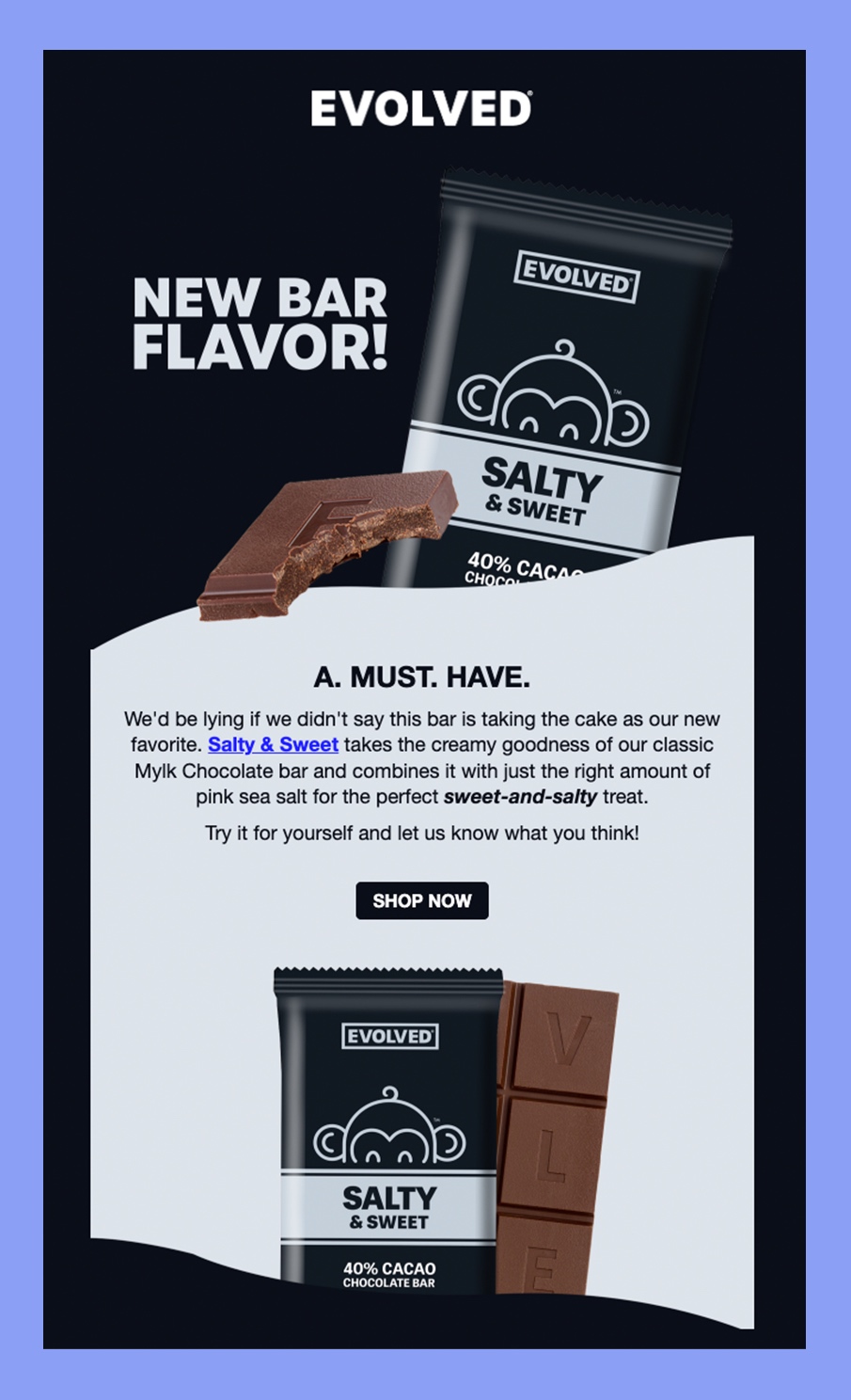 Kimberly says: The promotions tab in my Gmail inbox can feel like a sea of brands pushing products on me, and it can be overwhelming when I'm going through them. This one from Evolved Chocolate stood out to me because it was not only concise, but also elegantly designed.
Nicole Swift,  Senior Customer Support Manager
Subject Line: Toys for any Weather ☀️ 🌧️
Preview Text: + Today Only: 15% Off E&E's Andrew Play Tent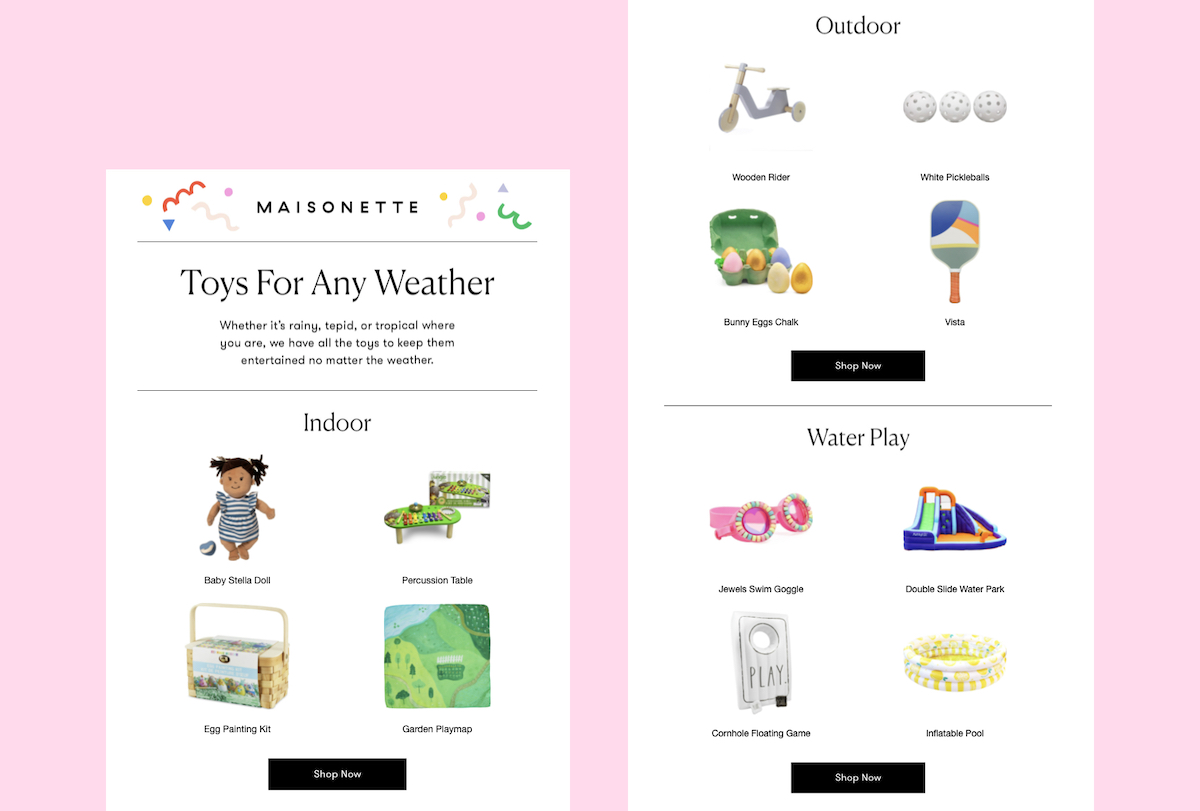 Nicole says: Spring in Nashville is a rollercoaster! We've had snow, shorts weather, perfect sweater weather, and days of rain… so I loved the toy categorization of this email. I also like how they chose a small number of toys and it looks really clean and uncluttered (especially because our house could not possibly hold one more toy—it's important to not make me think of the possible extra mess these toys can bring). Idea: It would be super cool if they ran this same email in the future, personalized to my current weather at the time of opening the email!
Subject Line: Introducing the Dept. Of Superior Gifts
Preview Text: Welcome to a new way to treat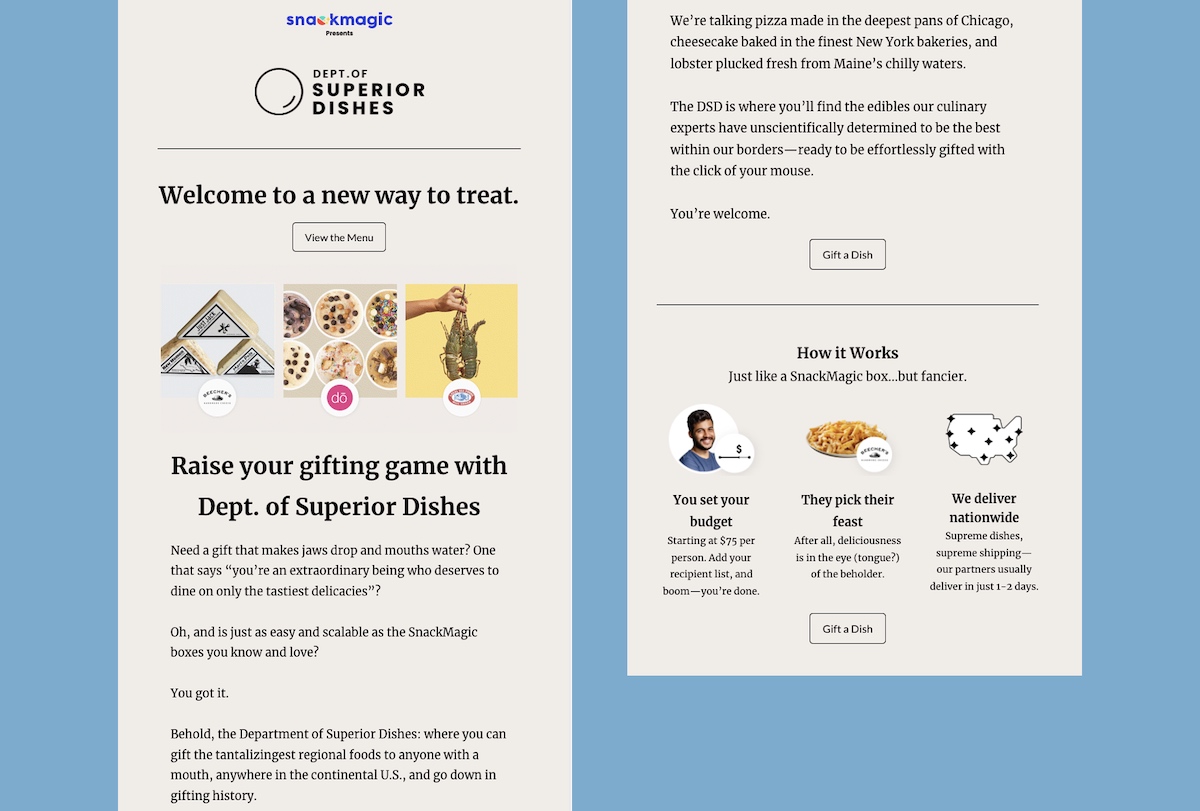 Nicole says: I love the name of their new service, Department of Superior Dishes—it's grand and magical. The copy is SO fun too. "Tantalizingest" must be my new favorite word that's not really a word. I like that they kept the look simple and weren't super image heavy because it makes you want to click to see all the offerings. Our team loves chatting about food and we all work remote, so sharing in our regional delights is right up our alley.
Subject Line: Dear [First Name, Fallback='Prudence||John||Future Husband||Rosemary||Avery']
Preview Text: Where everybody knows your name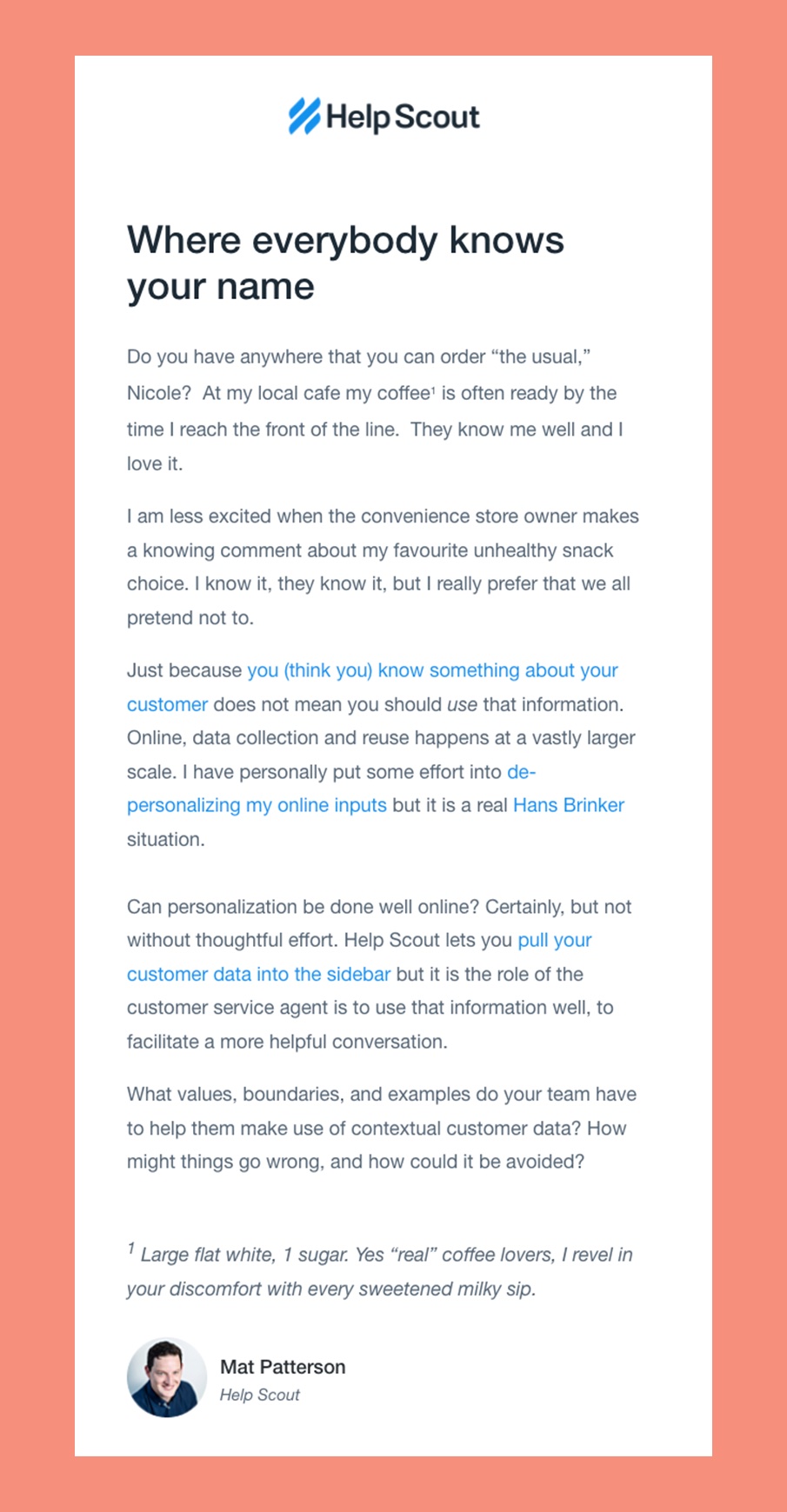 Nicole says: The subject line is genius!! My first thought was "whoops" but then I realized the references (all the songs with Dear in the title). Even better is the content of the email that reminds us personalization needs thoughtful effort to be effective. Use your personalization power for good!
Maria Coleman, Senior Content Marketing Manager
Subject Line: birkenSTOCK UP
Preview Text: good for the earth, good for the *sole*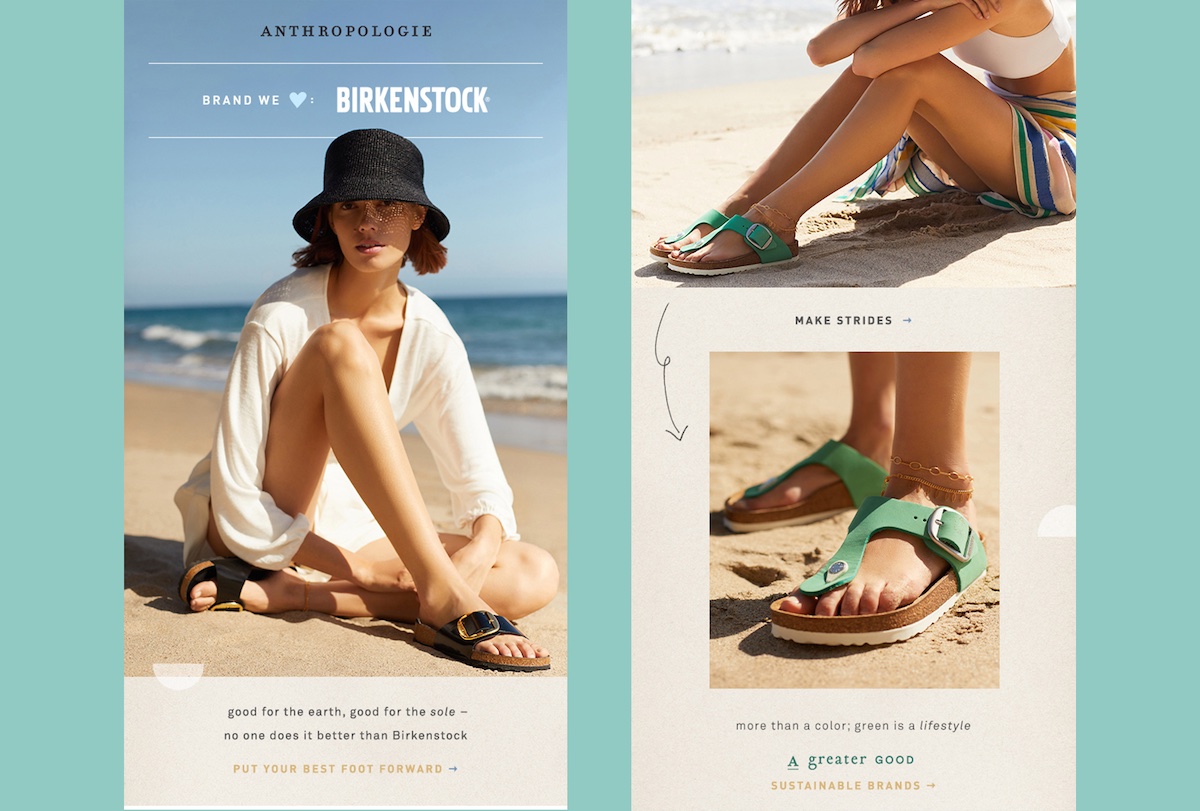 Maria says: Anthropologie does such a great job with clever subject lines and preview text. They are inviting and the wittiness catches your attention. Plus, their emails have a clean design—I love the previews not only from afar but also close up so you can really visualize the products on yourself. As we are all anxiously awaiting warmer weather, this email really added excitement to see the sun again.
Martyn Lee, Marketing Manager at Kickdynamic
Subject Line: Looking for the perfect shirt?
Preview Text: What is your go-to shirt?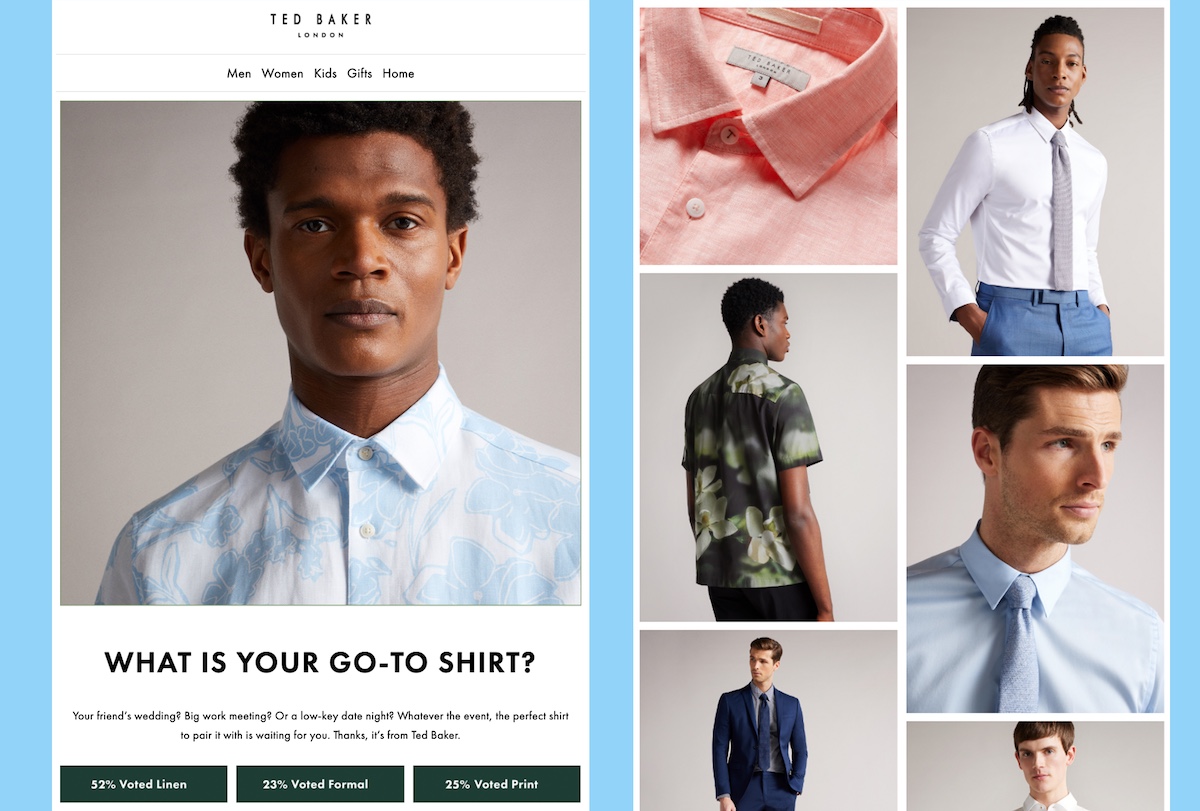 Martyn says: I love this email from Ted Baker, it's straight to the point: Looking for a shirt? Here are the shirts. Sometimes simplicity is the most effective way to promote a product.
One of my favorite things about this email is that they have included a poll, but not just any poll—each voting button is a call-to-action (CTA). Again, simple, but very effective.
Subject Line: We predict… an EXTRA 25% off just for you Aries
Preview Text: Start your birthday celebrations in style.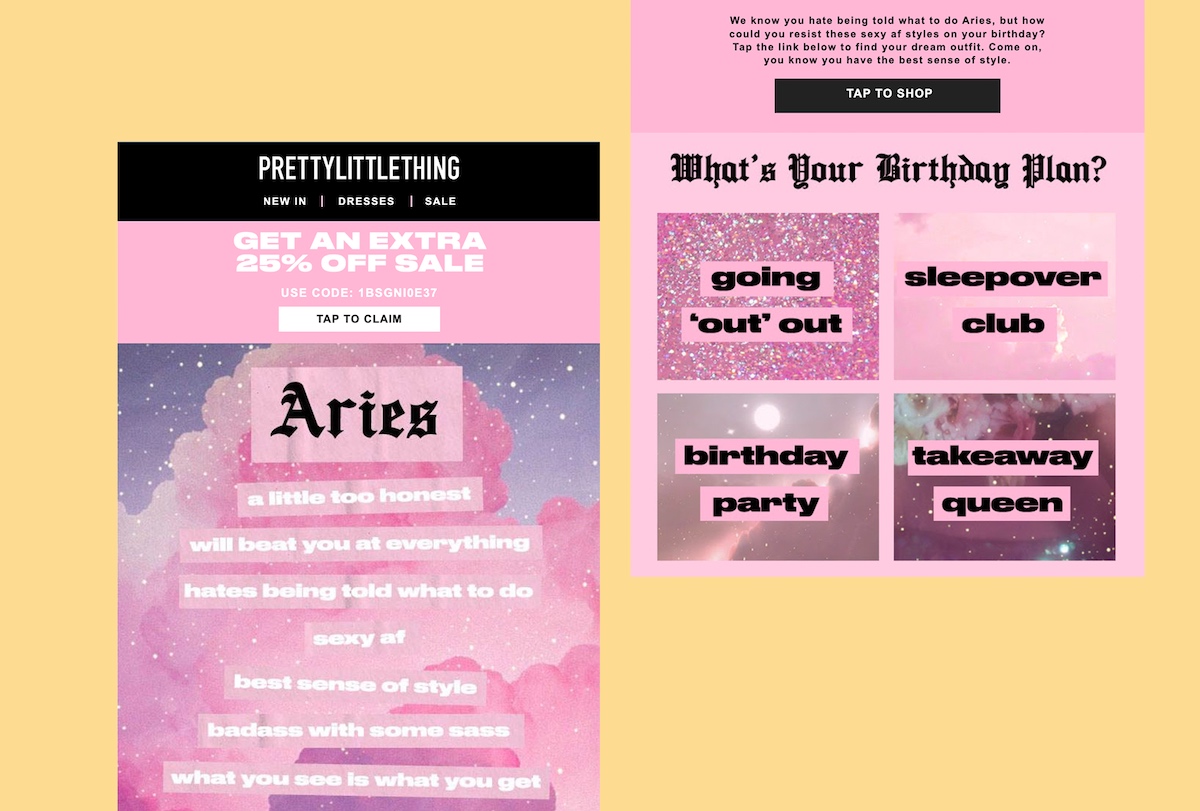 Martyn says: This is one of my favorite emails. PrettyLittleThing sends an email at the start of each zodiac season wishing their subscribers a happy birthday. They used to do this by creating a new email each and every time, but now they've automated the email, so they just set it once, and now it runs like clockwork. Also, who doesn't love a discount on their birthday?!
Pixel perfect, every time.


Integrating Litmus into your email workflow helps your emails be pixel-perfect with every send—ensuring they're on-brand and error-free, every time.