When it comes to email marketing, there are a lot of moving pieces. If you want to deliver the best possible experience, you need to optimize across the entire funnel.
That looks like this: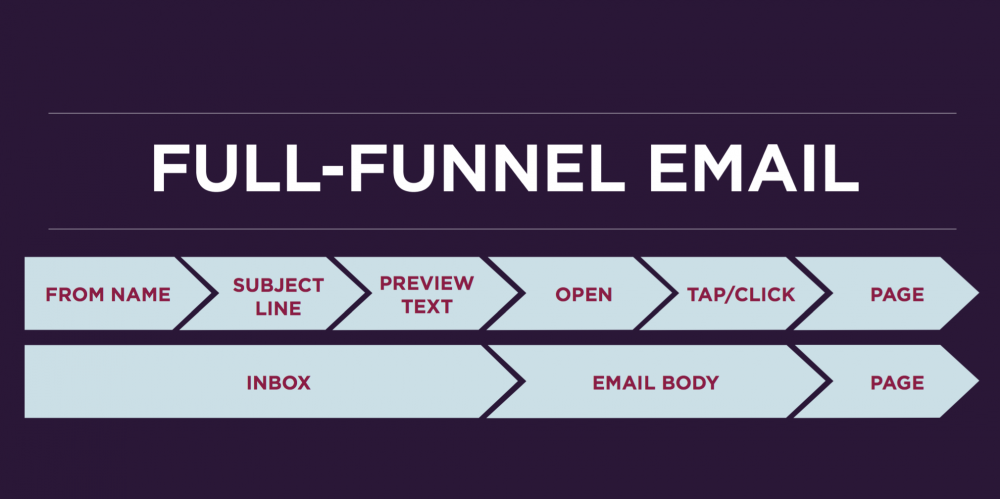 Creating a full-funnel email means optimizing:
The Inbox: Your from name, subject line, and preview text work together to encourage your subscribers to open. How can you hook them in a crowded inbox?
The Email Body: Once a subscriber opens, you have to wow them with your content. What will entice them to tap or click that CTA?
The Landing Page: Now that they've clicked through, how can you make it as easy as possible for your subscriber to complete the action?
Optimize Your Email For The Full Funnel
We teamed up with our friends at Unbounce for a webinar on how to craft email campaigns that work as full-funnel emails from the inbox to the landing page.
Watch the recording below:
And grab the slides from Slideshare:
Our webinar attendees had lots of great questions that we didn't have time to answer during the webinar. But we'd love to answer them here on the blog.
Have any additional questions? Leave them in the comments below!
QUESTIONS FOR STEFANIE GRIESER, INTERNATIONAL MARKETING MANAGER AT UNBOUNCE

How do we be personal and casual if we have a very formal brand and it doesn't fit in with our brand guidelines?
Be human, genuine, and most of all, authentic in whatever context fits your brand and within the limits of your brand voice and tone.
The webinar shows 'extreme' examples of a personal and casual tone, partly because that is also the Unbounce brand and voice. However, personalization isn't black or white; your email isn't human or not human. I see it as a spectrum. Play, test, and push the limits within the confines of your brand and find the most human approach that fits you.
Lastly, remember that smart segmentation alone—slicing and dicing data based on past email engagement rates and information you have about your subscribers—can make your emails more personal, relevant, and timely right off the bat.
What are the 5 steps for writing an "oops email"?
Be prompt, but don't rush it. The last thing you want is another 'oops' email after an oops email.
Use humor. Try and give your subscribers a reason to laugh or smile.
Own up to it. Plain and simple. Admit you made a mistake.
Give one apology. Don't be overly apologetic.
Give a deeper discount, If it applies to the situation and if you can.
What are your recommendations for emails that have multiple calls-to-action (CTAs)?
Yes, you can have multiple CTAs on your landing page or your email as long as they all have one goal and are going to the same campaign landing page. You may have a lengthy landing page where you have a CTA at the top, but also have one at the bottom. In fact, repeating your CTA in multiple locations of your page can actually be beneficial, particularly if it's a long page. This also applies to emails.
Of course, there are also newsletter-type emails, but they don't really fit into the conversation of campaign marketing where you have one main campaign goal. In fact, if you are pushing a new product or feature that is really important to your overall business, go with a dedicated email.
How long do you generally give tests to compare data?
Unbounce's Senior Conversion Optimizer, Michael Aagaard, talks about this a lot! When I sat down with Michael to make sure I gave you the very best answer he said this:
It depends. The higher your conversion rate, the higher the lift and the more traffic you have, the easier and quicker it will be to validate your test results. Meaning, you receive valid data to the point where you can stop your test. On top of that you have to consider your business cycles.
Here's an example. If you have a baseline conversion rate of 2%, you want to detect a lift of 5% with a significance level of 95%, and you get 50 visitors a day. That test would take you 12,544 days to run. If your baseline conversion rate was 25% instead of 2%, it would take you 768 days to run that test to validity.
If the baseline conversion rate was 25% AND you got 5000 visitors a day, you could run the test in 8 days. However, 8 days is a very short period and it will not really be representative. At Unbounce, Michael's absolute minimum test duration is 14 days.
If you want to learn more, Michael goes into a lot more detail in this August 2016 Moz webinar, Practical A/B Test Statistics: How to Run Better Tests and Get Cleaner Data.
Do you lose the SEO tracking if you use a third party to host your webinars?
No, you don't lose SEO tracking that way. You can index landing pages with a third party tool like Unbounce. As long as you apply the same SEO techniques to your landing page it will rank in Google.
There are times, however, that you won't want to index your landing page. Wait, what did you just say, Stefanie? I don't want Google to find me? Yes. That's correct. Why? Because you want to see the performance of your paid campaigns from ad to landing page. If you're spending a ton of money of paid ads, organic traffic can mess with your results—especially if you are running an important test.
Can you elaborate on the 'one job' concept?
The 'one job' concept originates from Joanna Wiebe at Copyhackers, which you can read more about here. It means that every element of your marketing campaign has one job. Keeping in mind your marketing is connected and each element must all work together toward a greater common goal.
For example, your email subject line has one job: To get your email opened. Your landing page headline has one job: To describe what the offer is about quickly and with clarity. Your entire campaign landing page must also have one goal or one purpose.
This concept allows you to think about all the details of your email campaigns and landing pages and make each element perform at its absolute best. If you keep this principle in mind, you can isolate problems more easily and improve your campaigns from inbox all the way to landing page conversion by testing what works better.
Questions for Justine Jordan, VP of Marketing at Litmus

Is it even necessary to include the "View in Browser" or "view online" link anymore?
I'm pro-view online links. However, consider their placement carefully. If your "view in browser" link appears in the inbox as your preview text, connect with your developer and/or ESP to explore preview text optimization strategies.
Second, take a look at your data. If your "view online" links are getting a lot of clicks, this may be an indication that your emails experience rendering challenges or image blocking. In this case, you may want to keep them near the top of your email in the preheader (but not your preview text). If the links don't see a lot of use, consider moving them closer to the bottom or in your footer. Litmus takes this approach:

We keep the links in the footer for a few reasons:
The inclusion of "view online" links have long been considered a best practice, and our audience expects us to follow industry standards.
They improve accessibility for subscribers that may experience difficulty reading our emails in their email client of choice.
Our subscribers have been known to inspect our email code in a web browser.
How do you do to have a survey inside the email without making the receiver leave the mail to answer it?
Surveys with real radio buttons and checkboxes aren't often supported in email. This is because they use the <form> attribute, which can throw security warnings or be removed entirely in email clients like Outlook. Instead of using a survey that relies on using a <form>, you can mimic the look and behavior of a survey with images or simple HTML and CSS.
Take this example from Lyft: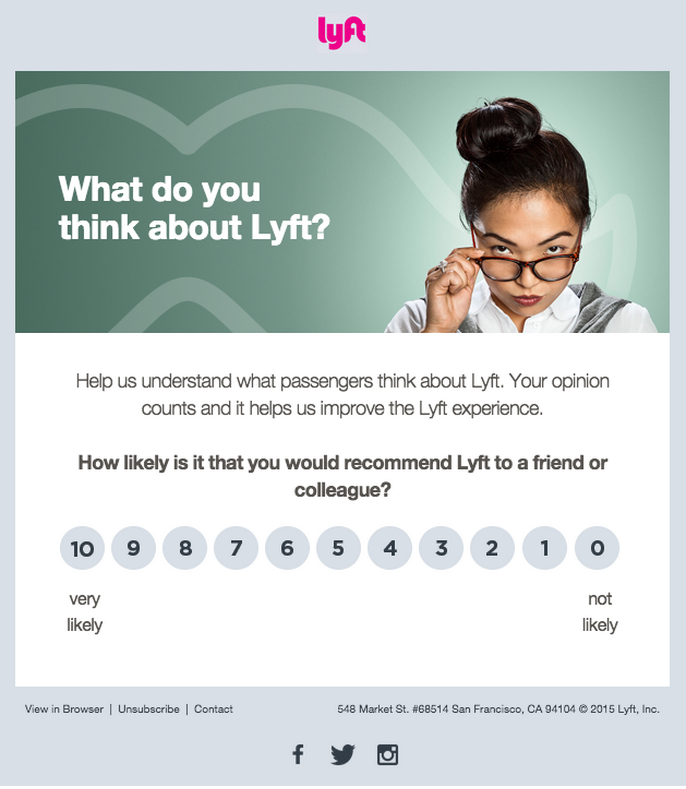 Or this one from Kayak: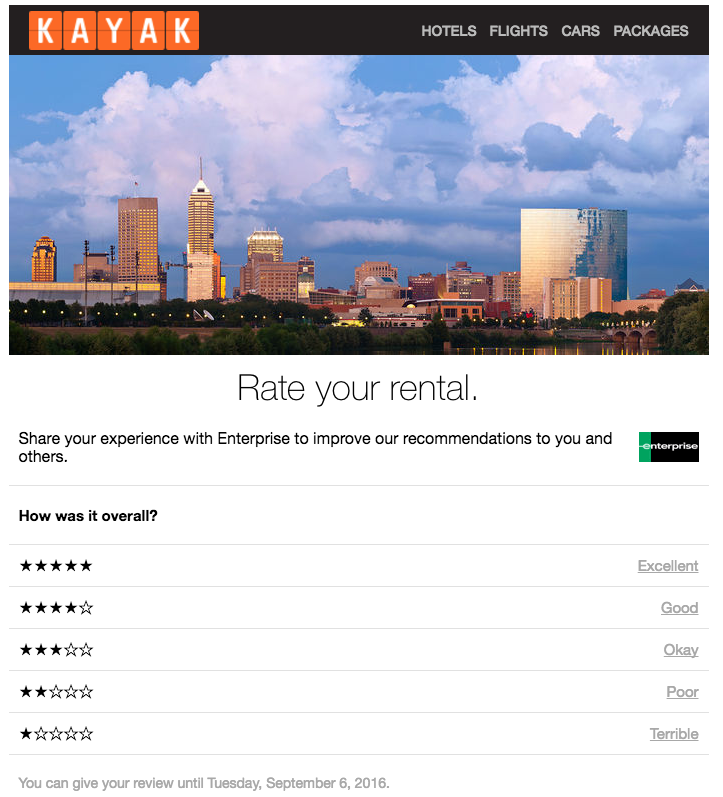 By linking each survey response option to a landing page and setting up your ESP to track each click separately, you can create an in-email "survey" by reviewing the click data for each survey option.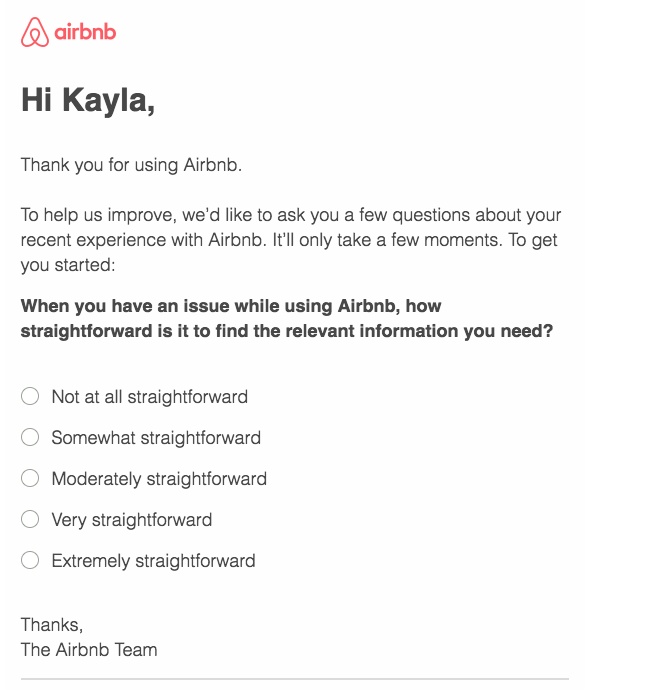 In this Airbnb example, each survey response links to the same URL, but includes a querystring (?answer_type=1, ?answer_type=2, etc.) to auto-fill the corresponding response on the landing page. This is a nice touch, but you could also link all responses to a simple thank you page and rely on ESP click tracking instead. Here's what the landing page looks like: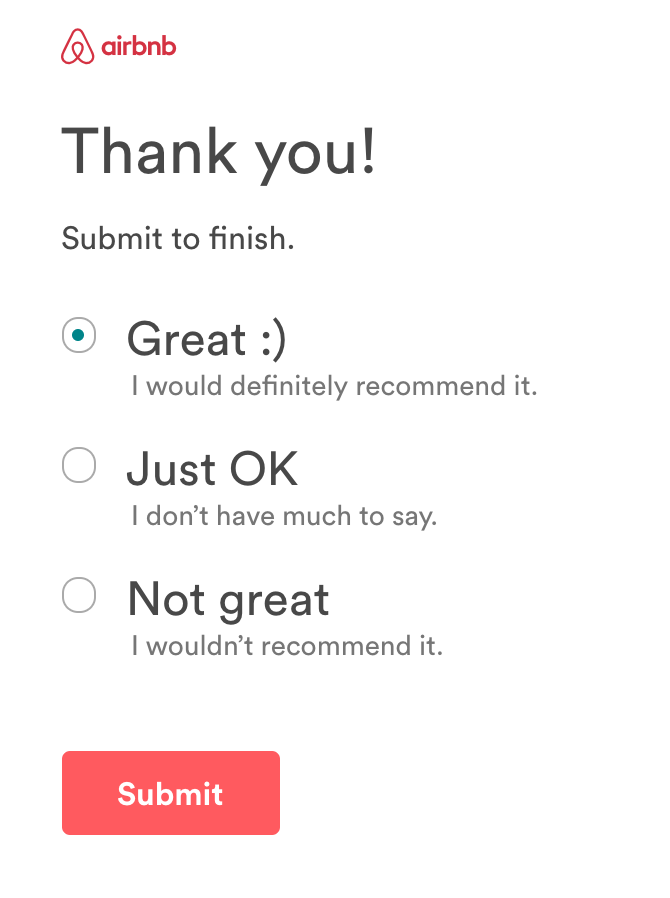 One caveat to this method: Some ESPs will not differentiate separate clicks to the same links in an email, so you may need to work with your ESP to ensure that all clicks are tracked in the way you want.
What is the alternative to image buttons? How can I use bulletproof buttons instead?
The challenge with using images for buttons is that your call to action (CTA) won't be visible if images are blocked or disabled, which is an automatic setting in programs like Outlook. Instead of seeing your brilliant goal-oriented CTA, an Outlook user might see a security message stating, "right-click here to download pictures".
The alternative is to use what the email industry has coined a "bulletproof" button. Instead of relying on an image, bulletproof buttons use HTML and CSS combined with background colors (which are universally supported) and a text link to mimic the look and feel of a button—without any of the support issues that an image may present.
Since emails rely on tables for structure, the bulletproof technique uses a simple HTML table for the basis of the button, along with padding and/or borders to create a clickable area outside the text link. You can find a complete guide, along with code samples, here on the Litmus blog.
Bulletproof buttons are not only accessible and optimized for image blocking, but they're also low-maintenance, making it easy to swap colors, copy, links, and other variables without needing to return to Photoshop.
Now It's Your Turn
Optimize Your Entire Funnel With Litmus Checklist

Make sure your campaign looks great from top to bottom with Litmus Checklist. Double check for broken links, images on and off, and more.
Most Popular
Don't Miss Litmus Live 2022 this Fall!

The Premier Email Event by Email Pros, for Email Pros.
From Anywhere–and Any Budget.

Learn More