To build a smart, data-driven email program, you need the right data and understand how to translate metrics into tactics that drive results.
In this webinar, experts from Litmus and Ansira, one of the largest independent agencies specializing in CRM, loyalty, and digital strategies for relationship marketers, dive into the key findings from Litmus' State of Email Analytics report to understand what email metrics brands track (and how they do it) and provided actionable advice on how you can turn bare stats into strategies and tactics that drive results.
Didn't have a chance to watch the webinar live? Don't worry. You can access the full recording and read the Q&A below.
---
Q&A
We didn't have time to get to all of the questions during the live webinar, but we've answered them here on our blog. Have any additional questions? Please leave them in the comments.
I don't have a data team to help me dig into email analytics insights. Can I still get started?
Karina Sanchez Gudino: The best way to get started, in my opinion, is to lose the fear of Excel. Start with one thing at a time! Take one campaign, export your Email Analytics insights into a spreadsheet (here's how to do that in Litmus) and start to play with the data to see what you can find.
At last year's Litmus Live, Kristin Bond, Director, Email Operations at Girl Scouts, did an entire session on how to use Excel to do things your ESP can't. You should check it out!
What are the best practices for defining key email performance indicators for emails with various goals? For example, do you use the same KPIs for emails that promote a webinar vs. a whitepaper download vs. a product promotion?
Bettina Specht: Your email KPIs should always mirror your campaign goal—so if your campaigns have different goals, you should also be looking at different metrics to evaluate success.
You're promoting a webinar? You should look at how many registrations your email is driving. You want your subscribers to download an ebook? Email download numbers would be your key KPI. You're promoting a set of products? Look at how many readers ended up purchasing after reading your email.
While the main KPI for your email can be different from campaign to campaign—like you see in the examples above—there's a set of standard metrics that can help you understand why your campaign has performed a certain way. Your last email drove more webinar registrations than any other email ever before? A close look at opens, engagement times, click-through rates, forwards, and more can help you understand why that might have been the case.
Are there any email metrics you wish you could track, but you can't because of limitations of the technology?
Jason Rodriguez: I think the big one is overall ROI for email marketing. As email becomes more integrated with different marketing channels and customer journeys, it's becoming hard to see what the actual return is on email efforts. Sure, we can track opens and clicks and follow some of the subscriber behavior with UTM parameters on links, but once people are out of an email campaign, it's hard to say something like, "This campaign generated X dollars from these customers." Check out the latest episode of the Delivering podcast, where I chat with Chad S. White from Oracle about exactly these issues.
What advice do you have for someone who struggles to show the client how email metrics bring value?
Jason: I like to make the case that you can't improve what you don't measure. Without a baseline understanding of your email program, it's hard to say what will improve your business' bottom line. Beyond that, we have a few resources that can be educational for clients and stakeholders alike. Our Email Marketing Leadership Series has a few whitepapers that make the case for utilizing email analytics to improve ROI. And, our State of Email Analytics report can help explain why tracking email marketing is so critical for businesses today.
How does Gmail's policy of image caching affect device, geolocation, and engagement analytics?
Bettina: When Gmail automatically downloads and caches images, those cached images—including open tracker pixels, like the ones used with Email Analytics—are stored on Gmail's servers. Gmail then loads the same images from the same servers for everyone—regardless of whether they open using Gmail in a web browser or a Gmail Android or iPhone/iPad app.
This means that an email opened in Gmail with a web browser will be indistinguishable from an email opened in a Gmail mobile app. Plus, since the open tracker pixels used to relay information about Gmail opens are now cached on Google servers, you will see the IP address or location of Gmail proxy servers.
You can learn more about how Gmail's image caching impacts email analytics here.
Can screen scroll distance be collected from an email?
Jason: That's a tough one. My gut tells me that it can't be, since most web-based metrics like that rely on JavaScript for judging that distance and JavaScript won't work in email. I also haven't seen anything like that out in the market. Future improvements to browsers, HTML, and CSS—like native lazy loading—might open up the opportunity for metrics like that in email, but I don't think we should hold our breath.
What data points should we consider when creating a new email campaign?
Jason: I come from a design and development background, so the first thing I'd look at is historical email client and reading environment data. This data shows what email clients and platforms your subscribers use, and will help you focus development and testing efforts on the email clients that matter most—in turn, shortening development and testing time. Beyond that, looking at past email performance is also key. Focusing on click-to-open and click-through rates will give you a good sense of what worked and what didn't, often providing ideas and direction for future campaigns.
How should we use print and forward data in a valuable way?
Jason: Forward data can help you understand which email campaigns resonate with subscribers. If a campaign is forwarded a lot, it's a good indication that subscribers loved the content and wanted to share it. Focus on creating more campaigns like that, while watching that metric overtime to make sure you're not going overboard with similar content.
Print data is especially helpful for retailers sending coupons via email. Not all customers and business are sophisticated enough to have completely digital coupon redemption services, so they still rely on showing printed coupons at checkout. If you're sending those types of emails and have high print metrics, chances are that you're doing something right!
Does the Litmus tracking code affect the original ESP tracking?
Bettina: No, it doesn't. You can use the Litmus Email Analytics tracking pixel in addition to the insights provided by your email service provider. Visit Litmus' help documentation for detailed info on how to add Litmus Email Analytics tracking to your campaign.
How does tracking the Geolocation of the user work in Litmus Email Analytics?
Bettina: Naturally, we can't explain in complete detail—exactly how it works is our secret sauce. However, we can tell you that it's building on the principle of image bug tracking. That's the same technique that your email service provider uses to report your open rate. When a customer opens your email, the image bug is loaded. This counts as an open. What we've done is take that concept five steps further. Using a couple of different image bugs, along with our deep knowledge of how email clients work (and some very clever server-side manipulation of data), we're able to track a much wider range of actions that just the open, including geolocation. Tracking geolocation works by capturing the IP address from the open made on the email. The IP is looked up by our system and the location is recorded, and then the IP address is discarded.
Is there somewhere to find read, skimmed, and glanced statistics so we know where we stand with that data?
Bettina: We took a very detailed look at average engagement times for this infographic on email attention spans, so we definitely recommend checking it out: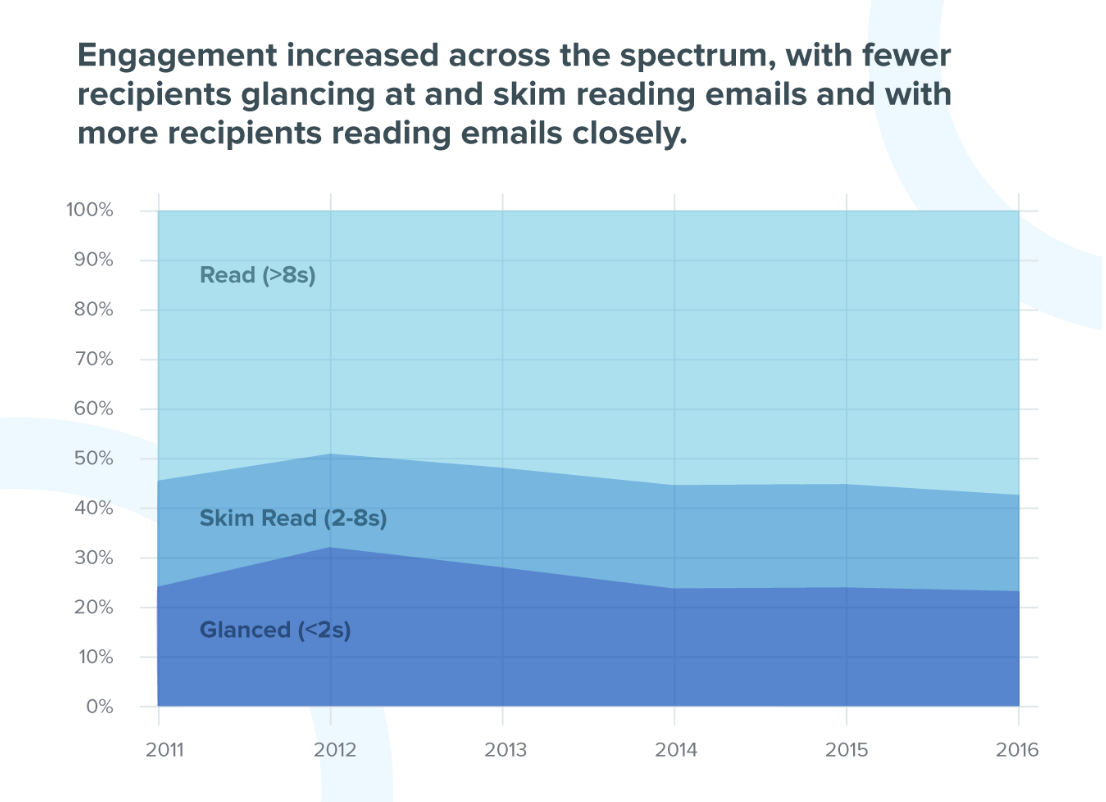 We know these insights are a few years old at this point, and we actually have an update in the making that we'll publish soon. If you sign up to receive updates from Litmus, you'll be among the first to know when that piece is getting published.