The email industry is a fast-paced and challenging environment. It's also one that's constantly growing. As more companies begin to understand the importance and power of email marketing, they need teams of email-savvy designers, developers, and marketers to help harness that power.
Traditionally, it's been hard for companies to advertise those positions to an entirely email-specific audience. More importantly, it's been almost impossible for email lovers to hunt down job opportunities that fit their unique set of skills, let alone track down their dream gig.
That is—until now. We're thrilled to announce the Litmus Job Board: the only job board devoted to email industry jobs for designers, developers, marketers, and strategists.
Find your dream job
Whether you're an email designer or developer, marketer or manager, if you're knee-deep in email on a daily basis, The Litmus Job Board is where you'll find the next step in your career.
Unlike other job boards, we're focusing solely on email-related jobs. We're email designers and marketers at heart, as is our core audience and the Litmus Community. By narrowing the focus of the Job Board to roles that deal with the strategy, production, and management of email, we can support that community and encourage it to grow.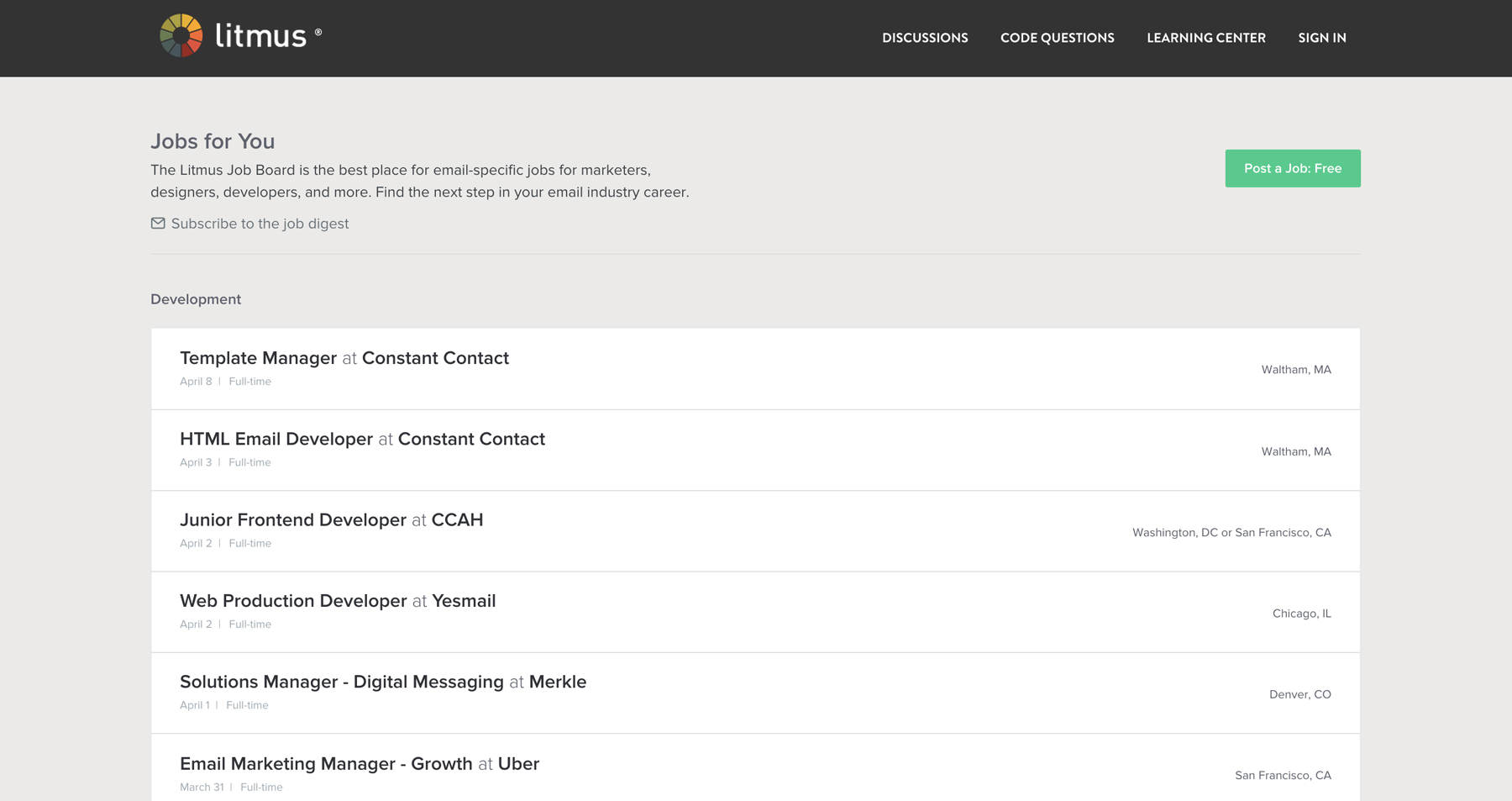 The Job Board currently features categories for design, development, marketing, strategy, copywriting, and QA positions. If you're looking to further your career or find your dream job, head over to the Litmus Job Board today.
Looking for a new team member?
As an email-focused company, we also know how hard it is to find the perfect person for your team. We've made it easy for companies tap into the biggest email design and marketing community by posting new jobs to the Litmus Job Board.
And, for a limited time, posting a new job is free. In the future, we'll introduce pricing for full-time, contract, and freelance positions, but for now, you can post your email-related gig for free.
Just keep in mind that the Job Board is focused strictly on email-related jobs. We'll review everything posted and may remove positions that don't fit. Don't worry, we'll shoot you an email explaining everything if we do.
What are you waiting for?
If you're looking for your next move, or are searching for an amazing addition to your team, there's no better place to look than the Litmus Job Board.
Most Popular
Don't Miss Litmus Live 2022 this Fall!

The Premier Email Event by Email Pros, for Email Pros.
From Anywhere–and Any Budget.

Learn More