Read Time: 8 min
Litmus Works Where You Work: Powerful Integrations with Your Favorite Email Tools
When it comes to email workflows, each team is unique—and so are the tools that help them get their campaigns out the door. Marketers can choose between hundreds of email service providers (ESPs), dozens of code editors, localhosts, and task runners, and various productivity tools. And our research shows that many teams even use multiple of each of these kinds of tools.
No matter which tools your team uses, we want to make sure you can use Litmus to improve your campaigns and learn what content and tactics resonate best with your subscribers. That's why Litmus is designed to work with any email tool, making your unique workflow more efficient than ever.
Why connecting your marketing tools is the key to email success
We know switching back and forth between tools can be a hassle. The more often you have to jump between different tools, the more time you lose—and the more likely it is for errors to creep in.
When your marketing tools are connected, information seamlessly flows from one to the other so you can automate manual tasks, set your campaigns up for success, and make true improvements to your workflow.
That's why we're set on a mission to integrate Litmus more seamlessly with your favorite marketing tools.
There is a whole set of integrations available with Litmus—each of them designed to automate manual steps that slow down your workflow, eliminate the risk of errors, and keep all key stakeholders in the loop when it comes to campaign progress so that your emails perform their best.
Keep reading to figure out which integrations can supercharge your team's email workflow as we break them down one by one.
Stop copying and pasting your code from Litmus to your ESP, with ESP Syncing
Getting your email from your code editor into your ESP has always been a hassle. And once your email is built, you need to get it from your ESP to your testing solution. It's time to say goodbye to that manual copy and paste process.
With ESP Sync, automatically sync your code from Litmus Builder to your ESP with a click of a button. Once connected, whenever you make any changes to your code in Builder, it automatically updates in your ESP, too.
Once your email is complete and ready to test, use ESP Syncing to instantly begin testing your email across key spam filters to make sure it reaches the inbox and produces the best subscriber experience.
Who is this for?
This integration is for you if you use Litmus Builder to code and troubleshoot your emails and are looking for a way to eliminate the bothersome process of copying and pasting your code to your ESP.
This integration is also for you if you're looking for a more efficient way to import your emails from your ESP to Litmus for thorough pre-send testing.
Where is it available?
If you're on a Litmus Plus plan or above, you have access to ESP syncing with the following ESPs:
Campaign Monitor
Mailchimp
HubSpot*
Litmus Enterprise plans come with access to ESP syncing for the list above as well as even more ESPs:
Acoustic Campaign*
Salesforce Marketing Cloud
Oracle Eloqua
Adobe Marketo
* The Acoustic Campaign and HubSpot ESP Sync functionality cannot currently be used for importing an email for testing.
Troubleshoot your emails right where you build with Litmus Extension
When you're working with a local editor or your ESP's email editor, email testing can be a cumbersome process. For example, you might build your email in your favorite code editor, then move it into Litmus for testing. And if you find an issue? The process starts all over again. That's a lot of copying and pasting, and a lot of switching between tools.
Litmus Extension brings Litmus' testing tools right into your favorite build environment. It's a powerful Chrome extension that brings the power of a Litmus Test and Email Previews wherever you build your emails.
Who is this for?
The Litmus Extension is for you if you use a local code editor (like Dreamweaver) or your ESP's email editor to build your emails and are looking to bring the power of Litmus' pre-send testing to your build environment.
Where is it available?
The Litmus Extension is available on Litmus Plus and Enterprise plans.
It works with all text editors, task runners, and localhosts, including:
Dreamweaver
Sublime Text
Atom
Coda
Brackets
Grunt
Gulp
Zurb's Foundation for Emails
MJML
…and really any editor you're using!
Does your team use your ESP's email editor to create emails? The Litmus Extension works for Plus and Enterprise plans with the following ESPs:
Campaign Monitor
Mailchimp
Adobe Campaign Standard
If you're on a Litmus Enterprise plan, you can also use the Extension with the following ESPs:
Plus, if you're working with dynamic content in Marketo, Salesforce Marketing Cloud, or Responsys, the power of the Litmus Extension lets you test multiple variations of your content in a single click as you build.
Use Litmus Email Previews inside your ESP
Litmus Email Previews are also integrated in hundreds of popular ESPs.
While you won't be able to use the full power of the Litmus platform via these integrations (you typically only get Email Previews inside your ESP and can't access Litmus Test or Spam Testing), it still is another great way to preview and test your emails right where you create them, without switching between your ESP and Litmus.
Direct integrations of Litmus Email Previews look different depending on the ESP (so you'll have to check with your ESP for details), but check out this example of the Email Previews integration within Salesforce Marketing Cloud: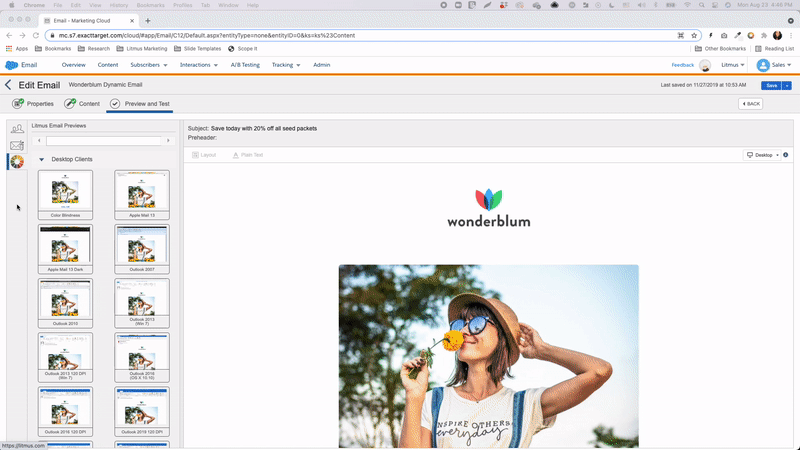 Who is this for?
Litmus Email Preview integrations come in handy for everyone looking to use the power of Litmus Email Previews within their ESP to complement the full Litmus testing platform.
Where is it available?
Popular ESPs with Litmus integrated right into their services include:
Oracle Eloqua
Adobe Campaign Classic and Standard
Adobe Journey Optimizer
Adobe Marketo
Salesforce Pardot
Acoustic Campaign
Campaign Monitor
…and hundreds more!
Pricing and usage limits differ from ESP to ESP. Please check your ESP's help documentation to find out if Litmus Email Previews are integrated in your ESP, and to learn more about the pricing.
Don't use one of these ESPs?
Don't worry! No matter which email technology you use, Litmus can seamlessly integrate into your workflow. You can use Litmus alongside any of your existing email tools to create better email faster and increase your overall marketing effectiveness.
Maximize your productivity and boost team visibility
There are a number of stakeholders included in the email creation process. When it comes to embracing a truly agile email marketing strategy, it's crucial to ensure key stakeholders have access to the most up-to-date version of your emails at all times and know when their attention is needed.
That's why Litmus integrates with Trello, Slack, and cloud storage solutions like Google Drive, OneDrive, and Dropbox.
Who is this for and where is it available?
Any teams that use Trello, Slack, Google Drive, OneDrive, or Dropbox can benefit from these productivity-boosting integrations.
Slack users can configure instant direct message and/or channel notifications to be alerted when a Litmus Proof or Test is created as well as when they have been tagged in a Proof comment.
Trello users can attach an existing Litmus email project to a Trello card to instantly see the status and due date as it is updated in Litmus and easily access the email in a single click. They can even start a brand new Litmus email project from a Trello card.
Marketers who prefer to store their emails in Google Drive, OneDrive, or Dropbox can upload their emails to Litmus for review or pre-send testing in just a couple clicks—no manual copying and pasting code required!
The best part? All of our productivity integrations are available on our Basic, Plus, and Enterprise Litmus plans.
Get more out of your email marketing tech stack—we're here to help
If you'd like to learn more about how Litmus and our broad range of integrations can help you better connect your email marketing tech stack—and bring your team's workflow to the next level—reach out to our Litmus experts. We're here to help you get the most out of your email marketing.
Create flawless emails faster with Litmus


No matter where or how you work, Litmus fits right in. Get started today so you can create more effective emails faster—now.
Originally published on December 19, 2019, by Bettina Specht. Last updated September 1, 2021.