Every month, we track opens from more than 1 billion emails using Litmus' Email Analytics and share the trends we observe in various email clients and environments for email client market share. In October, our top categories stayed the same from September, with mobile opens holding strong at 56%, desktop at 17%, and webmail at 27%.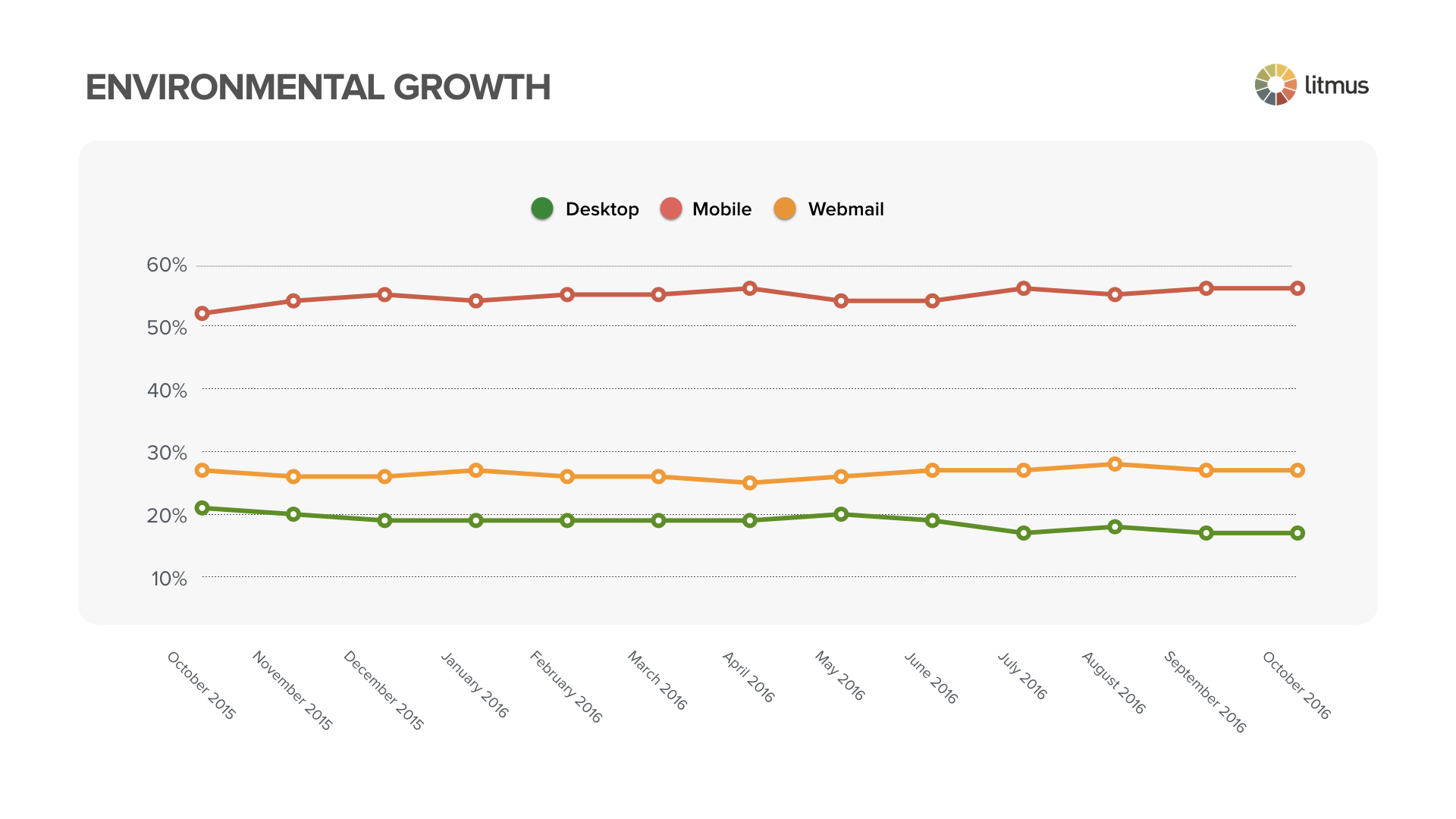 A REFRESHER ON MARKET SHARE TERMS + EMAIL OPENS
"Mobile" refers to mobile-specific email clients, like iPhone or Android, but also where users are opening their email. If they're using the Yahoo Mail app on their iPhone, for example, that counts as a mobile open for iPhone. This also includes tablets like the iPad.
"Desktop" shows any email client opened on a desktop application. That means any email client that required you to install software. If you're using a Mac, for instance, that could mean Apple Mail. On a PC, that might be Outlook.
"Webmail," by contrast, means you're using an email client within a browser. Logging onto your Gmail account or using Outlook.com fall under the "webmail" category.
How do we track opens? Open tracking in Litmus Email Analytics is based on 1×1 invisible pixel image tracking, which is the same technique that your email service provider uses to report your
open rate. When a customer opens your email, the image is loaded. This counts as an open. (Don't worry—the tracking pixel doesn't alter your carefully planned designs!).
Let's dig into the data:
Top 10 Email Clients
Continuing the trend from September, the top 10 holds steady from what we saw at the end of the first half of the year, with mobile overwhelmingly dominating the list.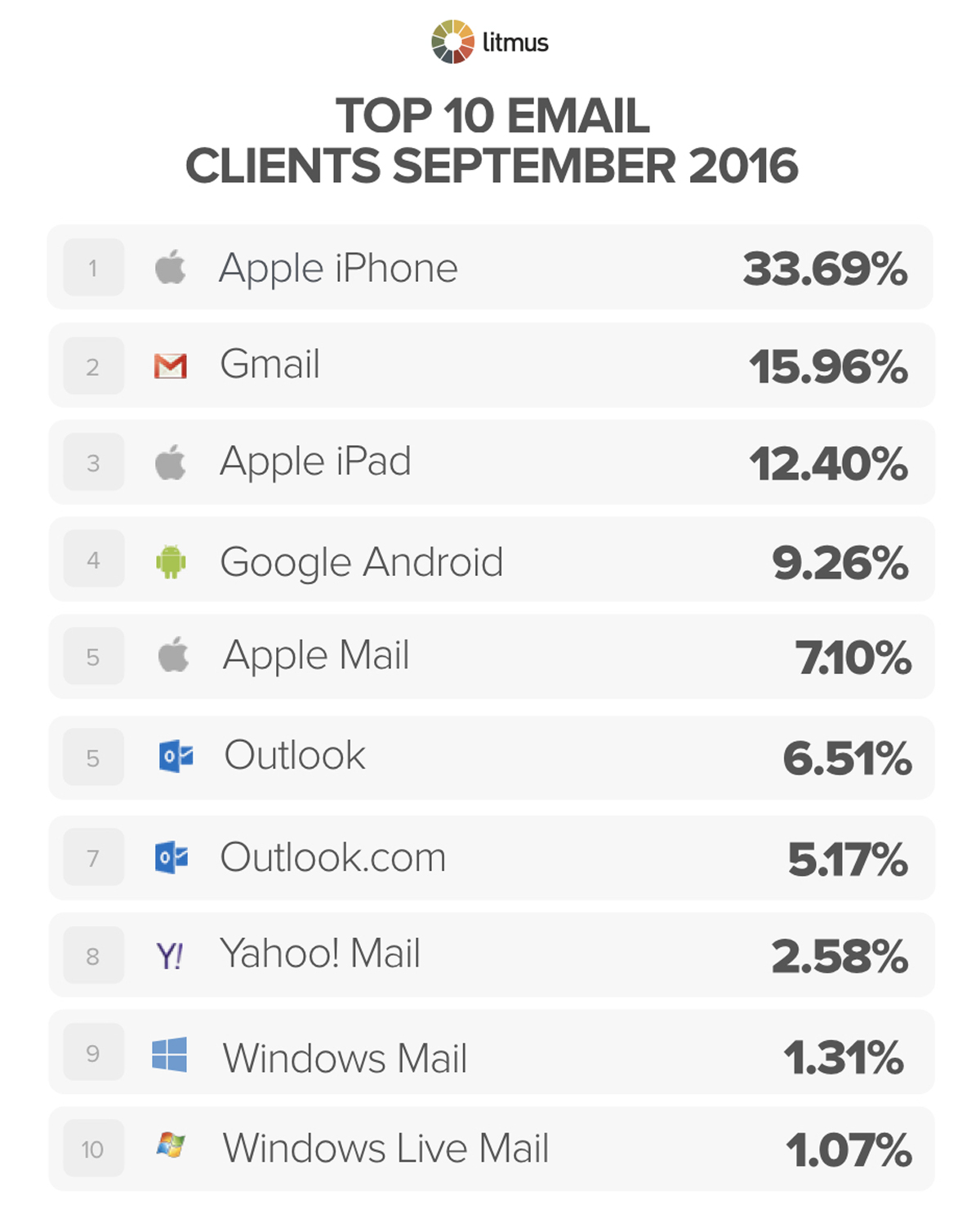 Discover your top 10

When it comes to email marketing, it's all about your audience. Use Litmus Email Analytics to discover which email clients are most popular with your subscribers. Sign up free!
iPad Jumps To 12%, Android Drops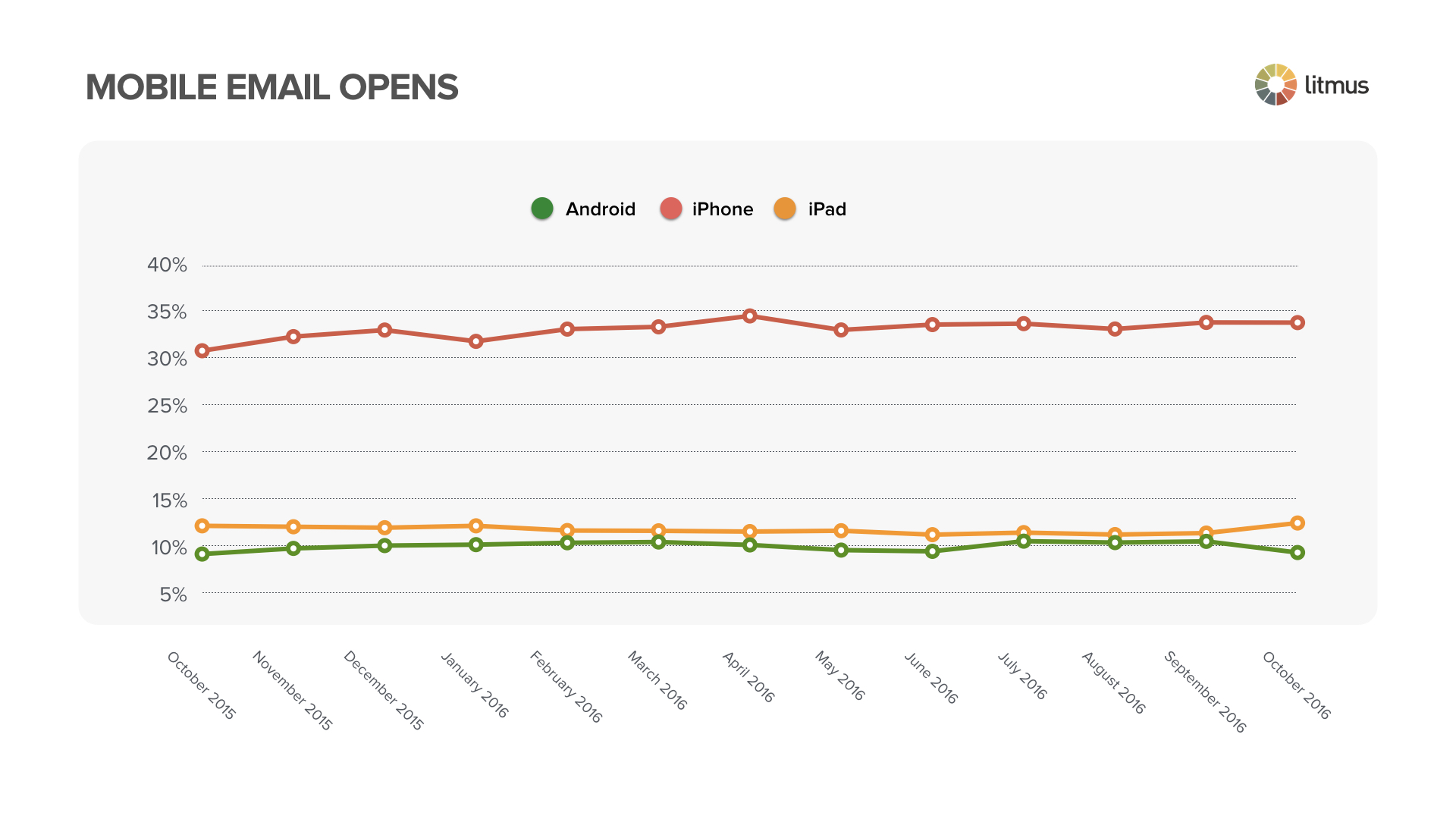 Mobile opens stayed at 56% this month. While the overall percentage stayed the same, we did see some movement amongst some of its biggest players. While iPhone maintained its share at 34%, iPad jumped up to 12.4%, more than a full percentage point from last month's opens at 11.3%. Android dropped about the same amount from 10.4% last month to 9.2% this month.
What's causing these changes?
The drop in Android opens could be due to several factors, but one that stands out is the recent reports of the Samsung Galaxy Note 7…exploding. It's been a tough month for Samsung, which traditionally runs the Android operating system on their phones.
Another possible reason in the drop in Android opens could be due to Android phone users jumping ship from Android's stock email client to the Gmail app. There have been several improvements to the Gmail app this year which make the it more attractive to users, including the ability to "Gmailify"—using Gmail without an @gmail.com email address—a feature which was added earlier this year.
As for the iPad, there's no clear sign that sales have increased (though we'll find out at the end of the year how Q4 went). It's clear, however, that Apple is changing their strategy. In their most recent event, the announcement of the new Macbook Pro hinted at doubling down on the iPad—or creating something completely new.
iOS 10 launch
One other development of note: iOS 10 officially launched in September, but we can now start to see some trends. Early adoption skyrocketed for iPad and iPhone users alike, with iOS 10 making up 49% of iPad opens and 71% of iPhone opens. If you've got Apple subscribers, chances are they've upgraded to iOS 10. Here's what you need to know.
Desktop Opens Hold At 17%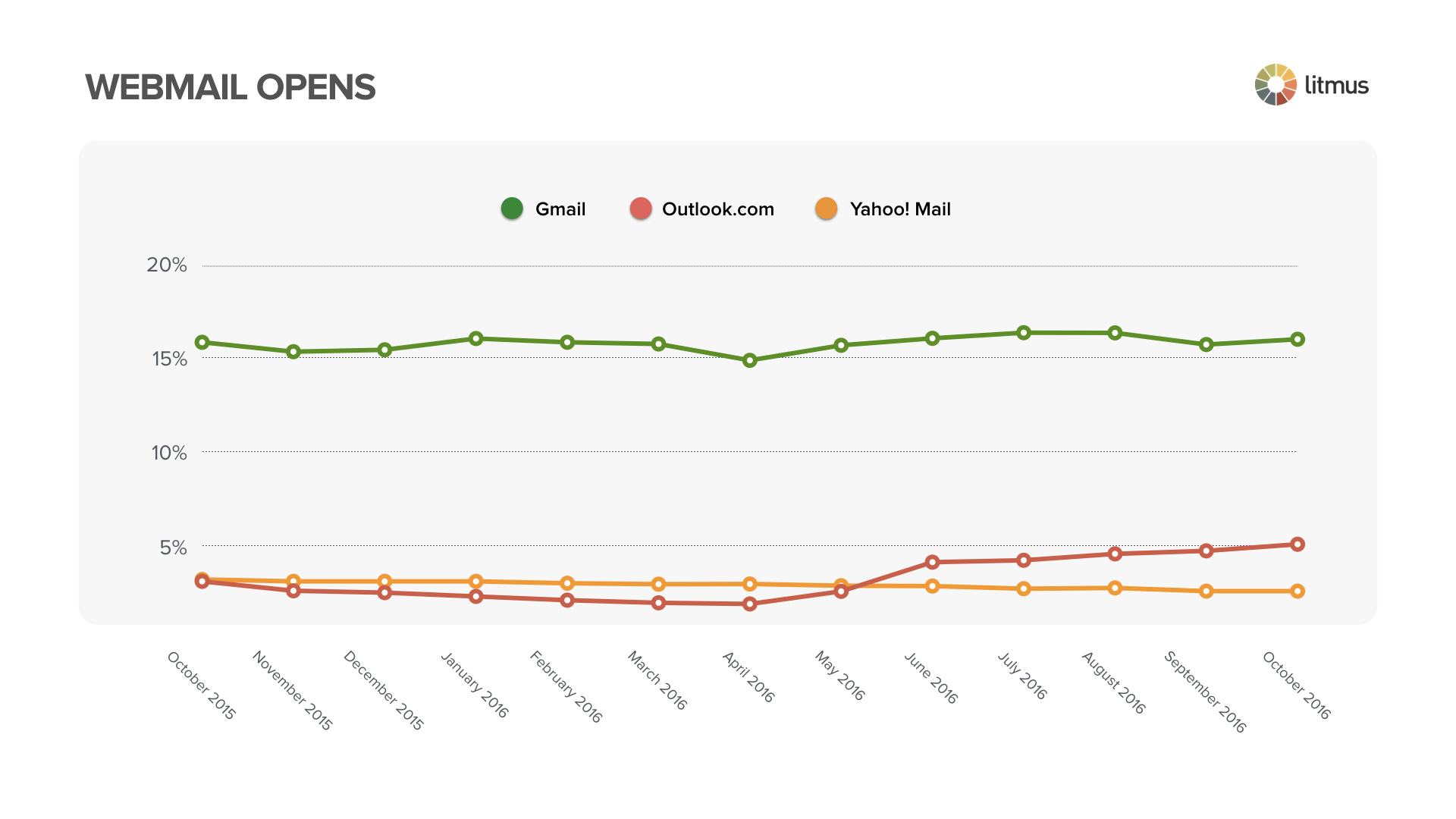 Desktop opens held steady at 17%, with little changes amongst individual desktop email clients. Apple Mail increased from 7.01% to 7.10%, holding as the most popular desktop client, while Outlook dropped from 6.67% to 6.51%.
Windows Mail officially overtook Windows Live Mail for the #9 spot last month, and its lead continues to increase, up to 1.31% over Live Mail's 1.07%. This trend will continue as Microsoft is retiring Windows Live Mail.
Gmail Continues To Dominate Webmail Opens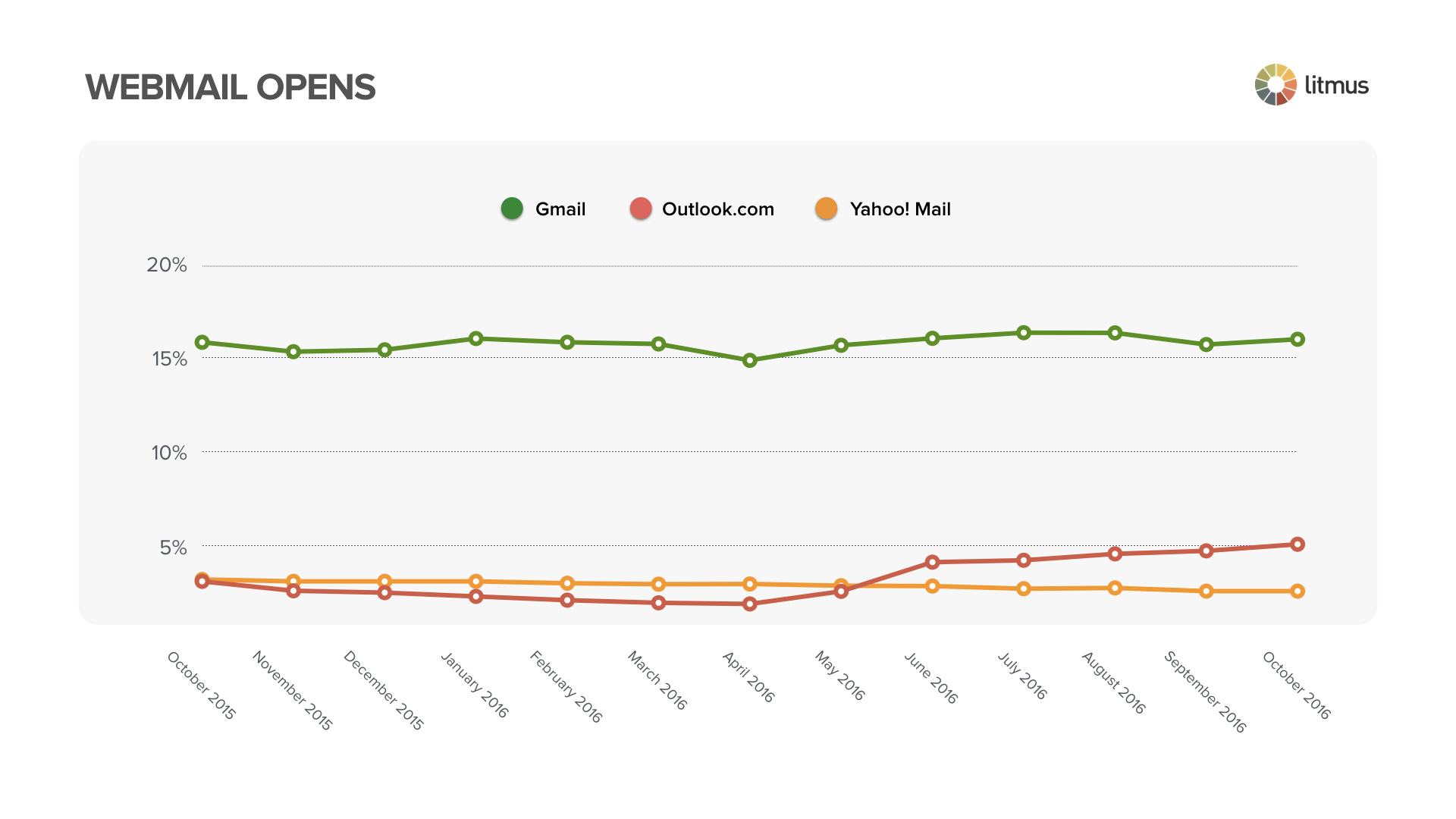 Gmail remains the most popular webmail client by far at 16%. The next closest webmail client is Outlook.com, with 5%—a gap of 11 percentage points!
Gmail is a notoriously tricky client to design and develop for, but that's changing fast with the rollout of changes that support responsive design, improved font styling, and CSS for accessibility. If you're seeing a significant portion of your subscribers opening in Gmail, then you need to keep in mind:
Over 75% of clients now support responsive design. (Not using it yet? Download our free templates over on Community.)
You don't need to use hacky table layout structures anymore (though you do still need tables for Outlook).
You no longer need to use CSS inlining, since Gmail now supports embedded styles in the of your HTML.
These are total game-changers. We're following this closely on our Gmail live ticker as changes continue to roll out this quarter.
WHERE DID WE GET ALL THIS DATA?
This data is derived from over 1 billion opens collected worldwide with Litmus Email Analytics between October 1, 2016 and October 31, 2016. It highlights worldwide trends across all industries and verticals. Some email clients may be over- or under-represented due to image blocking. Tracking trends over time is the best way to monitor open data for email!
WHICH EMAIL CLIENTS ARE MOST POPULAR WITH YOUR AUDIENCE?
While general email client open data is great for looking at trends, it's your audience that matters. With the addition of a small tracking code to your campaigns, Litmus Email Analytics generates a report of where your subscribers open your emails. Use that data to focus your testing efforts—and ensure your campaigns look great in inboxes where your subscribers are opening.
Most Popular
Don't Miss Litmus Live 2022 this Fall!

The Premier Email Event by Email Pros, for Email Pros.
From Anywhere–and Any Budget.

Learn More