The first half of 2016 has seen plenty of changes in the email world. For an industry that's constantly fighting rumors of death, there's a lot of activity happening! Watch the video above to get an inside scoop.
Mobile, Webmail, and Desktop Trends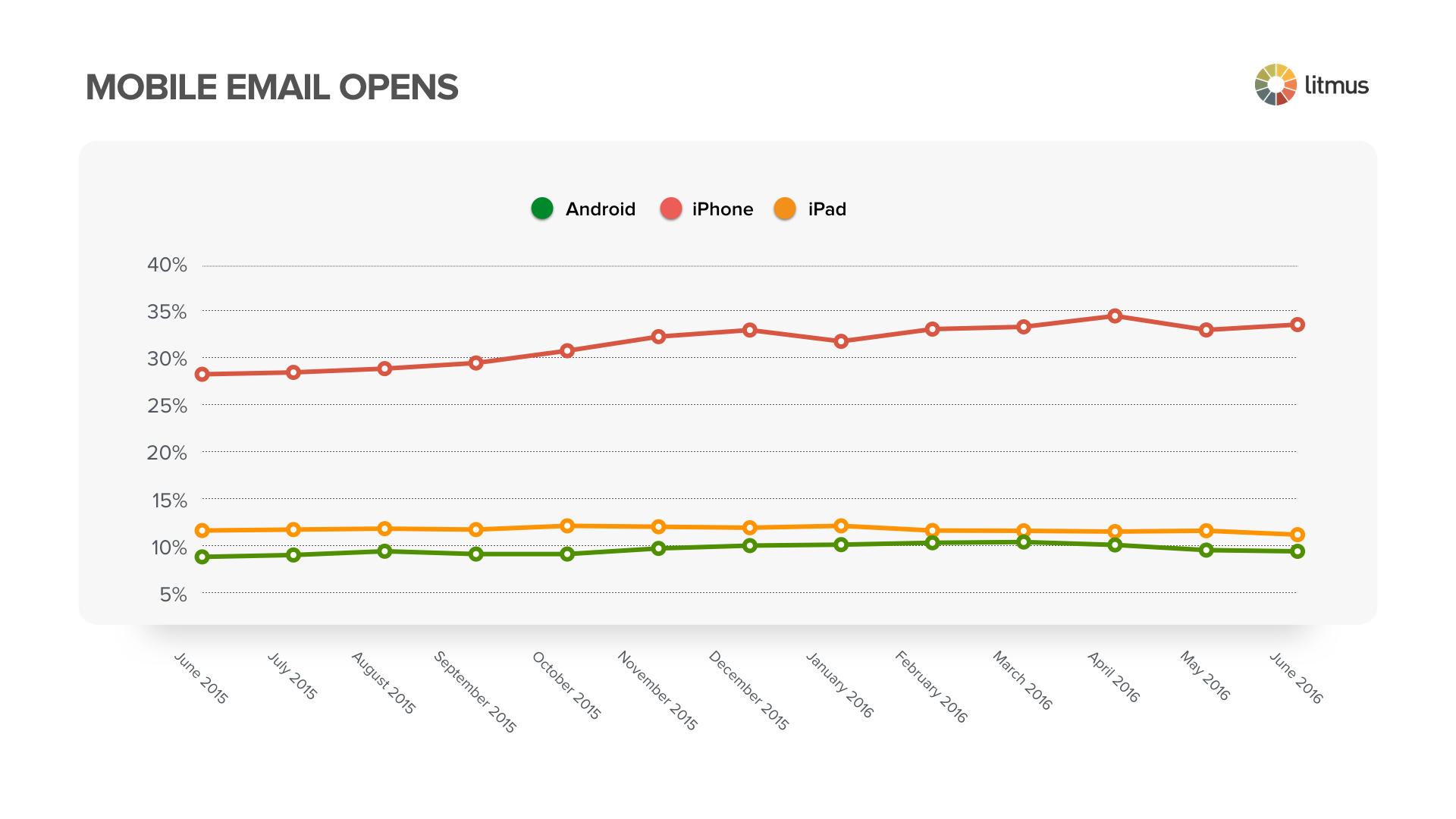 Mobile opens peaked in April at 56% and have held above 50% since the beginning of the year—averaging out to 55% so far this year. This is a 10% increase from a year ago when smartphones and tablets made up 49% of opens.
Throughout the first half of the year we saw Apple continue to dominate opens, with iPhone and iPad maintaining a combined 44% of all email opens of all email opens for June. Android has continued to drop, down to 9.3%.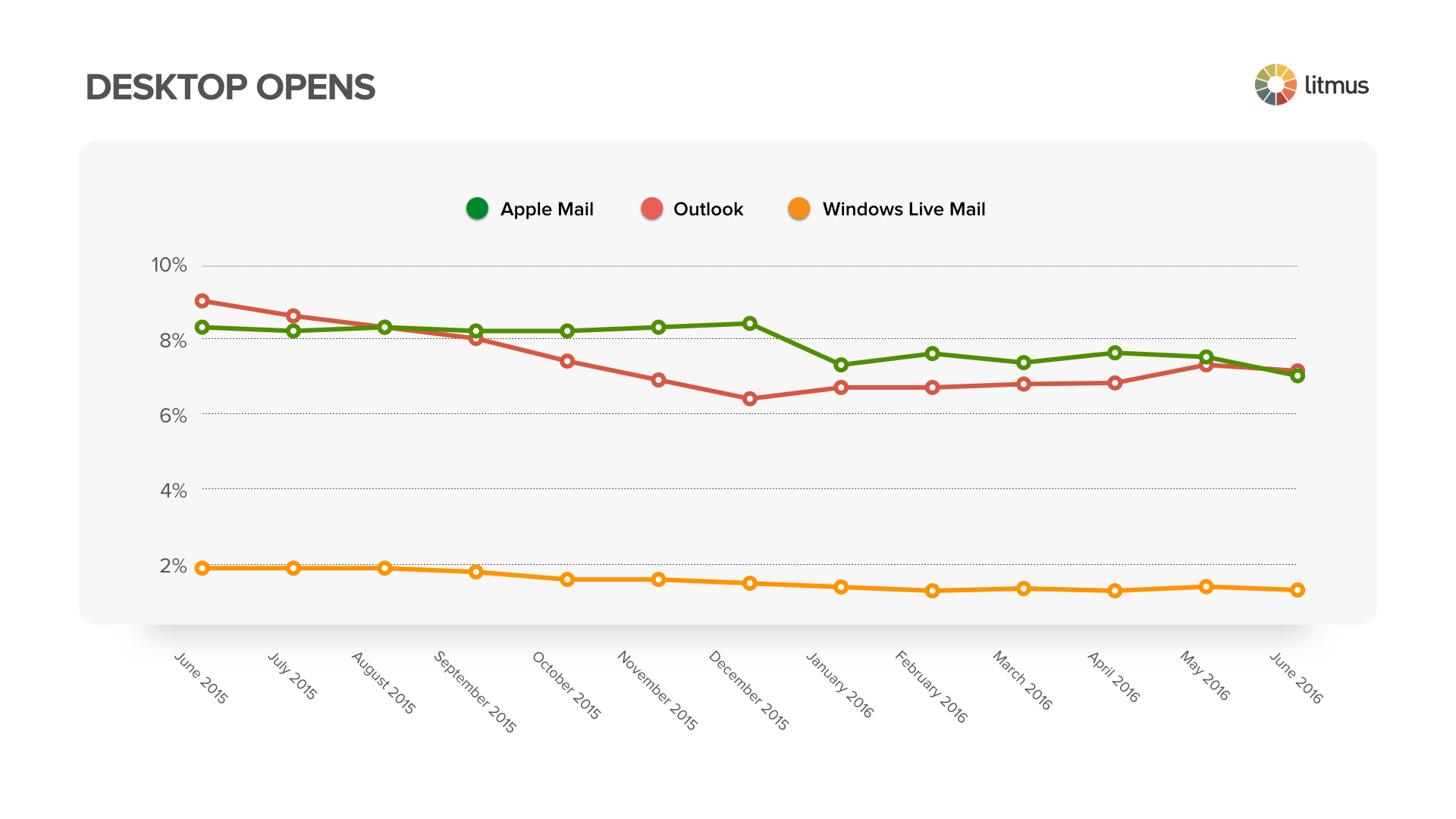 Desktop email clients have been slowly losing market share over the last year, dropping from a 22% in 2015 to a steady 19% today.
This past month, Apple Mail continued its slight downward trend since April, down to 7.01%, while Outlook, Windows Mail, and Windows Live Mail also dropped.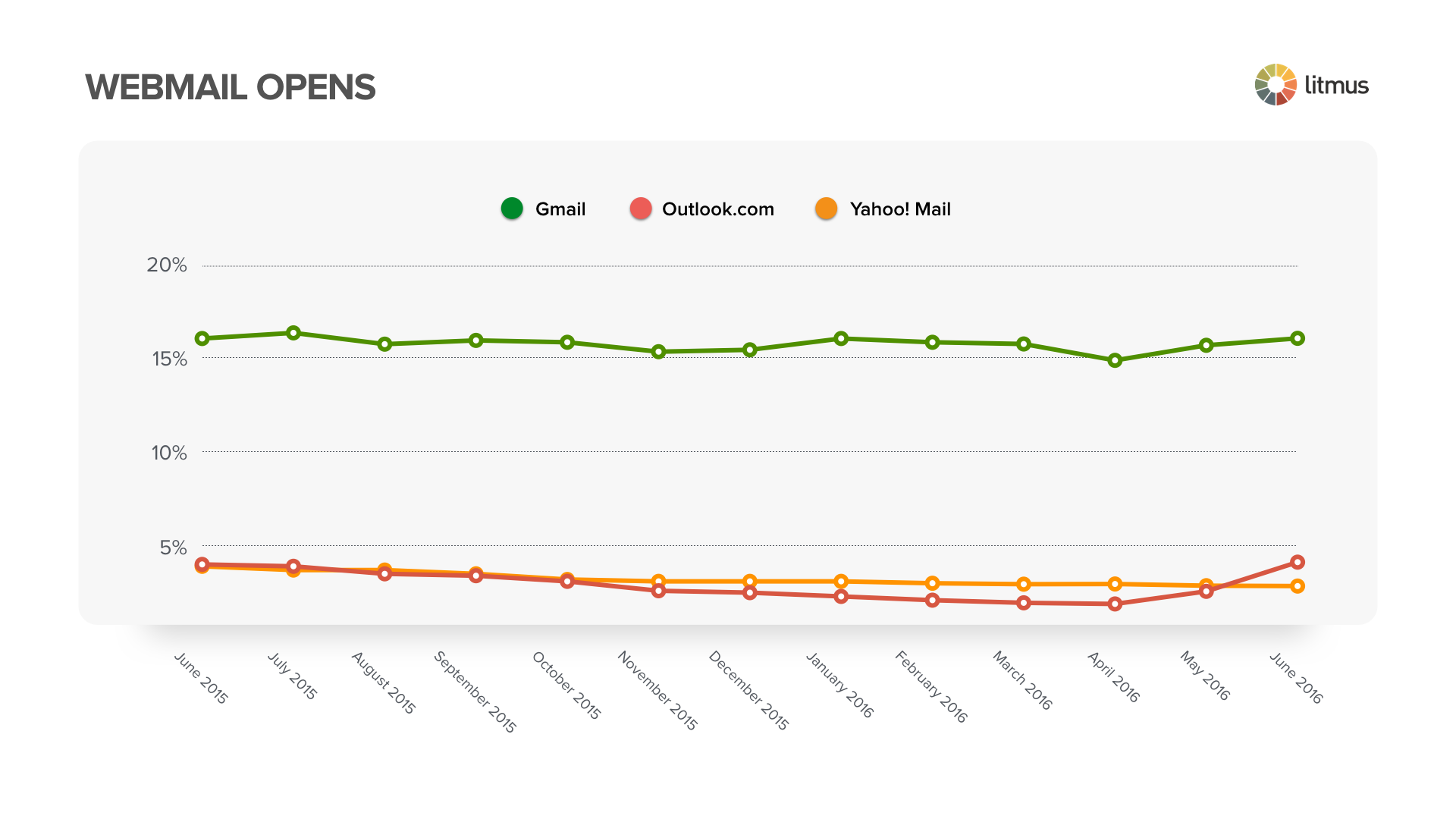 Webmail opens began and ended the half at 27% after a brief drop to 25% in April. In the past year we've seen a 4 percentage point variance in webmail opens as they've fluctuated between 25% and 29%.
Overall, we've seen an increase in Gmail opens, up this month to 16% from last month's 15.64%, continuing an upward trend. It has maintained its standing as one of the most popular email clients as far as opens are concerned. Keep in mind that Gmail's open rates include opens that are made in Gmail mobile apps as well as opens made in the Gmail web interface. Due to image caching, all opens from Gmail look the same.
Outlook.com jumped up this month to 4.12%, which is the highest its been since May 2015. This is likely due to the various moves Microsoft has made this last half, including retiring Windows Live Mail (read on for more!)
Top 10 Email Clients of 2016 (so far)
We end the first half of the year with few changes in the top email clients. iPhone, Gmail, iPad, and Android continue to dominate with a combined 70% of market share. In a surprising twist, Outlook overtook Apple Mail for the first time since January, although just barely—with less than 0.2 of a percentage point difference in share between the two.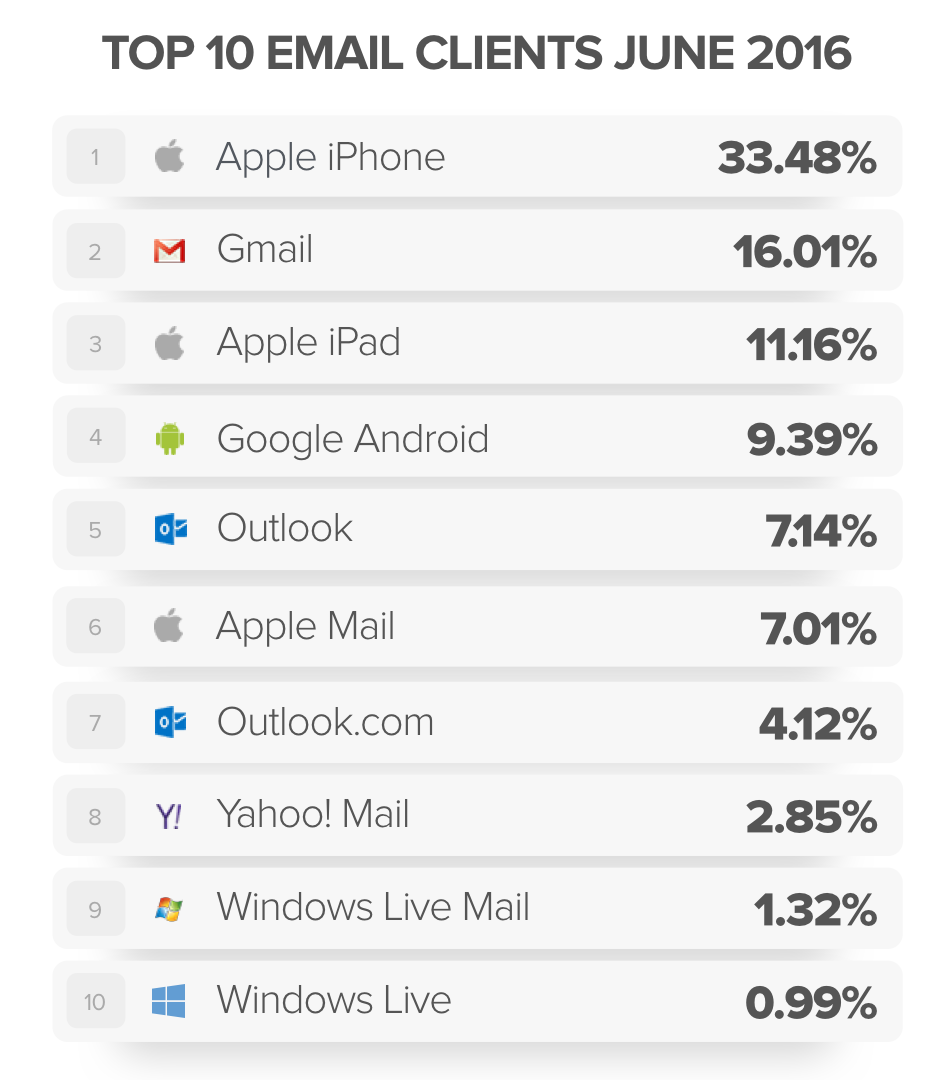 Discover your top 10

When it comes to email marketing, it's all about your audience. Use Litmus Email Analytics to discover which email clients are most popular with your subscribers. Sign up free!
While opens in mobile, desktop, and webmail email programs saw sporadic peaks and valleys over the last six months, the net change so far this year is zero all around—meaning our market share stats are exactly where they started in January. Despite this relatively stable environment, individual email clients have undergone changes that may impact your marketing programs.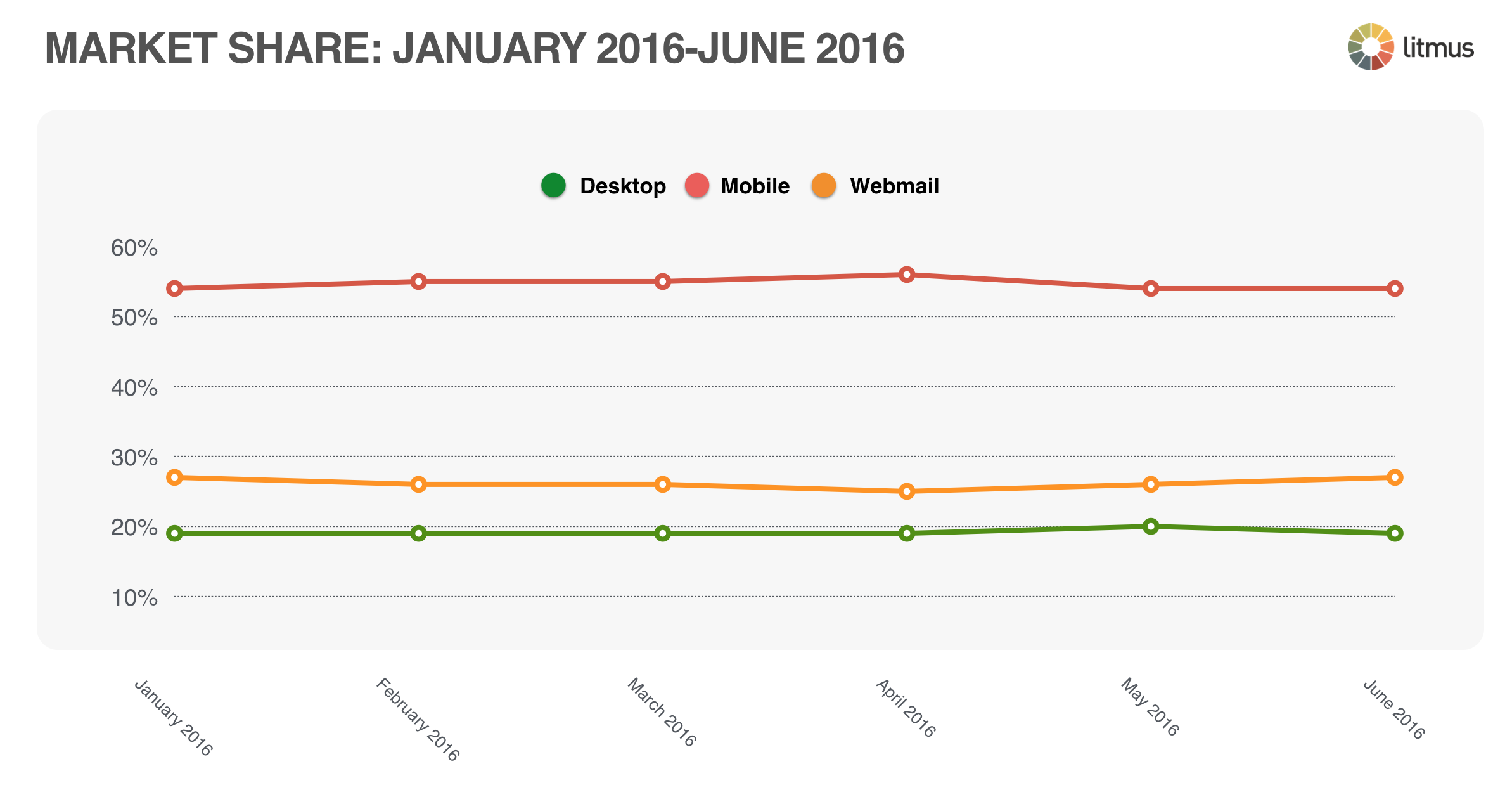 What You Need To Know About The First Half of 2016
Gmail's Glanceable Newsletters
In April, Gmail introduced the concept of glanceable newsletters in their Inbox by Gmail application. Glanceable newsletters give subscribers the opportunity to click-through on links without needing to open, which may explain the brief dip we saw in Gmail opens in April this year. Glanceable newsletters don't work for every brand, and there's no way to opt into or out of the program, but it's a good idea to keep an eye on Inbox this year.
Outlook.com's Rendering Engine Replaced; Windows Live Mail Retired
In May 2015, Microsoft announced it would replace its Outlook.com rendering engine with the infrastructure from Outlook 365. This update finished rolling out in February this year, and was closely followed by the retirement of Windows Live Mail in June.
The retirement of Windows Live Mail meant that Outlook.com and Hotmail.com accounts would no longer work in the client, forcing all Windows Live Mail users to migrate to the Outlook.com webmail interface or another Windows desktop client.
As a result, opens in Outlook.com more than doubled in recent months, jumping from less than 2% of opens to a touch over 4%. Because Outlook.com has an updated rendering engine, some rendering bugs have been fixed while new bugs have been introduced.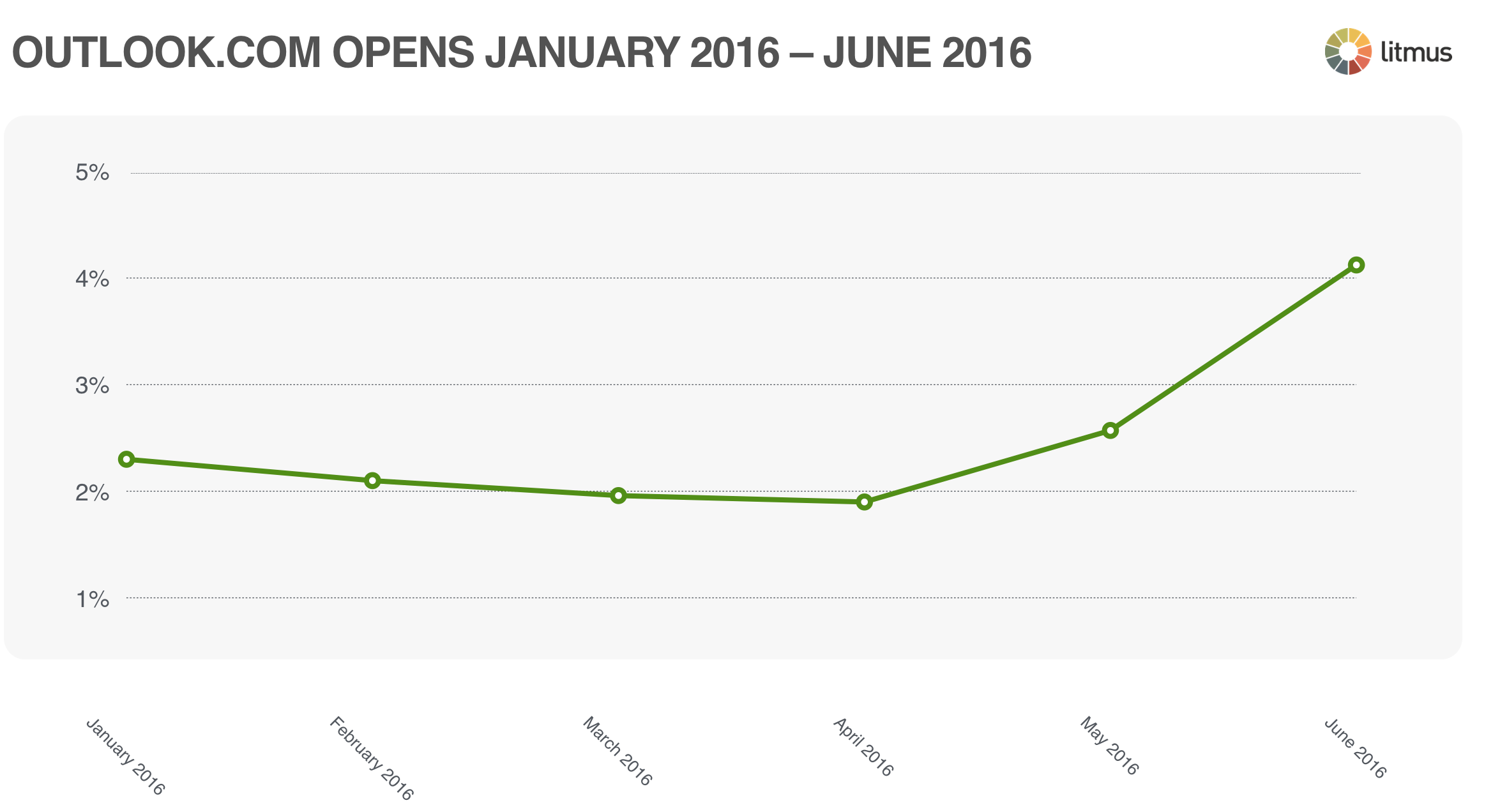 Check out our Community for a full round up of any bugs and troubleshooting issues, and post your own.
WHERE DID WE GET ALL THIS DATA?
This data is derived from over 6 billion opens collected worldwide with Litmus Email Analytics between January 1, 2016 and June 30, 2016. It highlights worldwide trends across all industries and verticals. Some email clients may be over- or under-represented due to image blocking. Tracking trends over time is the best way to monitor open data for email!
WHICH EMAIL CLIENTS ARE MOST POPULAR WITH YOUR AUDIENCE?
While general email client open data is great for looking at trends, it's your audience that matters. What we collect by industry may not apply to your email program and your email campaigns. For instance, even though mobile opens have skyrocketed past 50%, mobile opens average just 15% for the emails that Litmus sends! That has huge implications for our strategy.
How do we figure this out? With the addition of a small tracking code to your campaigns, Litmus Email Analytics generates a report of where your subscribers open your emails. Use that data to focus your testing efforts—and ensure your campaigns look great in inboxes where your subscribers are opening.
Try Litmus free!
Most Popular
Don't Miss Litmus Live 2022 this Fall!

The Premier Email Event by Email Pros, for Email Pros.
From Anywhere–and Any Budget.

Learn More