The Community Spotlight is a blog series highlighting some of the amazing members of the Litmus Community.
This time we're chatting with Rémi Parmentier, a web and email developer from France. Rémi acted as a guide to the inside of an email geek's mind at this year's TEDC in London, with his talk on Thinking Outside the ‹table›. Be sure to follow him on Twitter, check out his website, and read his posts on Medium.
Who are you, where are you from, and what do you do?
I'm Rémi Parmentier. I'm a French Web Developer and Email Developer. I run my own development agency, Tilt Studio, with two associates. And I also love to blog about web development and email quirks.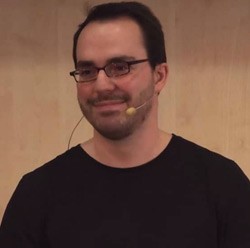 When did you first get involved with email marketing?
I coded my first HTML email ten years ago at my first job at a web agency. Back then, in 2006, a lot of websites still had table-based layouts. Outlook still used Internet Explorer's rendering engine. And Gmail was still an invitation-only beta. So email development was not as badly seen then as it is now. I kept working on emails now and then. But it's really in 2012 that my interest got renewed. I received a responsive email from Twitter. And suddenly all my assumptions about email development were blown away. Emails can be more than just tables and font tags.
What do you see as the biggest challenge in email today?
Standardization. I really feel like we're at the dawn of big changes in the email industry. Developers, designers, and marketers are getting more aware of modern coding possibilities (with responsive, hybrid, or interactive emails). And email clients vendors are also showing interest to make their webmails and applications better. Of course, nothing will happen overnight. But I think awareness is starting to rise. It's almost like we're at the same stage web development and browsers were ten years ago.
And what's been your biggest challenge in email?
Standardization. I'd love to help make email better. Actually, I've started to try doing that, at my very own low level, this past year. I've reported bugs to various webmails, some more serious than others. I've helped AOL and even Gmail to fix bugs. I've also started to maintain a list of bugs I encounter on GitHub. Part of it is in hope they get fixed. But part of it is also to help other email developers learn about these bugs and refer to them easily.
What's your favorite email hack?
I like email hacks that are self explicit. I'm thinking about things like "@media yahoo" to target Yahoo, "[owa] .foo" to target Outlook.com or conditional comments to target Outlook. I hate to read someone else's code and wonder "Why is he doing that?".
Has there been an email campaign or email design that's caught your eye recently?
It's not an email campaign, and it's not recent even. But I think one of my favorite email I have ever received is the "Get a new password" email from Louis CK's website. The website itself sets the tone, really mimicking Louis CK's humor ("Oh my god you're an idiot. Give us your email address, and we'll send you a new one."). But the email is even better. It's a simple plain text email with the following lines.
Apparently you forgot your password? Ok, so here's your new one, stupid:

EMAIL: [your email]
PASSWORD : moron.Bu1auF0C

Here's the login page in case you forgot that too:
https://louisck.net/account/signin
It's short, it's simple, and it's fun. I had a huge smile on my face when I read that email. The fact that the password is prefixed by a random insult is just perfect and on point.
In the same genre, I love to reread "the most successful email ever written" by Derek Sivers for CD Baby. I think the first thing I ever ordered online was the "Electro-Shock Blues Show" live album of Eels there, back in 2002. When my order shipped, I received that funny email. It's just plain text, but it's well written, and it's really fun.
Perhaps this is a good reminder that a good email is first and foremost good copy.
What email client do you use?
Apple Mail on iPhone. And Gmail on desktop.
Outside of the email world, what else floats your boat?
I love video games, even though I have less and less time to play. I'm a big Nintendo fan. I started collecting Game Boy consoles a few years ago, first by buying ones I could find at local flea markets. Until eventually I realized I had quite a lot of them.
I also have a ten month old son, so I'm still discovering the joys of being a dad. It's nice to spend time with him, as his healthy mind hasn't been corrupted by dirty email hacks (yet).
Previous Community Spotlights
Join the Community
Not a Litmus Community member? Join the best minds in the email industry as they discuss the latest email news, cutting-edge techniques, and solutions to even the trickiest email design problems.