Email marketing can be a finicky beast, with the industry landscape shifting without warning. The past year saw the launch of a new version of Apple's mobile operating system (iOS 10), acquisitions by Verizon and Microsoft, and the introduction of new privacy regulations around the world—to name just a few of the issues impacting email marketers today.
All of these changes can make building a strong email program more challenging. In our 2017 State of Email Report, we analyze the biggest email developments of the past year and provide tons of actionable tips and advice to keep you on top of your game.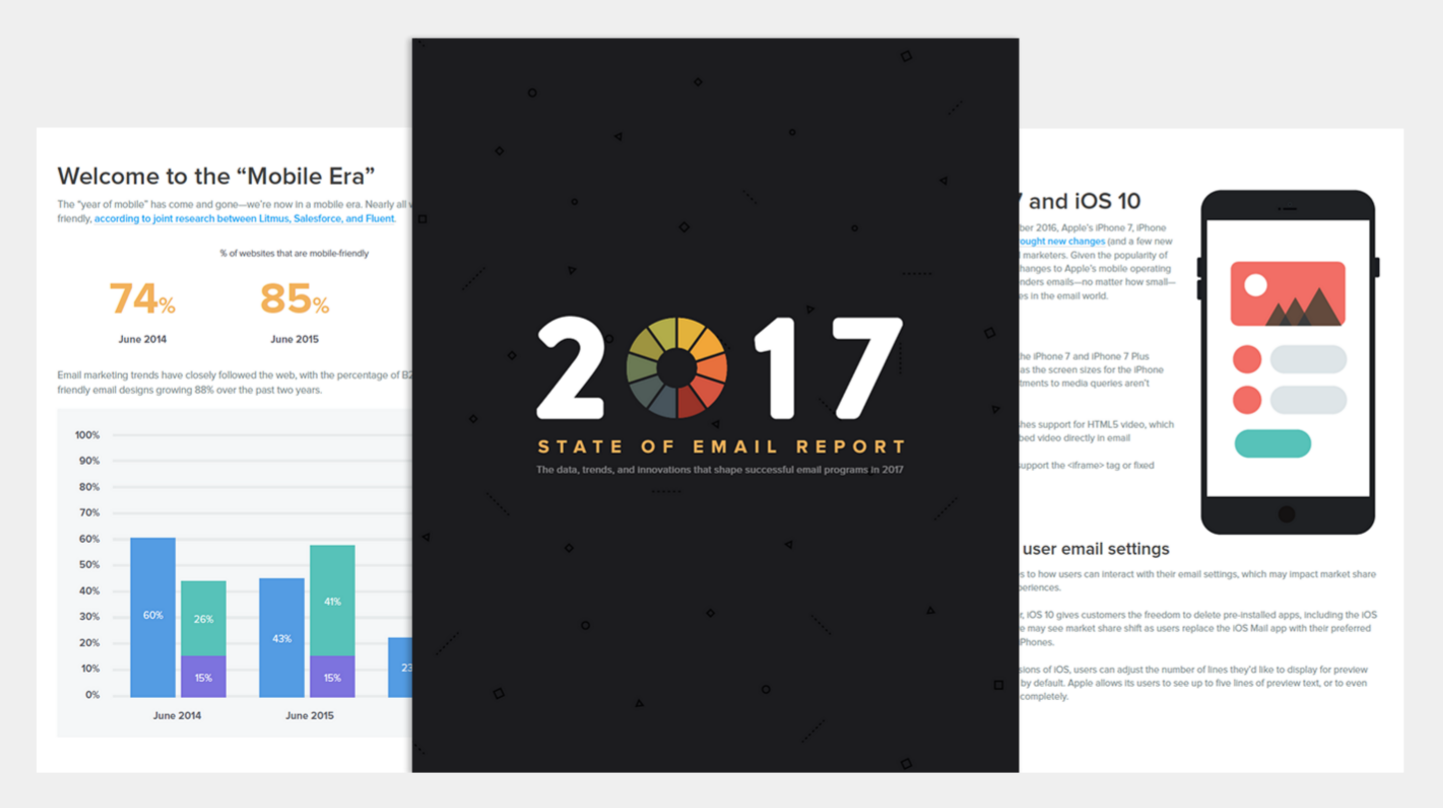 Here's a sneak peek of some of the takeaways you'll find inside.
Protect your brand reputation with an overview of new and updated email clients
The email client ecosystem continues to be fragmented and dynamic, and email clients can drop and add support for critical email elements without warning. Staying on top of support changes can ensure you never send a broken email to your subscriber base.
iOS 10 Adds List-Unsubscribe Functionality
With iOS 10, Apple joined other major providers like Google and Yahoo! Mail in supporting list-unsubscribe, which enables native unsubscribe links offered by inbox providers. This means Apple's easy unsubscribe banner now appears prominently at the top of your marketing emails.
While research from Yesmail showed a dramatic rise in unsubscribes from iOS 10 devices in the weeks following roll out, there's no reason to panic. You may see a jump in unsubscribes in the short term, but implementing list-unsubscribe can actually help improve your campaigns in the long term.
The first step to conversion: Reaching the inbox
Consumers' definition of spam is changing, and email marketers must change their practices accordingly. Increasingly, any unwanted or poor email experience can count as spam, so be sure to evaluate your permissioning and sending practices to prevent unsubscribes and spam complaints.
Avoid spam complaints and unsubscribes
Beyond solid permission practices, the best way to avoid spam complaints and unsubscribes is to maintain your subscribers' interest with relevant, timely content. Sending emails at a good cadence that doesn't overwhelm your subscribers is one example.
However, there are other, structural elements of your email program you can optimize, such as creating mobile-friendly emails and landing page experiences and streamlining the opt-out experience to avoid frustrating subscribers.
Enable TLS
In February 2016, Gmail began to flag unencrypted emails so that Gmail users can see whether they're sending or receiving emails from providers that don't support TLS encryption.
TLS, or transport layer security, gives senders the ability to encrypt email in transit. Emails sent to an inbox provider that can handle messages over TLS will be sent using secure encryption, but if the inbox provider doesn't support TLS, the sending server sends the email as normal.
Check if TLS is supported by your email service provider, who can help you implement encryption.
Bring your email programs up to compliance with international email regulations
In 2017, email marketers will have to pay special attention to two international regulations.
The first, General Data Protection Regulation (GDPR), is the EU's new privacy law that was adopted in spring 2016 and aims to bring order to a patchwork of privacy rules across the EU. This regulation has binding legal force and will go into effect May 25, 2018—and email marketers should use the coming months to prepare for the changes.
The second is the Canadian Anti-Spam Law (CASL), Canada's anti-spam law, which has been around since 2014. However, certain provisions on private right of action will take effect July 1, 2017.
Stand out in the inbox to surprise and delight your subscribers
If you want to stand out, you have to drive relevant and timely email communications that align to your subscribers' interests.
Experiment with personalization, dynamic content, live content, and gamification
To truly engage your subscribers so you can get them to convert, you must surprise and delight them with personalized, relevant campaigns. Doing so will help your email stand out but also provide helpful content that will ultimately encourage more clicks.
In addition to creating relevant emails, you can add a little "wow factor" to your campaigns by using some emerging email tactics, including live content, gamification, and interactivity.
Download the State of Email 2017
We designed this ebook to give you a comprehensive look at the data, trends, and innovations that will help you build a successful email program in 2017. Arm yourself and your team with knowledge about new and updated email clients, get inspired to try new and innovative techniques in your email program, and ensure your messages reach the inbox—all while delighting your customers along the way.