Looking for this year's Litmus Live?
Litmus Live (formerly known as The Email Design Conference) brings the email community together to celebrate their craft and give email professionals a platform to learn, share, and grow. With sessions covering everything from marketing strategy to innovative email development techniques and production processes, you'll take away actionable advice that will have immediate impact.
Come one, come all, to Litmus Live 2016! Last year over 700 joined us in Boston and London to celebrate their love of email and hone their design and marketing skills. 98% of 2015 attendees said they'd attend again, and 99% would recommend Litmus Live to a friend.
Read our 2015 recap or see for yourself:
"The communal and collaborative nature of the conference is great. I've been able to learn and network without being sold to." –Brenton Anderson, Email Dev, Southwest Airlines
We may have said goodbye to the #TEDC16 hashtag, but the event is still the same celebration of email geekery, now #LitmusLive.
Spread the word–>
Litmus Live 2016 logistics
This year, we're bringing the email love to not one, not two, but three cities: London, Boston, and San Francisco.
Each location will offer a slightly different schedule and agenda; speakers and sessions will vary.
For Boston, content will be divided into two track (a marketing/strategy track and a development/coding track) for the duration of the conference. Attendees may choose which track to attend, and switch at any time.
London will have a half-day of general sessions in a single-track format followed by a full day of breakout (dual track) sessions.
San Francisco will be our most intimate of the three, with a 1.5 day, single-track schedule.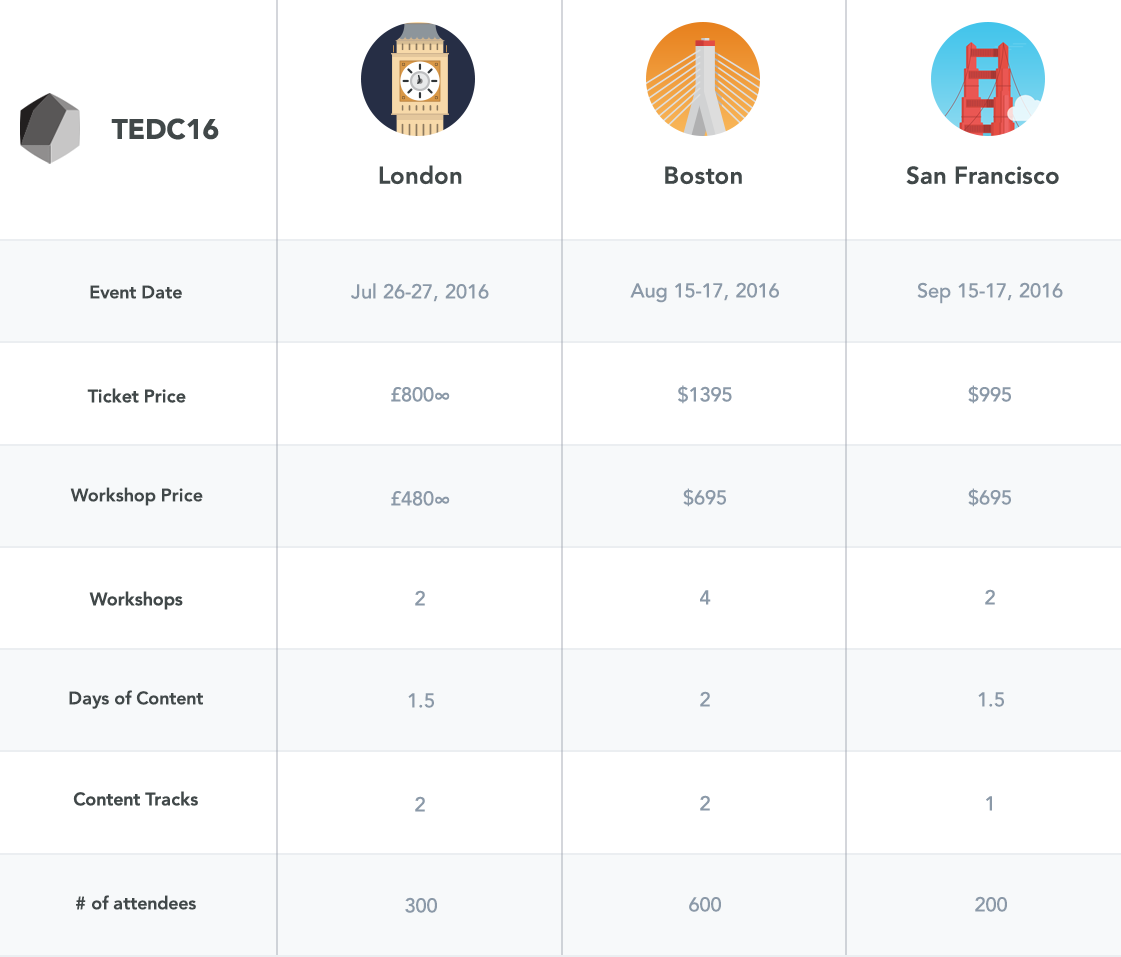 Learn how to craft great email…and meet other #emailgeeks
"Awesome conference. Could you guys be any more nerdy? I mean that in a good way!" –Kayla Beck, Marketing Manager, Southwest Airlines
With workshops, sessions, 1×1 advice, and meet ups, Litmus Live is your platform to learn, share, and grow, as well as meet other amazing email geeks! With sessions ranging from innovative email development methods to testing strategy and production processes, you'll come away with actionable tips and techniques so that you can make the most impact within your organization (and hopefully, some new friends along the way!).
"The real Litmus test for any conference is how excited you are to come back. I already can't wait for #LitmusLive16. #puns #nailedit." –Wes Marfield, eCommunications Specialist, Intouch Solutions
Get your Litmus Live tickets!

Tickets sell out fast! Register today to celebrate email with us!
Have any questions?
Shoot us an email, or reach out on Twitter. We're happy to help!
Most Popular
Don't Miss Litmus Live 2022 this Fall!

The Premier Email Event by Email Pros, for Email Pros.
From Anywhere–and Any Budget.

Learn More