It's been a big year for the email design community. Along with the usual updates to email clients and new techniques, there was a huge influx of people joining in the email design conversation over in the Litmus Community.
Community members discussed everything from favorite Black Friday campaigns to staying productive even when you don't feel like it. More importantly, they brought up a number of interesting discussions surrounding not only design techniques, but also the state of the industry and life as an email geek.
As 2015 draws to a close, here are my picks for the top 10 most compelling discussions in the Litmus Community—the ones that pushed the design envelope, shed light on our industry, and brought us all closer together as people grappling with the complexities of modern email marketing.
Jerry Martinez kicked off the year with a now classic discussion sharing his method for creating a hamburger menu in an email campaign. While hamburger menus are a staple of web design, this was one of the first few instances of it being adapted to HTML emails. It helped mark the shift to more interactive email campaigns—a shift that is well under way and likely to increase in the coming year.
While email marketers have been complaining about Outlook for ages, Justin Khoo gave them an outlet for those complaints when he posted this discussion. Justin is in the rare position of having an open dialogue with the Outlook team and took the opportunity to solicit constructive criticism from the email community.
This is an important milestone in the email world. It's rare that email vendors reach out to email designers, let alone to call them out on their shortcomings—so it's amazing to see one of the biggest in the business (quite literally) join in the conversation. One of their product managers even hopped on the thread!
Hopefully this is the start of a trend and we'll see more vendors working directly with email folks to improve their clients for everyone.
In our very first Community Contest, we challenged designers to flex their muscles and think up new ways to use ALT text in an email campaign. While we were originally skeptical if anyone could really revolutionize ALT text, the email community blew us away with some truly inspirational techniques.
From animated and dynamic ALT text to Space Invaders in an email, this post showed that email designers are an innovative bunch. Instead of letting the constraints of email design get them down, they think up clever ways to pull off some absurdly cool stuff.
A relatively new post, this discussion introduced an entirely new tool to the email community—Snippets. Snippets are small bits of reusable code that help email designers build campaigns faster and easier. While many designers have their own collection of snippets saved on their computers, Community Snippets allow those designers to share their code with others and even save and use them directly in Builder.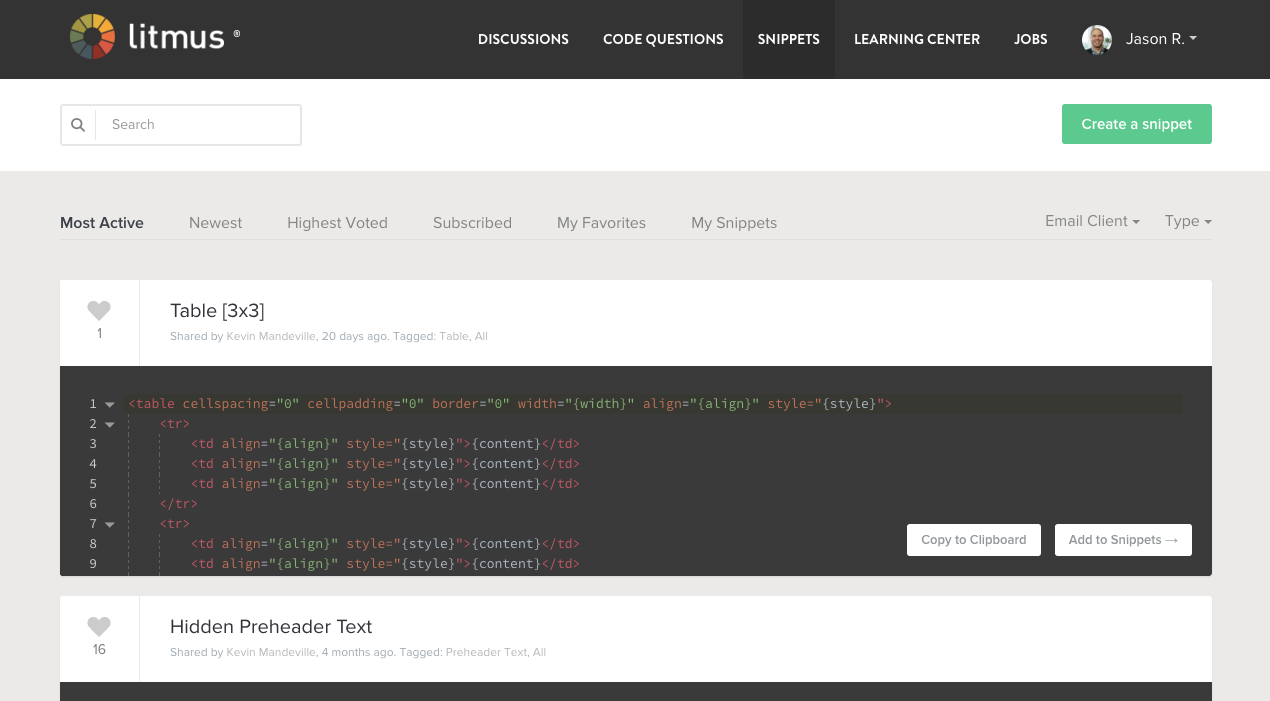 Snippets, along with some of the talks at this past Email Design Conference and tools like Builder, have helped usher in a new era of email design workflows. By employing reusable code and modular components, designers are able to build more reliable campaigns quicker than ever before.
There are already a ton of great snippets in the Community. If you don't want to dig around too deeply, be sure to check out our Top 10 Most Popular Snippets of 2015 post to get started.
This post, from Adam Murphy, kicked off some great tips on making emails more accessible for people with disabilities. An often overlooked aspect of design, accessibility has been a growing concern for email designers—and rightly so. The commenters point out some good ways to make your emails more accessible, with Paul Airy going so far as to specify some necessary CSS rules to help make semantic markup play nicely with a design. Those ideas would later make it into Paul's superb Type E: newsletter, where he not only laid out the essentials of an accessible email, but illustrated them with a brilliant accessibility switcher.
Nick Weight voiced a fairly common problem amongst email designers: How do I argue against image-based emails? Facing the prospect of over-designed emails that don't take into account the constraints of ESPs and email clients, he asked the Community to help educate other team members and stakeholders. They were quick to respond with tons of information about why image-based emails are typically bad for subscribers and companies alike.
Apart from rounding up useful information for all email marketers, the discussion sheds light on the fact that there are a lot of misconceptions about email marketing and design out there. There is still a ton of education that needs to happen across teams and industries before we start improving email for everyone.
This post from Ellen Edgerton asks a simple question with some illuminating responses. While a few respondents come from a web design or development background, all of the answers help highlight the fact that email design and marketing is a diverse world. No one grows up wanting to be an email marketer but, through various paths, people are pulled into the field and grow to love the challenges and rewards involved.
Email is a complicated medium, and these diverse skillsets and experiences are often necessary to deal with the frustrations of email design. More importantly, they allow us to think about an old technology in new ways—building better email experiences for our subscribers along the way.
There have been a few discussions about tools in the Community. This one from Sujal Patel helps illustrate the wide range of tools used to build email campaigns. From old workhorses like Dreamweaver and BBEdit to more modern tools like Brackets and Sublime Text, email designers have a huge range of tastes in code editors.
It's interesting that all of these editors are essentially tools for web design and development. While email and the web are built on the same technologies (HTML and CSS), they have very different constraints and utilize sometimes contradictory techniques. If this thread has shown us anything, it's that there is still a lot of work to be done around email design tooling and workflow. It's something we've been tackling with our own editor and testing tool, Builder.
The issue of email coding standards crops up at least once a year. While email designers were once hopeful of an eventual email standard, based on the most recent responses, it seems like their attitudes have changed. After many false starts, it seems like the email community has relegated itself to a standardless world—an opinion voiced by many of the top designers.
While some see this as a huge defeat, for most it's just business as usual. Email marketers have been dealing with troublesome email clients for years, so the lack of standards doesn't have a big impact on their daily lives. In fact, it seems like email designers and marketers are thriving in the face of coding constraints. New techniques have been introduced at a rapid pace, delighting marketers and subscribers alike.
My final pick has nothing to do with code or design techniques. Instead, it deals with something every email marketer faces at some point in their career: mistakes. In this Community Contest, we invited people to share the lessons learned from their biggest mistakes. While the responses are cringe-worthy and sometimes hilarious, they also show that—no matter your industry or role—we all share common experiences and challenges.
Commiserating with our fellow geeks not only led to some great tips for dealing with mistakes, but also helped bring together the email community. Something we'll hopefully see more of in the coming year.
Check Out Our Other Top 10 Lists for 2015
Join the Discussion Today
Looking to connect with the best minds in email marketing and design? The Litmus Community is the best place to swap stories, share techniques, and troubleshoot email problems. It's the perfect way to end 2015 and kick off the new year.