Read Time: 5 min
This Month in Community: Email Marketing Trends, Switching ESPs, and Being Labelled a Spammer
The Litmus Community is the place for email designers, developers and marketers to discuss their craft, talk about industry news, and join in the (occasionally) controversial rant and discussion.
In case you haven't been keeping up, here's what happened this month in the Community.
Switching ESPs
Choosing the right ESP (Email Service Provider) is a challenge. Choosing the right ESP for your client's needs imposes another level of difficulty. The sheer number of ESPs available to choose from makes this task even more difficult.
So it's a good thing there's a Community full of email geeks who have a boatload of experience with different ESPs, when Community member Abby Wentzel-Elison began looking for the best ESP for her client.
When looking for an ESP, there is a combination of factors that come into play—send frequency, WYSIWIG functionality, the cost, just to name a few. Before getting started in your search for a new ESP, create an outline of your or your client's requirements. Then, when you go looking for feedback from others in the industry, you can compare your requirements with the feedback to see if there's a perfect match.
What's your approach to choosing a perfect ESP?
Share your selection process →
Making marketing emails look like an internal memo—Is this a new trend?
There are some fantastic email trends around right now that elevate email for the subscriber, including interactivity, hyper-personalization, and animation. However, there is one email "trend" that is doing the rounds that can have a less positive impact on the subscriber.
Really Good Emails noticed an increasing number of marketing emails that are made to look like an internal memo from the CFO of the company and shared an example in the Community.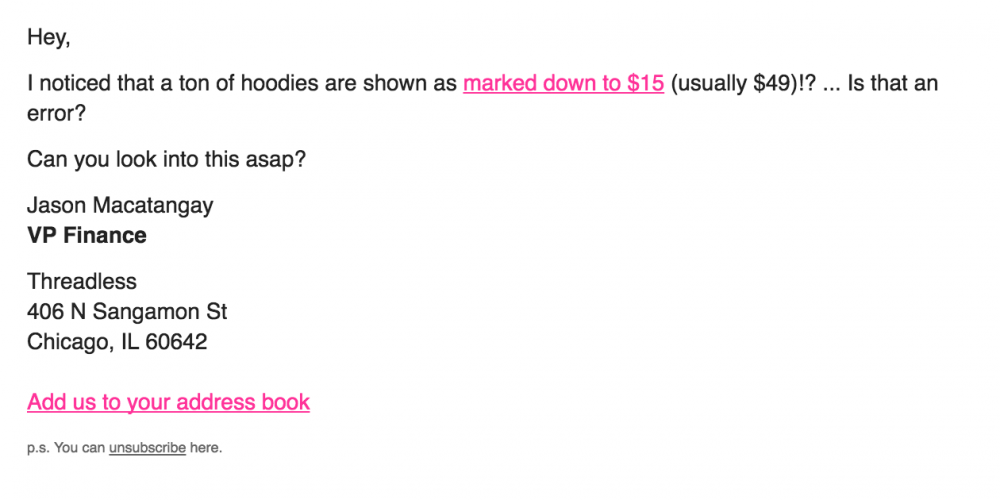 While this may be a great way to get attention from your subscribers, that attention may not be positive. Litmus' Chad White points out that the example in the discussion is in violation of the CAN-SPAM provisions about using deceptive subject lines and sender names.
Brand trust is very precious, and not something to just play around with.
– Desiree David
None of the Community members were onboard with this type of email, so it's interesting to see emails like this still being sent out.
Have you seen any fake memo style emails in your inbox?
Share your examples →
All shapes and sizes
One of the biggest challenges as a 1-person start-up getting started with email is finding and growing your email list. It's not uncommon for people to (still!) purchase a list to start emailing to. This is an incredibly bad practice which can effect your email marketing program further down the road.
Community member Elie Massabki was looking for some advice on this topic and received some great tips on everything from how to build and grow a list to the best way to email those subscribers.
However, the biggest takeaway from the entire discussion was:
Do NOT buy an email list!!!
– Miah Roberts
Community members discuss the negatives involved in sending email to purchased lists, and give helpful alternatives to this practice.
Do you have experience starting an email program from scratch with a limited budget? Help Elie get started →
We're not spammers!
Raise your hand if you've ever been called a spammer after replying to the mundane question "what do you do for a living?" There are quite a few of us.
It's easy for those who don't work in email to forget that there are people behind those emails that appear in their inbox. While some Community members choose to be prickly with their replies to this question, others are more educational:
Would you call a pharmacist a drug dealer?
– Chris Goldson
Usually, I'll quickly spin the conversation over to more technical details about Gmail and Outlook, that people still have aol addresses and testing for all the different clients. Then they at least act like email is interesting all of a sudden.
– Dexter Jacobs
What's your response to "Oh—so you're a spammer!"
Share your snappiest reply →
A big thank you to the following Community members and their amazing contributions in October:
Miah Roberts, Remi Parmentier, Desiree David, Aaron Simmonds, Dexter Jacobs, Ashleigh Ange, Lauren Kremer, Randall Wilson, Chelsea Koontz, Stefan Michael, Marie Seen, Xing Wei, Abby Wentzel-Elison, Frank Auer, Charles Hall, Kevin Medeiros, Adam Francombe, Shawn Semmes, Nicole Harriman, Jonathan Pay, James Lamb, Eric Dean, Jonas Swanberg, Anya Smolinski, Robin Calmegård, Tom Piggott, Kevin Kidwell, Eduardo Arias, Sofi Smith, Devon Guerrero, Nathan Iverson, Roland Pokornyik, James White, Lindsey Grice, Ellie Jones, Steven Howe, Mike Blank, Ron Kinkade, Gavin Hughes
Join the Community Today
The Community is buzzing with even more than what's described here. Keep up with the latest news, techniques, and tools by joining the Litmus Community today. It's free to join and filled with the best minds in email marketing.
Most Popular
Don't Miss Litmus Live 2022 this Fall!

The Premier Email Event by Email Pros, for Email Pros.
From Anywhere–and Any Budget.

Learn More