Read Time: 4 min
This Month in Community: Template Gallery, Litmus Live 2016 + Using Retina Background Images
The Litmus Community is the place for email designers and marketers to discuss their craft, talk about industry news, and join in the (occasional) controversial rant and discussion.
In case you haven't been keeping up, here's what happened this month in the Community.
Template Gallery
We just pushed an update to Community giving everyone access to our Community Template Gallery! The Template Gallery is a curated collection of HTML email templates covering pretty much anything a modern marketer needs. From product launches to account management and newsletters, the Template Gallery has you covered.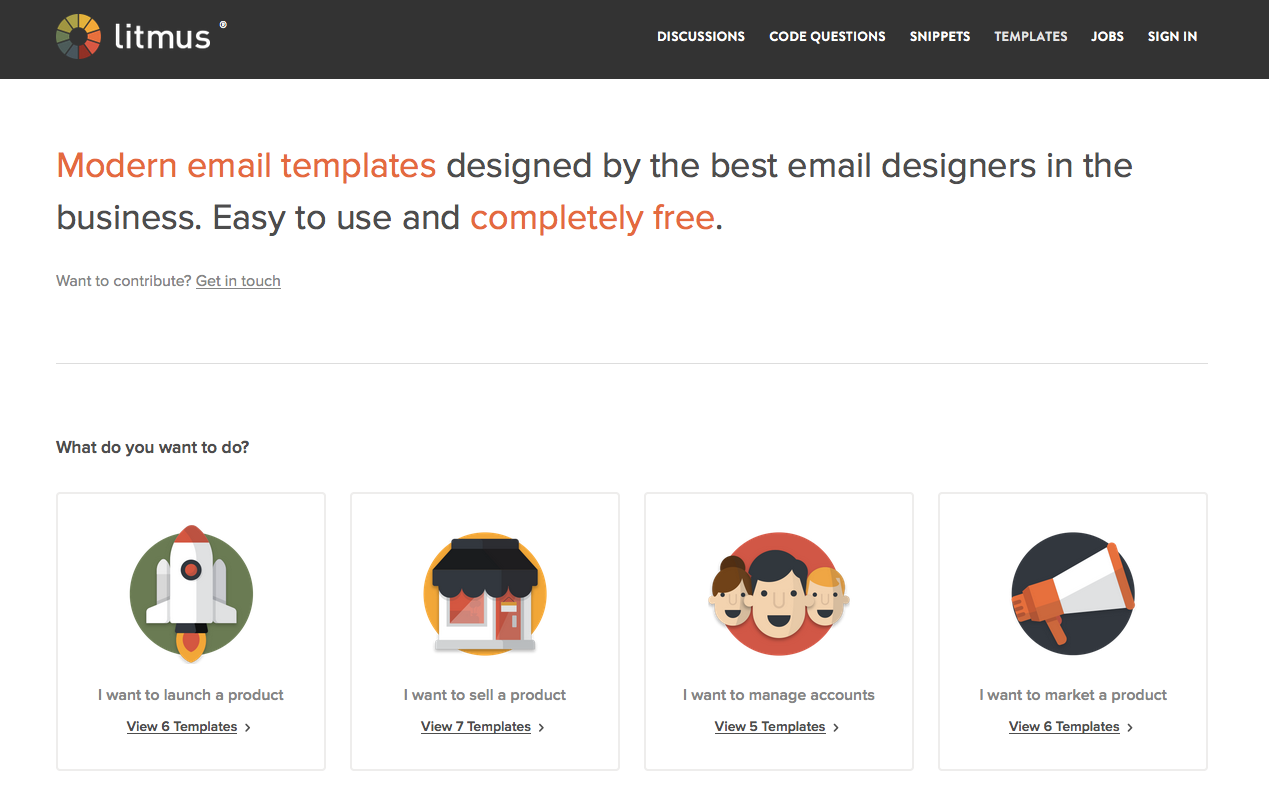 The best part? All of the templates are free to use, come in a variety of coding styles, and can be quickly exported to Litmus Builder or used in Campaign Monitor and MailChimp.
We started small with a select few designers building the initial templates, but we're eager to add more amazing emails to the Template Gallery. If you're interested in building some, let us know. If you just need to grab a template and get some work done, head over to the Community Template Gallery right now!
What do you want to see at Litmus Live 2016?
It's conference time! This past month, we announced not one, not two, but three cities for Litmus Live 2016. We'll be in Boston, London, and San Francisco!
Naturally, we took to the Community to see what people want at this year's events. Suggestions ranged from more focus on B2B topics to morning yoga in San Francisco. While we can't promise we'll hit on everything, we've been working hard to collect everyone's thoughts and work them into what is bound to be our best conferences ever!
Anything you want to see at Litmus Live this year? Join the discussion. Oh, and if you have some amazing new techniques or an interesting story to tell about email, we're now accepting speaking proposals.
Email Sentiment Builder
Community member Chris Vasquez posted an interesting tool he's calling the Email Sentiment Builder. It tackles an interesting problem in email marketing—getting quick feedback from subscribers to see how they feel about a campaign.
While marketers have used surveys and feedback forms for years, the Email Sentiment Builder tries to make the process a lot quicker, even if it's at the expense of depth of feedback. I can't imagine it would work for every email program, but for designers and marketers looking for a quick thumbs up on their campaign, it's a treat. Check it out.
Using Retina Background Images
After being told it isn't possible by developers, Community member Ed B. went hunting for an answer to the question, "Can I use retina images in backgrounds?"
It turns out you can.
As with everything in email, client support varies. Email developer Mark Robbins shared his method, which includes some slightly redundant code for covering clients like Gmail and Android 4.x devices. While things look good in most clients, Outlook proves to be the pain point, once again. In Mark's words:
But if you have a background set in VML or as an HTML attribute, you have to use regular sized non-retina images.
Are there any techniques we've missed for using retina background images? Share them in the Community.
How do you build campaign flows?
Dipping his toes into the email strategy waters, Community member Rasmus Esbensen asked people about tools for mapping out campaign flows. His question is part of a bigger trend of looking at the production workflows of email marketers, something we recently tackled in our 2016 State of Email Production report.
We're big fans of Google Docs for planning campaigns at Litmus, but everyone has their own workflows. What do you use to map campaign strategies? Any tips for Rasmus? Share them over in the Community discussion.
Join the Community Today
The Community is buzzing with even more than what's described here. Keep up with the latest news, techniques, and tools by joining the Litmus Community today. It's free to join and filled with the best minds in email marketing.
Most Popular
Don't Miss Litmus Live 2022 this Fall!

The Premier Email Event by Email Pros, for Email Pros.
From Anywhere–and Any Budget.

Learn More