The past year has brought many changes to the email world. Between the introduction of new email apps, Yahoo (finally!) supporting media queries, and more, the email marketing world is alive and ever-changing. Here's our picks for the biggest email industry trends for 2015.
To succeed in this constantly evolving industry, it's necessary to stay on top of the latest updates—your designs, subscribers, and bottom line count on it.
While there were dozens of innovations, we've focused on the top 10 email developments of 2015. We hope you find this list helpful as you position your emails for success throughout 2016.
1. Apple Watch launches
In April, the Apple Watch was launched, bringing with it some major implications for email marketers. Here's the lowdown on how Apple's new wearable technology will affect your campaigns:
Plain text displays for marketing messages
When Apple Watch detects remote or linked images in an email, the plain text version is displayed—but only after a lengthy warning: "This message contains elements Apple Watch can't display. You can read a text version below."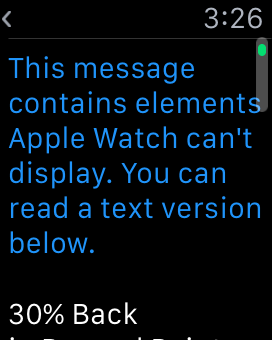 Links are disabled
While addresses and phone numbers are tappable—and launch Maps or connect to your phone to make a call, respectively—all other links are disabled.
If your audience includes tech early adopters and potential Watch users, de-emphasize or remove links in your plain text version. Focus on short, simple messages with strong calls-to-action (CTAs) reinforcing brand value.
Open tracking is not possible
Open tracking relies on an image being loaded in the subscriber inbox. Since most emails on the Watch default to plain text, these open tracking pixels are not displayed or loaded. Marketers will need to get creative with alternative success metrics, and encourage other types of interaction.
Messages without a plain text version or Watch part will not render
When a message hasn't been sent in multi-part MIME, or the plain text version is missing, a warning displays: "The full version of this message isn't available on Apple Watch. But you can read it on your iPhone."
As a result, it's crucial to not only send multi-part MIME messages containing a plain text alternative, but to optimize that plain text alternative for wearables like the Watch.
There is also an option to send an additional part to your message: text/watch-html. If you include an additional HTML part in your message, with the Content-Type "text/watch-html", the Watch will use the additional Watch part instead of the plain text part when the HTML part is unsuitable. Check out our post on optimizing your Watch part messages.
2. AOL introduce Alto Mail Mobile App
In May, Verizon purchased AOL for over $4 billion, investing some of that money towards creating a mobile email app. A few months later, in October, AOL reintroduced its former webmail app, Alto, as a mobile one.
Alto aims to solve the problem of multiple inboxes. It supports all the global email providers, allows you to pull them all together in one inbox, and easily switch between them in one app.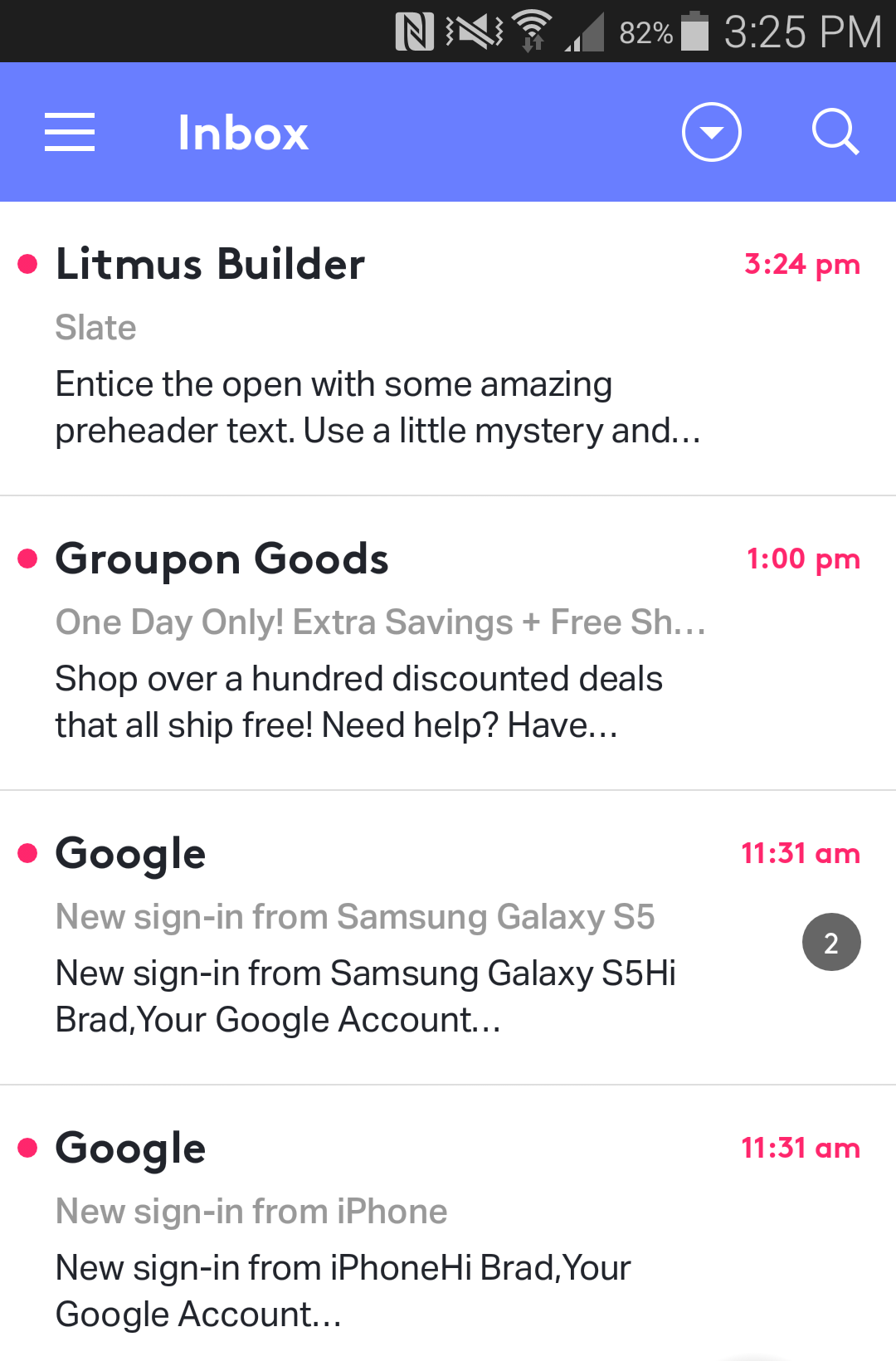 Inbox view on Android
But, how does it display email?
Blocks images by default. Use bulletproof buttons, ALT text, background colors, and a proper balance of imagery and live text for subscribers reading your emails in this client—and others that block images by default.
Doesn't support media queries. Not only does it not support media queries, but Alto automatically scales the email to fit the screen, which can lead to warped images. Use mobile-friendly techniques, like large text, tappable buttons, and a single column design to optimize your emails in this client.
Includes more preview text. There is a pinch and zoom functionality on Android, which allows users to expand the emails in their inbox to include more text. This means there is more real estate for preview text. Which means there is even more room on Alto for email marketers to get clever with their preview text messaging.
Blue links. Like iOS, Alto automatically links dates and locations in the email. Unfortunately, the iOS hack to solve this issue doesn't work, and no fix has been discovered.
3. Outlook launches mobile app for iOS and Android
In January, Outlook launched Outlook for Android and iOS phones and tablets. These apps were created to provide professionals with a powerful email platform while they're away from their computer.
What's its effect on email? For starters, it splits messages into two groups: focused and other. Over time, Outlook learns who their subscribers normally interact with and adds those emails to the focused group for quick access. If your subscribers are actively engaging with your emails, then you may receive this coveted spot in the inbox.
And, how does it display email? Brian Graves, UI Lead at DEG, found that it's a vast improvement over what we've typically seen from Outlook clients.
Supports divs—non-table-based layouts can finally be achieved in an Outlook client!
Supports media queries and internal stylesheets
Images are displayed by default
Supports animated GIFs
Supports web fonts
However, a few things to note are that it does not support HTML5 video and forms, so be sure to have proper fallbacks in place.
4. Universal Office apps for Windows 10 launches
Windows 10 comes with a new email app, Outlook Mail, as its default email client. This email app is "universal," meaning that it's the same app across desktop, smartphones and tablets. While this helps to maintain consistency across platforms (and Microsoft email clients are definitely in need of consistency!), because it uses Microsoft Word as its rendering engine, it comes with many headaches for email designers.
James White, Litmus Community member, found Outlook Mail on desktop is similar to its predecessors, but it's a major step back from Windows Phone 8. It has brought many of its desktop issues to the mobile space.
Based on James' research, here are some spots where Office Mail falls short:
Images are scaled incorrectly
No CSS3 support
No HTML5 support
No support for divs
No media query support
Viewport issues (content doesn't fit to device width)
What's an email designer to do? Use mobile-friendly elements for those viewing on mobile and tablet apps, and stick to a table-based design.
5. iOS 9 launches
In September 2015, Apple released the latest version of their mobile operating system, iOS 9. This updated operating system added support for a few new CSS properties—and introduced a few new changes that are bound to frustrate email designers.
While iOS has historically had great CSS and HTML support, it added a few new additions to the list:
Better support for responsive images. Designers can now reference multiple images for an email campaign and automatically display the appropriate image for a specific device size.
Advanced CSS support. iOS 9 supports the @supports CSS declaration, which is similar to a media query and great for progressively enhancing campaigns. In addition, it also supports the backdrop-filter CSS property, which allows you to apply certain effects to whatever is behind the element you are targeting.
Now, let's get to the less-than-stellar news:
Still no support for the < video > tag
Zooming issues (but don't worry—there's a fix!)
Added padding on full-width backgrounds
The general sibling selector ~ (which is used to build interactive campaigns) is not supported on iOS 9 when used with the :hover or :checked pseudo class selectors (but don't worry—there's a fix for that, too!)
6. Gmail launches new "block" option
In September, Gmail rolled out a new "block" functionality to all Gmail webmail and Android app users. This gives consumers yet another way to rid their inboxes of email they don't want.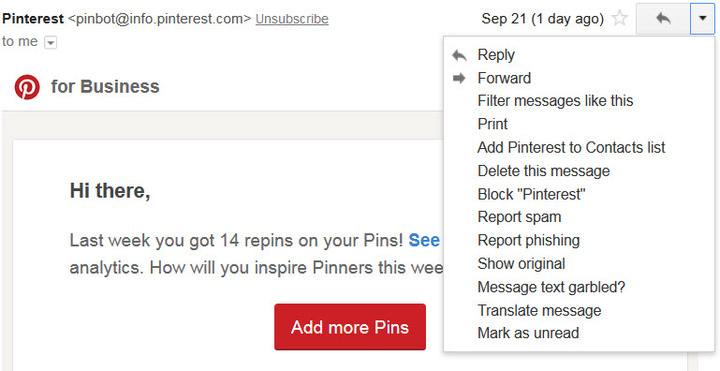 What happens when a subscriber "blocks" a sender? It means they'll never see an email from that sender again.
And, what does this mean for email marketers?
The option to "block" appears to be an attempt to give users a new, more accurate way to express their displeasure with a brand, one that doesn't rely on the brand to honor an opt-out, but doesn't tarnish the brand's sender reputation by reporting it as spam or phishing.
The upside is that the new "block" option should reduce spam complaints because some subscribers who would have previously clicked "report spam" will now click "block" instead. The downside is that the "block" button may have created a new lower bar for ISP intervention, so some subscribers who might have previously clicked "unsubscribe" will now click "block" instead.
7. Outlook.com begins to replace Office 365
As is evident in this post alone, Microsoft has a lot of email clients. In an effort to align their feature set, the interface and infrastructure of Outlook.com is being replaced by Office 365. The rollout of this update began over the summer to a small group of customers, and has since been made available through a broader audience through an opt-in program—and eventually everyone.
This not only gives Outlook.com's inbox a facelift, but it affects the way your emails display for those subscribers. How does email look in a future where an Outlook Web App-powered Office 365 has replaced Outlook.com? Let's take a look.
Some rendering quirks to keep in mind:
No support for HTML5
No support for CSS3
Blocks images by default except for trusted senders
In addition, it offers features similar to Gmail's Quick Actions and auto-unsubscribe, offering another opt-out mechanism and the ability to quickly act on CTAs within a message.
8. Yahoo! Mail begins supporting media queries
Woo-hoo! Less than a month after a petition for Yahoo! Mail to fix their CSS parser that was breaking media queries was started, Yahoo implemented a fix for it. We hope other email clients (cough Outlook cough Gmail) follow suit!
You no longer have to include styles to your media queries to prevent them from activating in Yahoo. And the even better news? The Yahoo mobile app is now responsive! However, keep in mind that max-device-width, min-device-width, -webkit-min-device-pixel-ratio are not supported.
9. Gmail nixes the Promotion tab grid view
In March 2014, Gmail introduced large graphics and infinite scrolling to the Promotions tab. This new Promotions tab displayed each email with a large image, displaying messages in a grid format with heavy emphasis on visuals rather than just plain text. Subscribers were able to choose between their previous inbox view and this new visual inbox.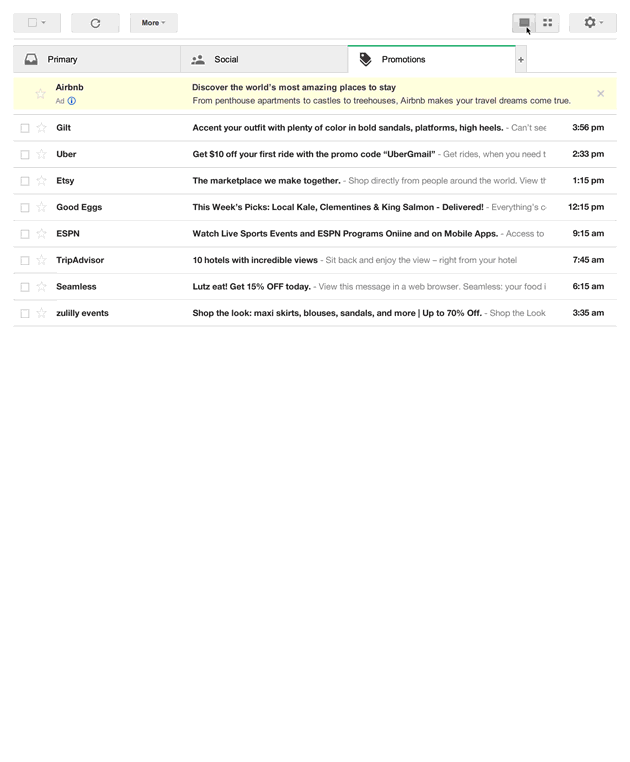 Source: Official Gmail Blog
However, about a year later, Gmail reverted back to the text-only format. It looks like most users preferred the traditional format! While the gridview put the spotlight on visuals, it looks like it's back to optimizing your from name, subject line, and preview text.
10. Dropbox shuts down Mailbox app
While 2015 brought the addition of new email apps, it also brought an end to others. In early December, Dropbox announced it will shut down its Mailbox app on February 26, 2016.
Before Mailbox even launched in 2013, over 1 million people had signed up to try it. And, at the time of its launch, it was one of the most innovative apps in the market: it introduced swiping to archive and delete messages.
So, what happened? Mailbox stopped innovating. Dropbox's focus was no longer on Mailbox. With so many email apps available—and the majority of mobile email users using the default mail app on their phone—staying stagnant isn't possible. To stay in the business, you'd have to provide an email experience like no other—one that encourages people to download your app, and continue using it.
Check Out Our Other Top 10 Lists for 2015
STAY ON TOP OF THE LATEST EMAIL HAPPENINGS
Subscribe to the Litmus newsletter and get news about the latest innovations in email delivered straight to your inbox.
Most Popular
Don't Miss Litmus Live 2022 this Fall!

The Premier Email Event by Email Pros, for Email Pros.
From Anywhere–and Any Budget.

Learn More