Read Time: 12 min
Why You Should Be Creating Email Briefs and What to Include in Them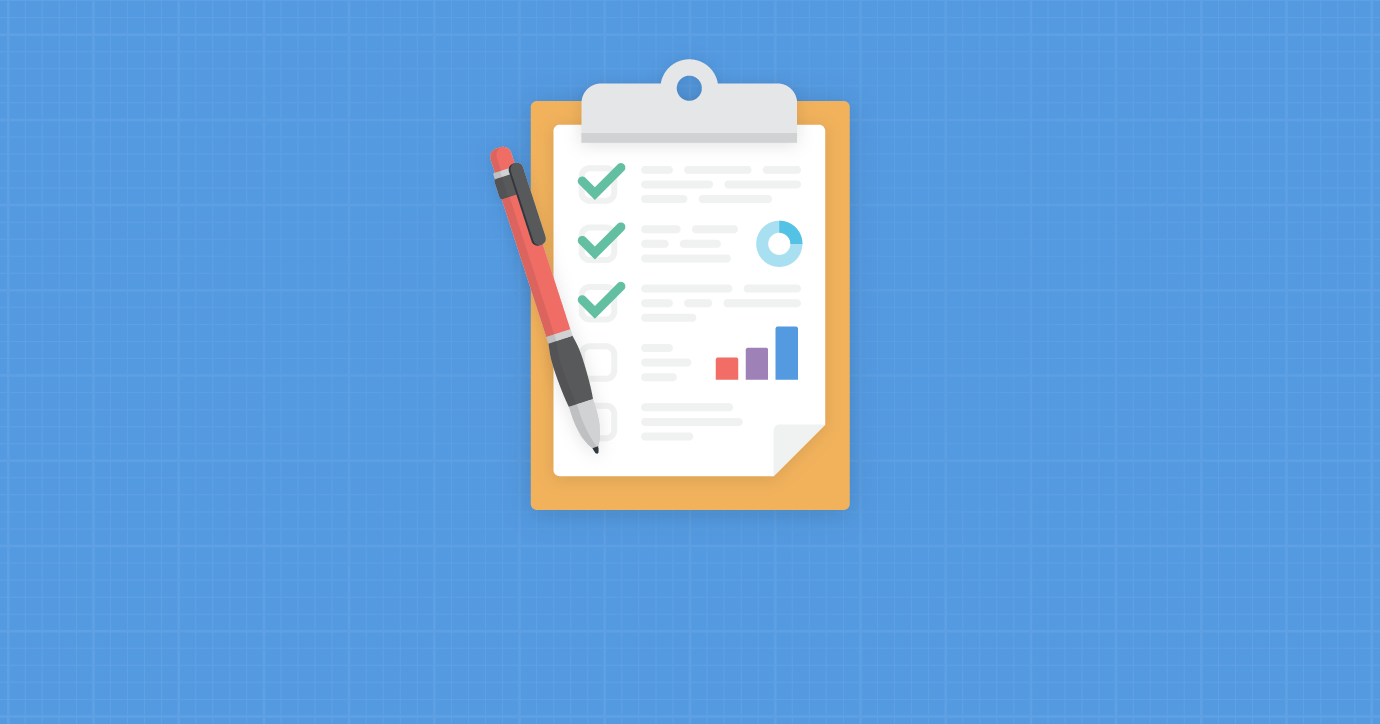 Every marketing email your brand sends should have a clear purpose and a sound strategy behind it. But a number of forces are conspiring against marketers who want to achieve this.
Perhaps your initial plan for an email isn't very well thought out.
Perhaps your initial plan for an email is solid, but that plan slowly changes as the in-progress email is passed from copywriter to designer to developer.
Perhaps stakeholders come into the process late and change the plan.
One powerful solution to all of those problems is to create an email brief for every email you create. An email brief should outline the email's goals, audience, messaging, timing, key performance indicators, and other important details.
Creating email briefs during the conception stage of email creation ensures that all stakeholders agree on the purpose and plan for the email. Email briefs then act as a North Star for the email as it goes through the production process. Copywriters, designers, and developers can refer back to the email brief to ensure what they're doing is appropriate and that there's no scope creep. And then at the end of the process, the final email is checked against the brief to see if what was delivered was what was asked for.
Email briefs are essential for agencies, who need clear guidance on the scope of the emails they're creating for their clients. However, email briefs are valuable for all email marketing programs, especially if your email program is high volume, has a large team, or works with many stakeholders.
The majority of brands use email briefs, according to Litmus' 2018 State of Email Workflows report, which is based on our State of Email Survey of 3,000 marketing professionals worldwide. And the roughly 20% of brands who use email briefs consistently see huge benefits. Marketers who describe their email marketing programs as successful are 81% more likely than those at less successful programs to create an email brief for every email they produce (24% vs. 13%).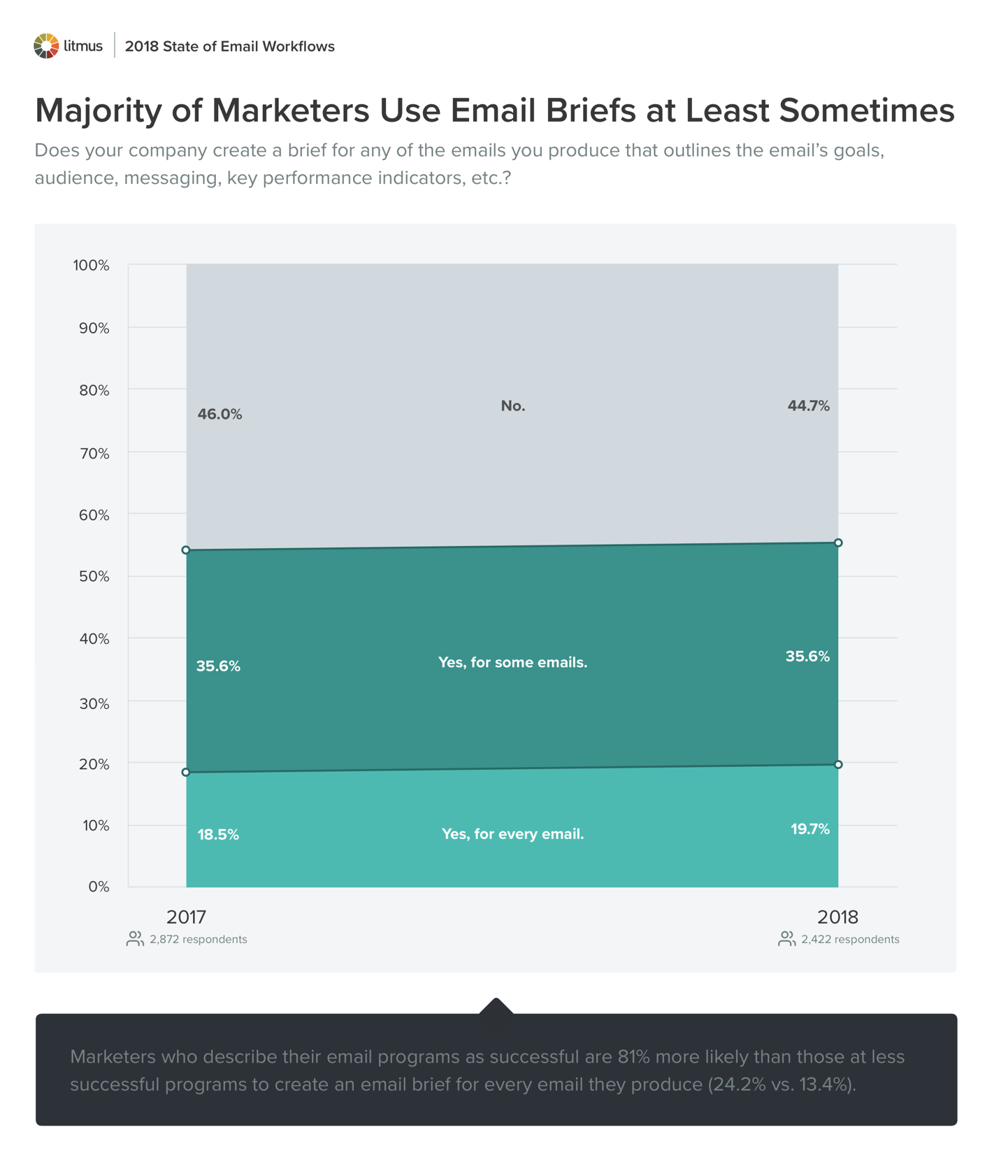 What to Include in Your Email Briefs
Creating an email brief doesn't have to take a long time. In fact, creating one for a fairly routine email shouldn't take very long. You can speed up that process by pre-filling portions of your email brief for a routine email, such as a monthly newsletter, that might always have the same audience and goals, for instance.
However, the more complicated the email, the more time writing up an email brief will take—and the more time and pain the email brief could potentially save you.
We recommend a 4-step Email Brief and Planning Process, with each step flowing into the next. However, only Step 1 is critical to the conception stage of email creation. Steps 2 and 3 get more into copywriting, and Step 4 into email design. Take it as far as makes sense for your particular organization and process.
Step 1: Define the email's purpose and goal.
Answer these key questions. If you can't answer one of them, it's best not to proceed with creating the email just yet until you can re-connect with your team and get the answers to these crucial questions.
WHO should get this message? All subscribers? A particular segment? Only those taking an action?
If it's a broadcast email, then all of your subscribers should receive it. If it's a segmented email, then you need to clearly define who on your list should get it: Only subscribers who have opened an email in the past month? Who have previously made a purchase in a particular product category? Who live in a particular zip code? Do you want to exclude a specific segment from the send? Whatever your audience, clearly define it, preferably in the terms used in the audience selection tool within your ESP.
And if it's an automated or transactional email then you need to define the trigger. In my book, Email Marketing Rules, I discuss the four kinds of triggered emails:
Action-triggered emails are sent in response to a subscriber taking a particular action (e.g., making a purchase or abandoning a shopping cart)
Inaction-triggered emails are sent in response to a subscriber not having taken a particular action in a certain amount of time (e.g., no email opens or clicks in 6 months)
Date-triggered emails are sent in response to the arrival of a particular date (e.g., birthday) or a certain condition being met (e.g., product back in stock)
Machine-triggered emails are sent in response to the requirements or instructions of an internet-of-things device
WHAT action do you want those subscribers to take? Make a purchase or donation? Register for an event? Use a hashtag on social media?
Can you want your subscribers to take more than one action? Sure, but understand that you might be diluting the messaging of your email. Emails that have one very clear primary call-to-action tend to do better. Secondary CTAs have their place, but the hierarchy of the email should make it clear what action you most want the subscriber to take.
WHY will those subscribers be motivated to take that action? A discount? A deadline? Compelling information? Emotional appeal? Testimonial?
Try to determine what messaging will be the most effective in getting the recipients of your email to take the desired action. Not sure? Perhaps an A/B test is in order.
WHEN should those subscribers receive the message? Immediately? On a certain day? In the morning, afternoon, or evening?
Timing is a critical element. If your subscribers need forewarning in order to take advantage of your CTA—as they would to plan to attend a concert or a webinar—then send the email well ahead of time. On the other hand, if they expect it immediately—such as a password reset email or purchase confirmation email—then send it ASAP.
Day of send and time of day can also impact performance. For example, sending a B2B email outside of business hours is generally frowned upon. The timing of an email send can affect design considerations as well because it impacts the answer to our next question…
WHERE are those subscribers likely to read the message? Which inbox providers will they use? Will they be on a desktop or mobile device?
For example, sending an email on the weekend or outside of business hours during the workweek is likely to significantly shift your email opens from desktop and webmail clients to mobile devices.
But even outside of timing considerations, the email clients that your subscribers use will differ from those used by other brands' subscribers, and those differences can impact the design and content of your emails. For instance, if you have a low percentage of mobile email readers, then using mobile-aware or responsive-aware email design might make the most sense. If you have lots of desktop Outlook users, then using animated GIFs probably is unwise since those email clients block the animation. And if the email clients your subscribers use don't support interactive email elements, then there's not much point in using them.
Litmus regularly publishes our data on Email Client Market Share as a baseline for understanding the overall email rendering environment. But we highly recommend that every brand uses a tool like Litmus Email Analytics to understand which email clients their subscribers use.
HOW will you measure this email's success? Revenue? Downloads? Leads? Clicks? Opens?
This is the most important question you'll answer, because how you answer it may change how you answer all the other questions in your email brief. Also, if the email team and business stakeholders are measuring the success of a particular email differently, then you have a major disconnect that's not going to end well.
IS this email part of a series of messages or a subscriber or customer journey? How does this email build on previous ones and set up the next?
Context is important. How is this email building upon prior emails, or moving the subscriber along in their journey or interaction?
DO you have any supplemental material that's important to answering any of the previous questions? A case study? Blog post? Competitor's email?
Often an email idea is inspired by an email that someone on your team saw or by a blog post or report that they read. If that background content would be helpful to your copywriter, designer, developer, or stakeholders, then make sure you include it as part of your email brief.
Step 2: Define Your Inbox Strategy
Use your answers in Step 1 to develop an inbox strategy for how you will earn an open from those most likely to convert.
What is your from name? Who are your subscribers expecting to get email from? You don't want to use a name they won't immediately recognize.
Most of the time, if not all of the time, you will want your from name to be your brand name, since that's the name your subscribers will be the most familiar with. If you feel strongly about using a salesperson's name or your CEO's name, ask yourself: Why do I think that name would be more likely to generate engagement?
If it's because you think your recipients are more likely to open an email from an unfamiliar person than from your brand, then you're simply manipulating your subscribers, which is a poor short-term strategy and a dismal long-term strategy.
If you genuinely believe that using a name is important for recognition purposes, then consider using the person's name and your brand name. For example, you could have your sender name be "FirstName at CompanyName" or "FirstName LastName, CompanyName."
Here at Litmus, we use the "FirstName at CompanyName" approach when we want to use a name as the sender name. For example, you'll receive a follow-up email from "Chad at Litmus" when you download one of the research reports that I've written.
What is your from email address? Make sure that it includes your brand name to give your subscriber extra confidence that the email is indeed from you.
What is your reply-to address? As with your from email address, make sure that your reply-to address includes your brand name—again, to provide reassurances that the email is legit. Avoid using do-not-reply@ addresses that make the relationship feel one-way.
What is your subject line? Is it on-brand? Does it give subscribers get a decent sense of what the email will be about?
Subject lines are perhaps the most misunderstood email marketing element. That sometimes leads to marketers using subject line tactics that undermine the brand's goals, including using misleading subject lines that sacrifice brand trust in the hopes of getting additional opens, which is never a worthwhile trade.
Subject lines also have a reputation for being left until the last minute. That tendency is also why subject lines mistakes are too common.
What is your preview text? Generally appearing under or to the right of your subject line in inboxes, your preview text should support and extend your subject line.
Brands are getting better at thoughtfully defining this text, instead of just letting whatever text or links are at the top of the email get pulled into this highly visible and highly valuable space. However, like subject lines, preview text tends to get written last-minute and so are prone to similar errors.
The Last Two Steps…
Your clearly defined goals combined with an on-point inbox strategy is the foundation of a high-performing email. Use them as guidance when you draft your content in Step 3, and when you choose visuals and sketch out your content hierarchy in Step 4.
Need help with these steps? Download our Email Brief & Planning Workbook for step-by-step instructions.