Make creating emails easy for ALL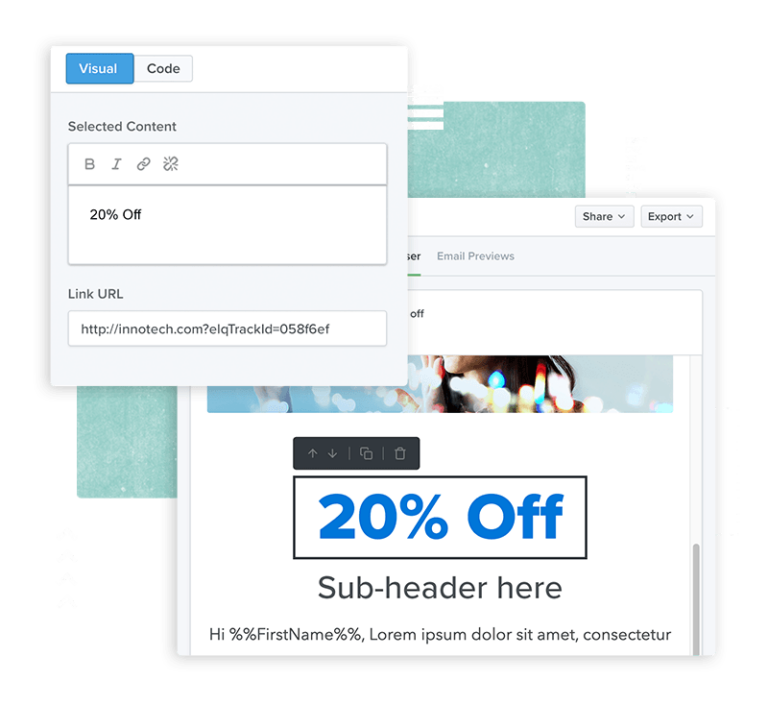 Mission: Empower teams to drive innovation and conversions—all while getting more high-performing emails out the door—with no lengthy setup, training, or coding knowledge required.
Summary: A complement to our HTML Code Editor built for developers, Visual Editor in Litmus Builder enables flexible, intuitive email creation so anyone (no matter their technical skills) can quickly produce emails.
Scale email production across your team with no lengthy setup or training, and no messy code. It automatically works with your existing templates.
Control editing and lock down elements to ensure every email is on-brand and error-free.
Preview, test, and review emails with key stakeholders in one centralized location.
Successful mission: Altos

Constantly hopping back and forth between tools, it used to take us over two hours to produce one of our templated sends. With Visual Editor in Litmus Builder, that time has been cut to 30 minutes, freeing up 75% more critical time to focus on revenue-generating projects. We're now able to build emails—without needing to code—and quickly collaborate on reviews, approvals, and testing all in one centralized spot. Visual Editor is a valuable tool in our MarTech stack.
Get and share the insights you need, faster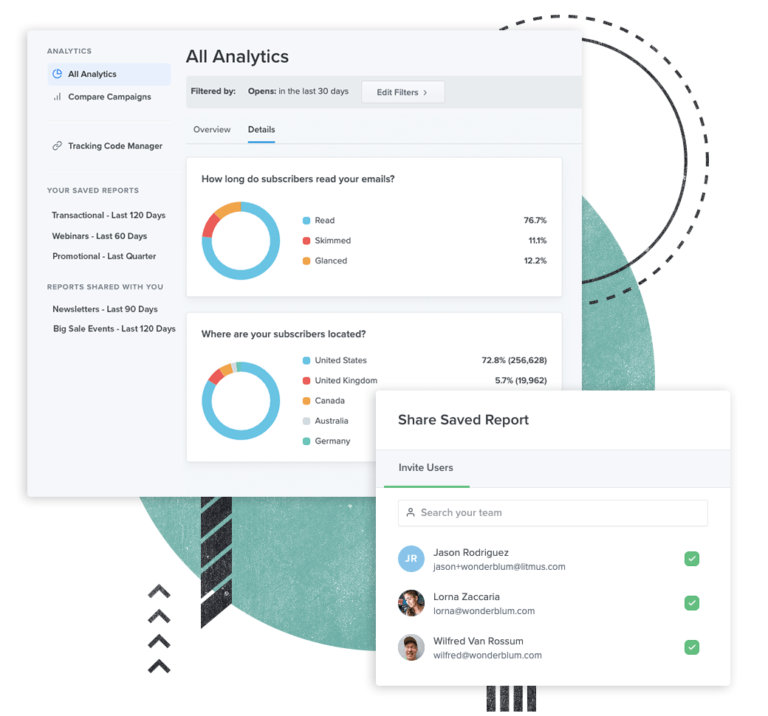 Mission: Make creating and saving custom reports easy, so sharing insights across the organization is easy, too.
Summary: With recent updates to Litmus Email Analytics, it's clear what content, segmentation, and calls-to-action resonate with your subscribers. Plus, you can share that knowledge with your team in a snap—boosting visibility, collaboration, and overall marketing success. So now you'll have in-the-moment insights to adjust what you need to drive success for your business.
Save custom reports and filter emails by date, email type, and/or tags.
Easily share saved reports across your team to inform your marketing strategy.
Intuitively tag your emails to keep your campaigns organized for analysis after the send.
Successful mission: LuckyVitamin

Litmus is able to show us not only which email clients our customers are using and rendering across those email clients, but it's also going to show us things like geolocation and how they're engaging within the emails. It pays for itself in the long run in terms of ROI and uplift.
Speed up collaboration on multi-email campaigns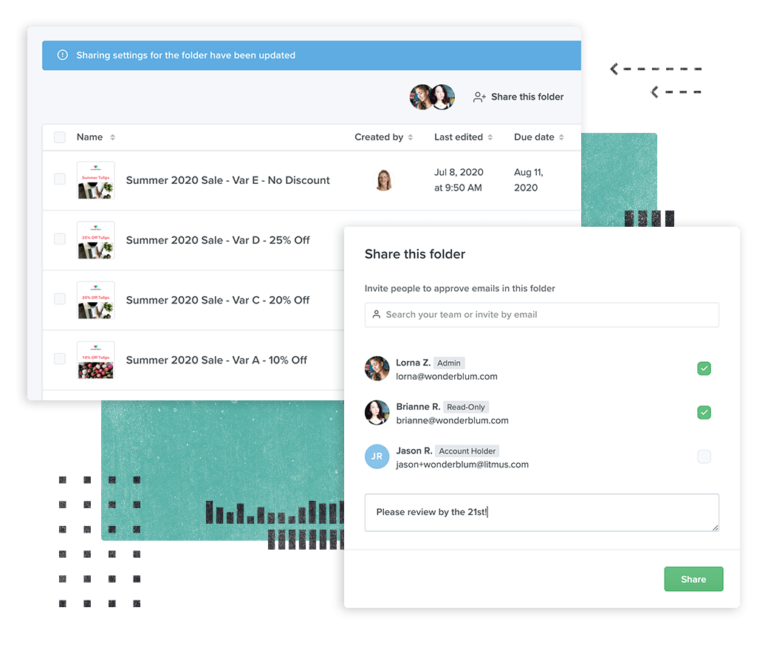 Mission: Increase efficiency and reduce time finding and collaborating on multiple emails at once.
Summary: Folder sharing in Litmus makes it easy to collaborate on complex, multi-email campaigns and loop in the right stakeholders—with the right access—at every step of the email workflow.
Share multi-email campaigns or dynamic content versions for collaboration, review, and approval in a single click.
Maintain full control over who has access to folders.
Get full visibility into email project statuses and those that need your attention.
Successful mission: Topgolf

The new Litmus solution has streamlined our email creation, testing, and review process, eliminating the back and forth of hopping between tools and saving us approximately 2-3 hours per email. Plus, with the new folder system, it's never been easier to organize and store our emails across our various ESPs in one central, easy-to-search spot.