Boost Email Marketing Results with AI Recommendations
Imagine if you could know what products and services your customers need–even before they do. AI Recommendations in Litmus Personalize make this dream a reality.
Increase ROI by up to 70%
AI-powered personalization in marketing can increase ROI by up to 70%. Email marketing is one of the top ROI drivers for marketing teams. AI-powered email marketing opens the door to even more revenue possibilities.
Boost engagement and unlock revenue potential with AI Recommendations

Put the power of your audience's shopping behaviors to work for you
Easily use on-site behavior to understand the shopping patterns that lead to purchases and let the power of AI serve smarter recommendations to your subscribers.

Identify limitless similar product recommendations—without manual work
Let our advanced AI algorithms do the work for you so you can deliver the right products to the right subscribers with every send, increasing conversions, average order value, and overall email-driven revenue.

Quick and easy implementation
Add the tag to your website to start tracking on-site behavior, create your APIs, design your images, and add the tag to your HTML. It's that easy!
"We see Litmus Personalize as a full-time member of our team; it is a tool that is now used daily as a vital part of our CRM programme. Our future plans include displaying live related products such as accessories, broadband (and much more) that are relevant to a customer's previous purchase."
Neemisha Kanani,
Marketing Brand Manager,
Mobiles.co.uk
44% increase
In email-driven sales
Mobiles.co.uk uses customer purchasing and on-site behavior powered by Litmus Personalize to boost engagement and conversions in their customer lifecycle email campaigns.
Read the story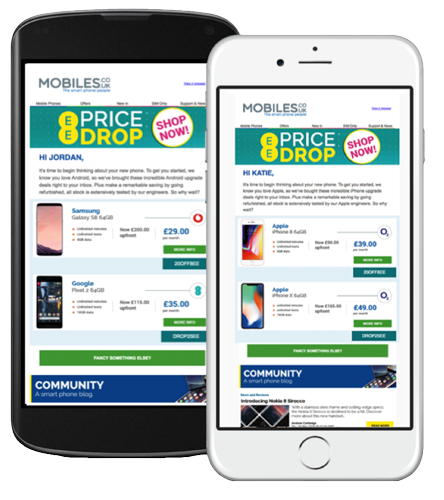 What can you do with AI Recommendations?
Showcase items frequently purchased together
Prompt shoppers with products that are frequently purchased with their items already selected, showing them items they may not have known they need.
Recommend items for an individual shopper
Combine on-site behavior and purchasing habits to serve hyper-personalized product recommendations crafted for each customer.
Highlight similar items
Display the right product at the right time by showing products similar to others being viewed/searched.
And that's just the start. Connect with us today to learn how AI Recommendations can help you personalize shopper journeys
It's time to make every send count—with a partner you can count on
Litmus empowers you to make every send count. It's a core component of your tech stack that allows you to create, personalize, test, review, and analyze every email you send.