Make every send count with Litmus
Build It
Design and create highly effective, beautifully personalized emails for every shopper faster than ever, boosting the efficiency of your marketing team.
Test It
Automate manual email testing and streamline your review and approvals processes so your team can focus on what matters most: driving results.
Trust It
Get the uptime, security, and reliable email analytics needed to make sure you're staying on top of shopper trends and sending the right content every time.
"We have new products arriving all the time and our new arrivals emails are key to our CRM strategy…We're a small team so we needed automation to help us achieve our personalization goal; we simply couldn't build a version of the email for every product category. We're now listening to what our customers would like from us and showing them what they want."
Chloe Temple,
Ecommerce Marketing Director (Europe), Kate Spade
174% increase
in email-generated revenue
Discover how Kate Spade optimized their new product arrival experience, increasing engagement, conversion, and revenueby personalizing new product arrival emails, using Litmus Personalize.
See how they do it
Drive product engagement and unlock revenue opportunities with personalized email campaigns
Convert virtual window shoppers into long-time brand loyalists with user-generated content, real-time product feeds, and live email content that makes subscribers feel your message was made uniquely for them. With Litmus Personalize, fashion industry brands have unlimited opportunities to surprise and delight customers, boost revenue and optimize their email ROI.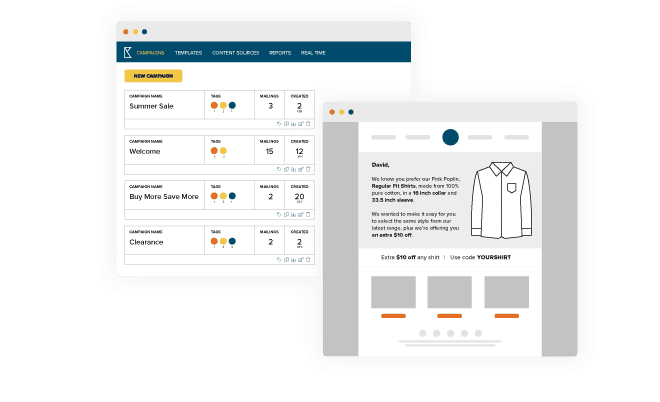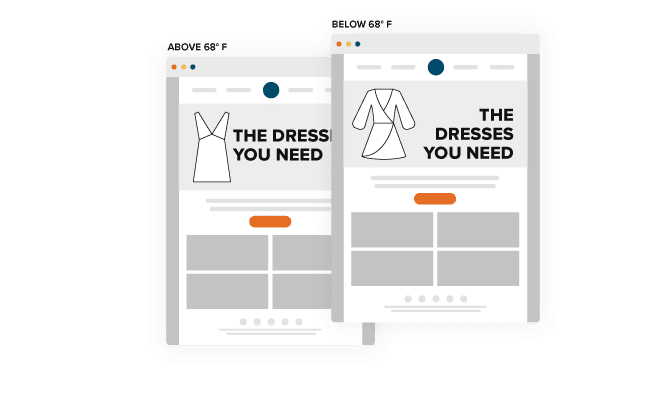 Use an API and CRM data to tailor emails for every individual customer
Take your email content automation a step further by seamlessly combining data from CRM and product feeds to scale engaging email experiences tailored to each individual customer. From a single HTML tag, generate endless versions of emails that are as unique as your audience—and increase product engagement and revenue.
Put the power of your audience's shopping behaviors to work for you
In rapidly changing environments like the fashion industry, it's important to keep your shoppers updated on the latest and most relevant products in real-time. Easily use on-site behavior to understand the shopping patterns that lead to purchases. Then let the power of AI serve smarter recommendations to your subscribers increasing conversions, average order value, and overall email-driven revenue.
Surprise and delight shoppers with engaging, real-time email content
Embrace changes in inventory and subscriber preferences with live email content elements that are easy to create, and enable customized content based on the moment an email is opened.
Build trust and brand confidence by highlighting user-generated social content
Harness the power of social proof by connecting social media feeds—like Twitter and Instagram—to display the latest content from your social pages, encouraging omni-channel engagement and increasing followers.
Add gamification with polling to boost click-through rates, engagement, and revenue
Learn what subscribers and customers are most interested in and encourage them to explore popular products by instantly displaying poll results. Poll feedback can also inform future email content and strategy.
Boost relevance with weather and location-based content
Serve hyper-relevant email content determined by the weather and location of each subscriber at the moment they open your email and show the store nearest to the subscriber to get them to the point of purchase faster.
Join top brands that trust Litmus to create better fashion email marketing campaigns
It's time to get more from your fashion email marketing—with a partner you can count on
Litmus empowers you with the tools you need to make your email marketing efforts more effective across clients.