Shave 2+ hours off your review and approval process
Centralize everyone's feedback
Receive instant Slack notifications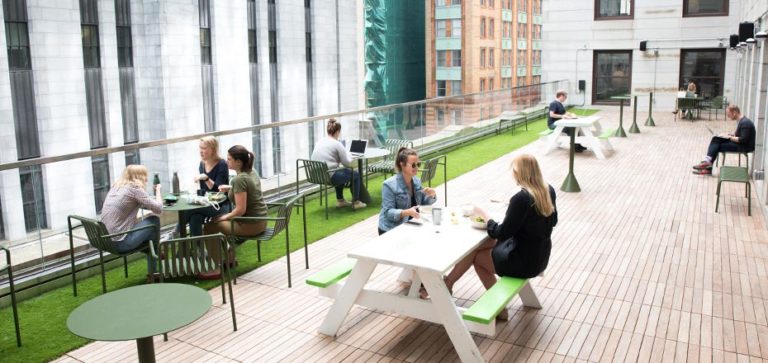 "Litmus Proof was a game-changer for us for team collaboration and efficiency; we no longer have to go through lengthy email threads to review an email. It has saved us an average of 2 hours on every email."


Caitlin Murphy, Senior Marketing Operations Associate at ezCater
Make every review cycle more efficient and discover a whole new level of teamwork.
Great email marketing takes great teamwork; lengthy email feedback threads drain everyone's time and sanity. You find yourself spending hours aggregating feedback, manually reaching out to stakeholders for clarity, and recirculating emails for final approval.
The good news? Reviewing and approving emails doesn't have to be this stressful.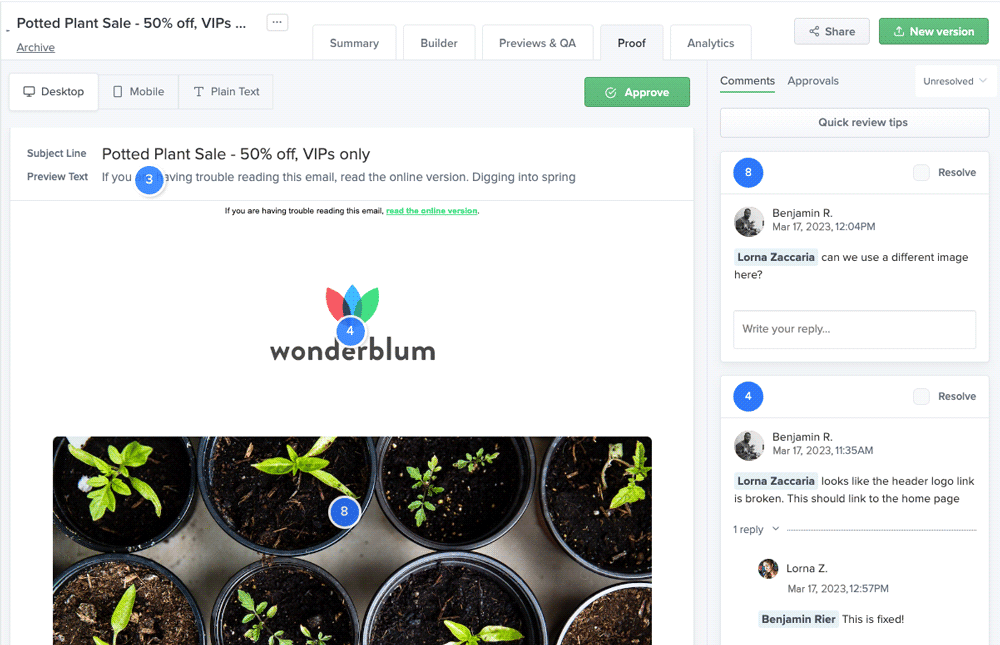 Streamline email review and approval
No more scattered threads or drawn-out review cycles. With one centralized place for comments and approvals, you'll get feedback quickly. And you'll get your email out on time, too.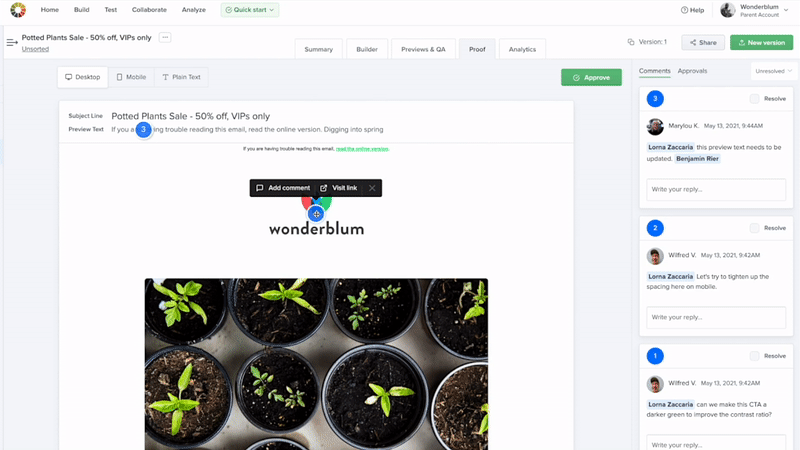 Collaborate your way to better email
Everyone who needs to weigh in can add their thoughts directly in the email design itself. Unearth the insights you've been missing and turn them into better results and revenue
Get everyone's approval and send with confidence.
Ask for and track approvals, all in one place. You can send without stress, knowing your email has been vetted by all the right people.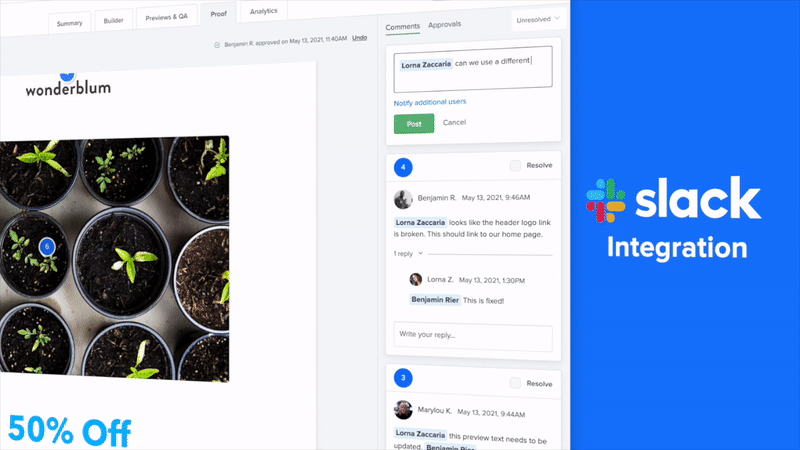 Slack integration keeps every email top of mind.
Integrate with Slack so you never lose momentum in your workflow. Every marketing campaign gets the visibility and speedy send-off it deserves, no matter how and where your team is set up.
There's a better way for your team to give feedback
Try Litmus Proof for yourself and make every send streamlined and stress-free.
Try it free
What other Email Experts are saying about Litmus Proof
You'll be in good company Join the 700,000+ users that trust Litmus.
We're to help you hit your biggest email goals
You don't have to go it alone. Our customer support team has an average customer satisfaction score of 96% and the majority of customers can expect a response in 3 hours or less. Plus, our email geeks and experts are always uncovering new data that will inspire you to crush your email goals.
Frequently Asked Questions
How can Litmus' email collaboration tool help my team streamline our email design and testing processes?
Litmus Proof allows stakeholders to leave real-time feedback in a consolidated, conversational manner so they can keep in mind other reviewer's perspectives and provide better input, faster. Email creators can then easily make updates, resolve feedback, and recirculate with stakeholders in a single click, making team collaboration easier than ever.
Does Litmus support version control or history tracking for email designs and tests?
Yes! The Litmus Proof timeline view enables teams to view and download a detailed timeline of all comments and activity that has occurred on a Proof. This is useful for generating an audit trail of requested changes to your email and for viewing all of the versions of an email in a single timeline.
What are the communication and feedback features available in Litmus' email collaboration tool?
Email reviewers can easily @ mention individual stakeholders or groups of stakeholders to let them know their attention and input is needed. If your team uses Slack, you can enable instant messaging functionality to alert stakeholders immediately via a direct message or in a channel. When a reviewer is happy with the email, they can note their approval in a single click and/or easily share the Proof with others for visibility.
How user-friendly is this tool for non-technical team members?
Litmus Proof is easy for all team members to utilize—regardless of their technical abilities. In fact, it's easier than other methods of email review and approval (like lengthy email threads) since all feedback is consolidated in one location!
Can I customize user permissions and access levels for team members using Litmus' collaboration tool?
Yes! While users do not need a Litmus account to leave feedback, you can assign unlimited Proof Reviewers within or outside of your company to give all stakeholders access to just the Proof section of Litmus. You can also share Proofs via a public link with optional password protection.