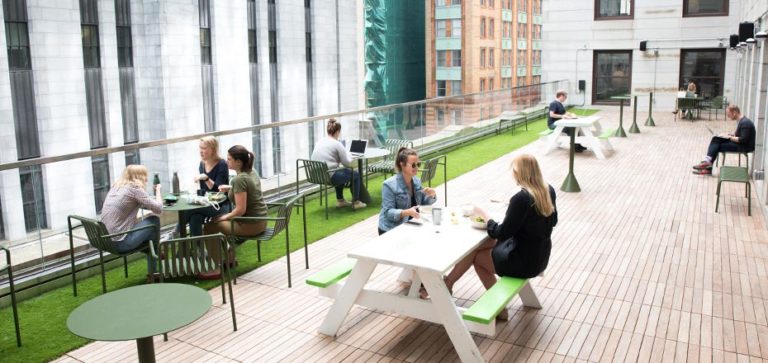 Litmus helps ezCater cut their review cycles and save time
Litmus helps ezCater save hours building, testing, and reviewing emails, so they can focus on what matters most—driving results.
Litmus Delivers Results
2-3 hours saved per email
20% less time on email review cycles
ezCater is the world's largest marketplace for corporate catering, connecting reliable local caterers with hungry businesses. Their team puts customer service at the forefront of their mission.
The Challenge
As a B2B2C company, ezCater uses email to connect with both their caterer and business clients to help keep operations running smoothly. With customers across the US, they found it challenging to manage a high volume of error-free emails.
ezCater needed a more efficient way to create dynamic, personalized emails at scale without starting from scratch on each one. Reviewing and approving emails with numerous stakeholders was time consuming, and it was a challenge to keep track of the comments and feedback on each version of their dynamic content. Since the team at ezCater also reviews elements of their previous emails to improve future sends, they needed a system of record to be able to track changes and optimizations.
Once emails are approved, the email team at ezCater tests each one to ensure the best experience for all subscribers.

"We use a lot of dynamic content in our emails. Litmus helps us keep an organized record of our emails and versions in one centralized place. We have peace of mind knowing we've covered all of our bases and tested each version."
How Litmus Solved the Challenge
Litmus Builder helps the ezCater team effortlessly update their email templates and instantly see how those changes will render across email clients. It also helps their email developers enhance their coding knowledge through the grid view and easy code editing options.
Once emails are built, Litmus Proof lets all stakeholders provide feedback in one consolidated place. To avoid delays in communication, the team uses the Litmus + Slack integration to notify stakeholders when their attention is needed on a Proof. Caitlin Murphy explains "It's important for us to be able to track stakeholder feedback to make sure nothing is missed and review cycles aren't taking longer than they should. Litmus Proof gives us version control and accountability and Slack notifications keep all key stakeholders in the loop."
After approval, the team uses automated pre-send checks in Litmus Test to review final renderings across the email clients their subscribers use the most. They also test for key accessibility elements, load time, and other factors that could negatively impact performance. Using folders in Litmus, they can easily access different versions of their emails with dynamic content and test each one and send with confidence.

"Litmus helps increase your coding experience, between Builder and the resources available in the Litmus content library. We can quickly and easily edit our templates and see how they'll look across all of our most popular email clients. It lets us relay important information while creating emails that result in the best customer experience."
The Results
Litmus helps ezCater save hours building, testing, and reviewing emails. Builder makes it efficient for them to work from saved templates while creating dynamic, personalized emails that break through the noise and get their message across to their subscribers. Caitlin Murphy notes, "When it comes to creating a very dynamic campaign, we have the ability to build an email exactly the way we want it to look and ensure it's not broken on any email clients. If something needs to be fixed, Litmus makes it easy to find and update the code."
Litmus Proof helps them collaborate more effectively as a team and the Slack integration alerts team members right where they work when their attention is needed, saving them time.
Plus, Litmus Test provides ezCater with final pre-send testing so they can be confident that all the hard work they put into campaigns pays off in the email experiences they create for their subscribers.
"When it comes to creating a very dynamic campaign, we have the ability to build an email exactly the way we want it to look and ensure it's not broken on any email clients. If something needs to be fixed, Litmus makes it easy to find and update the code."
Caitlin Murphy,
Senior Marketing Operations Associate at ezCater


"Litmus Proof was a game-changer for us for team collaboration and efficiency; we no longer have to go through lengthy email threads to review an email. It has saved us an average of 2 hours on every email."