58% of marketers spend 2+ weeks creating a single email
Don't let an inefficient email design workflow be the reason you don't hit your email marketing goals.
Litmus helps you scale up your team's email design process without compromising on quality. It's the most efficient way for everyone to send on-brand html emails quickly.
Create reusable HTML email templates, code modules & more
Keep all brand assets centralized and up to date
Establish brand settings for consistency

"By relying on templates and snippets rather than building emails from scratch, we can easily cut down production time by 50%."
Katie Zeff,
Lifecycle Marketing Program Manager, MINDBODY
The most efficient way to create on-brand emails.
With Litmus, you've got a central place for reusable templates, code modules, and brand settings — and the best way for your whole team to get eye-catching emails to market, faster.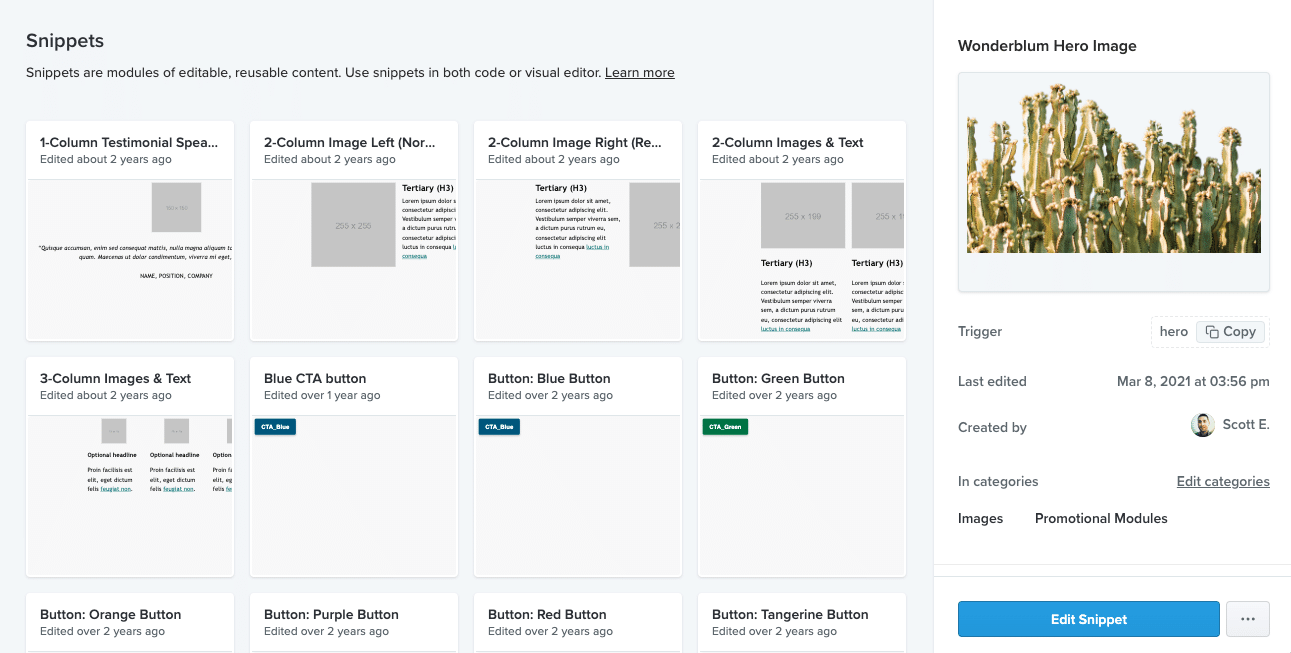 Take your email design system with you wherever you go
Need to switch email service providers? Your email design system will easily move with you, saving you the hassle of manually transferring assets one by one.
Start streamlining your email design today.
Try Litmus and discover the most efficient way for your whole team to design on-brand emails.
Try it free
700,000+ users across companies of all industries and sizes trust Litmus
What Users Are Saying On
Email Design FAQs
How can I organize my code resources in my Litmus Design Library?
With Categories in the Design Library in Litmus, you can organize your modules (Snippets and Partials) in one centralized location, making it easier for all team members to find content to build brand-compliant emails at scale, regardless of how many ESPs are being used.
What are the different code modules I can add to my Litmus Design Library?
Once you've built out your email templates, it's important to add code modules to give you the flexibility you need to customize templates for a variety of campaign needs. There are two types of modules in Litmus: Partials and Snippets. Partials are global modules that can be referenced in emails and templates, but are editable only at the global level. Snippets are modules that can be reused across emails and templates and are editable within the email or template they're included in. Learn more here.
Is there a limit to how many pre-approved brand colors I can set in Litmus?
You can add as many brand colors as you'd like and define the key purpose for each color. For example, if your call-to-action buttons are green, you can add the specific hex code for the on-brand green color and label it "Primary CTA."
Can I give users access to Design Library without allowing them to add or remove content?
Yes! Users in Full, Admin, and Account Holder roles can all create, edit, and delete assets in the Design Library. Other roles—like Code Editor and Content Editor—can utilize the assets but not make changes.
Are there any best practices to help me get started building my email design system in Design Library?
Can storing my design system in Litmus Design Library help me save time?
Yes! Customers have shared stories of how Design Library helps them save time and work efficiently while creating exceptional emails at scale. The team at VSP, the largest vision service provider in the U.S., had been using an email QA platform that didn't allow them to store their email design system. After moving to Litmus and building and storing their email design system in Design Library, their email build time went from hours and days to just a half an hour on average.