This year has been tough in many ways, stretching email pros pretty thin. That's why our latest updates in Litmus continue our focus for 2020: to empower you and your team (no matter the skill level) to create brand experiences that are personalized, agile, and scalable.
Here's what's new.
Detect Dark Mode usage in Email Analytics
Dark Mode, Dark Mode, Dark Mode! With its recent rise in popularity, you probably hear about it all the time. But how much should you really pay attention? After all, adapting your email designs for Dark Mode can be challenging—as if email development wasn't already challenging enough—and may or may not be worth your time. And time is precious.
For the first time ever, see how many of your subscribers actually read your emails in select Dark Mode clients.
Armed with this new knowledge, you can make more data-driven optimization and testing decisions to save you time, provide a great brand experience, and get the best results. No more wondering. Invest the right amount of resources and time into Dark Mode versions of your emails where needed, based on actual usage data.
Supported Dark Mode clients currently include iOS Mail, Apple Mail, and Outlook for macOS. But we're working on more as we speak—stay tuned.
Here's how to get started:
Create a new tracking code in Email Analytics and add it to your email.
Update tracking codes for existing or ongoing emails. Existing tracking codes will not automatically update and will not detect Dark Mode.
Drill into your sent email with the Email Clients report in the Analytics dashboard.
That's it! You'll be able to see real-time data on Dark Mode usage (popularity and opens) for the email clients we support.
Dark Mode detection is available exclusively for Litmus Plus and Enterprise customers in New Litmus.
Ensure email quality and consistency with brand settings and advanced user permissions
Juggling a lot of emails can mean brand guidelines falling through the cracks, especially when less tech-savvy folks jump in to help create emails. Even so, these brand guidelines and branded assets might be outdated, hard to find, or not flexible enough for custom email needs.
But brand consistency is important because it builds trust with customers—and can increase revenue by 33%. So inconsistencies and a poor brand experience can literally cost you.
With new brand settings and advanced user permissions in Litmus, you can safely scale agile, on-brand email creation across your entire team to get more effective emails out the door faster.
Brand settings
With brand settings, you can designate color palettes in Design Library and use them in Visual Editor—automatically ensuring a consistent and quality brand experience across every email.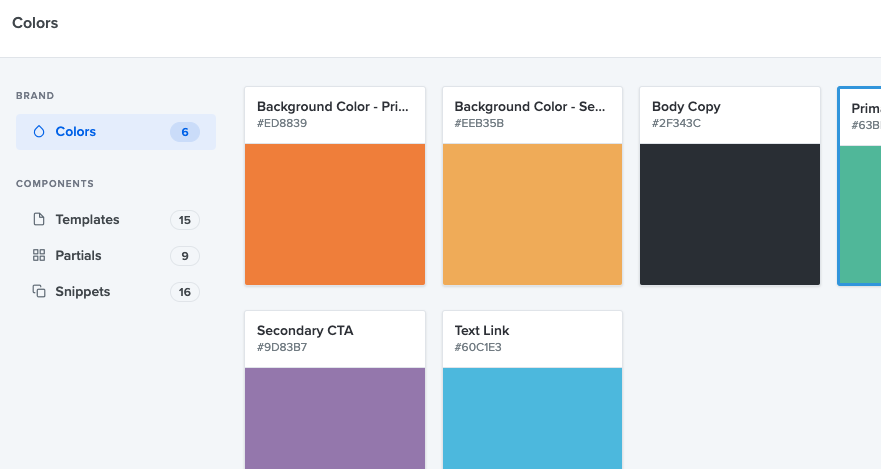 Here's how to get started:
Visit Design Library and add your brand colors. Use a descriptive name (like Primary Button Color) and enter the HEX code.
When you're in Visual Editor in Litmus Builder, your brand colors will automatically display when you're editing text or a background color.
Advanced user permissions
And with advanced user permissions, you can maintain this brand consistency by making sure only the right people can edit Design Library assets or access the Code Editor in Litmus Builder.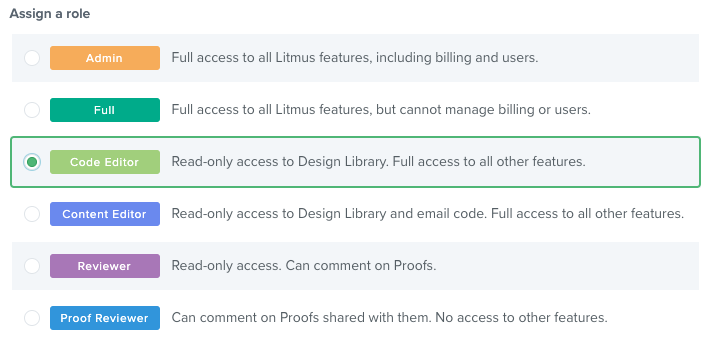 Here's how to get started:
If you're an Account Holder or Admin, visit Settings within your Litmus account.
Click on "Users & Groups" and then "Add a new user."
Give your new user the right level of access by assigning them a user role.
Want to update an existing user's access? Simply find them in "Users & Groups," click on the settings widget, and update their user role.
Both brand settings and advanced user permissions are exclusively available on Litmus Enterprise plans in New Litmus.
Further focus your optimization efforts
We've also got a few other improvements across our platform to help further focus your optimization efforts, including: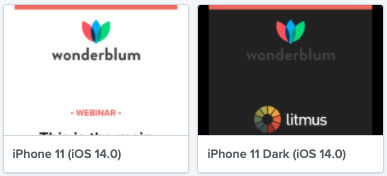 Email Preview support for iOS 14 and the iOS Gmail app (Dark Mode)—especially important as iOS 14 adoption is expected to be at 50% in just a few weeks
Background image editing and image auto-resizing in Visual Editor so you can continue to build quality emails quickly
Real-time data feeds to connect your Email Analytics data to your email service provider or business intelligence platform for a more holistic view of email results
Ready to dive into our latest updates?
If you already have a Litmus account, log in to get started with these updates today. Legacy users must update to the new, redesigned Litmus first. We can't wait to hear what you think!
Not a Litmus customer yet? Start a free trial or talk to a Litmus expert to get started.
And be sure to tune in to our live stream on Thursday, October 29th, 2020, at 11am ET. Our very own Jason Rodriguez will give you a personal rundown on all we've released this year in our quest to make email better for ALL.
UPDATE: We're working through some issues with our YouTube account and will be postponing the previously scheduled YouTube live stream until it's figured out. Stay tuned for updates!