Personalization for all.
Whether you're new to email personalization or a pro—Litmus has a solution for you. Deliver the right message at the right moment—and maximize conversions with:
"We needed a smart way to manage new in and move from a one-size-fits-all email. We're a small team so we needed automation to help us achieve our personalization goal, we simply couldn't build a version of the email for every product category."
Chloe Temple,
Ecommerce Marketing Director (Europe),
Kate Spade
174% increase
in email-generated revenue
Discover how Kate Spade optimized their new product arrival experience, increasing engagement, conversion, and revenueby personalizing new product arrival emails, using Litmus Personalize.
See how they do it
80% of customers are more likely to purchase from a brand that provides personalized experiences.*
Yet so many brands leave revenue on the table because truly effective email personalization feels overwhelming. Not anymore! Now you can send with confidence, knowing every email will resonate with every subscriber—with limited time and effort.
* Source:
Epsilon: The power of me: The impact of personalization on marketing performance
Quick-start personalization templates
Implementing personalization doesn't have to be a heavy lift. With quick-start templates in Litmus, any marketer, with any level of technical expertise, can create engaging subscriber experiences in just minutes—without ever leaving the platform.
Countdown Timers to drive urgency for a sale or event
Progress Bars to keep customers on the right track and promote loyalty
Personalized Images to create 1-to-1 subscriber experiences at scale
Sentiment Trackers to listen to what your audience thinks
Live email content
Drive more conversions with customizable Live Email Content that delivers a relevant, compelling experience to each and every subscriber—wherever and whenever they open your email.
Maps to make it easy for shoppers to visit your nearest store
Local weather to create relevant offers based on subscriber conditions
Polls with instant results to boost engagement
Social signals to increase trust and conversions
Dynamic content automation
Take each subscriber's unique email experience up a notch by leveraging data from your CRM and product feeds to easily power personalization at scale.
Boost sales by automatically promoting whatever is new or popular
Drive urgency by showcasing relevant deals in real time
Create repeat business by automating key customer loyalty touchpoints
AI Recommendations
Give shoppers what they want—before they know they want it—with AI Recommendations. Harness the power of AI and your shopper behavior data to easily serve individualized product recommendations at scale to boost engagement and revenue.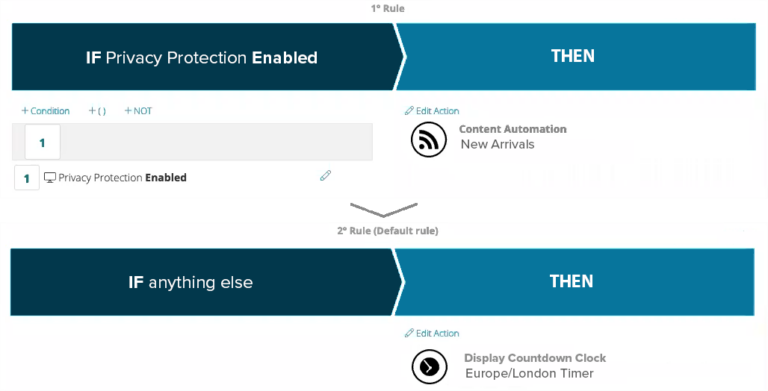 Robust customizable targeting
Our email personalization tools are simple to set up—and endlessly customizable. Use advanced visibility rules to ensure you're always in control of the ideal experience you want your subscribers to have.
Let's talk about your email personalization goals
See how our personalization software can make every send more personal.
Try for free
Join top brands who get great results with Litmus' email personalization tools.
We're to help you hit your biggest email goals.
You don't have to go it alone. Our average customer satisfaction score over the last two years was 96% and the majority of customers can expect a response in 3 hours or less. Plus, our email geeks and experts are always uncovering new information to help you get the most from our email personalization solution.
Email Personalization FAQs
Is Litmus Personalize only for retail or e-commerce companies?
Not at all! While Litmus Personalize is a great fit for retail and e-commerce companies, companies across all industries will benefit from the ability to send truly tailored, 1-to-1 personalized emails at scale. In fact, our own team at Litmus uses Litmus Personalize all of the time to enhance our subscribers' email experiences.
If I don't have a product feed, what types of personalization can I use?
There are many types of personalization for your email marketing campaigns made possible by Litmus Personalize that don't require a product feed. Examples include (but aren't limited to) countdown timers, weather-based content, social feeds, polling, and more!
Is there an added cost for professional service hours to utilize Litmus Personalize?
Nope! Our expert team of Account Managers and Customer Success Managers will help you quickly and easily get started with Litmus Personalize and ensure you're able to create all of the dynamic, personalized elements you need to craft emails that resonate with your target audience, boost engagement, and drive revenue.
Can I use Litmus Personalize with any email service provider (ESP)?
Yes! Litmus Personalize can be used seamlessly with every ESP and email builder. Check out this help article to see how.
Can agencies use Litmus Personalize?
Absolutely! Litmus Personalize is a great fit for agencies who want to provide the best possible emails for their customers and help them make every send count. With Litmus Personalize, you can go beyond first name and subject line personalization to truly deliver individualized experiences, boosting open rates, click-through rates, and customer engagement.
How does Litmus Personalize work with Apple Mail Privacy Protection?
Litmus Personalize uses custom parameters and rule building to give you full control over the content served to those opted into Apple Mail Privacy Protection. Learn more here.