Email success looks different to different kinds of companies because they don't all have the same business models and goals. This was made clear when we asked nearly 400 marketers what their email marketing key performance indicators are.
The vast majority indicated that clicks and opens are key. Half said conversions are. Then it fell off significantly, with only one-quarter saying email revenue overall is and less than 15% saying email marketing return on investment.
While email engagement is important, especially for maintaining good deliverability, our research points to several reasons why opens and clicks are being emphasized as much as they are. Brands should be concerned with each of these reasons.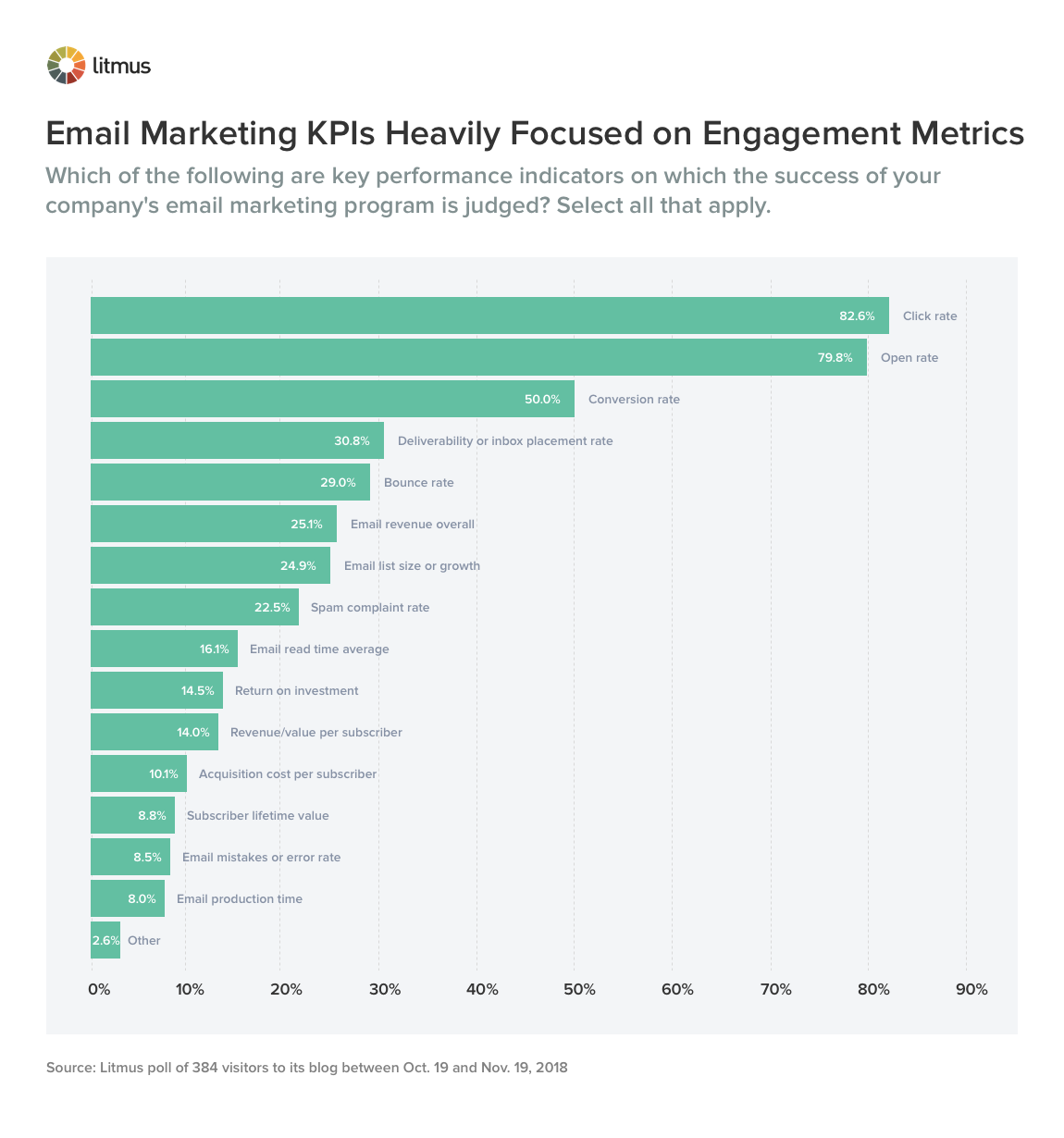 1. Limited Funnel Visibility
One of the major findings from our 2018 State of Email Analytics report is that visibility into email performance after opens, clicks, and bounces falls off quickly.
Fewer than half of brands can measure ROI, value per subscriber, and subscriber lifetime value. Needless to say…
A metric can't be an email marketing KPI if you can't measure it. [Tweet this →]
However, brands recognize the need to measure strategic metrics like subscriber lifetime value, value per subscriber, and ROI. Those three metrics are the ones that the most brands said they plan to start tracking in the next 12 months, according to our research.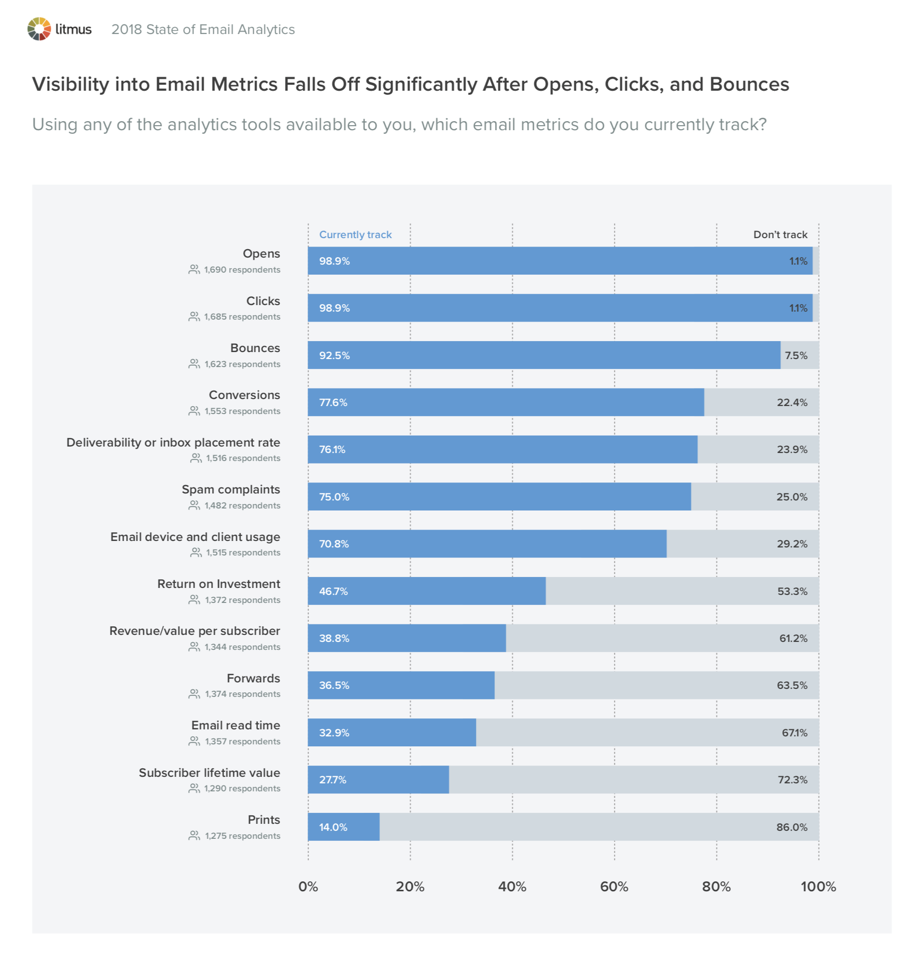 2. KPI Bloat
The purpose of a key performance indicator is to keep your email program focused on the metric or metrics that matter most to its success. A KPI should act like a North Star, guiding your program in the right direction.
However, it's difficult to focus when you're following too many metrics—just like it would be easy to get off course if you were sailing your ship toward this star, then this one, then that one.
Brands track 4.3 email marketing KPIs on average, with the median being four. While we're not sure that four is too many in all cases, we feel confident in saying that six is. Roughly a quarter of brands use at least six KPIs.
And more than 5% use 10 or more email marketing KPIs. As the old saying goes, "If everything is important, nothing is." The majority of brands should probably be questioning whether the KPIs they're tracking are the right ones and all necessary. The more KPIs you use, the higher the chance that you're focused on the wrong ones.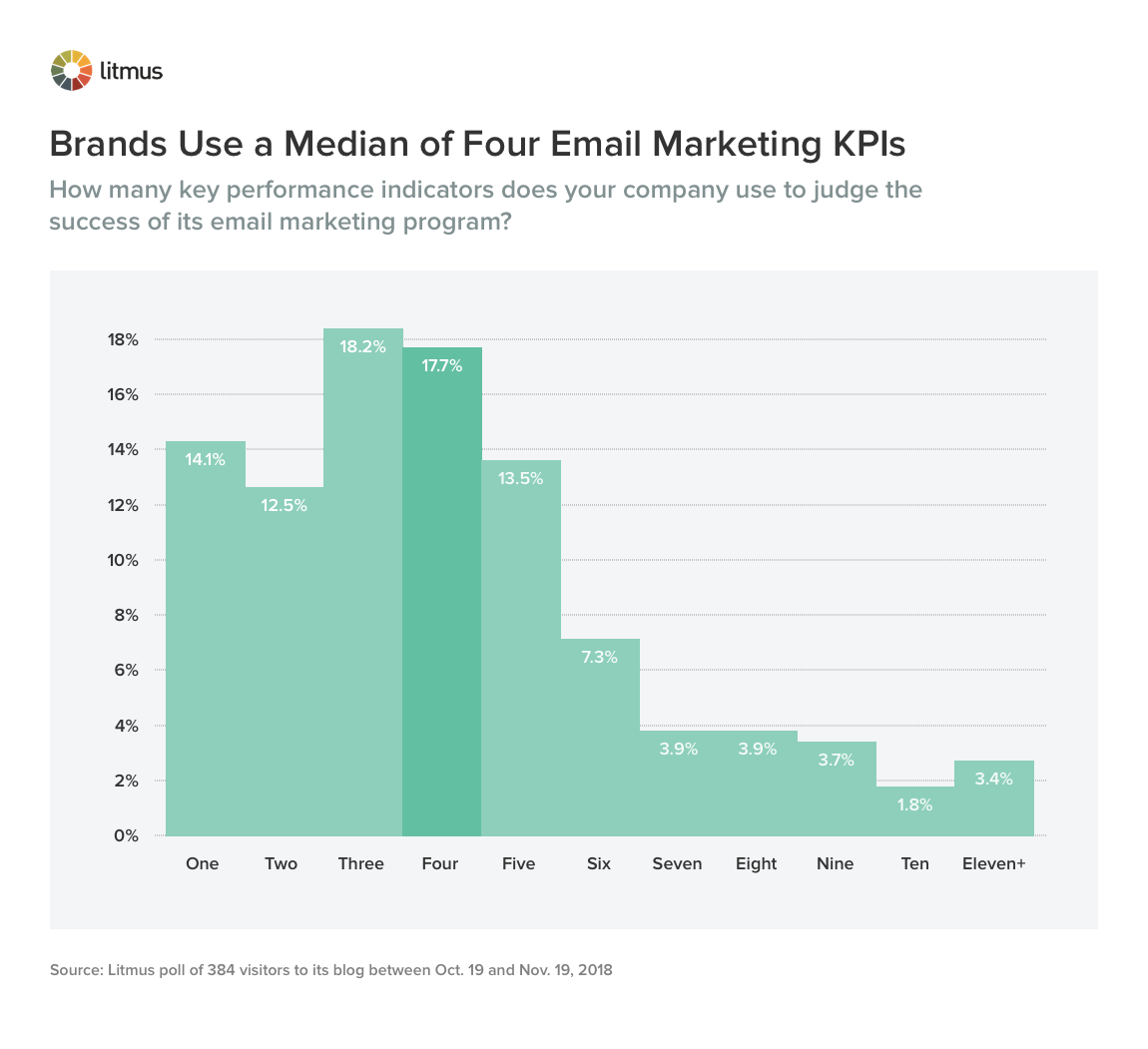 3. Over-Emphasis on Surface Metrics
In my book, Email Marketing Rules, I warn people about focusing on surface metrics like opens and web traffic when they should be focusing on deep metrics like email conversions and sales conversions. Now, we fully understand that not every brand can measure conversions or ROI. However, if you can, then there's a lot less need to track other metrics.
What's the danger with focusing on surface metrics when you have better, deep metrics available to you? Surface metrics take you farther away from your business goals. They also often take you farther away from your subscriber, obscuring their behavior and satisfaction.
The unwise practice of measuring subject line success by open rates is a great example of this danger. The goal of your subject line isn't to get subscribers to open your email. It's to get the right subscribers to open your email.
Who are the right ones? They're the ones who are the most likely to convert, doing whatever it is that your email is asking them to do. Aligning your subject lines with your conversion goals leads to greater success, and helps you avoid open-bait subject lines that disappoint and frustrate subscribers.
Here are a few examples of families of metrics that go from surface metrics on the left to deep metrics on the right. If you're using more than one metric in one of these families as a KPI, consider dropping the one that's more of a surface metric.
Open rate → Click rate → Conversion rate → Email revenue overall → Return on investment
Acquisition cost per subscriber & Revenue/value per subscriber → Subscriber lifetime value
Bounce rate & Spam complaint rate → Deliverability or inbox placement rate
Unsubscribes & New subscribers acquired → Email list size or growth & Revenue/value per subscriber → Email revenue overall

Understanding the Difference Between Diagnostic Metrics and KPIs

Let's be clear: All metrics have value. They're just not all equally valuable or valuable all of the time.

As you can see in the metrics families above, many metrics are related. Choose the most strategic, deepest metrics that you have access to for your email marketing KPIs. Then, use those metrics that are closer to the surface in the family as diagnostics to determine why your KPI is increasing or decreasing.

For instance, if you saw a fall in deliverability and then investigated and saw that your bounce rate was high, that would explain the dip and give you a clear course of action. And if you experienced a decrease in subscriber lifetime value and investigated and found a fall in value per subscriber, that would explain the decrease and hopefully prompt a discussion of how to increase average order size, decrease list churn, and other related issues.

All your metrics work together to give you a holistic view of email performance, but your email marketing KPIs should be as big picture as possible and as far down the funnel as possible.

2018 State of Email Analytics

How do your email analytics capabilities stack up against your peers? See what email metrics brands measure (and what tools they use to do so) with our first-ever State of Email Analytics report.