Marketers want their email marketing channels to achieve their full potential this year, but there's something holding them back. Or rather, there's an array of things holding them back.
Litmus polled hundreds of marketers about the biggest challenge that their email program faces. While inadequate coordination between the email program and other marketing programs came out on top, the other seven email marketing challenges we asked about loomed very close behind that one.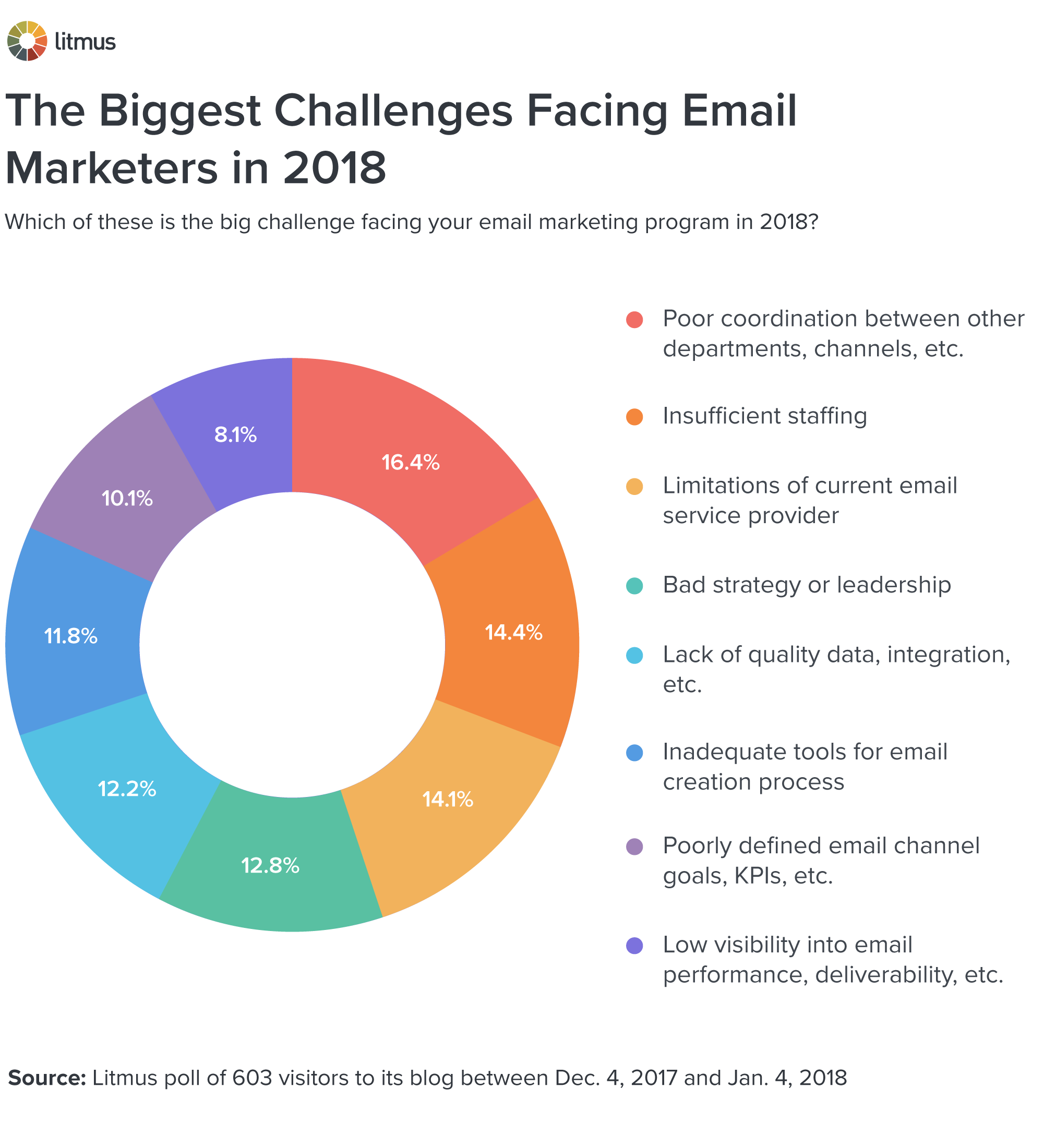 As an industry, it appears that we're not facing one or two common email marketing challenges, but rather struggling against a host of problems. It's also likely that every email program is dealing with more than one issue. However, solutions to these problems do exist.
To help us with smart fixes, Litmus reached out to our friends at MECLABS Institute, Smart Insights, Zettasphere, Epsilon, and IBM Watson Marketing. Let's discuss each of these email marketing challenges and how you can overcome them:
1. Poor Coordination Between Other Departments and Channels
Your customer is omnichannel, so brands have to be omnichannel. Email marketing can no longer afford to operate as a silo. For that matter, all your other channels can't afford to operate in silos either.
"Every interaction your customer has with your brand—through email, but also through any other customer touchpoint—will impact the success of your email marketing program because it will impact customer satisfaction and brand perception," says Daniel Burstein, Senior Director of Content & Marketing at MarketingSherpa and MECLABS Institute. "For example, half (50%) of satisfied customers often or always subscribe to a company's email list, but less than a quarter (23%) of unsatisfied customers subscribe to a company's email."
Litmus and Fluent's Adapting to Consumers' New Definition of Spam research found that experiences outside the email channel also affected whether customers stay subscribed. For instance, 41% of consumers say they've unsubscribed from brand's emails because of a poor customer service experience, and 40% have because the brand's mobile app didn't work well. Those same pain points also drove spam complaints.
In order to achieve a seamless customer experience, having integrated marketing communications is essential, says Jill LeMaire Redo, VP of Digital Strategy and Insights at Epsilon. "It is the coordination and integration of all marketing communication tools, avenues, and functions into a seamless program that maximizes the impact on consumers while minimizing costs," she says.
How to overcome this email marketing challenge
"The first stage is to begin with tactical coordination between functional efforts, emphasizing development of overall communication policies and practices and delivering a one sight, one sound via marketing communications," says Redo. "From there you can evolve into refining the scope of marketing, apply information technology, and finally drive financial and strategic integration."
Burstein recommends holding a value proposition workshop. "This activity can help start the process of creating a value proposition to align your ecosystem around the value it creates for a customer," he says. "A strong, clear value proposition can serve as a veritable North Star for all departments and partners and power a customer-first marketing and business approach."
Simply put, common goals and key performance indicators across channels create alignment across channels.
2. Insufficient Staffing
More than 52% of marketers say their email programs are either under-staffed or very under-staffed, according to previous Litmus research. These programs are fighting an uphill battle, because there's a strong correlation between staffing and program success.
For example, marketers who describe their email programs as "very well-resourced" are seven times more likely than those with "adequately resourced" programs to say their programs are "very successful," according to our Staffing for Email Marketing Success executive summary.
"At nearly every brand, email marketing resourcing is almost inevitably a problem that has to be dealt with," says Tim Watson, founder of Zettasphere. "There are never enough hours in the day for all the demands on marketing."
How to overcome this email marketing challenge
To help you convince the leadership at your company of the strong connection between staffing and resourcing levels and success, Litmus has created Email Marketing Staffing & Resourcing for Success, an executive summary on this topic that's part of our Email Marketing Leadership Series.
In addition to internal staff, consider outside help, says Redo. "Brands really need to consider tapping into ESP professional services to drive business growth," she says. "Is it more expensive than you were anticipating? Probably. However, the revenue increase often pays for the project/engagement itself and then some. Not only that, but the effort gets done faster than if you were to find an existing resource or hire a new resource, and you might learn some new approaches."
Can't get money for new internal or external resources? Watson says to consider changing your team process.
"Sometimes the CEO can be part of the problem, as every day they come in with new must-do great ideas," he says. "Continually changing priorities and focus is very wasteful on time. A solution is to agree and fix a regular delivery cycle. The cycle could be a two-week Agile cycle or a quarterly review process—whatever makes sense for your business. The important part is to then focus on and deliver smart objectives set for that period, while avoiding, ignoring, and rejecting all other demands for new initiatives until the start of the next cycle."
Better Staff Your Team

In this 7-page executive summary, email leaders get data-driven advice on how to best staff and resource their email marketing team to maximize their chance of success.
3. Limitations of Current Email Service Provider
Marketers have literally hundreds of email service providers to choose from. Some specialize in particular industry verticals; others on triggered email functionality; and others on sales-assisted messaging.
If you're feeling limited by your current provider, it may be because you've outgrown their capabilities. Or perhaps you were a mismatch from the beginning.
How to overcome this email marketing challenge
First, consider exploring the possibility of changing ESPs, but realize that's a major commitment that has risks in and of itself. Are the risks of staying greater or less than the risks of transitioning to a new platform?
And second, consider taking on an additional ESP that offers functionality or a specialty you are missing with your existing provider. Forty-six percent of brands use two or more email service providers, according to our 2017 State of Email Workflows report. More than 7% use four or more ESPs.
Here's a list of the most popular ESPs, according to our survey of more than 3,500 marketers: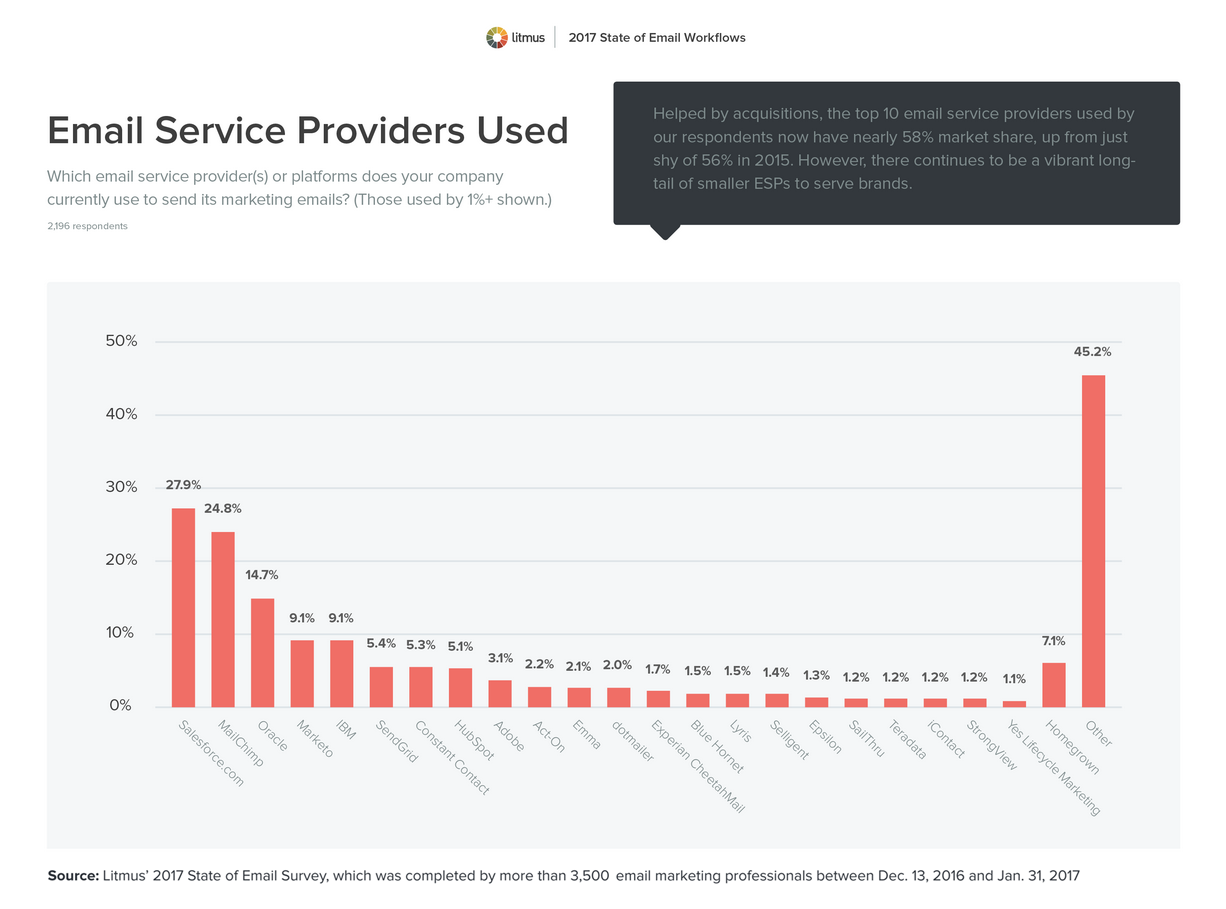 4. Bad Strategy or Leadership
Execution doesn't mean much if you have a poor strategy. Too often, a company's email program is focused on the brand's needs, with the customer's needs being a distant second. This approach drives brands to "send another email" to meet the week's or month's goal, not to truly serve the subscriber.
"That one extra promo email that gets squeezed out doesn't get a great response, the few extra sales or leads it generates may be considered a win. But at what cost?" asks Burstein. "Unsubscribes are easy to measure. But the much more difficult element to measure is the long, slow degradation of your brand and email subscription for your audience.
"When we asked 2,400 U.S. consumers how much a company's marketing put their needs before its own business goals, three out of five satisfied customers (60%) said the company always or often did, while 54% of unsatisfied customers said the company seldom or never did," he says. "And customer satisfaction is crucial for email marketers, because a satisfied customer is 154% more likely to stay on your list than an unsatisfied customer."
Poor leadership is also keeping companies from adopting high-ROI email tactics like automated emails, says Dr. Dave Chaffey, co-founder of SmartInsights.com and author of "Digital Marketing Excellence."
"There's often a lack of leadership or buy-in from budget holders to put in place a holistic lifecycle email contact strategy integrated with other channels," he says. "Without this vision and resourcing, marketers tend to have plenty to keep them busy creating newsletters, promotions and other business-as-usual activity. Yet once marketing automation is set up and optimized it contributes value each and every day an automated email is triggered."
How to overcome this email marketing challenge
The solution is for email marketers to get much better at building business cases and getting buy-in. Consider this part of your job now. You may wish that it wasn't, but it is.
Getting buy-in has become a recurring topic on the Litmus blog over the past year or so, with posts that include:
Our Leadership in Email Marketing series of executive summaries is also part of our effort to close the gap between email marketers and executives. Expect more scripts, approaches, and other content from us going forward.
Overcome These Email Marketing Challenges

In this 11-page executive summary, executives get advice on overcoming 8 major email marketing challenges; and email teams get how-to resources to take action.
5. Lack of Quality Data, Integration, Etc.
"Data integration is already a huge challenge for email marketers, but in the next few years it is going to become the issue that separates world-class marketing organizations from the rest of the pack," says Loren McDonald, Marketing Evangelist at IBM Watson Marketing.
"As we move increasingly toward leveraging machine learning and AI for analytics, segmentation, content, testing and other email marketing processes and activities, data is everything," he says. "Those email marketing organizations that are not able to feed wide-ranging, robust, recent, reliable and relevant data into the machines will be left behind competitors who master data integration."
How to overcome this email marketing challenge
You don't have to do an explosive, high-risk data integration project where you're ripping out and replacing many systems, says Watson.
"Be visionary but find a route to move forward in smaller steps," he says. "It often seems starting from scratch is the only way to create the perfect system. However, the risk and time to deliver such an approach means it's better to be prepared to accept compromises that reduce risk and allow faster movement forward. Avoid custom development, look for simpler solutions, and off the shelf best fit—not perfect fit."
Again, perfect is the enemy of good enough. "It would be great to allow every bit of data to be available for marketing, but integrating a reduced dataset of just key data will be massively easier and faster to deliver," he says. "Stop trying to be perfect, but rather move with achievable."
Process and culture can be just as big of an impediment to integration as technology, says McDonald, who recommends three steps for getting buy-in for the need for better data integration:
"First, educate management and other departments on the importance of data and its foundation in the future of AI and machine learning. Second, understand the type of data that is actually critical to achieve your customer, business and marketing goals—and where and in what form this data exists.
"And third, find a marketing project that you can work on with other departments and channels as a test case to show what both the hurdles are, but also what's possible to achieve success," he says. "Consider forming scrum teams and getting people to sit together or at least have lunch together regularly and try and break down barriers. Set mutual goals and show other departments how providing their data and resources benefits the entire organization, and not just email marketing."
Use this project as a proof of concept to get the buy-in to roll wider changes, structures, and processes across channels and departments. "It won't be easy and would take 18-24 months," he says, "but in the end it will be game changing for your organization."
6. Inadequate Tools for Email Creation Process
Email production is complicated and there are many spots where things can break down. When we looked at 20 Things Successful Email Marketing Programs Do, successful programs use extensive checklists and create email briefs for every email they build at much, much higher rates than less successful programs. Having a year-round email content calendar also made the list.
In the context of that inefficiency, it's easy to see programs not having enough time for A/B testing, using dynamic content, and creating animated GIFs. All of those were also on our list of the top 20 differentiators between successful and less successful programs.
How to overcome this email marketing challenge
Many tools exist that can help email marketers not only accelerate their production process, but add quality control measures. You can learn about many of them and how often they're used in Litmus' 2017 State of Email Workflows report. Use the findings of that report to benchmark the email workflow at your company and argue for new tools and process changes to make it more efficient.
Streamline your email workflow with Litmus

The Litmus Email Creative Platform allows you to send better email, faster.
Identify the critical elements that affect email performance & save hours on production time with every send.
7. Poorly Defined Email Channel Goals, KPIs, etc.
What's worse than not hitting your goals? Hitting your goals but not achieving success because you set the wrong goals and set the wrong key performance indicators.
"The mark of the new year is a fantastic time for email marketers to take a step back and re-define—or maybe even establish—channel goals and KPIs," says Redo. "How can your lens evolve beyond micro channel objectives and metrics toward a tiered macro view including marketing objectives, corporate objectives, customer metrics, and brand metrics?"
How to overcome this email marketing challenge
First, review the metrics that you're currently using as KPIs. What kinds of metrics are they? Are they primarily campaign-level metrics like opens and clicks? Is your organization looking at metrics like inactivity and deliverability rates that are big indicators of email channel health? Are you looking a customer or subscriber lifetime value?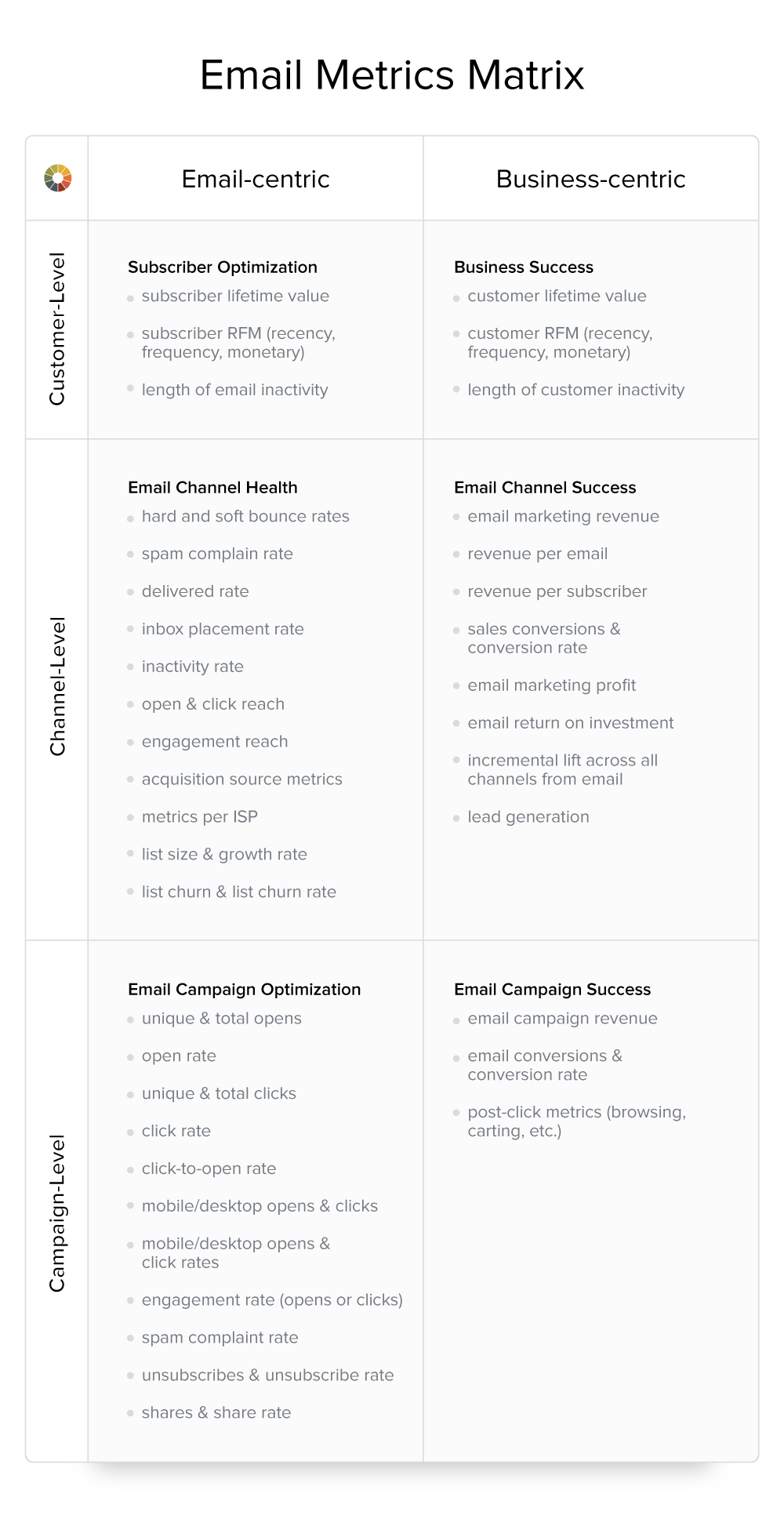 "All too often, we get bogged down in campaigns rather than the broader channel or even customer metrics," says Redo. "If we are hyper focused on campaign engagement metrics, we begin to lose sight of looking at email channel health, which can diagnose broader opportunities.
"From there," she adds, "we need to be understanding email's impact to marketing or customer metrics such as customer retention or re-purchase rate, time to next purchase, customer life time value, and marketing attribution. Finally, we can evolve into corporate and brand metrics such as database health and share of wallet."
Each level of metrics is important and serve different purposes. But if all of your KPIs are campaign metrics, then it's time to up-level your goals to align them with channel health and business success.
8. Low visibility into email performance, deliverability, etc.
Similarly, it's impossible to know if you're achieving even well-conceived goals if you don't have good metrics.
How to overcome this email marketing challenge
First, make sure that you're fully leveraging the existing performance data available from your email service provider. Sometimes that means one-time efforts to set up dashboards or reports in order to see the metrics you care about.
Sometimes it also means feeding some of your data back into your ESP to get full visibility into end-to-end performance. For example, some ESPs can tell you revenue per email, but only if you're feeding sales data back into it.
And second, recognize that your ESP sometimes just doesn't have all the metrics that you want. More than 61% of marketers supplement the data provided by their email service provider with additional third-party data sources, according to Litmus' 2017 State of Email Deliverability report. And marketers who described their email programs as success were 23% more likely than those at less successful programs to use third-party analytics (68.0% vs. 55.5%).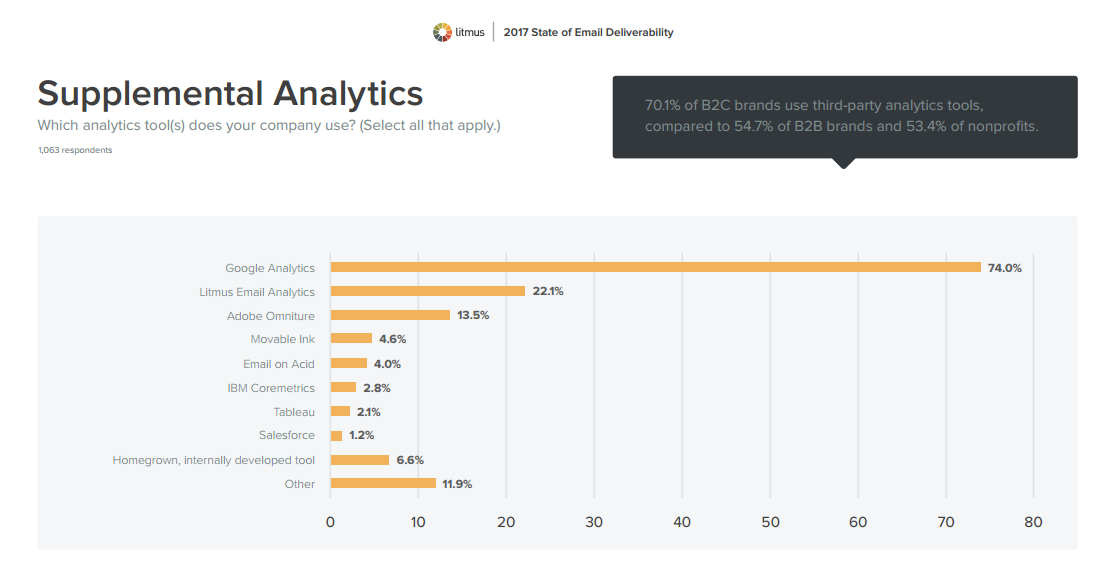 Uplevel your Email Analytics

See where your subscribers open and if they read, skimmed, or deleted your email. Track forwards and prints, compare engagement by device, and more with Litmus Email Analytics.
Overlapping Issues
When we polled marketers on their email marketing challenges, we limited them to picking just one. However, in speaking with our industry friends, it became clear very quickly that many of these challenges are interrelated, making them even more complex.
For instance, poor leadership can lead to poor coordination across channels and departments. Low visibility into email performance can lead to poorly defined channel goals. Limitations of an ESP can cause poor integration. And on and on.
While we certainly hope you only have one major issue holding your program back, chances are that you have multiple email marketing challenges to overcome. Try to address the most foundational one first, and do so in incremental steps.
We Want to Help
Company leadership and email marketers don't always see eye to eye, and that creates unnecessary tension and under-performance. Litmus has identified a number of key email marketing topics and assembled executive summaries that marketers can share with management, including one on How to Overcome the Biggest Email Marketing Challenges of 2018.
Download the free executive summary →
Also, check out other executive summaries from Litmus' Email Marketing Leadership Series: