Year after year, Accelerated Mobile Pages (AMP) for Email—an open-source technology that enables email marketers to create and send interactive emails—has made the list of trends for email marketers to watch.1
But should email marketers embrace or ignore this trend?
Read on for a deeper look at AMP for Email, and our thoughts on whether it's right for your email marketing campaigns.
A brief history on AMP for email
In February 2018, Google announced that support for AMP would would be coming to Gmail, providing marketers with the opportunity to add AMP-powered interactivity to their emails.
On average, 1.5 billion emails are opened each month. With such a high volume of emails, the need for more unique experiences isn't a surprise.
AMP for Email was set to do just that. According to Google, AMP was seen as "a powerful way for developers to create more engaging, interactive, and actionable email experiences." 
The demand is there, too. According to Dyspatch, 60% of email recipients said they are likely to engage with an interactive email, and over 50% of email recipients said they want to interact with content inside their email.
⏸️ Pause: What's the difference between interactive emails vs. AMP emails?
Interactive emails are HTML, so everyone will see them no matter what email client they open the email in.
In contrast, AMP emails contain live, up-to-the-second content.
Something to note: AMP-powered emails can only be viewed in specific email clients (which we cover next).
Adoption for AMP for Email
Since Google announced AMP-powered email in 2018, it's continued to improve functionality, providing email marketers an array of personalization and interactivity capabilities to use in emails
While AMP isn't supported by all, over the years adoption in the market has grown from email clients (including AOL Mail and Yahoo Mail) and ESPs (like Customer.io, SparkPost, and AWeber). 
The feasibility of AMP for Email
How feasible is AMP for Email? The answer (like most answers in email marketing) is "it depends."
What do email marketers think?
During our live event Email Marketing Trends in Focus for 2023, Anne Tomlin (Owner, Emails, Y'all) shares, "I still haven't been asked to code an AMP email, so from my experience, traditional coding techniques are more common than AMP emails."
We asked a few members on our email team for their thoughts, too. "It's been something that's felt like an 'almost' for several years," shares Logan Baird (Litmus' Senior Community Evangelist).
Jaina Mistry (Litmus' Director of Email Marketing) is on the same boat, too. "Far too few ESPs actually support it."
What about the email community?
On LinkedIn, we asked voters to pick the top trend that's "got to go". AMP for Email received the most votes.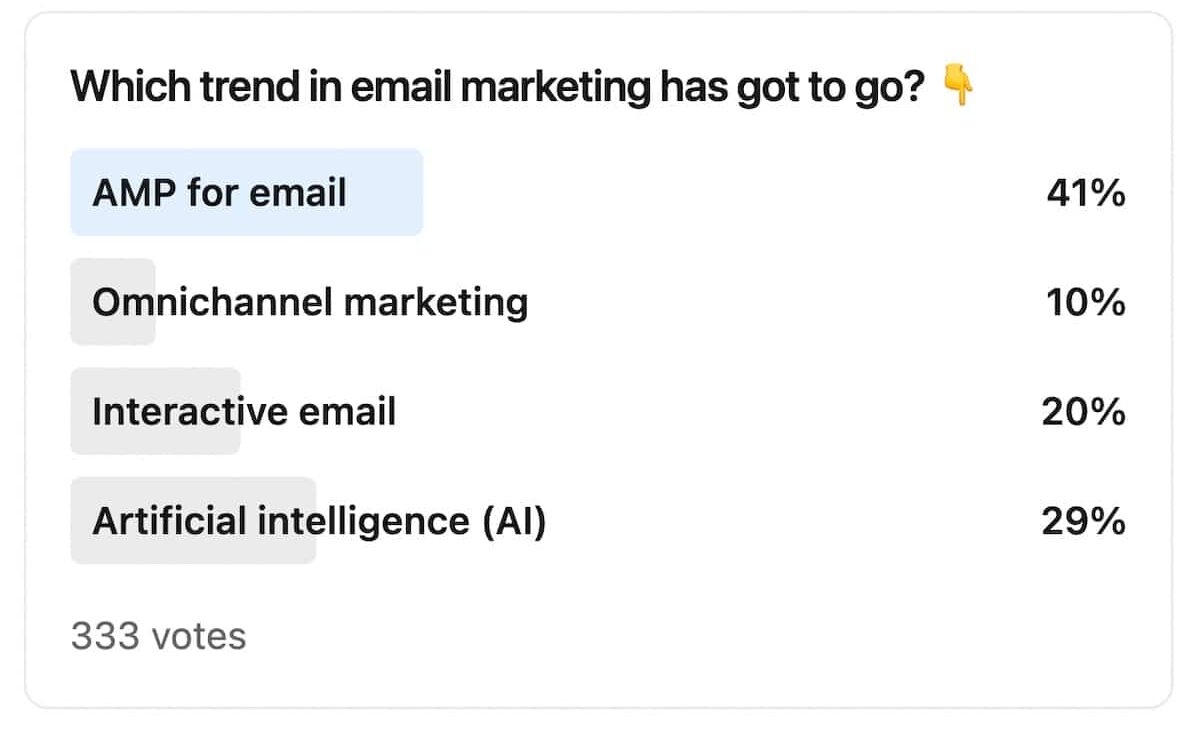 The case for AMP for Email
While the adoption of AMP for Email by email marketers has a ways to go, there's no denying the power of AMP for Email.
During his session at Litmus Live on "Data Visualization without Images: AMP email update"
Benjamin Djang (Creative Technologist, The Washington Post) shares a better alternative to using images to display data in emails using AMP for Email.
💭 How can you display data *without* using images in email?

💭 How can AMP create *better* data visualization experiences in email? @bendjang answers this and more—including inside tips, tools, and watchouts for email developers. #LitmusLive2022 pic.twitter.com/te8hreHrbY

— Litmus (@litmusapp) October 25, 2022
While it's easy to include an image of a chart or graph in email, it has its disadvantages.
Data cannot be viewed if image auto-load is turned off

Data in images is static and cannot be updated

Image sizes can be large—which can add to the total email load time without optimization

Not compatible in

Dark Mode
Instead of using static imagery, you can create a better subscriber experience with data visualization using AMP for email.
Alternatives to AMP for Email
Is AMP for Email not feasible for you? Interactivity could still be your next best option.
"Deciding whether to invest in interactivity within your emails is always going to come down to knowing what is supported in your subscriber's email clients and whether you or your team has the additional bandwidth to devote time to it. However, if it makes sense for your audience, there are many examples and options of adding interactivity with low effort," says Baird.
Stay relevant with your subscribers
Whether or not you embrace AMP for Email, leaning into trends like this one is a great way to help you stay relevant with your subscribers.
Want to keep your fingers on the pulse of industry trends? Download our latest ebook for eight email marketing and design trends you should know.