Read Time: 6 min
How often do email apps change? More often than you might think!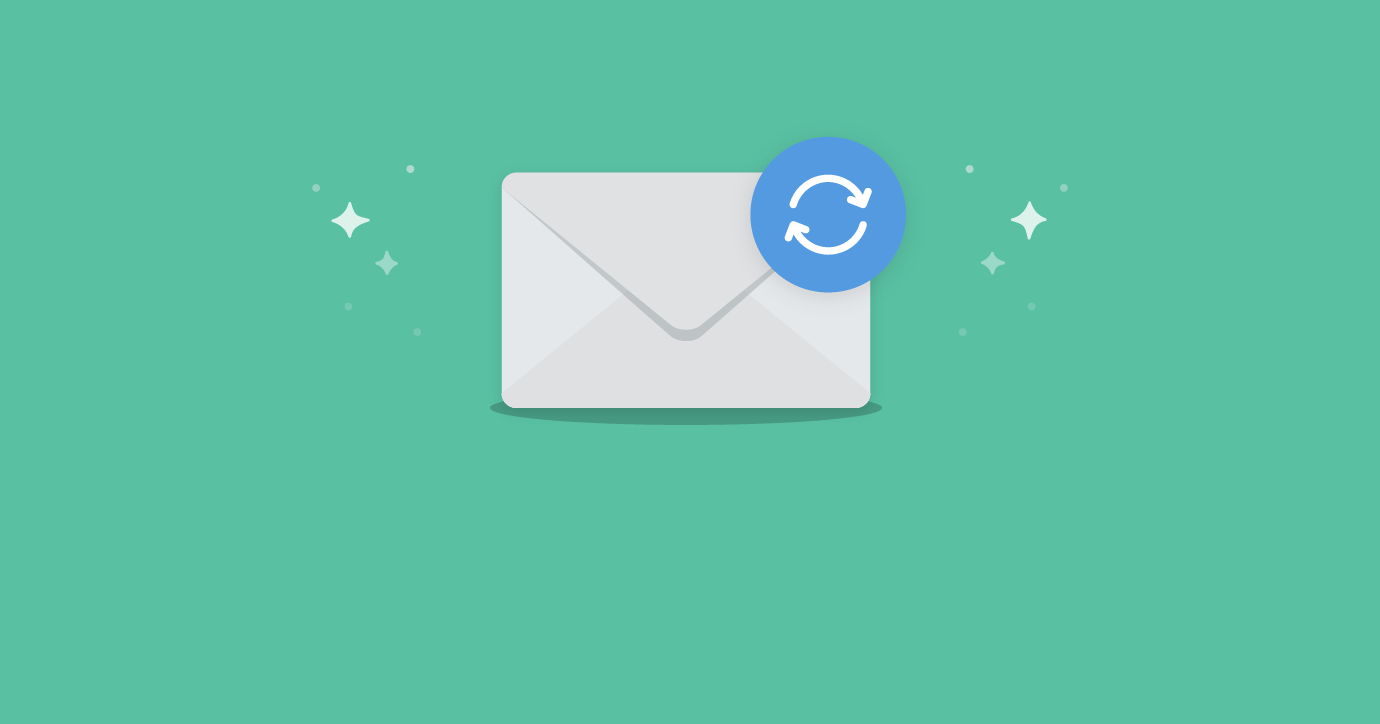 Each time you hit send on that beautiful new campaign, there are a handful of factors that can impact your email rendering. Some of these, such as having images enabled or blocked, are specific to the person receiving the email. However, inbox service providers can present much larger challenges if you forego email testing.
There are a few email client details that can derail the email you worked so hard on. First, email clients change your email code before it hits the recipient's inbox. Sometimes this is to your benefit, and sometimes these edits lead to breaks. Updates to an app are the actual invisible ISP hand that you need to be aware of.
Now, inbox providers don't give us a lot of information about the changes they're making behind the scenes. They don't release updates about desktop versions, but by looking at the version history of the most popular mobile apps, we can begin to get a sense of just how often email clients make updates to their offerings.
How often email apps change
To shed light on how often email apps change, we took a look at the version histories for the biggest players. The current email client market share puts Gmail at number one, followed by Apple iPhone, and Outlook in third place.
Apple's annual iOS launches include updates to its Mail clients, keeping any major updates that might impact email rendering limited to the annual operating system update. Gmail and Outlook, however, make updates throughout the year. As I mentioned, update notes on desktop versions are unavailable, so we focused our research on four popular mobile email clients:
Gmail (Android)

Gmail (iOS)

Outlook (Android)

Outlook (iOS)
It's also worth noting that even looking at these big email players doesn't even scratch the surface. The email landscape is heavily fragmented, and there are thousands of inbox providers and device combinations that may render your email differently.
Despite the somewhat narrow scope of email client changes we explored (four mobile apps only), there was no shortage of updates. The Apple App store version history for Microsoft Outlook only went back to March because there were so many logs.
Even just looking at four popular mobile apps, we were still able to count 45 email client updates in the second quarter of 2019.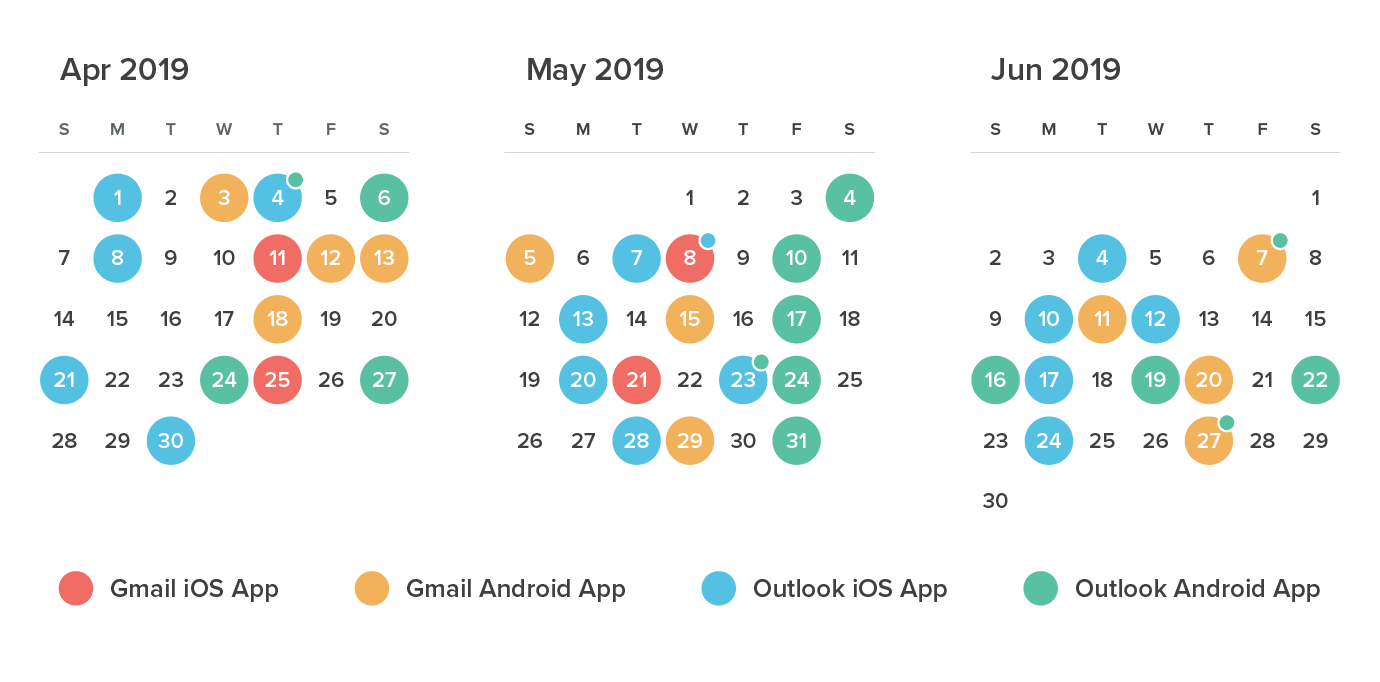 That means that between April 1st and June 30th of this year, there was an email client update equivalent to every two days.
Keeping in mind that each update could have an impact on your email rendering, that's a staggering amount of change in the first half of the year alone. Now let's review how often individual email clients send updates.
How often Gmail updates
Looking at the updates listed for Apple and Android mobile apps, Gmail sent 15 updates in between April and June 2019. If these updates were spread across the period evenly, they would occur about once every five days. That means that your weekly Monday morning newsletter could show up differently from one week to the next.
Updates to the Gmail iOS app
Between Apple and Android, the Gmail mobile app had less frequent updates for iPhones. We counted four updates in three months—two each in April and May, and no updates in June.
Gmail is good about providing descriptions into what has changed with each update. A few of the notes we found that could have had an impact on email rendering include:
"You can now quickly view attachments – like photos – without opening or scrolling through the conversation. Enable this by going into Settings and choosing the Default view in "Conversation list density."

"Now optimized for the new Apple iPad Pro."
Updates to the Gmail Android App
The Gmail mobile app sent nearly three times as many updates for Android devices as they did for Apple devices during the same time. With 11 updates in three months, the inner workings of an Android user's Gmail app changes about every eight days.
Microsoft Outlook
You think Gmail changes often? Wait until you see how often Microsoft pushes updates to their mobile apps. Between April and June, we counted a total of 31 updates. This update cadence is equivalent to a new version of Microsoft Outlook on mobile devices about every three days.
Updates to the Outlook iOS app
Outlook sent 16 Apple updates between April and June 2019. Despite the high volume of updates, Outlook didn't give much insight into what was actually changing. Each listing of Microsoft Outlook's Apple updates states:
"This update includes performance improvements and bug fixes to make Outlook better for you. Feel free to send us any comments or questions through our in-app support in Settings – we'd love to hear from you."
Updates to the Outlook Android app
Microsoft Outlook updates for the Android mobile app happened more frequently than any other category we've covered so far. With 15 new versions in three months, Android users receive an update to their Gmail app once every week.
Can one update really impact email rendering?
Can one little app update really have any impact on email rendering? The short answer is yes. With so many elements at play in email, one change could create a chain reaction of funky spacing, disappearing images, or broken buttons. Keeping track of updates is one task, but understanding all the changes each update holds is impossible.
Sure, not every update will impact how your email renders. Some releases will bring new features to customers, others come with bug fixes and performance updates that are invisible to both email marketers and subscribers. But some will bring changes to the email clients' rendering engine that have the potential to mess with your email design. And that means a campaign that looked great yesterday can be broken today.
There's simply no telling what changes each update may have in store for your email rendering. That's why the only surefire way to make sure your hard work doesn't get wasted is to test every email before you send. Whether you work with templates or re-send an email that looked great and performed well last week, if you don't test your email, you risk email client updates breaking your campaigns without you even knowing.
Don't let email client updates hit you by surprise. When it comes to your email marketing strategy, it pays to be proactive.
Email Testing Made Easy With Litmus

See screenshots of your emails across 90+ apps and devices in just seconds and catch rendering issues before you send with Litmus Email Previews.