Each time you hit send on that beautiful new campaign, there are a handful of factors that can impact your email rendering. These include:
Your email service provider: Your ESP can make changes that affect the code of your emails.
Your subscriber's settings: For example, your subscriber might have images disabled or blocked.
Your subscriber's email clients: Inbox providers, devices, operating systems, browsers, and email apps change routinely.
Out of the above, which presents the biggest challenges? If you aren't testing regularly, it's your subscriber's email client as they change often, usually without notice. Inbox providers just don't give us a lot of information about the changes they're making behind the scenes.
To get a sense of just how often email clients make updates to their offerings, we decided to look at some of the most popular email clients' mobile apps—Gmail, Yahoo! Mail, and Outlook—and their version histories.
The frequency of change
To shed light on how often email apps change, we took a look at the biggest players for mobile email clients. The five most popular email clients overall for the first quarter of 2021 show Apple iPhone at number one, followed by Gmail, Apple Mail, Outlook, and Yahoo! Mail.
Apple's annual iOS launches include updates to its Mail clients, keeping any major updates that might impact email rendering limited to the annual operating system update. However, the Gmail, Outlook, and Yahoo! Mail mobile apps make updates throughout the year.
Update notes on desktop versions are heavily fragmented, and with mobile coming back strong, we focused our research on the top overall email clients with mobile apps:
Gmail (Android)
Gmail (iOS)
Yahoo! Mail (Android)
Yahoo! Mail (iOS)
Outlook (Android)
Outlook (iOS)
We did this by looking at "Version History" on Apple's App Store for each of these apps. In contrast, the Google Play store doesn't share release notes the same way Apple does. So for Android, we used APKMirror to get a better understanding of when the email apps update.
It's also worth noting that even by looking at these big email players, we're hardly scratching the surface. There are thousands of inbox providers and device combinations that may render your email differently.
Despite the somewhat narrow scope of email client changes we explored (six mobile apps only), there was no shortage of updates. Even just looking at six popular mobile apps, we were still able to count 128 email client updates, from January through May 2021.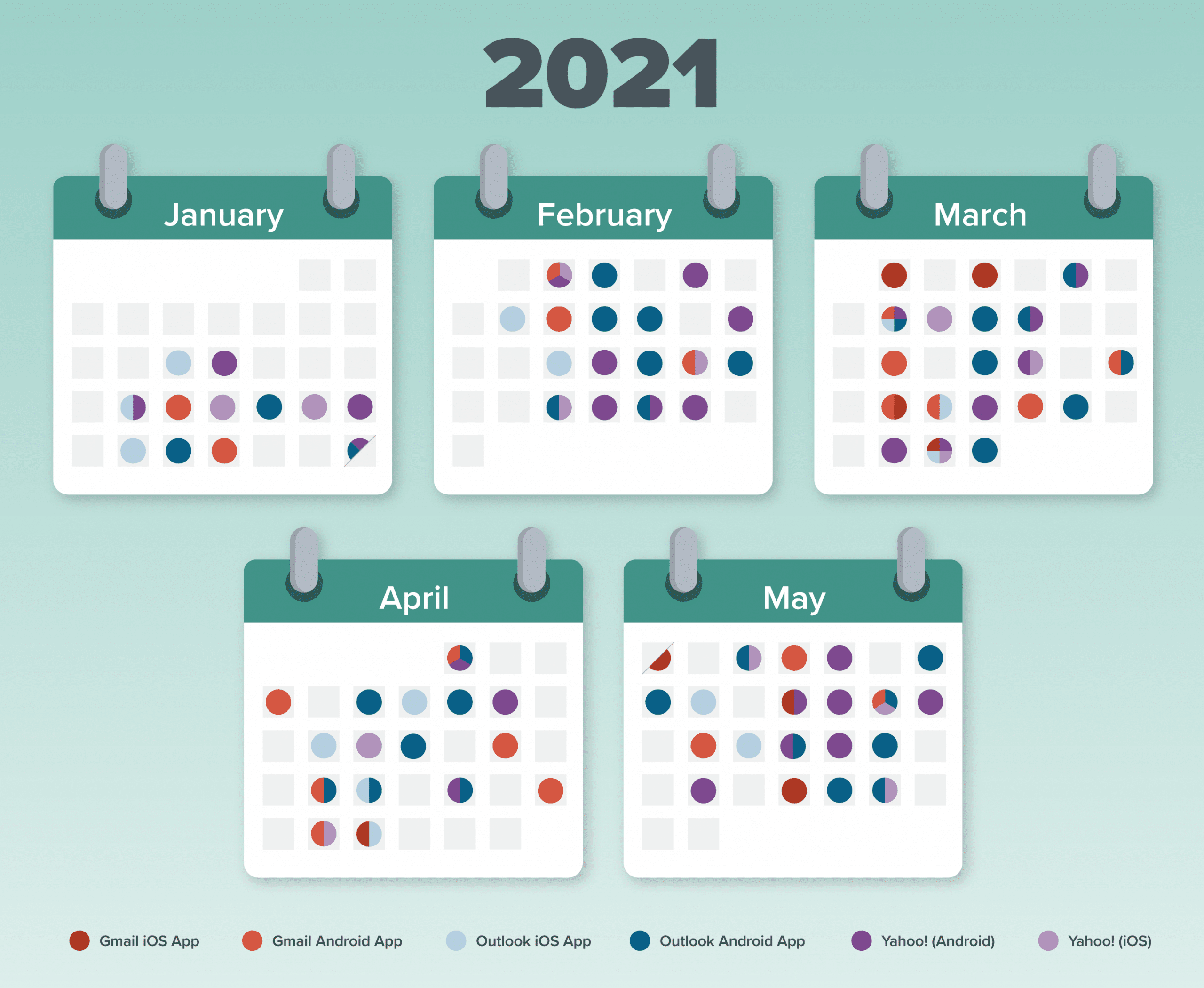 That means that between January 1st and May 31st of this year, there was an email client update equivalent to every 1.2 days.
Keep in mind that each update could have an impact on your email rendering. That's a staggering amount of change in the first half of the year alone. Now let's review how often individual email clients send updates.
How often Gmail updates
Looking at the updates listed for Apple and Android mobile apps, Gmail sent 33 updates between January and May of 2021. If these updates were spread across the period evenly, they would occur about once every 4.5 days. When compared to Yahoo! Mail and Outlook across Android and Apple devices, Gmail had the fewest updates.
Updates to the Gmail iOS app
Between Apple and Android, the Gmail mobile app had the least amount of updates for iPhones, iPads, and across all six of the apps we looked at. We counted eight updates in five months—four in March, one in April, and three in May. This is roughly every 19 days, meaning if spread across evenly, changes would happen between every two to three weeks for Gmail iOS.
Historically, Gmail was great about providing descriptions into what has changed with each update. However, in the window we observed from January and May, most of the update notes were vague, like the below:
"Bug fixes and performance improvements."
When there isn't a specific callout to an update (like the above), it is unclear whether the update would have an impact on email rendering.
Updates to the Gmail Android app
The Gmail mobile app sent nearly three times as many updates for Android devices as they did for Apple devices during the same time. With 25 updates in five months, the inner workings of an Android user's Gmail app changes every six days.
How often Yahoo! Mail updates
In terms of frequency, Yahoo! Mail sits in between Gmail and Outlook for number of updates, with 41 updates between January to May. That's an update roughly every four days.
Updates to Yahoo! Mail iOS app
Yahoo! Mail for Apple had 13 updates for the time period we observed. This is far less than the updates sent to Android. If we looked at the updates spread across the five month time span, it would look like an update every 11.5 days.
In general, Yahoo! Mail keeps their updates vague by using a statement like this, or something similar:
"Thank you for using the Yahoo Mail app! We update our app regularly. Each update of our app includes bug fixes and performance enhancements in addition to new features."
However, they sometimes share specific fixes and features such as:
"We've added more content to watch in the Videos tab! Watch the latest news or browse the selection of other top videos."
"This latest version includes our first iOS 14 widget. Quickly catch up on your latest emails by adding a Yahoo! Mail widget to your Home Screen."
Updates to Yahoo! Mail Android app
For Android, there were over double the amount of updates that were sent compared to Apple. A total of 28 updates occurred from January to May 2021, an update equivalent to around every five days.
How often Microsoft Outlook updates
You think Gmail and Yahoo! Mail change often? Wait until you see how often Microsoft pushes updates to their mobile apps. Between January and May, we counted a total of 54 updates. This update cadence is equivalent to a new version of Microsoft Outlook on mobile devices about every three days—the most updates out of the three apps.
Updates to the Outlook iOS app
Outlook sent 16 Apple updates between January and May 2021. Despite the high volume of updates, the insight Outlook gives about their updates varies, from specific features to a general, blanket statement. For example, some listings state specific updates they've made, such as this one from May 18, 2021:
"Quickly reply to email on your Apple Watch with suggested replies, dictation, or scribble. Feel free to send us any comments or questions by going to Settings > Help & Feedback – we'd love to hear from you."
While several share the blanket statement:
"This update includes performance improvements and bug fixes to make Outlook better for you. Feel free to send us any comments or questions by going to Settings > Help & Feedback – we'd love to hear from you."
Updates to the Outlook Android app
Microsoft Outlook updates for the Android mobile app happened more frequently than any other category we've covered so far. With 38 new versions in five months, Android users receive an update to their Gmail app around once every four days.
Can one update really impact email rendering?
Can one little app update really have any impact on email rendering? The short answer is yes. With so many elements at play in email, one change could create a chain reaction of funky spacing, disappearing images, or broken buttons.
Take, for example, when Outlook.com rolled out an update in February that was replacing body with div in email code, assigning all body styles to your divs. Yikes.
Keeping track of updates is one task, but understanding all the changes each update holds is impossible.
Sure, not every update will impact how your email renders. Some releases will bring new features to customers, others come with bug fixes and performance updates that are invisible to both email marketers and subscribers. But some will bring changes to the email clients' rendering engine that have the potential to mess with your email design. And that means a campaign that looked great yesterday can be broken today.
There's simply no telling what changes each update may have in store for your email rendering. That's why the only surefire way to make sure your hard work doesn't get wasted is to test every email before you send. Whether you work with templates or re-send an email that looked great and performed well last week, if you don't test your email, you risk email client updates breaking your campaigns without you even knowing.
Don't let email client updates hit you by surprise. When it comes to your email marketing strategy, it pays to be proactive.
Email testing made easy with Litmus

See screenshots of your emails across 90+ apps and devices in just seconds and catch rendering issues before you send with Litmus Email Previews.
Originally published on August 9, 2019, by Steph Knapp. Last updated June 22, 2021.