Read Time: 5 min
The Future of Email in 2020 and Beyond: The Email Marketing Trends That Will Really Matter
The email industry is constantly changing, but what are the trends that really matter in the years to come—and how can marketers prepare?
We asked leading industry experts to share their visions for how some of the most crucial elements of email marketing will change in the next decade. In our ebook The Future of Email in 2020 and Beyond, you'll find their collective predictions for email's future.
Learn how email teams will change—and what skills will be in high demand in the years to come
Understand how email strategy will become more targeted and personalized by necessity
See why brands will have no choice but to make subscriber privacy a priority
Understand why seamless integrations will be the most crucial factor for the effective email tech stack of the future
… and more!
Do you want a glimpse of the future of email marketing?  If you're looking to master the strategies and technologies that keep the email channel vibrant, relevant, and customer-centric in the years to come, this ebook is for you.
Are you just looking for the highlights? Check out our infographic highlighting the five biggest predictions for where the email industry is heading in 2020 and the decade to come.

[EBOOK] The Future of Email in 2020 and Beyond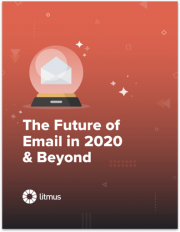 We asked leading industry experts to share their visions for how some of the most crucial elements of email marketing will change in the next decade. In this ebook, you'll find their collective predictions on what the next 10 years hold for email design, privacy, teams, and more.
Is your email program set up for future success?
---
Infographic Transcript
5 Predictions for the Future of Email Marketing
It's 2020 and the beginning of a new email decade. But how must marketers adapt to make the most of the email channel in 2020 and beyond? We predict that the future is bright for marketers who embrace..
1. Animation and Interactivity
We've seen a steady rise of animation and interactivity in email. The majority of brands now regularly use animated GIFs to add movement to their campaigns, and more marketers experiment with interactive emails. 
As the new decade begins, technology like AMP for Email paves the way for more interactive email experiences. To stand out from the competition in 2020 and beyond, brands can no longer rely on static messages only.
"Interactivity will be the next big thing in the email industry."
Andrian Valeanu, Founder, Designmodo
2. Subscribers' Privacy
Does your marketing team fear tighter privacy laws? It shouldn't. The truth is, tighter anti-spam regulations force brands to implement tactics that have been email marketing best practices for a long time anyway. The result? Better email experiences for everyone. 
GDPR didn't kill email—it made it better
The majority of marketers (56%) feel positive about the impact GDPR is having on their operations. (Source: UK DMA Email Marketer Tracker)
41% said opt-out rates decreased
55% said spam complaints were down
76% report an increase in open rates
75% say click-throughs are higher
"Leading marketers understand that respecting subscribers' privacy and putting their audience in full control of what information they'd like to receive is the secret to effective email—and embracing privacy laws like GDPR or CCPA is an important step on that journey."
Bettina Specht, Senior Marketing Manager, Litmus
3. A Truly Integrated Approach to Email Marketing
To be successful in the new decade, email marketers can no longer afford to operate in a silo because that's not how your customers experience your brand. In the new decade, the tight integration with other channels will set mediocre email marketing programs apart from outstanding ones.
Poor integration of people and tools continues to be a challenge for marketers. Email professionals struggle with…
Lack of quality data, integration, etc. (18%)
Poor coordination between other departments, channels, etc.  (17%)
"When choosing email tools, best-of-breed will be important, but best-integrated will be key. Brands can't provide a unified customer experience if their systems aren't all working off a single view of the customer across their entire digital marketing and CRM platform."
Chad S. White, Head of Research at Oracle CX Marketing Consulting
But a truly integrated approach isn't just about the tools—it's a mindset. The most successful email teams will be the ones that develop a deep understanding of how email integrates with all marketing channels and can power cross-channel campaigns that span the entire marketing organization. 
4. Workflow Optimization and Automation
As more brands recognize that email is the most powerful and reliable marketing channel, there will be a demand for a higher volume of more targeted campaigns. Email teams will have to put a laser-focus on streamlining their workflows to be able to meet these growing needs.  
53% of brands spend weeks producing a single email campaign. (2019 State of Email Workflows)
Brands that do email right find ways to replace manual work wherever possible—and that boosts productivity, leaves less room for errors, and saves time and money.
5. Personalization and Segmentation
Sending one-size-fits-all campaigns to your subscribers with no consideration for who they are, what they're interested in, and where they are in your brand's life cycle has no place in email marketing anymore.
Brands that use dynamic content generate an email ROI that's 22% higher (Email Marketing ROI: What leads to better returns?)
Brands that fully embrace customer centricity and use segmentation and dynamic content to send personal, relevant emails will continue to see great returns from their email marketing. Brands that resist the personalization wave will find themselves shut out of the inbox as customers grow more apathetic to their messages.
---
Ebook 
The Future of Email in 2020 and Beyond
Take a deep dive into our predictions for the future of email marketing and hear leading experts chime in on where the industry is heading when you download the free report.