Read Time: 2 min
New in Litmus: The Litmus Assistant Beta! Your Emails Have A New Partner In Crime
Drumroll, please! Litmus is excited to announce the beta of our new email content optimization tool, Litmus Assistant. This AI-powered feature is designed to give your email and content teams the superpowers they need to make every send count. With tone of voice indicators, inclusivity checks, and more, Litmus Assistant is here to help. 
Let's take a look at what the Litmus Assistant beta can do for you.
Optimize email copy quickly
You know how important it is to make the most of every interaction with your subscribers. With Litmus Assistant, we hope to make it easier to craft compelling subject lines and hit the perfect tone of voice. With tone suggestions, subject lines generated automatically based on copy, and more time-saving options, Litmus Assistant aims to help you get better emails to your subscribers faster.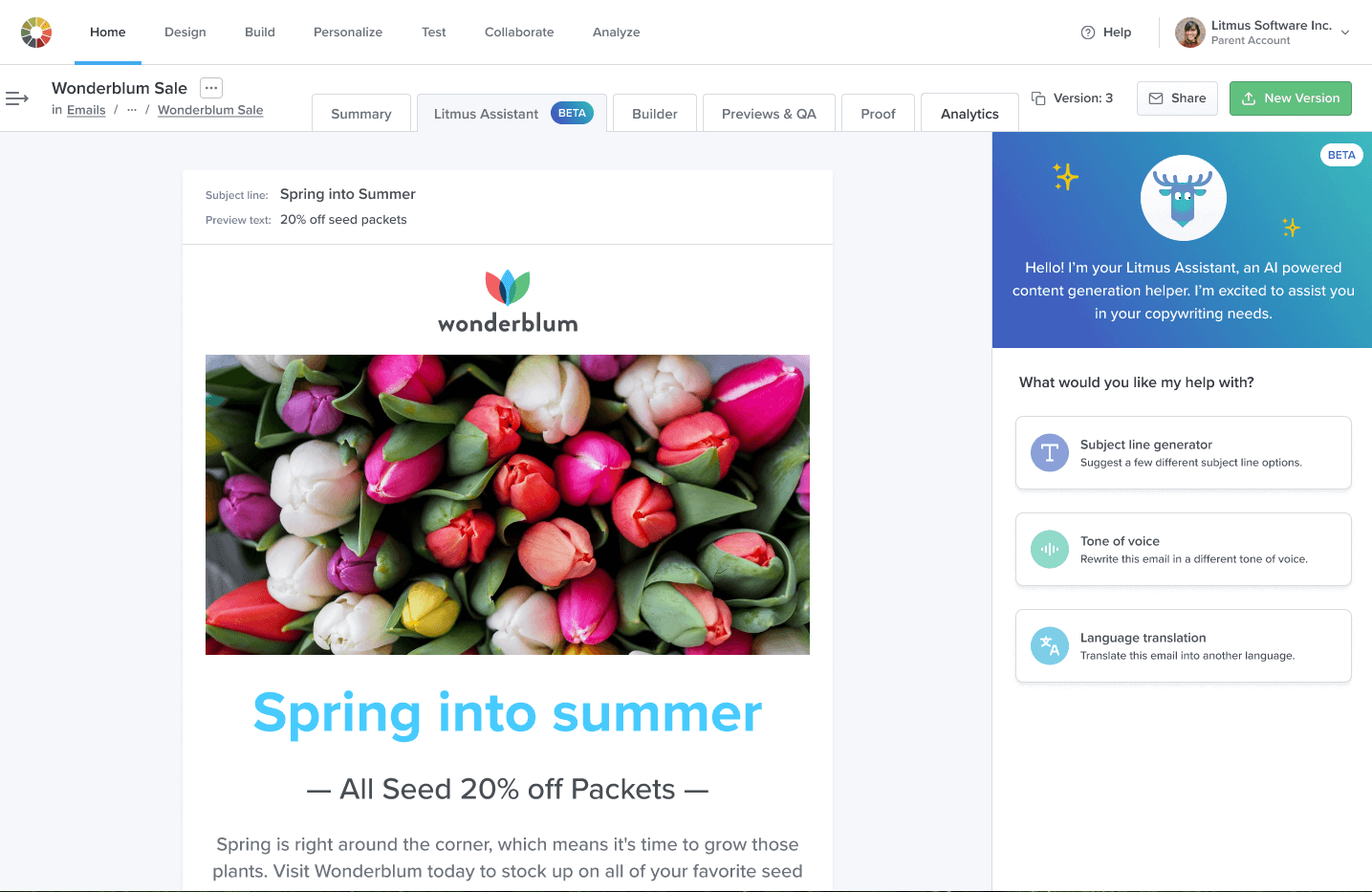 Translation and inclusivity made simple
Litmus Assistant also tackles the knotty problem of language translation and inclusivity. This feature allows you to automatically translate your email into languages used by your subscribers, and share alternative versions with ease. Stakeholders can review each language version of the email as easily as they would versions for different inboxes. 
Voilà une fonctionnalité de messagerie électronique intéressante! (Now that's a cool email messaging feature!)
Litmus Assistant beta features include…
Here are the features in the Litmus Assistant beta:
Subject line generator:

The subject line generator within Litmus Assistant scans your email text and suggests up to five subject line options. 

Tone of voice:

The tone of voice option in Litmus Assistant offers the ability to rewrite your email text in one of five different tones: Formal, Serious, Casual, Enthusiastic, or Funny. 

Language translation:

Litmus Assistant can translate your email text into one of six different languages: English, Spanish, French, Portuguese, Indonesian, German, or Italian. 
Litmus Assistant is available for all Litmus users on Basic, Plus, or Enterprise plans (Enterprise users may need to request access.) 
Ready to get started with Litmus Assistant?
We're still in Beta mode right now, and we'd love your feedback. Help us test Litmus Assistant by taking it for a spin in any Litmus Basic, Plus, or Enterprise account. We'd love to know your thoughts and learn what's working for you when it comes to AI in email. Reach out to your CSM directly for more information, or give us a shout at hello@litmus.com.