Every month, we track opens from more than 1 billion emails sent using Litmus' Email Analytics and share the trends we observe in various email clients and environments. March market share maintained the mobile growth we saw in February, with mobile email at 55%, webmail maintaining at 26%, and desktop opens maintained at 19%. Let's take a more in-depth look at what's shifting and what's not for the month of March:
Environment Growth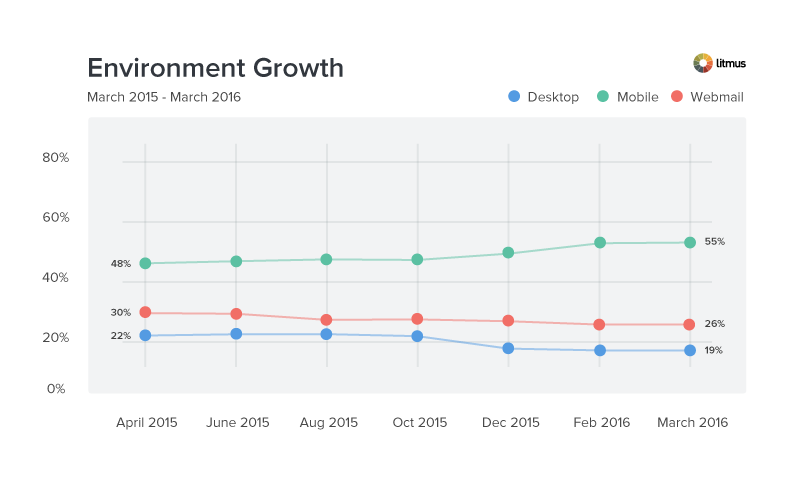 March ended with mobile representing 55% of opens, webmail with 26% of opens, and desktop with 19% of opens. Though this is consistent with what we've been seeing in 2016, the change from 2015 is substantial. Last year, mobile represented 48% of opens, while webmail saw 21%, and desktop came in at 31%.
That's a 7% increase in mobile opens over 12 months. If this trend continues (as we believe it will) that means responsive email will be more important than ever. But the way you present the email matters, too. When we scroll, we don't want to read forever—even if it's just a few lines. Stick to fewer than 20 lines of text to make the most impact, and make sure your design is clean and uncluttered.
Top 10 Email Clients
The positions of the top 10 email clients have remained unchanged since December 2015, with Apple iPhone, Gmail, and Apple iPad continuing to hold the top three spots.
Apple iPhone 33.2%
Gmail 15.7%
Apple iPad 11.6%
Android 10.3%
Apple Mail 7.3%
Outlook 6.8%
Yahoo! Mail 3.0%
Outlook.com 2.0%
Windows Live Mail 1.4%
Thunderbird 0.7%
Discover your top 10

When it comes to email marketing, it's all about your audience. Use Litmus Email Analytics to discover which email clients are most popular with your subscribers. Sign up free!
Apple iPhone and iPad Trends Continue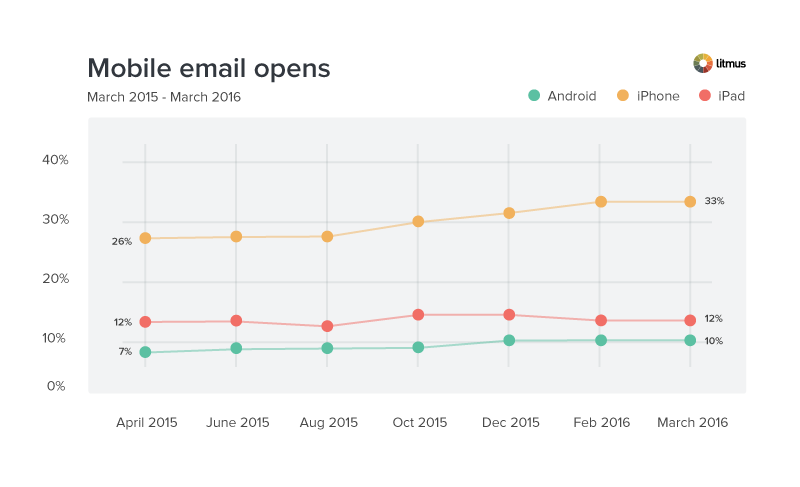 Mobile has seen significant growth in the past year as it becomes our vehicle of choice for consuming information. Apple's iPhone and iPad in addition to Google's Android dominate the mobile space, with 60%, 21%, and 18% of mobile opens, respectively. Compared to 2015, we've seen a 4% drop in iPad, but growth (~1%) in both iPhone and Android.
This coincides with a continual drop in iPad sales –about 18% over Q1–and a record increase in iPhone sales. With more folks switching to iPhone, we'll see increased share of iPhone opens in the future. On that same note, as iPad sales continue to drop, we should see that reflected in iPad opens.
The good news about Apple is that it has great support for HTML and CSS.Try using HTML5 video and CSS3 animation to see if it increases engagement if you find a lot of your subscribers are using these clients.
Outlook Is Still Important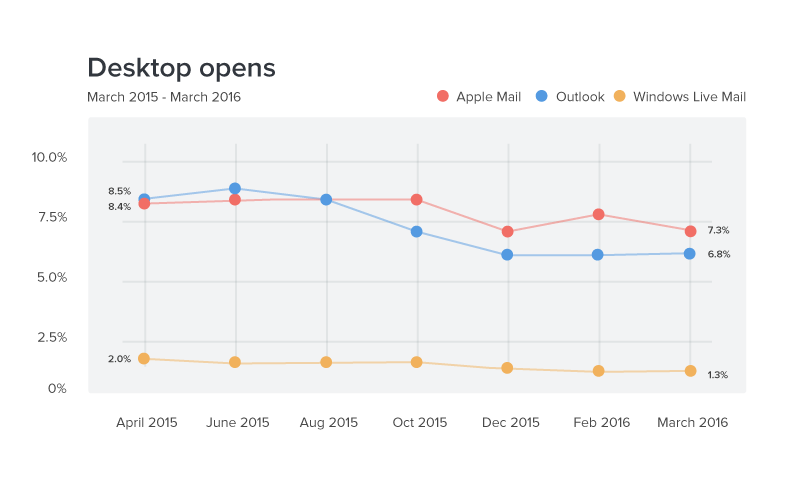 As email marketers, we're constantly frustrated by Outlook. Between Outlook and Outlook.com, we're seeing 8.8% of all opens in February. Though Outlook opens have decreased 4% from 2015 to 2016 and will most likely continue to drop, it's still incredibly important because of the UX and rendering challenges its users face, and what you need to plan. Because Outlook is powered by Word, it can be particularly challenging to create great design and code.
This means that for your potential Outlook user, without careful testing, you can unintentionally deliver a poor customer experience. No brand wants to make a bad impression on their customers at any point in the lifecycle. Because this can impact your reputation, experience, and potentially your revenue, it's still important to pay attention to Outlook.
Within Outlook, the version people use varies, which determines the level of support for HTML and CSS. That informs your planning, design, and development strategy. Take a look at the breakdown: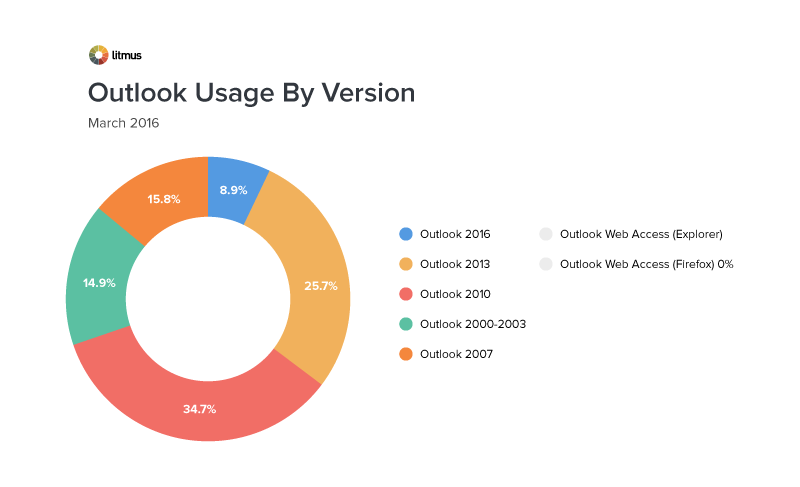 Outlook 2010 still serves as the most popular at 35% of all Outlook opens, followed by Outlook 2013 at 26%. And, despite debuting only this past September, Outlook 2016 is gaining traction with 9% of Outlook opens.
Outlook 2016 presents significant challenges because it hasn't changed much from its predecessors. Like 2007, 2010, and 2013, it renders emails using Microsoft Word.
Some quirks you might encounter:
No support for background images in divs and table cells
No support for CSS float or position
No support for text-shadow
Poor support for padding and margin
Poor support for CSS width and height
Problems with nesting background colors
Using table-based designs and conditional CSS can help combat some of these issues and help optimize for all Outlook versions. You can find more tips and tricks in our State of Email Report, which covers everything you might expect from Microsoft this year.
Webmail Is Shrinking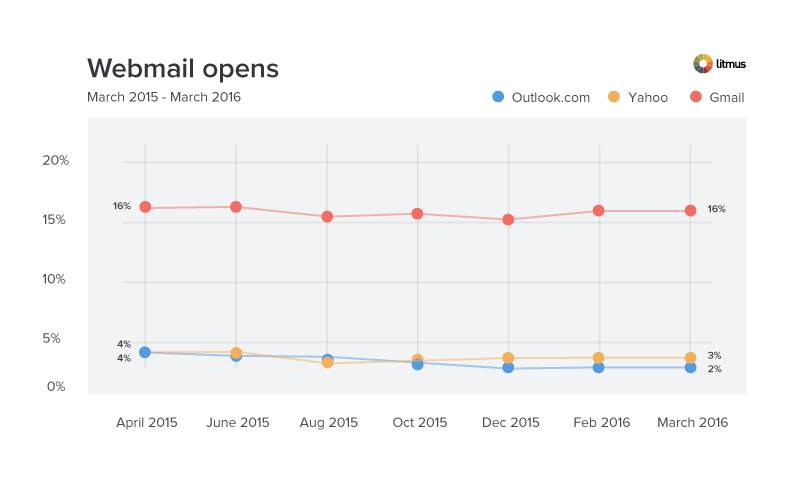 Gmail continues to dominate the webmail space with 61% of all webmail opens, followed by Yahoo! Mail at a significant drop of 11%. Since March 2015, Gmail opens increased 4%, but other clients have had steady decline: Yahoo! Mail dropped 2% while Outlook.com dropped nearly 7%.
Overall, webmail opens continue to shrink as mobile becomes more and more popular.
WHERE DID WE GET ALL THIS DATA?
This data is derived from over 1 billion opens collected worldwide with Litmus Email Analytics Litmus Email Analytics between March 1, 2016 and March 31, 2016. It highlights worldwide trends across all industries and verticals. Some email clients may be over- or under-represented due to image blocking. Tracking trends over time is the best way to monitor open data for email!
WHICH EMAIL CLIENTS ARE MOST POPULAR WITH YOUR AUDIENCE?
While general email client open data is great for looking at trends, it's your audience that matters. With the addition of a small tracking code to your campaigns, Litmus Email Analytics generates a report of where your subscribers open your emails. Use that data to focus your testing efforts—and ensure your campaigns look great in inboxes where your subscribers are opening.
Try Litmus free!