It doesn't matter how many email service providers (ESPs) you use, or how many teams are using them. Litmus is the glue that connects different tools and tasks into one seamless email campaign development strategy that works across your entire organization. We'll help you create a simpler, better way to build, test, and analyze your way to more effective emails.
"There are a lot of choices out there, obviously. But for me, Litmus really has that whole package."

Jesse Blanner, Design Director at Meredith Corporation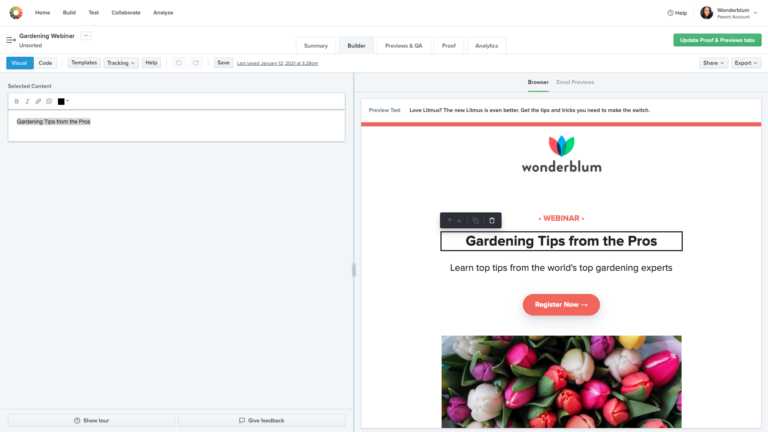 Make email creation easy for all
Build, optimize, and test your way to more effective email campaigns—in minutes, not weeks. Instead of switching from one tool to another, Litmus pulls campaigns into a single, central location where you can easily collaborate, keep everyone on schedule, and ensure emails are compliant with your brand guidelines.
Create and store approved templates, code modules, and brand settings to scale development and stay organized with customizable categories. Then use Litmus Builder to create emails the way that fits your workflow—via our HTML Code Editor, or our codeless, Visual Editor. With flexible, intuitive email development, your entire team can craft consistent, on-brand emails that can be exported to your ESP. With Litmus Email Previews, you can quickly find and fix issues in 100+ popular email clients long before you hit "send."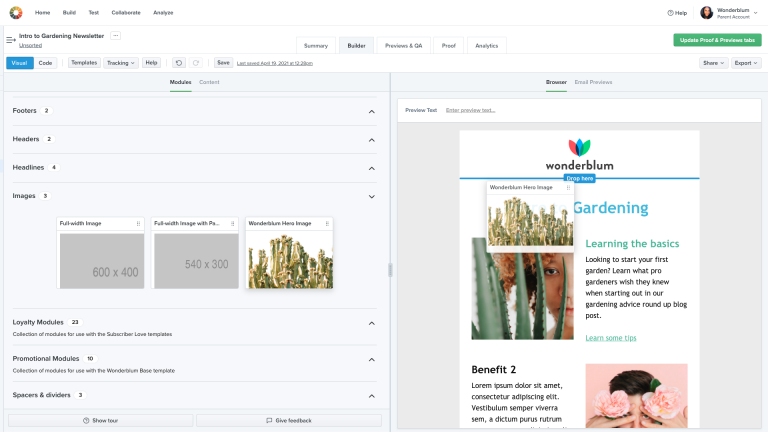 Drag-and-drop modular building for every marketing need
Empower your entire team to creatively and quickly build high-performing emails for every marketing need, so you can spend more time on what matters most—driving conversions and delivering business results.
Drag-and-drop modular building in Visual Editor provides the flexibility to create custom email designs for every project so your team can innovate and scale email efforts while ensuring brand compliance. There's no lengthy setup or formal training required—our intuitive editor works with your existing email templates and modules and doesn't add unnecessary elements to your code.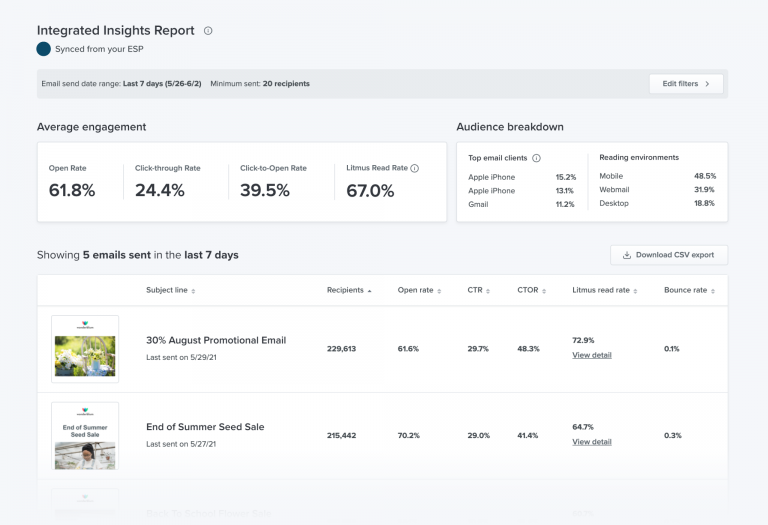 See what works
Make future campaigns more effective. Litmus equips your team with far more insights than you'd get by relying on your ESP alone, arming you with additional options for segmentation and personalization.
Combine your ESP data with even deeper Litmus Email Analytics in a single view—which devices your subscribers use most, what apps they prefer, and more—to get the complete picture on performance and engagement. You'll be able to analyze subscriber behavior, without the need for personally identifiable information, to better target future email campaigns.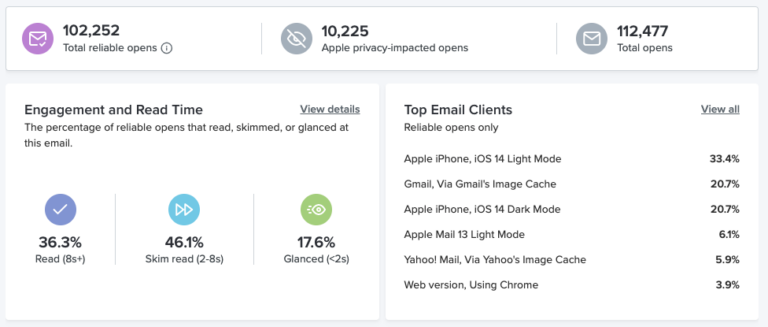 Make improvements everywhere
Go from gathering insights to getting results, without missing a beat. Litmus makes it simple to see what matters most to your subscribers, and then use that email campaign data to make your entire marketing mix more effective.
See how long your reliable audience spends with your message, and which email clients and devices. Once you understand what's working best on your most dependable channel—email—you can quickly apply those insights everywhere. You'll know exactly when a particular message is resonating and ready to be replicated elsewhere.

Start new campaigns with a single click and set them up for success in a seamless, unified view

Store, organize, and easily share entire campaigns in one central location with folders

Use advanced security to control access, with user permissions from editing to review-only, across every campaign

Easily integrate Litmus with your ESP using ESP Syncing to cut manual steps and speed up production
Real Customers. Real Results.
MINDBODY
"By relying on templates and snippets rather than building emails from scratch, we can easily cut down production time by 50%."
MINDBODY