Bulk Powders leveraged content automation and CRM data to deliver a best in class personalized customer emails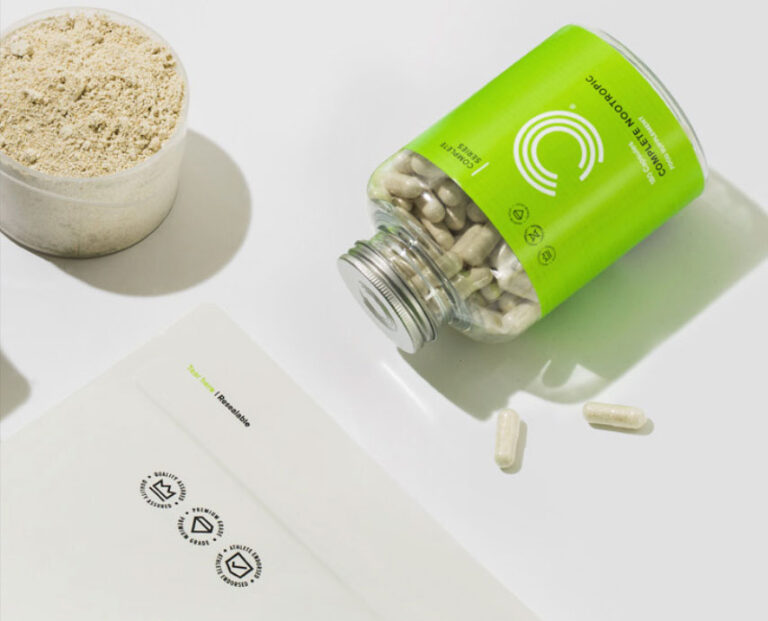 The Challenge
Bulk Powders is Europe's fastest growing supplier of sports supplements and nutritional products. Founded in 2005, the brand is trusted by world champion athletes and creates award-winning products.
As a brand that supports customers so closely on their health and fitness goals, Bulk Powders wanted a welcome journey that felt personal, positioned the brand as a true expert and put their athletes and customers at the heart of the story. However, only email addresses are collected at sign up.
Therefore, the welcome journey had two goals:
Collect the data Bulk need to personalize
Use the data quickly to personalize the remainder of the journey and beyond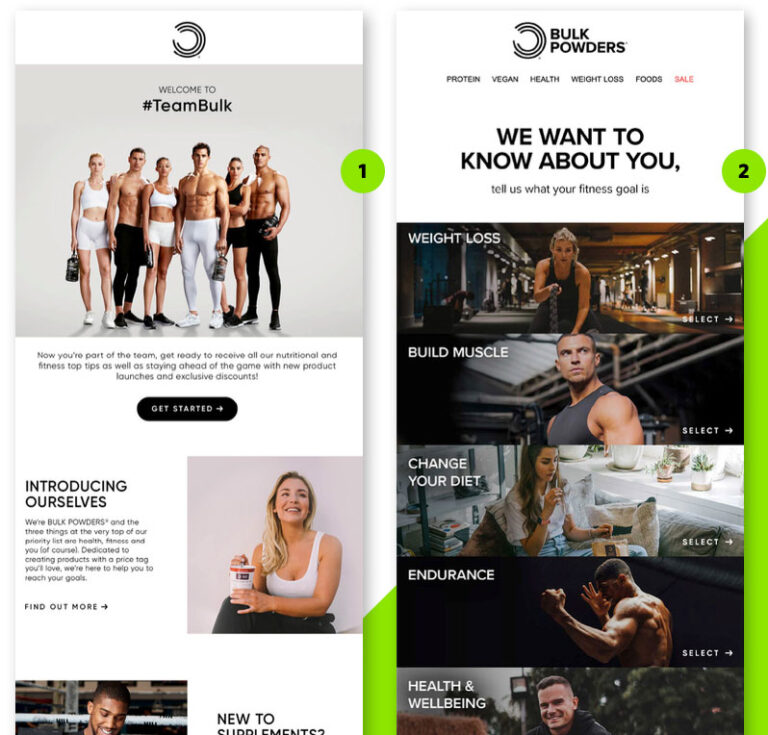 How Litmus Personalize Solved the Challenge
Bulk Powders use a hosted .csv file populated with blog content in each language with columns for language, territory and goal to match the data in Emarsys. This was a quick, one-time setup and an easy way to automate personalization at scale.
The CRM data merged into the Litmus Personalize tag automatically generates the latest health and fitness goal content, in the right language, clicking through to the correct site. Content changes are made in the .csv which automatically updates the HTML—no manual work required.
The welcome journey starts with two emails:
The initial welcome email introduces the brand and provides useful content and support for newbies.
The second email in the series is where the data is collected – the email asks recipients to select their goal from a selection of pre-defined fitness goals. The click data is then used to personalize the content of subsequent emails. On top of the click data, additional data such as country and language preference data are used for personalization too.
Additional emails are automatically sent to recipients based on their specific goals.

"Our welcome journey is really important to us and we want to show our customers that we understand their needs. Using automated content and sign up data we now personalize welcome emails by showing customers blog articles related to their specific goals and dietary requirements. Automating our blog content has reduced production time significantly as we can now quickly and easily populate blog articles for all 12 countries."
How Bulk Powders personalized emails beyond the welcome series
After creating an effective email personalization onboarding experience, Bulk Powders made sure to consistently meet and exceed subscribers' personalization expectations with individualized emails throughout the customer journey.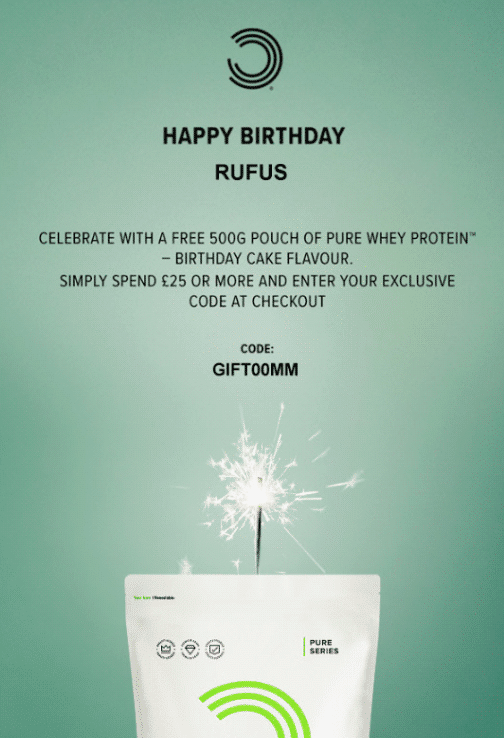 Celebrate their big day
To make their birthday email extra special, Bulk Powders use open time content to display eye-catching personalized images alongside a unique offer code. This birthday themed email, sent on the recipient's birthday, adds an elegant, personal touch in the inbox.

"Using Litmus Personalize, powered by Kickdynamic, allowed us to personalise a graphic without jeopardising the design. Making sure we use unique offer codes is really important to us."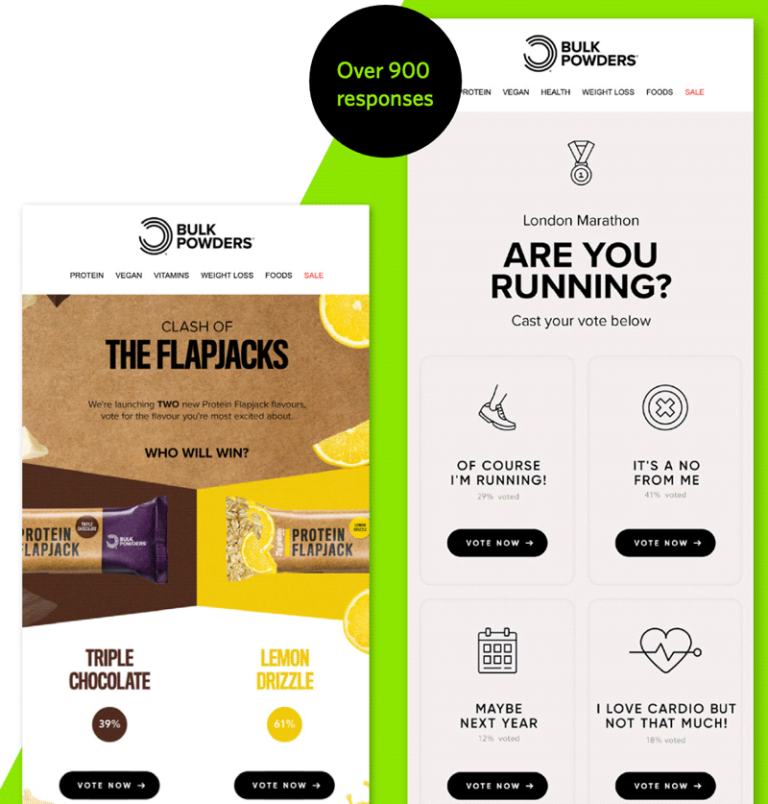 Let customers have their say
Customers love to have their say resulting in higher open rates and email engagement. Live polls encourage recipients to engage with email content while collecting interest data.
As the votes roll in, the vote percentages update in real time in the email. Live polls are used for special events like the London Marathon and to create a buzz around product launches.
For example, in a recent new product launch email, customers were asked what new flavor they were most excited about. 61% of customers voted for Lemon Drizzle.
Since the vote response is updated at the time an email is opened, customers can always see which flavor is winning. The vote data is then used for personalization in later emails.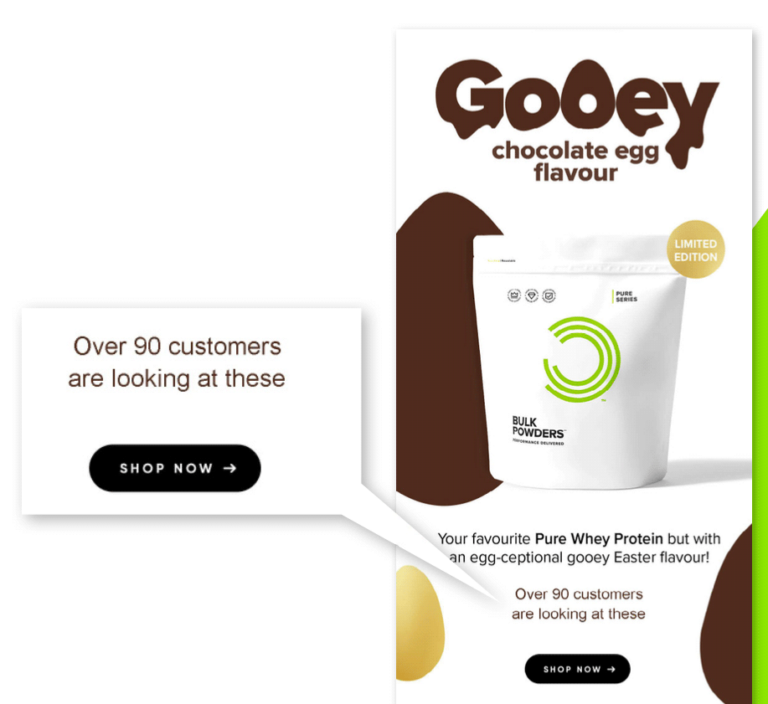 Share social proof
Social signals are a strong email addition resulting in increased click through rates and brand confidence.
To showcase their brilliant products and to provide real email-based social proof, Bulk Powders use open time content social signals to display the live number of engagements for products featured in their email.
The number of clicks on each product updates live at every open, providing real-time social proofing to reinforce product popularity in the inbox.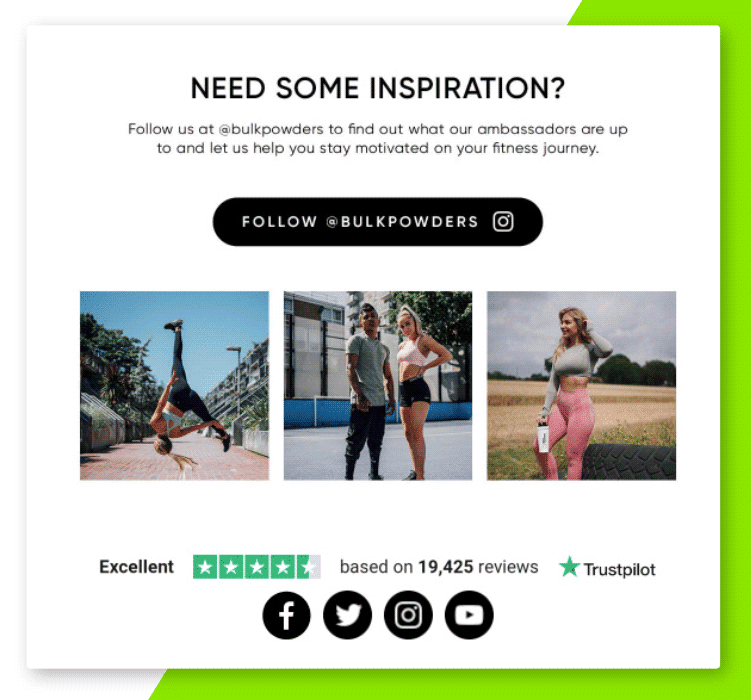 Shine a spotlight on brand ambassadors
As a brand with tons of content and many brand ambassadors, Bulk Powders are super active on popular social channels like Instagram and Twitter. Manually updating every email with the latest Instagram or Twitter content before it's sent just isn't feasible.
To ensure Instagram content is always up-to-date and consistent across channels, Bulk Powders use open time content live Instagram feeds to pull the latest posts into emails at every open.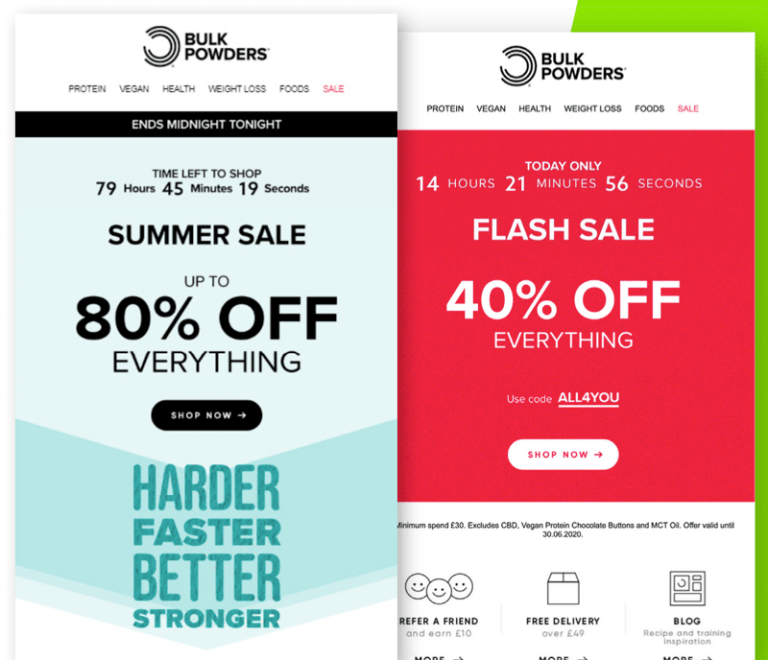 Countdown the time to shop
For clarity around sales and to encourage customers to shop, Bulk Powders use countdown timers to display the time left to shop an offer or flash sale and drive urgency around competitions.
Since countdown timers update at every open, recipients always know how long left they have to act on sale events. After the event is over, countdown timers can automatically serve an alternate image to continue to drive engagement.

"Adding countdown timers is excellent for driving urgency, especially when promotions/ deals are only available for a short time period such as our 'Deal of the day' emails or even the last day of a big promotion. We often use them to inform customers of the cut off for next day delivery too which works really well for CTR. The countdown timers are easy to build so can easily be added to as many emails as we like."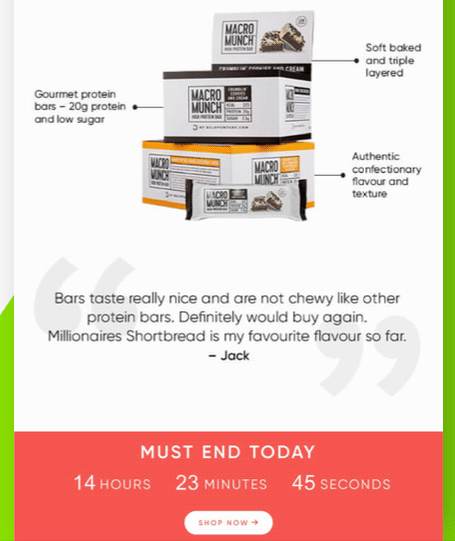 Never let a deal pass by
Swapping email content throughout the day is a great way to keep subscribers active, engaged, and excited to come back for more great content. Bulk Powders accomplishes this with timed deals.
From one HTML tag multiple offers are displayed throughout the day or week. Recipients keep coming back to the email to see the latest deal which means more opens, more clicks, and more conversions.

"Deal of the Day promotions work so well for us. It means our customers never open an email to a deal (or content) that's out of date. Once the deal of the day has ended, we swap the image to show a 'sorry you missed out, but here's today's offer' banner. This really helps manage customer expectations and to keep engagement high."
The Results
With Litmus Personalize, Bulk Powders gained the ability to create more personalized emails throughout the customer journey. They were able to collect health goals from more than 20,000 customers and used that information to curate unique journeys for their diverse audience spanning 12 countries. By putting customer data to work for them and showing their customers they know them, they boosted brand trust and loyalty.

"Litmus Personalize, powered by Kickdynamic, has helped us make our emails more personalized than ever before. The platform is quick and easy to use which helps us integrate it into more and more of our emails. Countdown timers drive urgency, Instagram feeds help us bridge the gap between social and email and personalized images give our emails a 1-2-1 approach between us and the customer."