PrettyLittleThing adds User Generated Content (UGC) in BAU emails, driving an uplift in clicks of up to 30% across the globe.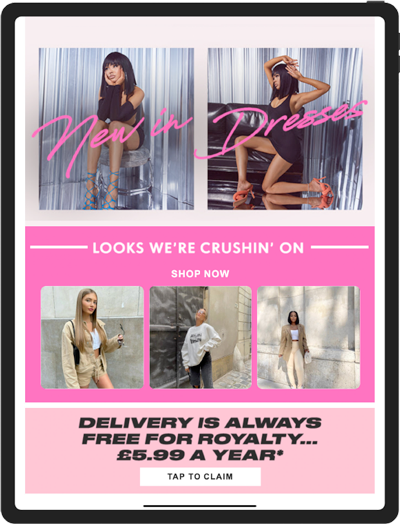 The Challenge
In the world of fast fashion where 100s of new products land daily and stylish customers influence trends, user generated content is a content goldmine for brands. Pulling through original imagery posted by happy, engaged customers who love your products, generates genuine, believable content that converts.
To harness the power of UGC, PrettyLittleThing adds a stream of customer imagery to their BAU and programme emails to showcase how customers and influencers style their products. The UGC content in the email matches the content in the gallery on site which is great for cross-channel consistency.
As a fast-fashion leader, PrettyLittleThing has a challenge with popular products going out of stock really quickly. When customers see somebody else wearing something, the product sells out fast. Using open-time content in their emails, PrettyLittleThing now automatically shows the latest UGC image but when the product sells out, it's swapped to another product that is in stock right away.

How Litmus Personalize, powered by Kickdynamic, Solved the Challenge

"A great benefit of using live UGC in email is that we can schedule our email in advance knowing the content will be up-to-date no matter when it's sent. Swapping sold out products for available ones means we're maximising the revenue opportunity for each email whilst giving our customers a more satisfying experience (if they see something they love, they can buy it).''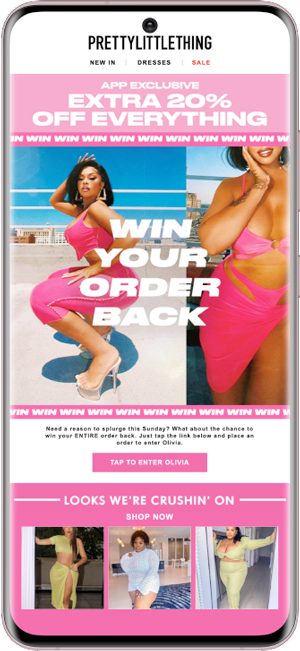 The Results
Despite being at the bottom on the email, the UGC panel drives a very significant portion of the overall email clicks. What started out as and automation & efficiency piece turned out to be just that but with very high engagement too!
30.51%France of email clicks
28.08%Australia of email clicks
15.74United Kingdom of email clicks