How Litmus helps Whereoware create bulletproof email templates for their clients.
As a full service digital agency, Whereoware knows that when it comes to providing email services, speed and quality matter. Here's how Whereoware uses Litmus to create error-free email templates that help their clients get high-quality emails out the door, faster.

The Challenge
Whereoware provides a broad range of email services to its clients. While some customers outsource their entire email strategy and production process to Whereoware, others rely on the agency to help them craft templates, but want to allow their teams to create and customize their campaigns internally. This can be a challenge for the agency team, especially for clients with limited HTML and CSS knowledge. Templates must meet the highest standards to ensure that they're easy to edit, work well, and look great across all email clients. That's no small ask.
A great example is Whereoware's client, the Ad Council—an organization dedicated to promoting public service communications. As a nonprofit organization, the Ad Council often relies on email to share information about their social good programs and to promote their fundraising events. However, limited budgets and resources call for a solution that makes creating emails fast and easy for all team members—even if they aren't email coding experts.
To make editing templates easy for clients like the Ad Council, Whereoware has created their very own email template creation tool—Code Perfect. The tool allows clients to build and customize their emails from templates and modules provided by Whereoware. Clients trust that when they use the modules provided, their emails will look great and perform well, no matter where subscribers open.
That means the expectations for Whereoware's development team are high: all templates and modules they provide to their clients must be bulletproof.

"When we pass along templates and email modules to our clients, they have to be perfect. That's why we build and test them in Litmus Builder."
How Litmus Solved the Challenge
The Whereoware team relies on Litmus Builder to code and thoroughly test every code snippet before it is made available to their clients.
Rather than sending test emails to a set of inboxes to ensure compatibility across email clients, Whereoware leverages Litmus Email Previews in Litmus Builder to preview how their code snippets render in popular mobile, desktop, and webmail email clients. Since Email Previews instantly update with every change made to the code, Litmus Builder empowers Whereoware's team to test and troubleshoot their HTML in real-time, which significantly speeds up their template production process.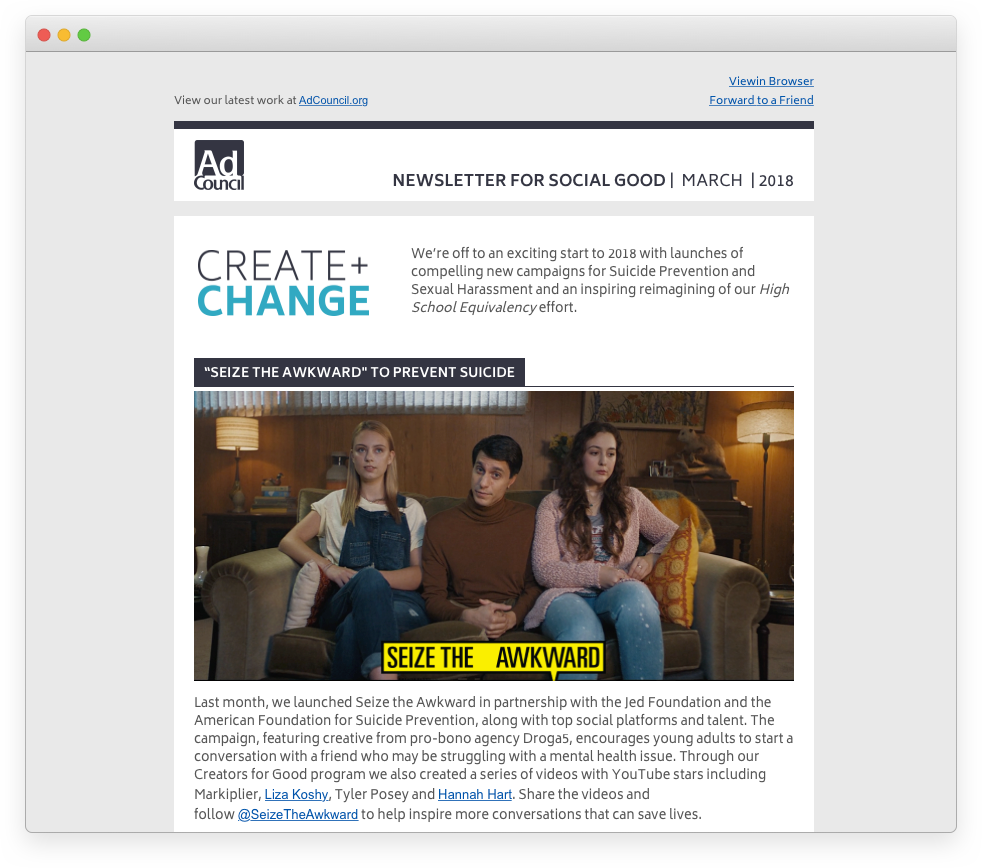 The Results
Working with Litmus Builder and Litmus Email Previews, Whereoware's email design and development process is streamlined while ensuring that the code meets the highest quality standards—and that benefits Whereoware's clients, like the Ad Council.
With Litmus-proofed email templates and code snippets, Whereoware helps the Ad Council quickly and easily create their emails, while having peace of mind that the finished results are error-free and look great across email clients.
Combining the power of Whereoware's email editor with bulletproof code snippets tested with Litmus has made the email creation process less error-prone and significantly faster—and that means better results for both Whereoware and their clients.

"By relying on Litmus-tested, re-usable email modules rather than building emails from scratch, we—and our clients—save hours of production time for every email we send."