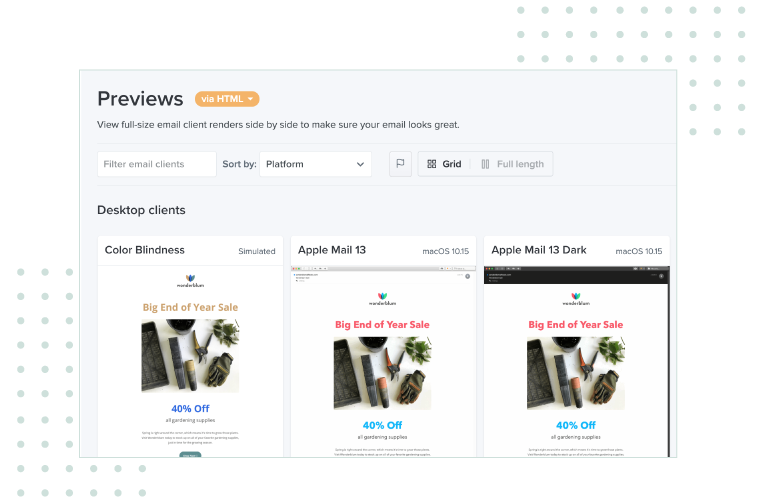 What can Litmus Test do for you?
With automated pre-send checks in Litmus Test, you can preview your email in 90+ apps and devices; get insights to ensure you're testing the clients that matter most; validate your links, images, and tracking; test your email's load time; confirm emails are accessible to every subscriber; and more.
Never send another broken email
Think of Litmus Test as your pre-flight check for sending the perfect email.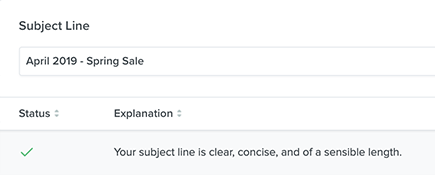 Increase your open rate
Verify that your subject line, from name, reply-to address, and preview text are all optimized.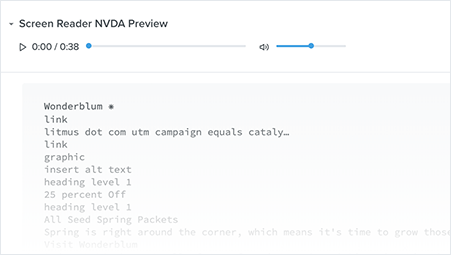 Create a great experience for every subscriber
Available exclusively in Litmus, hear your email transcribed by a screen reader. Plus, check HTML elements that optimize the experience for subscribers with visual or cognitive impairments.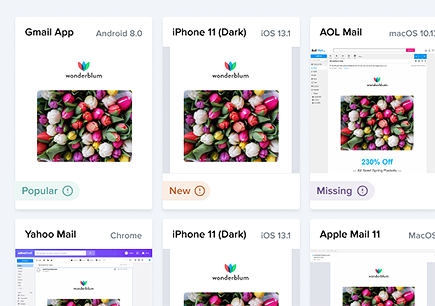 Optimize for the most important email clients and devices
Get proactive recommendations based on Litmus data to notify you if your test is missing the newest or most popular clients that matter to subscribers and add them to your pre-send checks with a single click.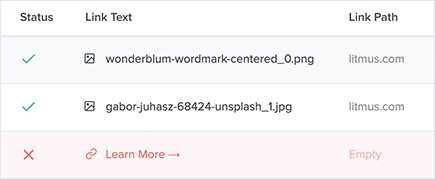 Catch broken links
Never click links again—we'll do it for you! Confirm that your links are working and going to their intended destination.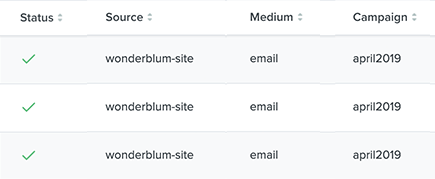 Verify clicks are being tracked
Verify that your clickthroughs are being tracked by Litmus, your email marketing software, and/or Google Analytics. View with images off
Preview your email with images off—and get notified about which images are missing ALT text.

Optimize loading speed
Identify images that are broken, taking too long to load, or have excessive file sizes which could impact performance.

Easily share results
Create a public version of your Litmus Test results to share with other members on your team.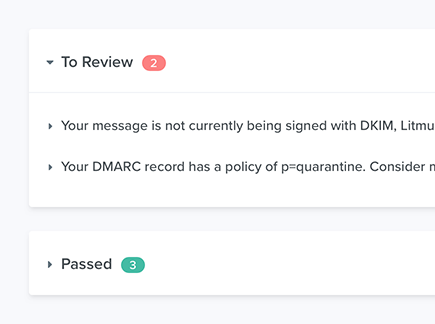 Reach the inbox
Get your email automatically scanned against blocklists and ensure your infrastructure is set up for success.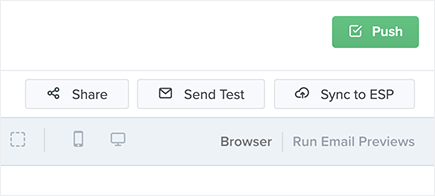 Quickly fix any issues
See an issue in your Litmus Test results? Click over to Builder and make the change, and then push your updated code to your Previews & QA tab.