Finding and retaining great email marketers is essential, but it's only step one in building a successful email marketing program. The second step? Creating an environment that fosters email marketing innovation, so you can avoid falling behind.
Brands can do that through a variety of methods. Litmus spoke to email veterans at Adobe, Barkley, RAPP, Shaw + Scott, and Yes Lifecycle Marketing about this issue. They had some great advice for structural and operational changes that support email marketing innovation.
1. Make Data-Driven Decisions
Gut feelings, internal politics, and other subjective factors still have big sway on email marketing budgets and priorities. However, brands are clearly moving toward decision-making that's backed by performance data. That's a very positive development for revving up email marketing's innovation engine.
"Innovative companies invest in data—both the technologies required to leverage and analyze the data and the people-resources to interpret and act on that data," says Melissa Shaw, Co-CEO and Co-Founder of Shaw + Scott. "Innovative companies are data-driven."
But it's more than just data, it's customer data, says Shaw. "They are also bold in embracing the voice and desires of the customer."
"Innovative companies use multiple tactics to listen to customers—using both explicit and implicit data," says Melissa Shaw of Shaw + Scott. [Tweet this →]
Matthew Caldwell, SVP Worldwide Creative at Yes Lifecycle Marketing, recommends adding a performance review to your email workflow, if you don't already have one. That allows an email team to use the performance of recent campaigns to inform the approach of future campaigns.
"The best email teams have feedback reporting loops," says Caldwell. "Design, copywriting, and the whole team should be triggered with email message metrics five days after a send."
It's shocking how often designers and copywriters have zero visibility into how their work has performed. That makes it extremely difficult for them to improve, and nearly impossible for them to innovate.
In addition to post-campaign reviews, Caldwell also recommends quarterly reviews and an off-site team outing once a year.
2. Foster a Culture of Testing
After creating a foundation of data-based decision-making, build upon that by encouraging experimentation and testing. More than 83% of marketers say their managers at least somewhat support A/B testing, according to a Litmus poll.
However, the only email element tested by the majority of brands is subject lines, according to Litmus' State of Email Design report. To truly support email marketing innovation, brands need to support a broader range of testing.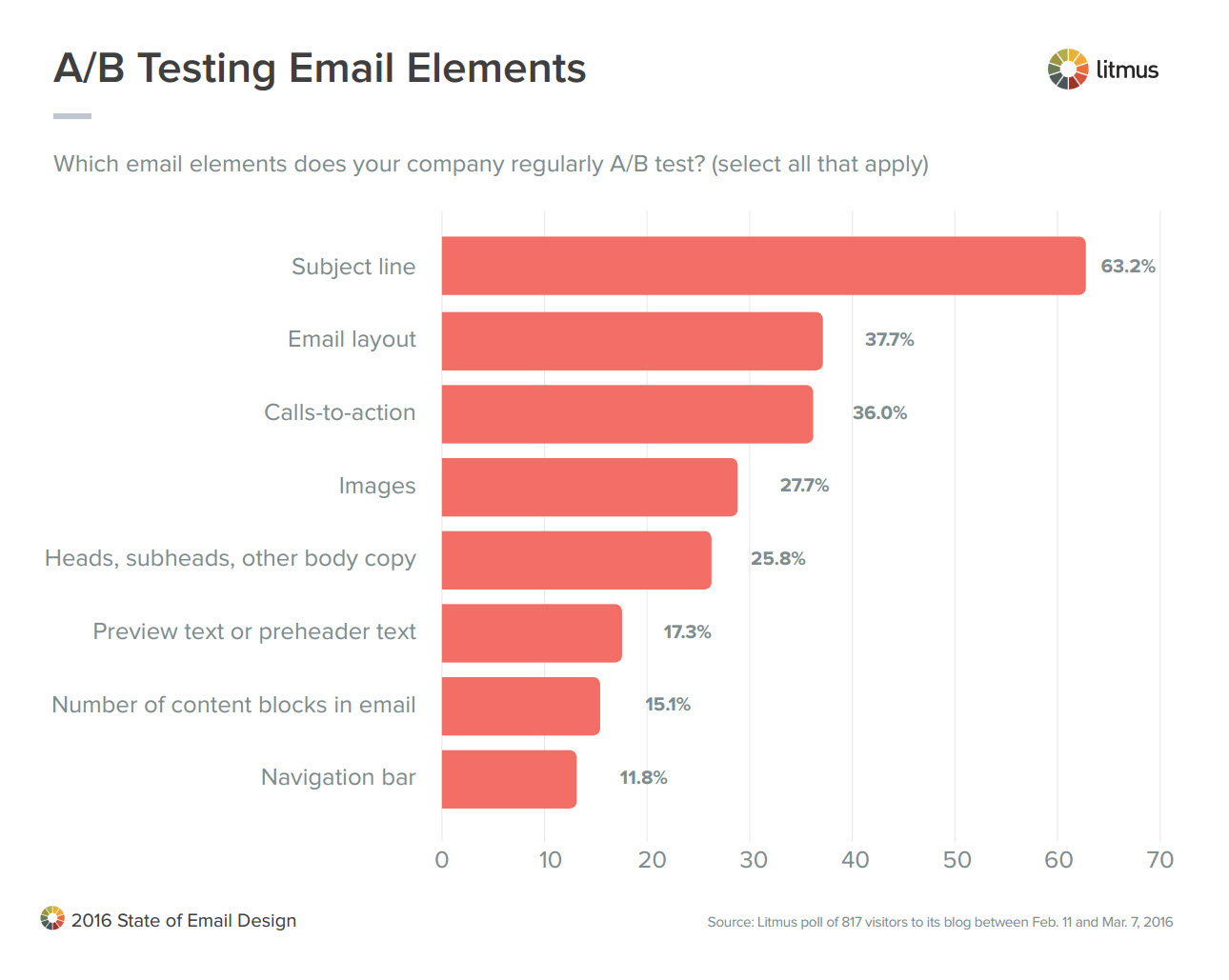 "A culture of test-and-prove is present in every innovative company I've worked with," says Jessica Best, Director of Data-Driven Marketing at Barkley. "There's no such thing as 'the way we've always done it.' There's only the control…and the test."
Best says of one client that's particularly focused on testing, "They're always trying things they've learned from marketers in ANY industry, not just their own. I learn something from this client just about every week!"
3. Reward Performance Increases
To help put more strategic emphasis on A/B testing and experimentation, create incentives that reward the team for performance improvements, says Caldwell.
"Email teams should earn extra money for winning campaigns," says Matthew Caldwell of Yes Lifecycle Marketing. [Tweet this →]
"It doesn't need to be a lot. For example, each member on a four-person design team might get $250 for creating a reengagement campaign that results in over 5% of inactives reengaging."
4. Foster Accountability & Ownership
If you want to create accountability for performance, set up an organization with complete ownership over the email channel. Cinnamon Brunmier-Keller, VP of Technology Services at RAPP, says how email responsibilities sit in your organizational structure can have a big impact.
"Companies with an Email Channel Team or Email Specialty Team can be really key in terms of promoting the benefits and successes of email marketing to an executive team or C-suite," she says. "Companies with too many decision-makers or a non-centralized marketing department may kill a campaign before it's even in market, thanks to conflicting input or supplementary business goals."
Email marketers can struggle with trumpeting their successes in a way that resonates with management. Having a clear team structure can help amplify the voice of an email program.
5. Encourage Inter-Departmental Collaboration
While you want a clear email marketing team, you don't want that team to be siloed. You want it to work collaboratively with other departments and marketing channels.
"Usually the most innovative email marketing teams we've found are the ones that run the leanest," says Kristin Naragon, Director of Product Marketing for Adobe Campaign. "They have cut out organizational silos and complexity in favor of quick, easy-to-set-up, effective campaigns. They are able to act quickly on contextual events. These teams are able to run lean because they've staffed dynamic team members that have added data, technical, design, and engineering skills that allow them to roll up their sleeves without needing help from various other groups in their org."
In these organizations, they're not myopically focused on channels. They're focused on the customer experience, says Shaw.
"They don't waste time on arguments over whether email is dead and about to be replaced by X (insert whatever you'd like here, social, mobile, etc.)," she says. "They understand the importance of a cohesive customer experience across all channels and think about connections between those channels. They are adequately resourced and highly in tune with their partners in IT, brand, etc."
That last point about resourcing is key, because email programs that aren't well resourced aren't going to have the data they need or the time to adequately review performance, to perform A/B tests, or to collaborate with coworkers—or any of the rest of it.
Get the Resources You Need
Company leadership doesn't always fully understand the value of email, and that creates unnecessary tension and underperformance. Litmus has identified a number of key email marketing topics and assembled executive summaries that marketers can share with management, including one on Email Marketing Staffing and Resourcing for Success.
Other executive summaries from Litmus' Email Marketing Leadership Series include:
Better Staff Your Team

In this 7-page executive summary, email leaders get data-driven advice on how to best staff and resource their email marketing team to maximize their chance of success.