Accessibility matters and marketers know it. Email accessibility has been voted one of the hottest email design trends of 2019, so it's no surprise that for the majority of brands email accessibility is now a priority. But it's also true that many marketers don't know how to get started with making their emails more inclusive.
It's our goal to help marketers like you create emails that look great and perform on every device and for every subscriber. And starting today, optimizing your emails for accessibility is getting a whole lot easier. Introducing Accessibility Checks in Litmus Checklist.
77% of brands say accessibility is a priority—but only 8% rigidly follow best practices
Whether their motivation is ethical, legal, or financial, the majority of brands understand the importance of email accessibility. 77% of brands say that making their emails more accessible is a priority; 46% even claim it's a high priority for their team.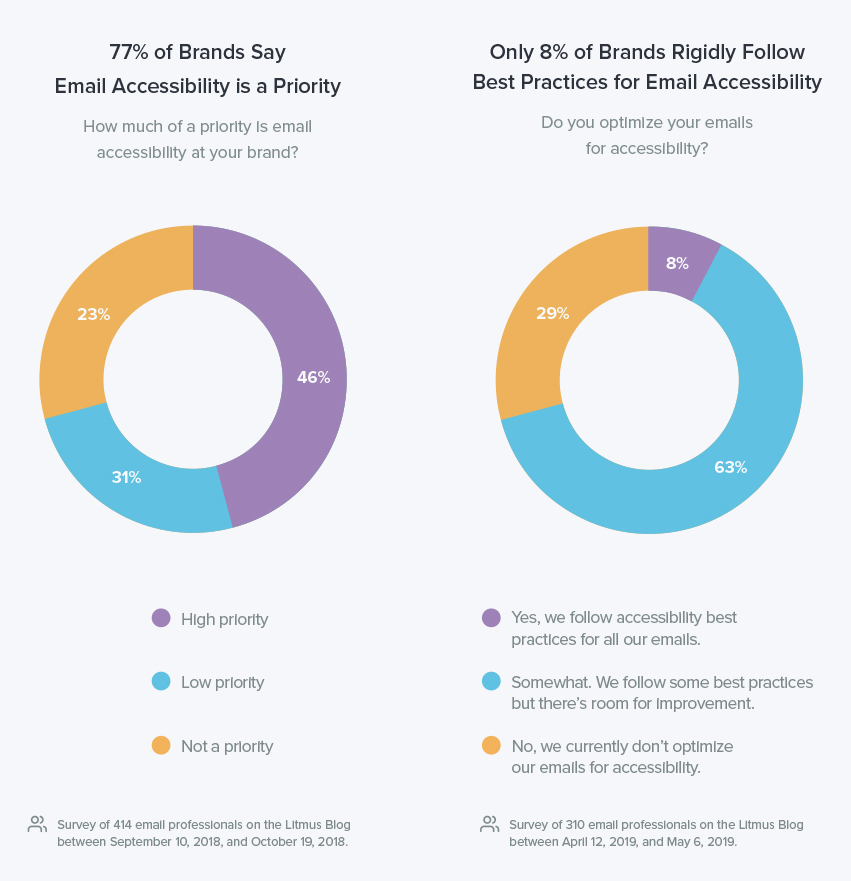 But while the vast majority of brands claim that email accessibility is a priority, many struggle putting accessibility best practices into action. Only 8% say they follow best practices for email accessibility for all their campaigns. 29% say they don't optimize for accessibility yet.
The numbers show that when it comes to email accessibility, there is a disconnect between intention and action. Getting started with making your emails more accessible can feel like an impossible task, and many marketers aren't sure where to start.
The truth is, implementing key best practices isn't all that hard. With the right tools, you can identify areas for improvement and make small changes to your emails that have a big impact and make your emails better for everyone. With our new accessibility testing tools in Litmus Checklist, we help you do just that.
Optimize the accessibility of your emails with Litmus Checklist
With Accessibility Testing in Litmus Checklist, it's easy to make accessibility optimization a part of your email workflow. Instantly see whether your email is accessible for all your subscribers and get actionable advice on how you can make your emails more inclusive.
See if your email follows accessibility best practices
Litmus checks whether your email's design and code complies with best practices that ensure your email is accessible to everyone.
Hear how your email sounds on screen readers


1.3 billion people live with some form of visual impairment

and many rely on screen readers to consume online content, including emails. Litmus lets you listen to an audio recording of your email before you send, so you can be sure subscribers using screen readers will have a great experience.

Get actionable advice to improve the accessibility of your emails


See whether your email contains ALT tags, whether your content hierarchy is accessible, and ensure your HTML code is optimized to be read by screen readers and assistive devices.
Ready to make your emails more inclusive?
Accessibility Testing in Litmus Checklist is available on all Litmus plans. Start your free trial and start making your emails better for everyone.
Ultimate Guide to Email Accessibility

This guide has the insights and step-by-step advice you need to write, design, and code emails that can be enjoyed by anyone—regardless of their ability.