The last time you heard from AOL, it probably sounded something like this.
However, at Inbox Love in Mountain View, AOL's SVP of Communications, Dave McDowell, made a little noise more attune to the 21st century when reintroducing its former webmail app, Alto, as a mobile one. We took a first look at AOL's Alto Mail app to bring you everything you need to know.
"You may think managing multiple email accounts is a solved problem," said McDowell. "But I'd disagree with you."
In just one of his many right swipes at Google's Inbox by Gmail app, McDowell mentioned the inconsistencies consumers face in most email apps when managing multiple accounts, adding "Google's Inbox doesn't even support AOL."
Alto wants to finally solve for multiple inboxes.
Here's the skinny:
Alto supports all the global email providers, allows you to pull them all together in one inbox, and easily switch between them all in one app.
Beyond the usual display options in most email apps, Alto boasts some pretty unique organizational tools that automatically highlight important (and personal) information so it's easier to find.
(My favorite is the super cool pinch and zoom feature, which allows Android users to expand their messaging list to see more of a message without actually clicking into it. The goal here, according to McDowell, was for users to "not even have to open or click their emails" to see their messages.)
You can also choose to view a messages list encompassing all of your accounts, or look at them each separately.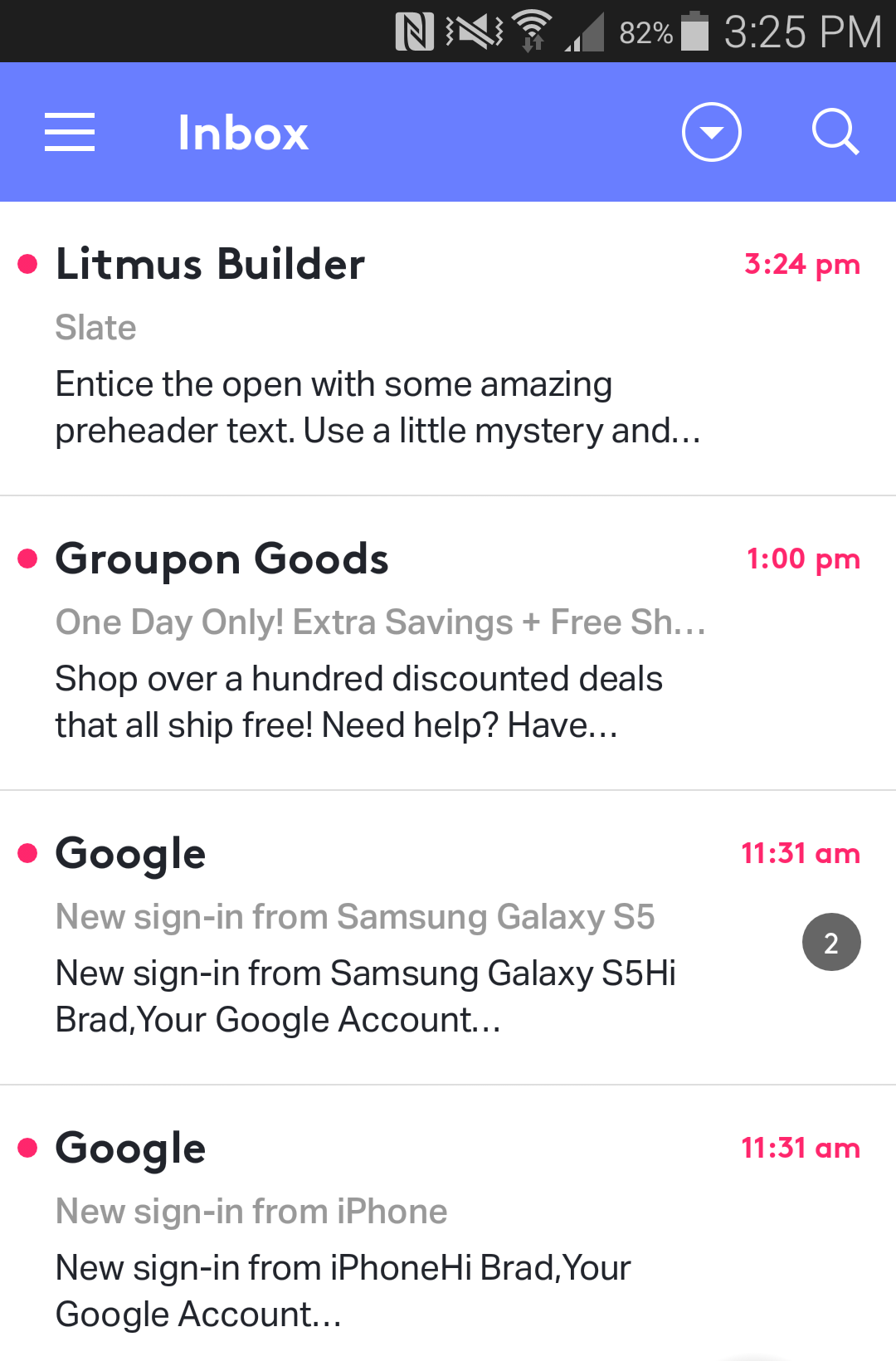 Inbox view on Android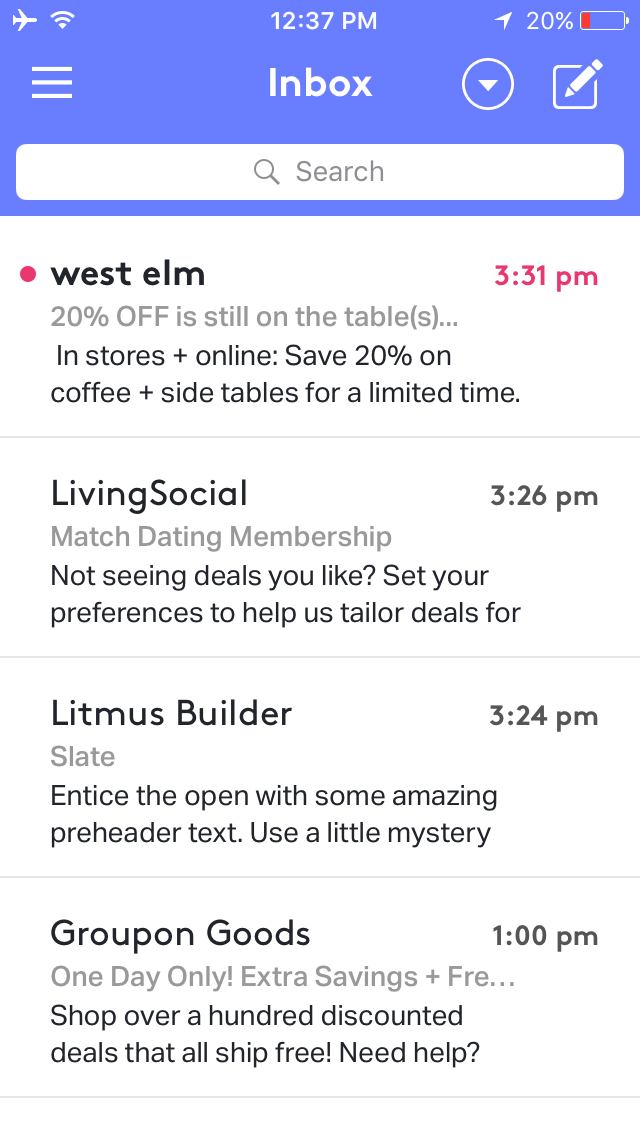 Inbox view on iPhone
A LOOK AT KEY FEATURES
When it comes to choosing Alto, it really comes down to the details.
As McDowell said, "Consumers choose their email providers based on the cupholders. Like a car, they can all get you from here to there, so it's really about the cupholders."
Cute analogy, but you better have some serious cupholders to entice users to switch now. As it stands, the cupholders—ahh, I'm already tired of this analogy—or the UI of Alto is clearly inspired by Google's Inbox by Gmail app. Even the left/right swipe functionality and Cards—which look remarkably similar to Gmail's Quick Actions—are almost a direct knock off.
Regardless, here are the main features (and differentiators) of Alto:
Aggregation
All your emails from all your accounts are in one place. You can view all of them together in one stream, or separately in their respective accounts.
Stacks
Read lists of mail based on the content of your messages. Scroll through all your photo attachments or files, isolate messages only from people you know, and more.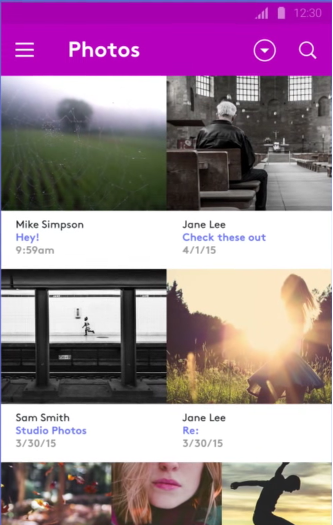 Cards
Access important travel and shopping information in an easy-to-read format without opening your email.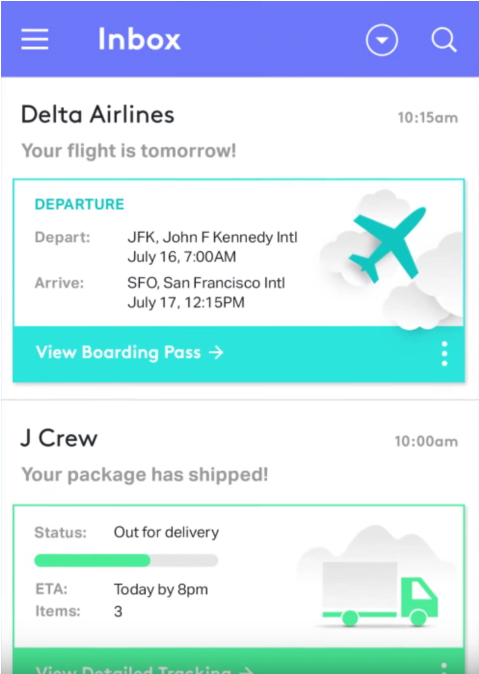 Dashboard
Get easy access to all of your Cards. Most relevant Cards appear first. Scroll and tap to see even more details.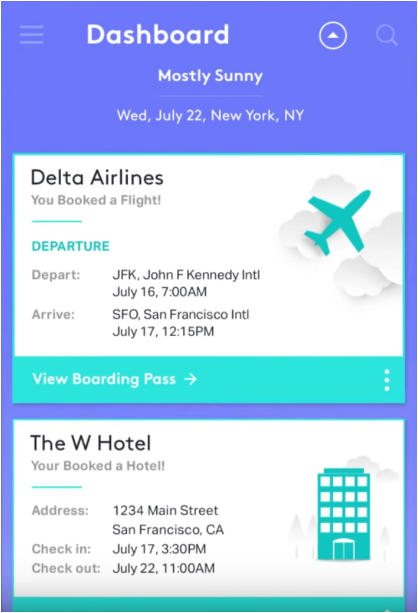 HOW DOES IT DISPLAY EMAIL?
Image blocking
Like AOL's webmail client, Alto blocks images by default. It's crucial to use bulletproof buttons, ALT text, background colors, and a proper balance of imagery and live text for subscribers reading your emails in these clients—and other clients that block images.
It should be noted that Alto does give users the ability to alter their image blocking preferences.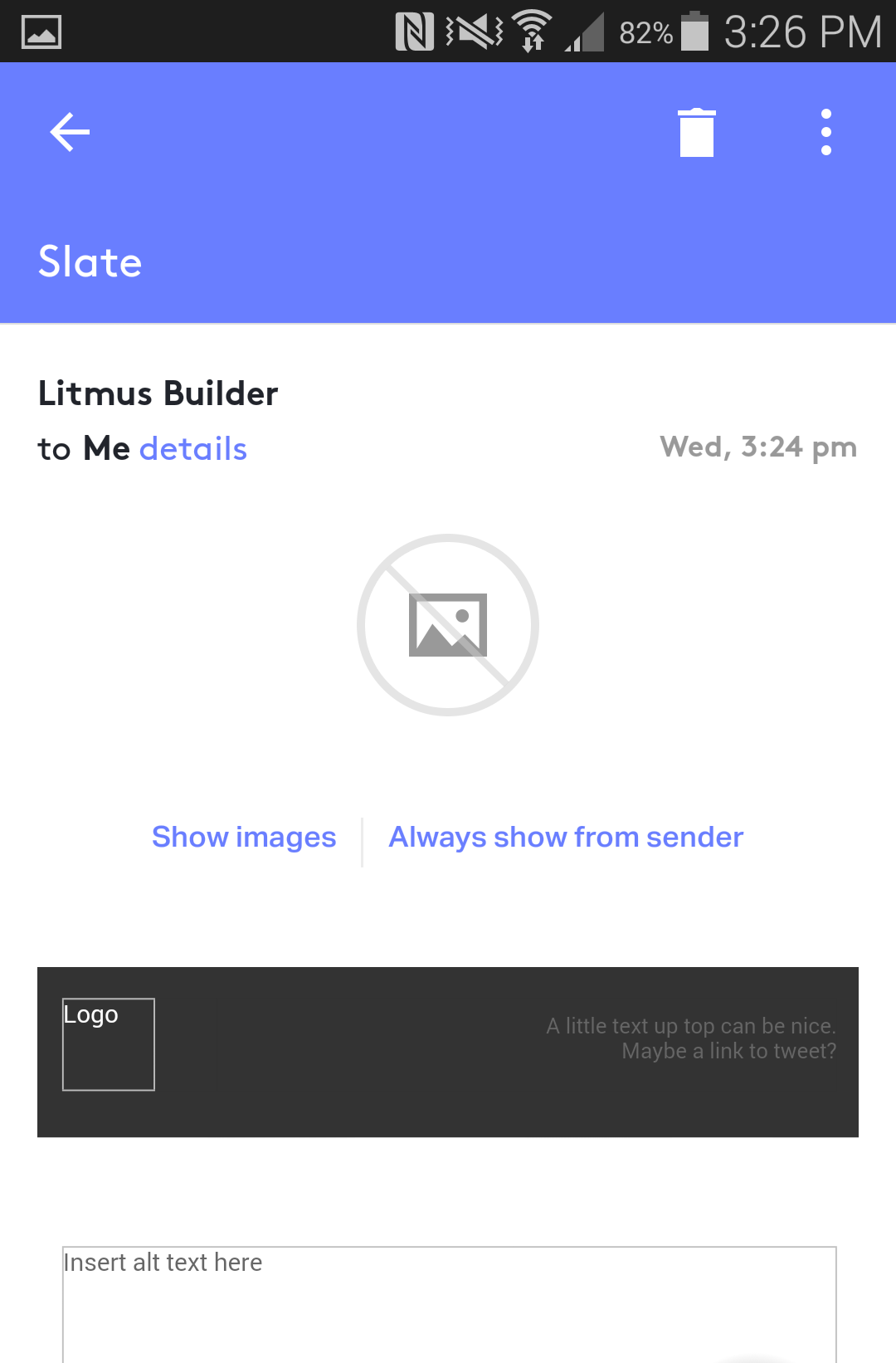 Image blocking in Alto
As pictured below, Alto does give users the ability to alter their image blocking preferences.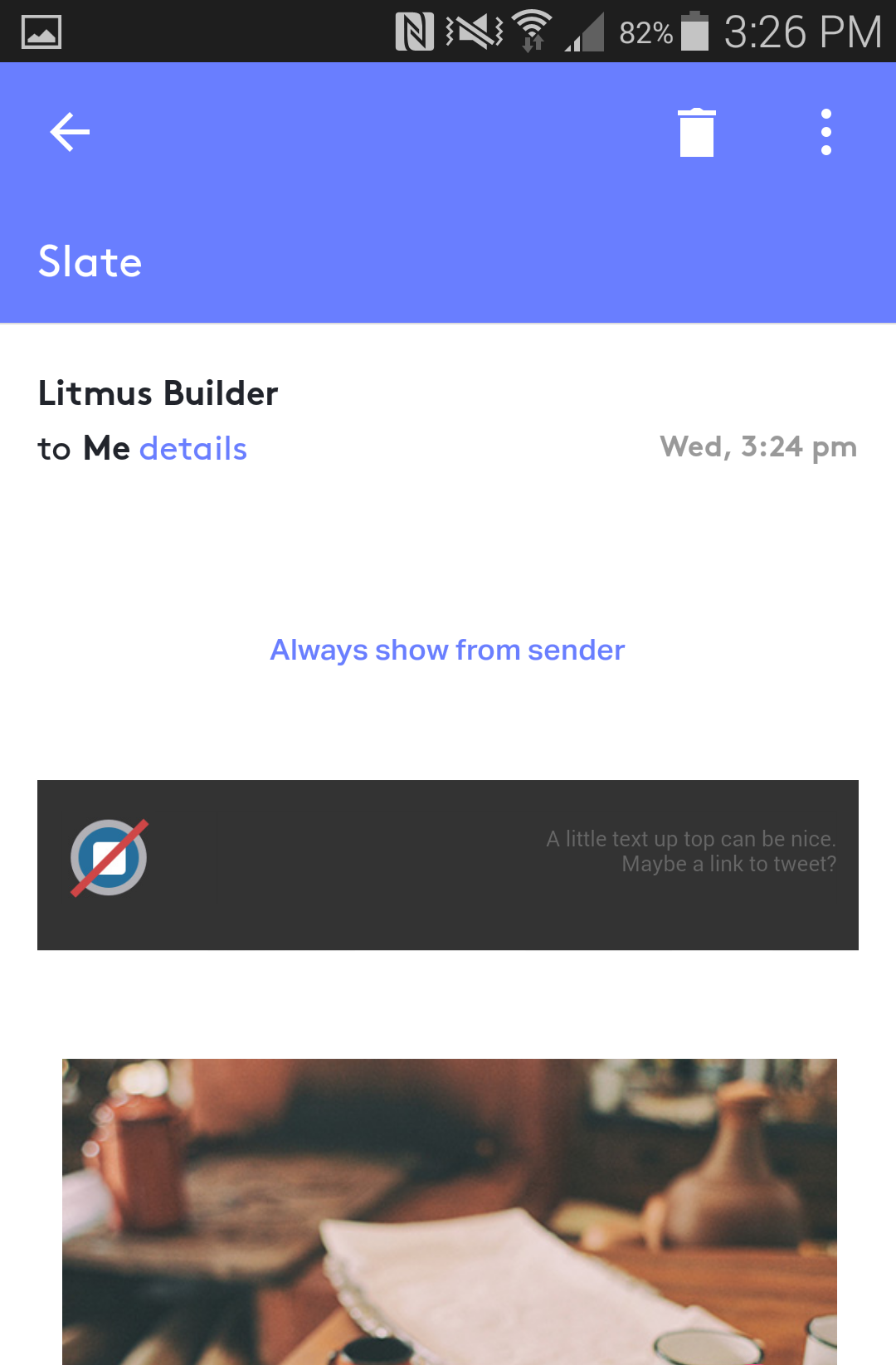 Option to always show images from a specific sender.
Media queries
At first glance, it doesn't appear that Alto supports media queries, adding yet another inbox to the list of clients posing challenges for email marketers optimizing for mobile. It automatically scales the email to fit to the screen.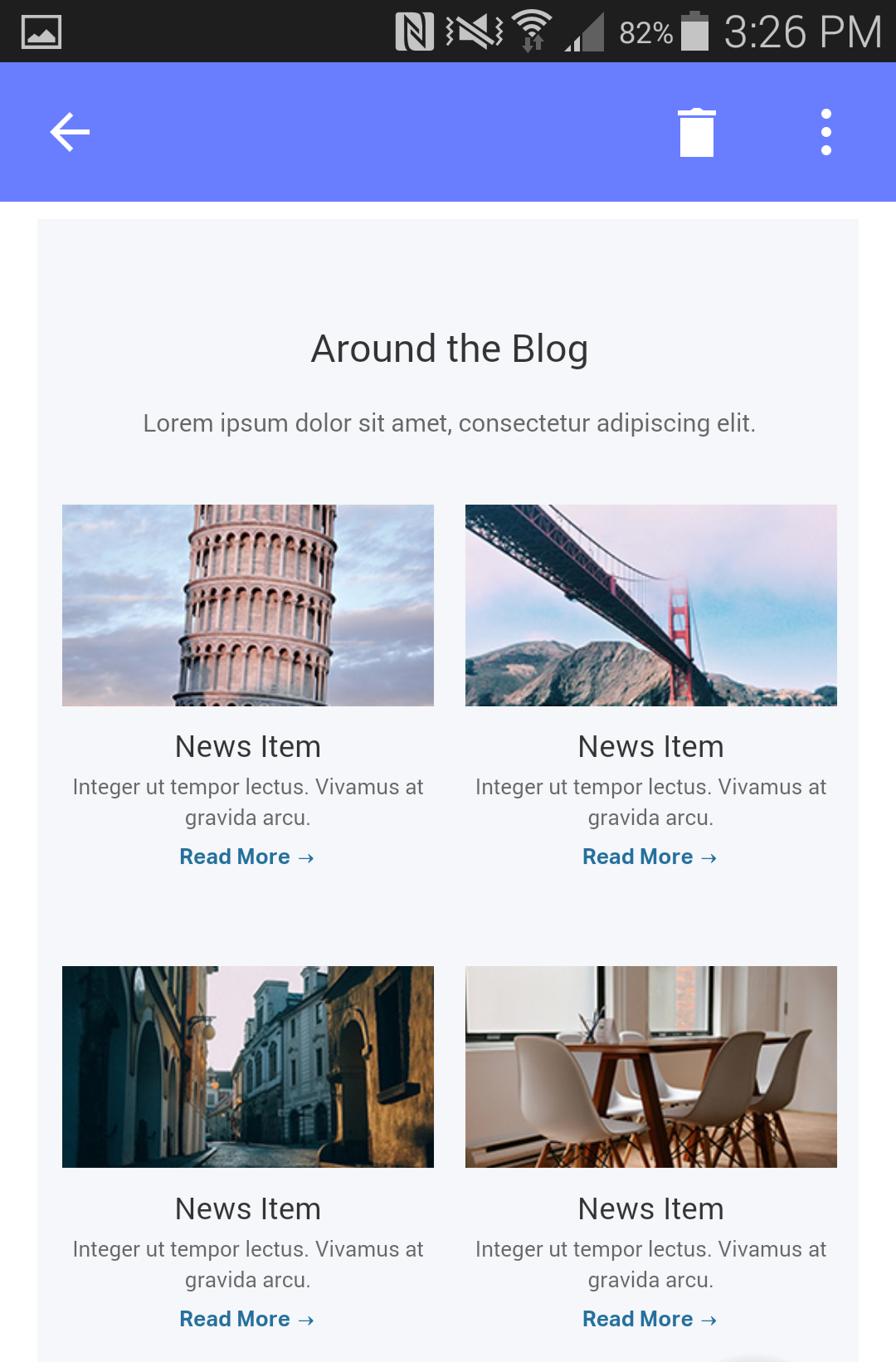 However, it appears it respects the dimensions for images smaller than the viewport and does not scale them in accordance with the rest of the email.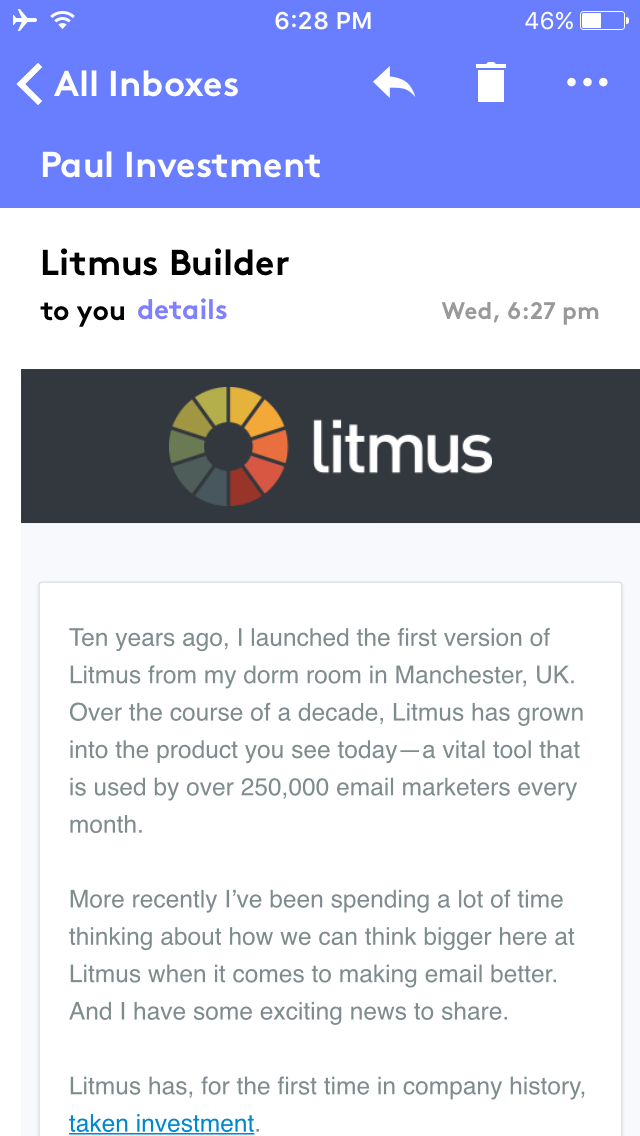 Disclaimer: AOL reps on site were said to have been looking into the media queries issue, saying that Alto "should support" them. During demos, however, they were clearly not supported.
MORE preview text
The pinch and zoom functionality available on Android, as detailed above, allows users to expand the emails in their messaging list to include more text, meaning users don't have to click into an email to get a large portion of the message.
This means there is more real estate for preview text. Which means there is even more room on Alto for email marketers to get clever with their preview text messaging.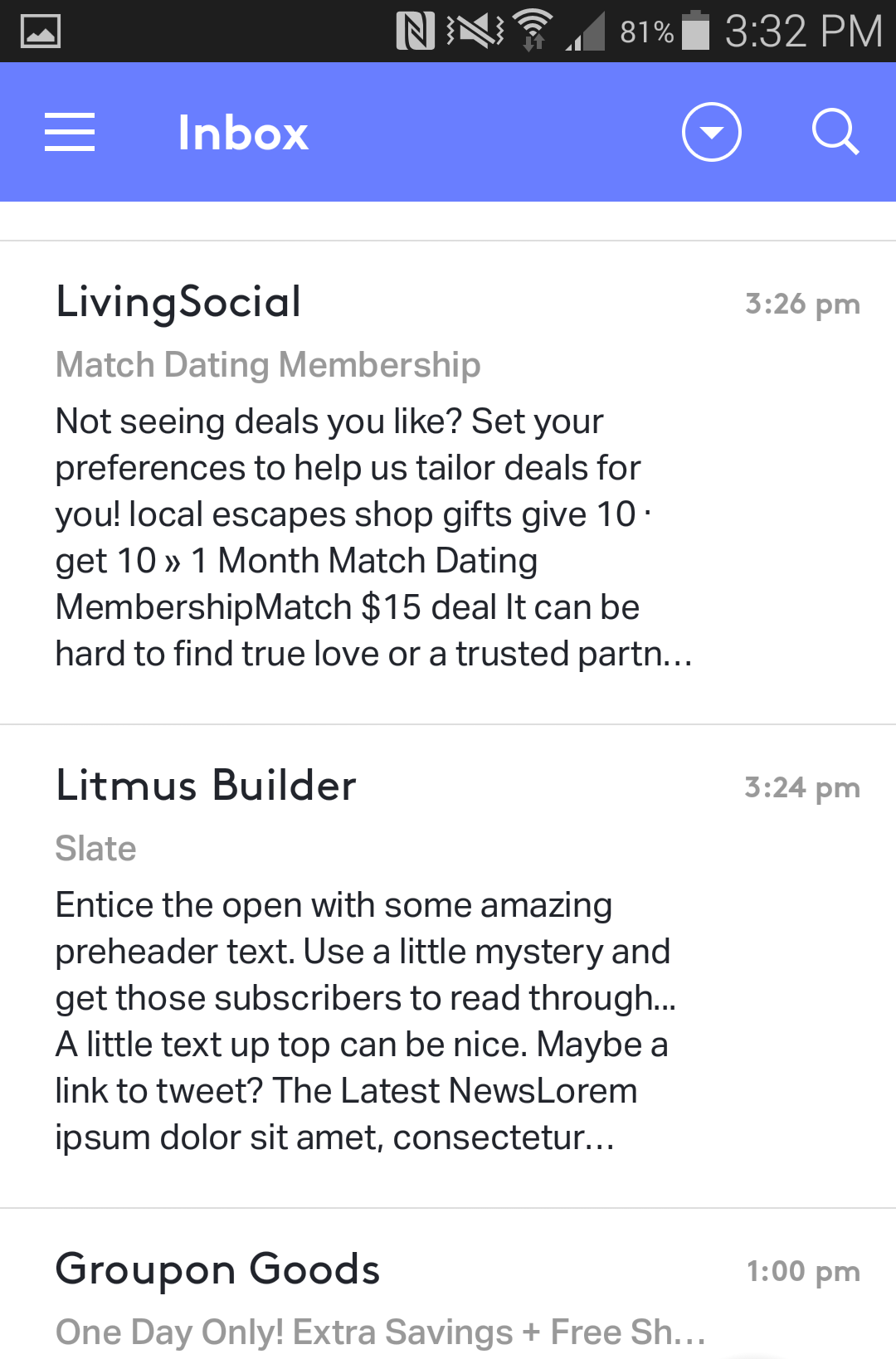 Blue links
Alto appears to have the same blue links issue that iOS has and will automatically link dates and locations in the email. Unfortunately, the wrapper hack does not work for removing blue links in Alto. No fix was found in initial testing of the app.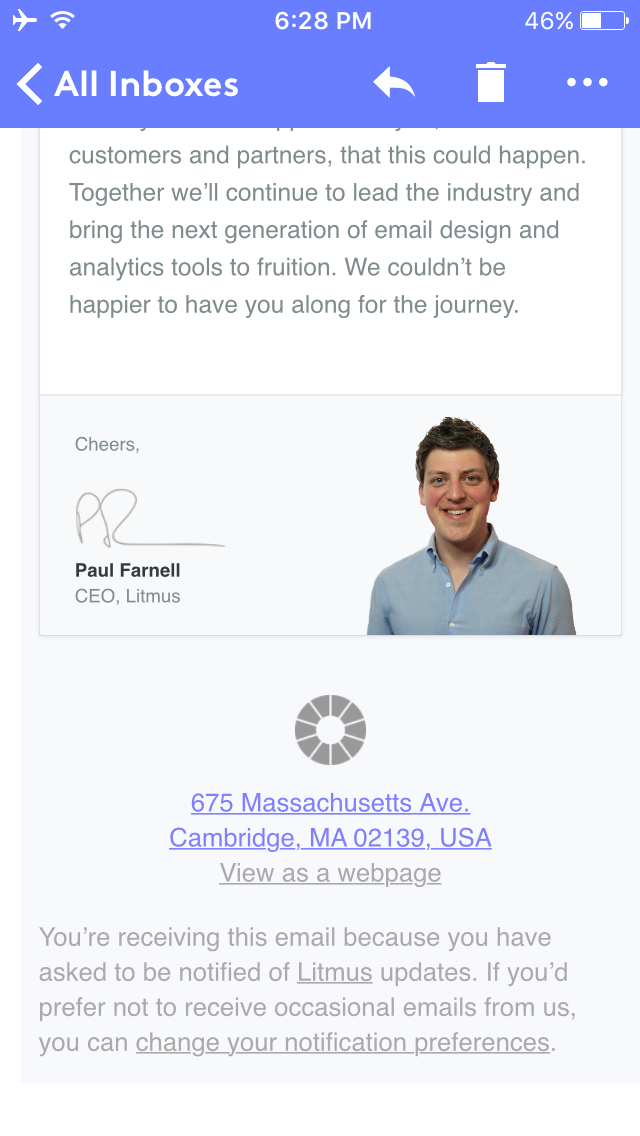 Interactive elements
Like many other mobile inboxes, Alto won't support your interactive elements such as :checked. This shouldn't affect your current process too much, as if you're already testing for mobile, you're already well aware of these limitations and optimize accordingly.
FINAL THOUGHTS
There are a few subtle differences, and most definitely some cool features, but Alto is mainly AOL's version of Inbox by Gmail. Sure, Google may not support every global email provider, but they hold a serious advantage over AOL in one massive area: life integration.
Many people already store their photos in the cloud using Google Photos. Or use Google Maps as their main navigation system. According to our Email Client Market Share report, Gmail is second only to iPhone when it comes to global usage. People like consistency, and when it comes to another mail app, it may just be easier for people to stick with what they already know.
Or not? What do you think? Is there enough interest around Alto for you to give it a try?
Editor's note: A special thanks to AOL who was so kind to let us test the new email client early on the spot!
Send with confidence every time

Whether you're sending a win-back campaign or a re-permission email, ensure it displays properly across inboxes, and your links, images, and tracking work.