Personalization, automation, and A/B testing top the list of 2018 email marketing priorities for brands, according to Litmus' 2018 State of Email Survey of nearly 3,000 marketers.
Other major email marketing priorities include optimizing the email creation workflow, exploring interactive email functionality, and growing analytics insights.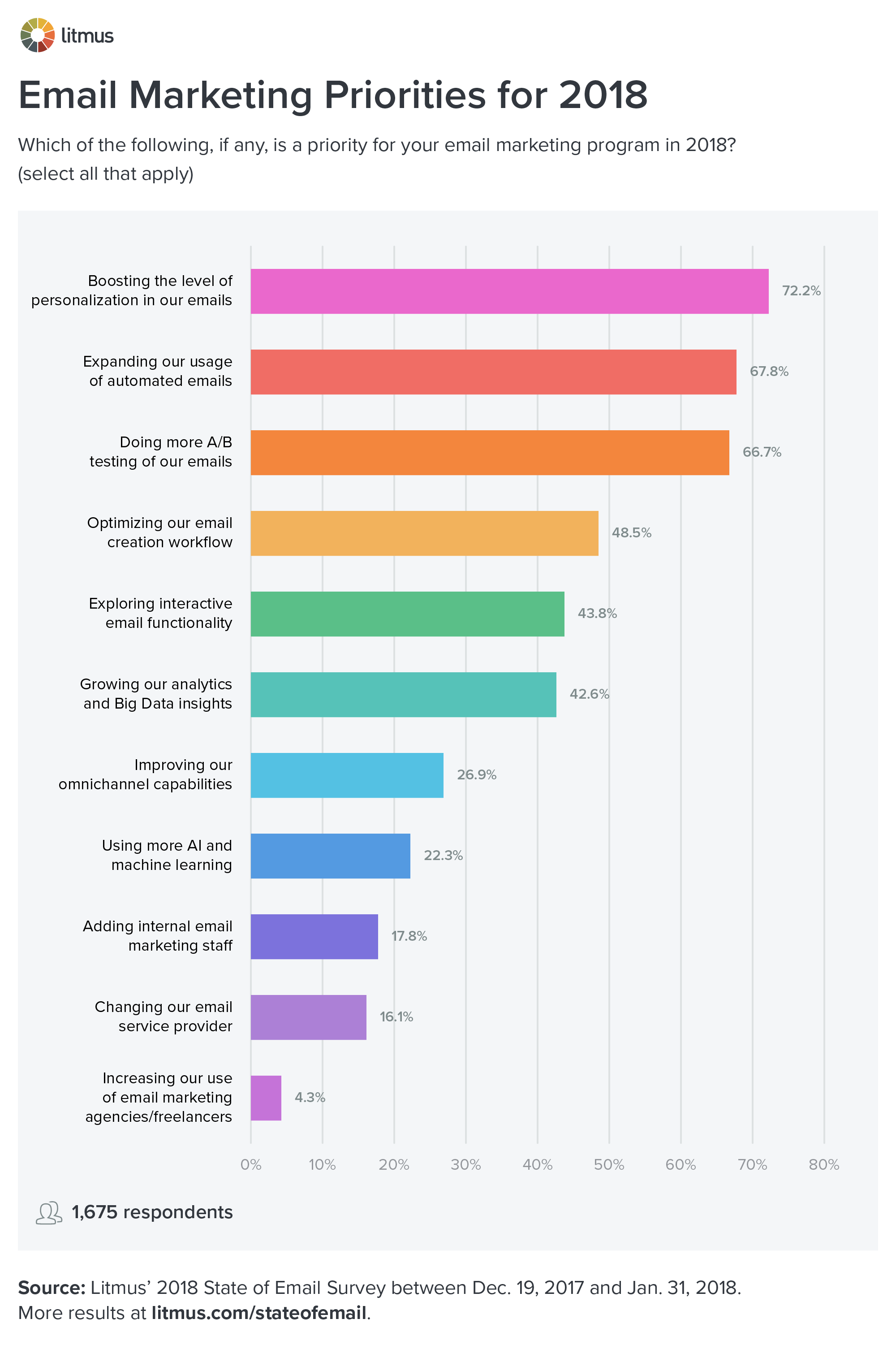 Those email marketing priorities are interesting in light of other research Litmus has done looking into the Top Email Design Trends for 2018 and The Biggest Email Marketing Challenges of 2018.
For instance, personalization is the No. 2 email design trend and is the top email priority. However, interactive emails are the No. 1 email design trend, but only the No. 5 email priority. That discrepancy is surely the result of personalization being a proven high-ROI email tactic, while interactive emails are still somewhat experimental.
In terms of email marketing challenges, insufficient staffing is the No. 2 challenge, but adding internal email marketing staff and increasing the use of agencies and freelancers are both low email marketing priorities. That disconnect is likely the result of this complaint being so chronic that it's become more of a norm than a problem to be solved.
That's unfortunate because Litmus has solid evidence that staffing levels strongly correlate to program success. For example, marketers who describe their email programs as "very well-resourced" are seven times more likely than those with "adequately resourced" programs to say their programs are "very successful," according to our Staffing for Email Marketing Success executive summary.
The No. 1 email marketing challenge for 2018 is poor coordination between other departments and channels, but improving omnichannel capabilities was only seventh on the email marketing priorities list. That would be worrisome if not for brands' budgeting plans for the year. Half of brands plan on increasing spending on integrating email with other channels.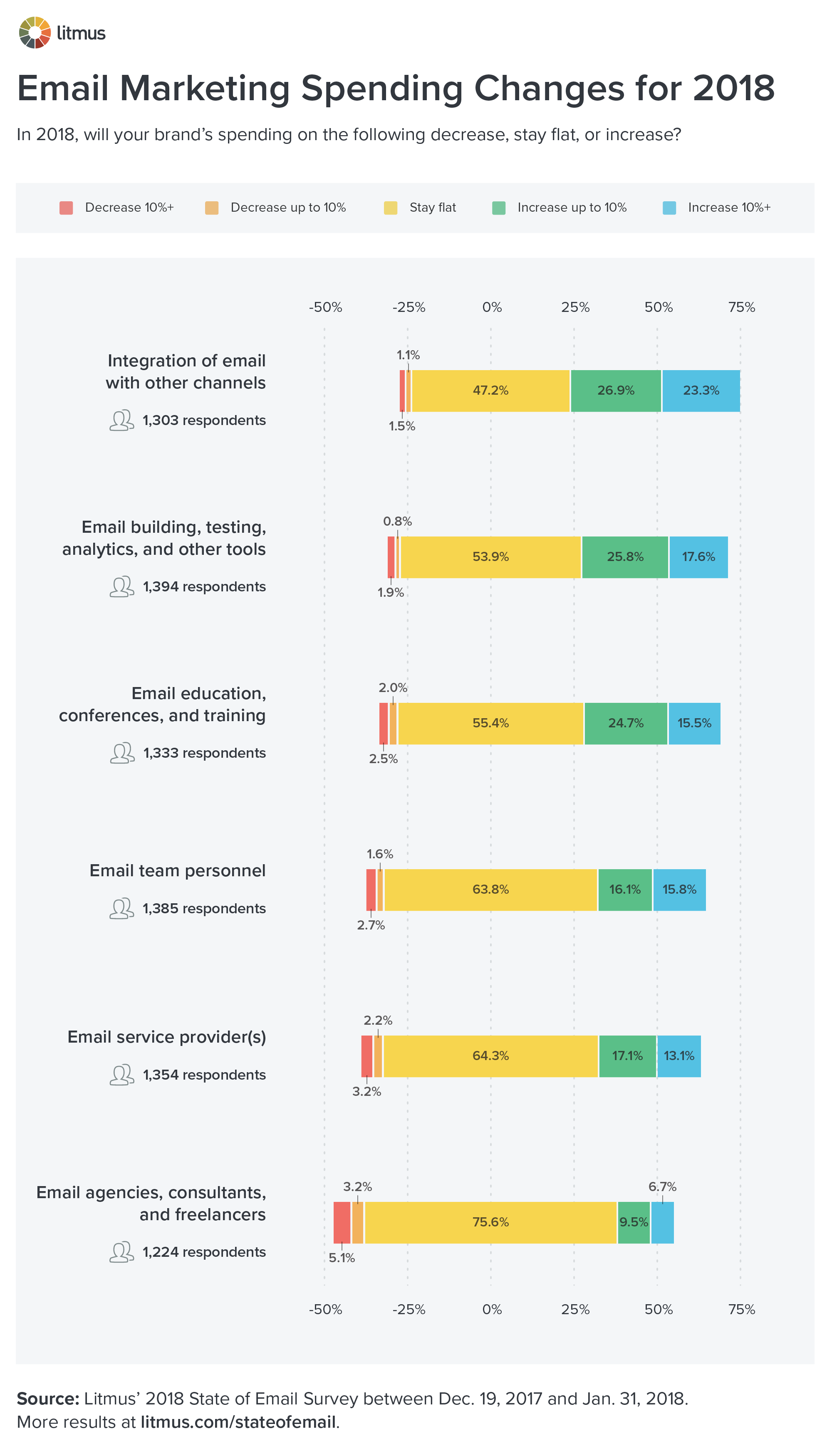 Many brands are also increasing spending on email building, testing, analytics, and other tools, as well as on email education, conferences, and training. Those are great signs that brands recognize they need to give their email teams the tools and knowledge to succeed.
Nearly a third (31.9%) of brands are increasing spending on email team personnel. Considering that expanding email teams is a low priority, much of these spending increases are likely to be in the form of raises for existing team members. That's good news for how email marketers are being valued, but bad news for teams that are stretched thin.
Overall, email marketing budget changes indicate that the industry is strong and that the vast majority of brands are either maintaining or expanding their investments in email marketing.
We'd Like to Help
Company leadership and email marketers don't always see eye to eye, and that creates unnecessary tension and under-performance. Litmus has identified a number of key email marketing topics and assembled executive summaries that marketers can share with management, including one on How to Overcome the Biggest Email Marketing Challenges of 2018.
Download the free Executive Summary →
Download that and other executive summaries from Litmus' Email Marketing Leadership Series, including: